Best 10 Brown Rice Brands
Rice is arguably the most important food of all times as 3.5 billion people depend on rice for a substantial amount of their daily calories . Domesticated in China around 13,500 years ago, rice became the most important ingredient in Chinese cooking.
From there, the plant was popularized in India, Sri Lanka, then Europe, Central, and South America.
Rice is a very versatile plant, able to grow in various climates and regions of the planet, thus it became a staple dish for very different cuisines, from Asian ones to European (think risotto), and African.
There are countless rice varieties available at any supermarket, and the difference between them is not only given by the brand but also by the type of rice. Two factors influence the variety of rice: the species of the plant, and the processing method.
Brown Rice Species
There are several species of the grain called rice, the most widely grown being the Asian rice (Oryza sativa). It has two major subspecies, Indica and Japonica, and over 40,000 varieties. Indica rice is long-grained and doesn't stick, while Japonica rice is short-grained and glutinous.
There is also African rice and wild rice, but these are not as widely used. Apart from long- and short-grained rice, there is also medium-grained rice, which is used for sweet dishes, risotto, and the Spanish arròs negre. Among the most popular long-grained rice types are Basmati rice, Jasmine rice, wild rice (actually an aquatic grass). Valencia rice (used for paella) and sushi rice are the most common short-grained types of rice. 
Processing Methods
In processing, the seeds of the rice plant are first milled to remove the outer husks of the grain. The product is called brown rice. The milling may be continued, removing the rest of the husk and the germ, creating white rice. White rice, which keeps longer, lacks some important nutrients.
---
Check out our stories on the best white rice, Jasmine rice and basmati rice brands.
---
Aside from brown rice, there are other types of rice in which the hull has been removed, such as red rice, gold rice, and black rice (also called purple rice). These are all whole types of rice with differently pigmented outer layers.
Drum rolls please for the top 10 brown rice brands out there.
1. Lundberg Family Farms Organic Long Brown Grain Rice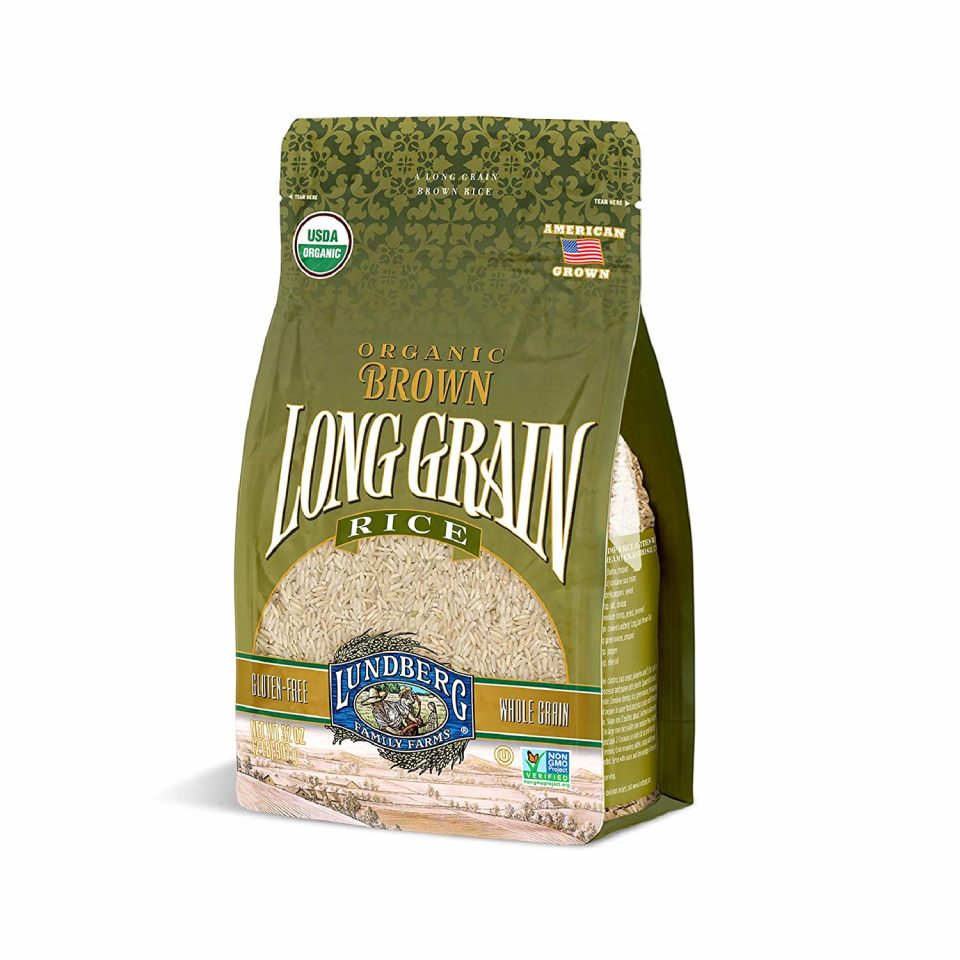 Highly recommend on Reddit and Amazon, the Lundberg Family Farms brand comes with several brown rice varieties, including brown long-grain, brown short-grain, California brown basmati, organic long brown grain, organic California brown basmati, and organic California Brown Jasmine.
This is the perfect example of the versatility of brown rice, which, as the product of a processing method, can be applied to several varieties of the rice grain. There are subtle differences between the brown rice types produced by the brand in terms of rice flavor and texture, and different types of rice function best in different dishes. The brand is a renowned rice producer, with a three-generation history.
They grow their crops in northern California and have their rice products analyzed for several environmental contaminants, including arsenic.

The rice has a great nutty taste, and about the fluffy texture that is obtained with boiling the rice for about 30-40 minutes in a small amount of water. It gets soft when cooked, but not soggy.
2. Minute Whole Grain Brown Rice
An instant variety of brown rice, Minute Whole Grain Brown Rice is highly recommended on Reddit and described as fast-cooking rice with a great taste.
Minute products are precooked and dried with no additions so that they will cook faster than any other rice. Compared to the usual brown rice, which takes 30-40 minutes to cook, Minute rice only takes 5-10 minutes, making it a very versatile brown rice option.
Amazon users write they are very happy buying the product in bulk, as it is easily stored and keeps for a long time. Other reviewers wrote that minute rice is best for them, as they do not have the time to wait for usual brown rice to cook.
3. Good Reason Organic Brown Calrose Rice
Rice is a significant source of dietary fiber that helps keep the digestive system in good health and Good Reason Organic Brown Calrose produces one of the best brown rice out there. It is a short-grain rice that sticks together better than the long-grain, and can also be used for sushi.
4. Tilda Legendary Rice Steamed Basmati, Brown
Steamed brown rice that has been already cooked, the Tilda Legendary Steamed Brown Basmati Rice eliminates the inconvenience of a long cooking time.
A British brand, Tilda produces several types of rice, starting with pure Basmati and continuing with Jasmine or Arborio. The brand is aimed at both home and professional chefs and offers an option for each category.
This microwaved long-grain brown rice preserves the flavor more than other brands and is very light.
The Tilda steamed Basmati resembles the usual dry variety, but it takes a lot less time to cook.
5. Lundberg Wild Blend
A blend of rice types, this Lundberg product comes has great flavor. It is a combination of long-grain brown rice, sweet brown rice, wehani, black Japonica, and wild rice pieces. Brown rice is prevalent in the mix
According to the producer, the rice combination takes 45 minutes to cook and an additional 10 minutes of sitting covered, so that the rice absorbs all the water. It got high raves on Amazon for the blend's flavor.
6. Taj Gourmet Brown Basmati Rice
Harvested just below the Himalayas, the Taj rice varieties are full of flavor and get a fluffy texture when cooked. The Taj basmati rice is raw, but it has been steamed for a more exuberant taste.
The rice has a nutty, pleasant flavor and the perfect fluffy texture. The Taj brown basmati rice has a slightly shorter time than other brown rice brands for cooking, comparable to white rice.
Flavor is delicious, slightly nutty, and the value was great. Nothing beats a big bag of rice in the closet during a pandemic. How do you store 10 lbs. of rice in a non-resealable bag though? A minor issue, we will be buying again!

One Amazon reviewer
7. Pride of India – Extra Long Brown Basmati Rice
An Indian product, as shown by the name, the extra-long brown Basmati rice from Pride of India is organically grown in India, using sustainable farming methods.
The rice is sourced directly from the farms to preserve the quality and freshness of the products. As it is a type of brown rice, all the rice grains have an intact germ and bran layer. It has vital health benefits and tastes better than regular brown rice, making it suitable for dishes like biryani, pilaf, and fried rice.
According to many Amazon reviewers, the Pride of India brown basmati rice has an extra-long grain and a very nice aroma, just as advertised.
8. Dynasty Jasmine Brown Rice
Harvested in Thailand, the Dynasty Jasmine Brown Rice is produced by one of the oldest and most renowned rice brands worldwide.
With the delicate flavor of Jasmine rice, enriched by the nutty aroma specific to brown rice, this product tastes incredibly well.
The texture of the rice is so firm, that some buyers write about cooking it and freezing it, only to find the same product when they de-freeze, with no alteration of structure.
9. Nishiki Premium Brown Rice
Short-grain rice perfect for sushi, the Nishiki Premium Brown Rice is a produced in California.
It has a nutty and rich flavor and it can be cooked for sushi, leaving it sticky, or it can be fluffed by rinsing it before cooking and steaming it slowly.
This is by far the best brown rice I have ever tried. It is my default every week brown rice now, and I don't know how I got along without it. I make "rice bowls" with steamed chicken, vegetables with some kind of great wok sauce and nishiki brown rice. They have become a staple, and it's so easy to keep the ingredients on hand and put them together for a great dinner when I'm running low on time.

One reviewer
10. Sukoyaka Brown Rice, Genmai
Another short-grain rice harvested in California, the Sukoyaka brown rice is ideal for Japanese dishes, such as sushi, or other food types in which glutinous rice works best, like Mexican rice.
It is comparable to the type of rice sold in Japan in terms of mild flavor and texture. It is also naturally sweet and since it is produced in the United States, less expensive than rice imported from Japan.
---
Chef's Pencil is reader-supported. If you buy something through our links, we may earn an affiliate commission, though this not impact the product selection, which is done independently by our editors and contributors.
Brown Rice Properties
As a type of whole rice, long-grain brown rice has several nutritional qualities that make it superior to other types of rice that have been processed (white rice). Rich in carbohydrates, like any type of rice, brown rice is also an excellent source of folate, Vitamin B2, potassium, calcium, and especially high in manganese.
This substance is important in bone development, wound healing, muscle contraction metabolism, nerve function, and blood sugar regulation. Thus, brown rice is believed to reduce the risk of diabetes, improve heart health, help manage weight, boost energy, improve bone health, and help reduce cholesterol. It is high in fibre, and studies have proven that germinated brown rice activates various enzymes in the rice, producing a more complex amino acid profile.
As far as preparing brown rice, one thing must always be considered. It is whole rice, so it still has the germ and the bran, thus it takes longer to cook than white rice. It also comes packed with a very pleasant mild nutty flavor and can become fluffy and light during cooking, ensuring that it won't turn into a messy lump. It can be a substitute for the average long-grain white rice, meaning any type of food that doesn't require glutinous rice.
Brown Rice Recipes
The Indonesian staple dish, eaten for breakfast, lunch, and dinner, Nasi Goreng is the local version of fried rice, rich in umami flavor, vegetables, and topped with a crispy fried egg. Although each Indonesian island has its version of Nasi Goreng, using a traditional combination of spices, many of these recipes can be reinterpreted with easier-to-find ingredients.
Chef Lara Lee reinterprets the Nasi Goreng from the island of Bali in her book, "Coconut and Sambal: Recipes from my Indonesian Kitchen". The important part of Balinese Nasi Goreng is the spice base paste, called Sambal Matah. This is a hot chili and salt paste, to which various condiments are then added. Chef Lara Lee's version leaves the shrimp paste out, as it is a vegetable-based dish (except for the fried egg added at the end).
For Sambal Matah, thinly slice the following vegetables: 4 small shallots, 2 lemongrass stalks (bottom third only), 2 long red chiles, a thumb-sized piece of ginger, and 1 garlic clove. Use 2 makrut lime leaves, thinly sliced, or the zest and juice of one regular lime. For a spicy dish, use the shallots as such and leave the seeds in the chilies.
For a less spicy dish, leave the shallots in a bowl, sprinkled with salt, for at least 15 minutes, and de-seed the chilies. Combine all the ingredients in a bowl, add the lime zest and juice (or the markut leaves), then palm sugar or brown sugar (to taste), and drizzle with sunflower oil.
For the Nasi Goreng, heat 2 tablespoons coconut oil, then add ½ thinly sliced leek and 2 small thinly sliced shallots. Cook until soft, then add 1 long thinly sliced red chile, and ¼ teaspoon ground turmeric. Stir, then add 1 coarsely chopped bok choy and cook for 1 more minute.
Stir in 3 cups cooked brown rice (basmati), then add a sauce made from 2 tablespoons sweet soy sauce, 4 teaspoons light soy sauce, 1 teaspoon tomato puree, and ½ teaspoon rice vinegar or white wine vinegar. Add the Sambal Matah to the fried rice and stir well to combine. Remove from heat and season with salt and pepper.
For an authentic Balinese dish, fry 2 eggs, sunny side up, and add them to the fried rice, serving the dish with fried shallots. For a vegetarian version, skip the eggs and serve the rice only with fried shallots.
---
Chef's Pencil is reader-supported. If you buy something through our links, we may earn an affiliate commission, though this not impact the product selection, which is done independently by our editors and contributors.