Birria de Chivo (Mexican Goat Stew)
Bittia de Chivo is a Mexican goat meat stew, simmered in a sauce of ancho chilies and spices and cooked on low, low heat until it is melt-in-your-mouth and fall-off-the-bone tender.
This popular Mexican dish is almost always served with refried beans and tortillas… part stew and part dip. Because this dish is quite labor intensive and uses goat meat, it is often reserved for special occasions, such as Christmas.
Enjoy this classic birria de chivo recipe!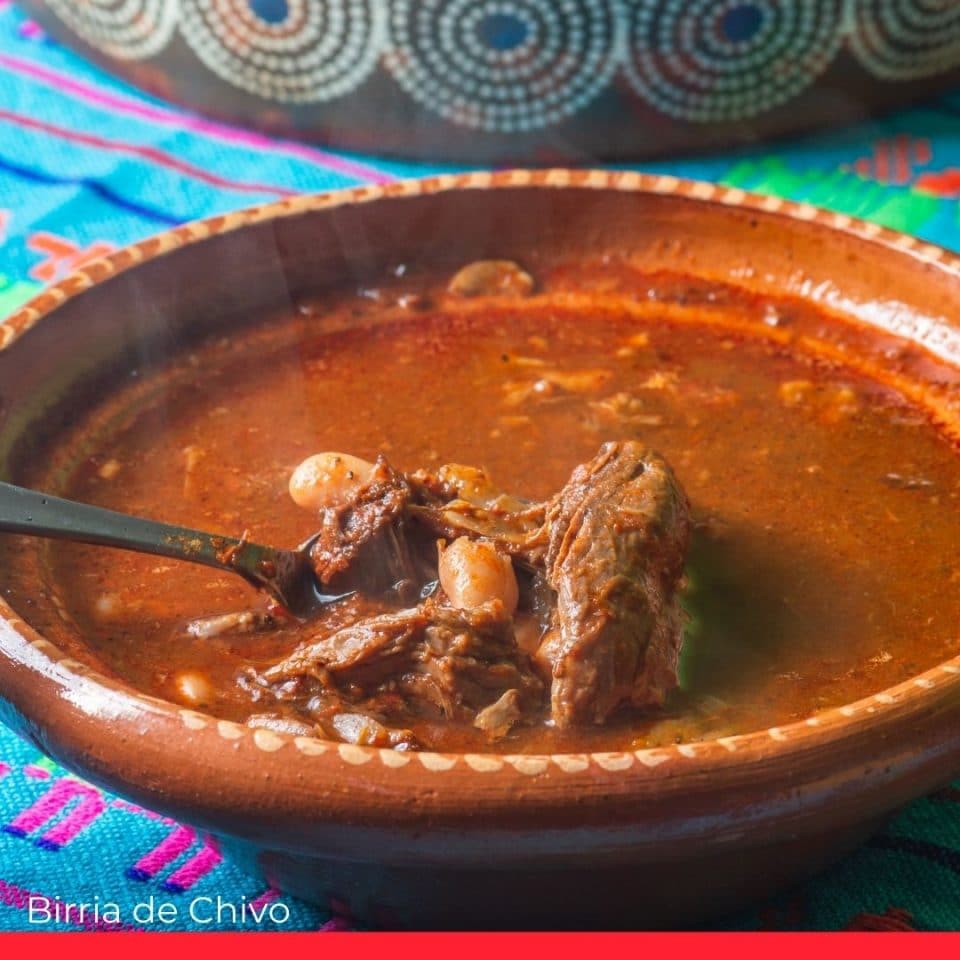 Birria de Chivo (Mexican Goat Stew)
Ingredients
3

ancho chili peppers

1

cup

white vinegar

15

whole black peppercorns

1-

inch

piece fresh ginger root

2

garlic cloves

peeled

3

whole cloves

1

pinch

marjoram

1

pinch

ground cumin

1

pinch

thyme

4 ½

pounds

goat leg
For the meat sauce:
2

cups

water

3

whole black peppercorns

2

pounds

plum tomatoes

2

garlic cloves

peeled

pinch

dried marjoram

pinch

dried thyme

pinch

ground cumin

salt

to taste

2

whole cloves
For the hot sauce:
30

chiles de arbol

¼

cup

white vinegar

10

whole black peppercorns

1

garlic clove

2

white onions

minced
Instructions
Fill a pot with water and bring it to a boil. Add the ancho peppers and boil in water for about 5 minutes, turn off the heat and leave the peppers to soak in the hot water for a further 10 minutes.

In a food processor, blend together the softened chilies along with 1 cup vinegar, ginger, 2 garlic cloves, 3 cloves, the marjoram, cumin and thyme into a paste. Strain away the excess liquid and transfer the marinade to a clean bowl.

In a large bowl, combine the goat meat with the marinade, so that the meat is covered evenly. Cover it and refrigerate for 8 hours (overnight).

Preheat the oven to 350 ℉/ 175 ℃.

Place the meat in a baking tray or baking dish, cover with foil or a lid and bake for about 3 ½ hours or until the meat is cooked through.

15 minutes before the meat is ready uncover the tray and cook until nicely roasted. Cover the meat again after taking it out of the oven to keep warm.

Now, uncover it and cook it again for 15 minutes until the meat gets brown. Take it out of the oven and cover to keep it warm.

Pour the meat juice into a container and store it.

Fill a large pot with water and bring to a boil. Add in the tomatoes and cook them for 5-10 minutes until softened. Drain and cool them.

Peel the tomatoes and them in a food processor with the meat juice, 2 cups of water, the garlic cloves, peppercorns, cloves, thyme, marjoram and cumin. Blend to a smooth sauce.

In a saucepan, bring the meat sauce to a boil over medium-high heat. Reduce the heat to medium and simmer and stir often.

Add the ancho chilies to a pot of water and boil for 5 minutes, then drain.

Blend the ancho chilies, ¼ cup vinegar, 10 peppercorns, 1 garlic clove, and salt into a smooth hot sauce. Strain it into a glass.

Finally, chop the meat into bite-sized pieces and serve them with hot sauce and meat sauce. Serve it with onions on the side.
Notes
Related: Bacalao a La Mexicana (Mexican Salted Cod)
Related: Marshmallow Fruit Salad (Ambrosia Salad)
Related: Arroz Verde (Mexican Green Rice)
Related: Roasted Mexican Chicken
Related: Chicken Quesadilla with Pico de Gallo
Related: Indian Goat Curry