Marshmallow Fruit Salad (Ambrosia Salad)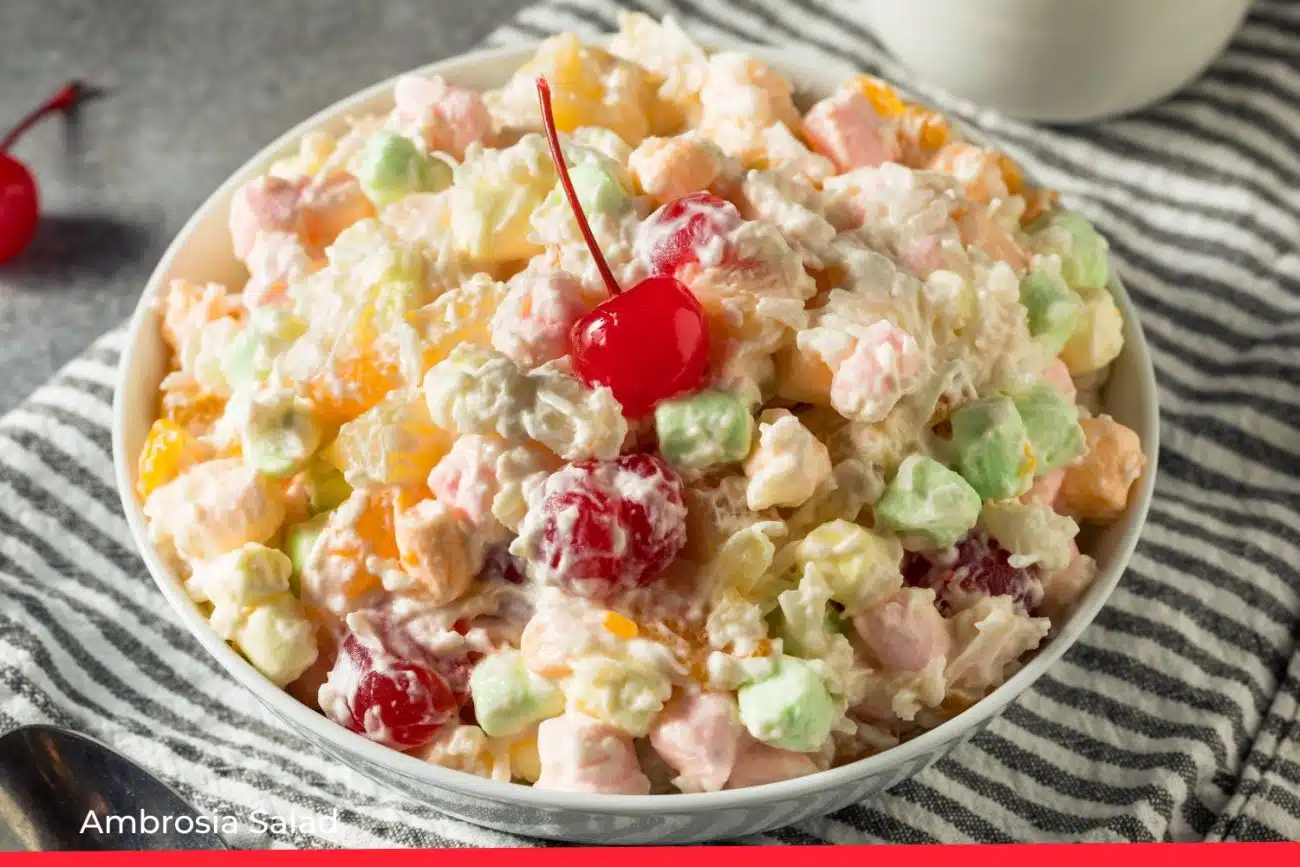 This Mexican marshmallow salad, also called ambrosia salad, is a delicious twist on the classic fruit salad and it's a popular Mexican Christmas food.
Made with sweet fruit, marshmallows and a delicious heavy cream-based dressing, it's no wonder this colorful dessert was named after the food of the gods.
Marshmallow Fruit Salad (Ambrosia Salad)
This festive Mexican salad recipe is perfect for the Christmas season.
Ingredients
3/4

cup

heavy cream

1/4

cup

powdered sugar

1/2

teaspoon

vanilla extract

½

cup

sour cream

4

cups

mini marshmallows

1 ½

cups

sweetened shredded coconut

1

can

mandarin oranges

1/2

cup

nuts

3/4

cup

maraschino cherries

1

cup

pineapple tidbits
Instructions
If you plan to prepare this salad in advance, it's essential to thoroughly drain the fruit to prevent the salad from becoming too watery. You can place all the fruit in a colander and let it drain and dry for about an hour before using. This step will help maintain the salad's desired consistency as it sits.

In a medium-sized bowl mix the heavy cream together with the powdered sugar and vanilla extract on high speed until stiff peaks form.

Stir in the sour cream until it becomes homogenous.

Next, in a large bowl toss together the mini marshmallows and coconut with your well-drained pineapple, maraschino cherries and oranges.

Chop the nuts, ensuring they remain in small, bite-sized pieces. These nuts can include a variety, such as walnuts, almonds, and pecans, which are also added to the bowl.

Pour the whipped cream mixture over, stirring everything together until well-combined and all the ingredients are coated in the cream.

Cover the bowl and leave in the fridge to chill for at least 1 hour before serving.
Notes
Related: Arroz Verde (Mexican Green Rice)
Related: Alegria (Mexican Amaranth Candy)
Related: Top 25 Mexican Dessert Recipes
Related: Roasted Mexican Chicken
Related: Chicken Quesadilla with Pico de Gallo
Related: Most Popular Mexican Dishes