Reviewed: 10 Best White Rice Brands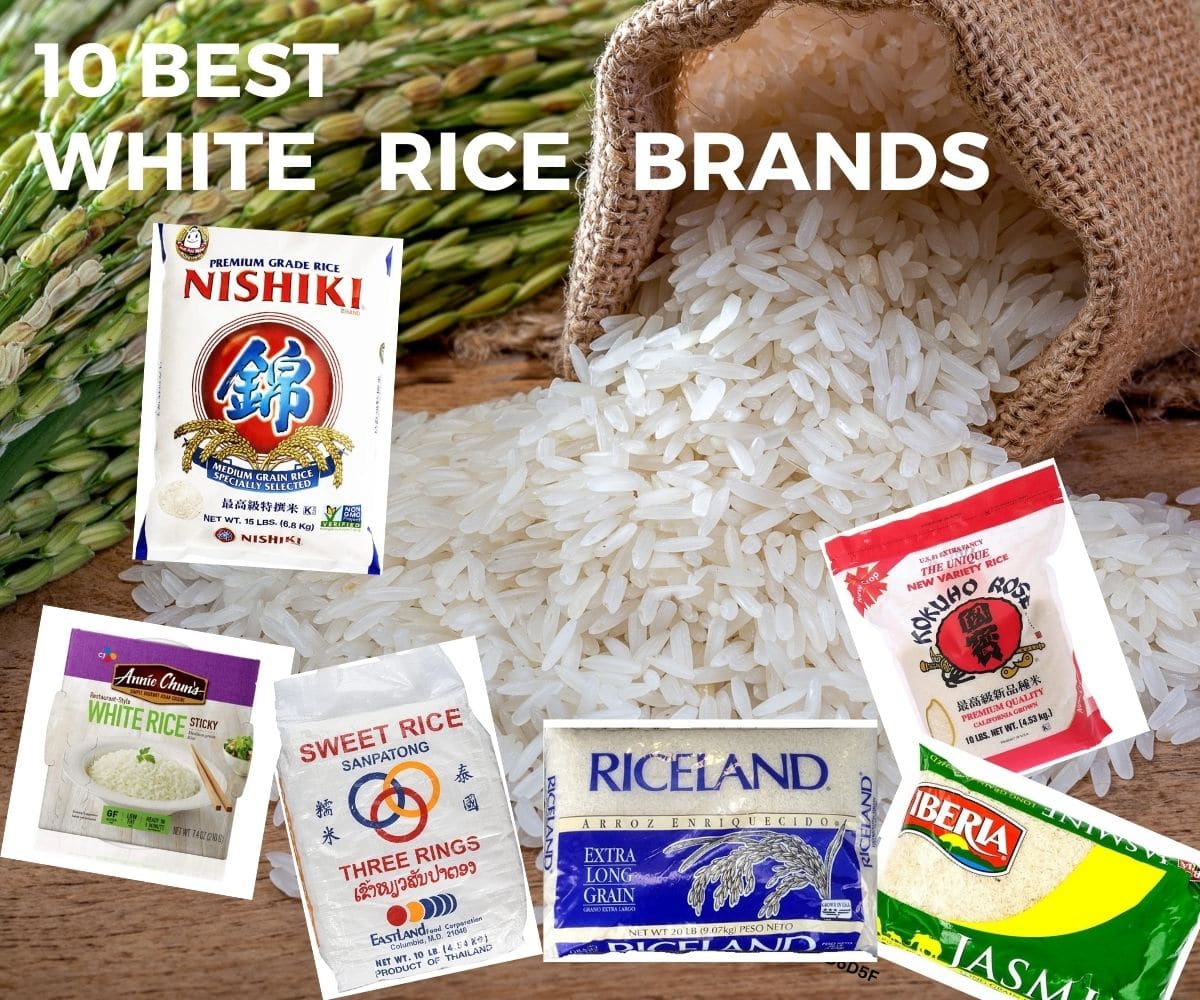 Rice, one of the most popular foods in the world, is to be found in the daily meals of over 3.5 billion people who depend on rice for more than 20% of their daily calorie intake. That's about half the world population!
Rice is a staple food in 39 countries, with Asia having the highest consumption rate in the world, followed by Latin America.
It's a very versatile product that is not only the main ingredient for a dish or dessert but also contains important nutritional values. It's important to add and that rice is also one of the least processed foods, making it safe to consume and easy to ingest by grown-ups and children alike.
Chances are that everyone at your table enjoys a delicious dish based on rice, and, thankfully, it can make a great addition to foods such as sushi, stir-fries, roasted meat, fish, various soups, desserts, and much, much more.
But what are the best types of rice to choose? There are many different types, such as white or brown rice, red, sprouted, wild, mixed, basmati, jasmine, and sushi rice, each with properties and tastes more or less suitable for specific dishes. We're here to help you choose – to take you through our favorite, most trusted brands, and to let you in on the features we love the most about every single one of them.
With so many types of rice to choose from, how do set about selecting which one to use? Well, you should always consider taste, texture, overall quality, nutritional content, and, last but not least, the number of preservatives – or lack of them.
Key factors to consider
The products and brands we're about to present have been chosen due to their higher score in aspects like overall quality, taste, nutritional value, texture once cooked, and the lack of additives, preservatives, artificial ingredients, and pesticides.
---
Check out our stories on the best Jasmine rice, brown rice and basmati rice brands.
---
And finally, keep in mind that ¼ cup of uncooked rice (about 45 grams) will turn into ½ cup cooked rice (about 125 – 250 grams), which is a 3 to 5 times increase in quantity, depending on the variety of rice and the cooking method.
So, let's see what 2021 recommends in terms of rice.
1. Nishiki Medium Grain Premium Rice
The best rice on our list is Nishiki Medium Grain, which, to begin with, offers a great deal in terms of packaging. It comes in a 15-pound bag, which should suffice a family of four having at least one rice-based meal per week.
Contrary to the expected Japanese origin given its name, this rice is harvested in California and it's one of the premium versions grown in the U.S.
Thanks to its stickiness, it can be eaten with chopsticks out of a bowl
This medium-grain variety is suitable for recipes that ask for short or long-grain rice, although the texture may be slightly different. Out of all the rice varieties, short-grain is the stickiest. Medium-grain is slightly less sticky but it works well for specific dishes such as onigiri rice balls. Nishiki makes a great side-dish for Asian meals, and, thanks to its stickiness, it can be eaten with chopsticks out of a bowl.
2. Annie Chun's Cooked White Sticky Rice
If there's one rice brand that encompasses all the convenience factors, it has to be Annie Chun's.
Annie Chun's Rice has all the features to get us hooked from the very first moment: it's packed in a microwave-friendly container which doubles as a serving dish and it comes fully cooked, making it ready to eat in a couple of minutes! Moreover, it's gluten-free, fitting a variety of dietary needs.
But most importantly, this brand does not contain any preservatives, artificial flavorings, or dangerous ingredients, making it the perfect choice for someone or their family concerned about a healthier lifestyle. Annie Chun is a brand that delivers in terms of quality ingredients and it's been on the market since the 1990s, so it's a trustworthy name.
So, if you're looking to recreate fancy Asian dishes or takeaway food in the comfort of your own home, you can do it in no time with Annie Chun's basic ingredients. Simply peel off the cover, pop it in the microwave, and mix it with toppings or whatever you're having on the side.
3. Augason Farms Long Grain White Rice
Next on our list is the Augason Farms Long Grain White Rice: the go-to option if you cook rice often and for a lot of people. Thanks to its extra large packaging, it will meet the needs of a large family or, if you're the owner of a diner, bistro, or restaurant, you will appreciate the 24-pound (10.9 kilos) bucket of this fine white rice that does for nearly 500 servings.
Unopened, it won't expire for 30 years! However, when unsealed, it's best consumed in no more than a year.
Just like Annie Chun's, it's gluten-free and, therefore, diet friendly. It works well with dishes such as casseroles, curries, roasted meat, and so much more. All you need to do is get creative with all that rice on your shelf! The brand behind it has been on the market for over 45 years, harvesting top quality rice in the U.S. and providing your family with only the best nutritional content.
4. Three Rings Thai Sticky Rice
Grown in Thailand, Three Rings is probably the stickiest rice option on our list. Ideal for sushi and similar dishes, as well as Asian recipes that require sticky rice, Three Rings has a certain sweet taste to it that many will find appealing. It cooks up quickly and doesn't require too many special steps or processes to give it a deliciously sticky and tasty result.
In terms of contents, we can vouch for Three Rings Sticky Rice, as it's high in protein and low in fat and cholesterol, containing moderate amounts of sodium. And no artificial flavorings or preservatives – what you see is what you get! Three Rings is a genuine product with no fillers, making it a great option for you and your family. Easy to carry and store, as it comes in a sturdy 10-pound package with handles.
5. Kraft Minute White Rice
This product from Kraft Minute is long-grain rice, a great option for a lot of dishes that do not require sticky rice. Nutritious and delicious, this precooked rice is packed with all the vitamins and minerals your family needs.
Quick and easy to make if you're in a rush, Kraft Minute White Rice only takes 5 minutes to prepare. The easiest way to get it ready is by bringing equal parts of rice and water (or broth) to the boil, and simply letting it stand for 5 minutes – and you're done!
Long-grain rice provides a fluffy dish that can be consumed as a side-dish or can be added to soups and stews. Just get creative –you'll be done cooking it in no time!
6. Koshihikari Rice by Shirakiku
Next on our list is Koshihikari Rice, an assortment of rice that originates in Japan and is imported to the United States. One of the most remarkable assets of this product is its representation of Japanese culture; that's what makes it an excellent choice when you're preparing sushi.
It is a short grain with a naturally sweet aroma and a firmness that is somewhat difficult to find in other rice brands, especially when it comes to sushi rice.
Another bonus that some people might appreciate is the fact that Koshihikari comes in 4.4 pound packs, with each pack making about 8-10 cups of uncooked rice, meaning 24-30 cups of cooked rice. Organic, easy to find, with only 20 minutes cooking time, Koshihikari is definitely the best option on our list when you have to shop for sushi rice.
7. Iberia Jasmine Rice
Jasmine rice is known to enrich your plate and palate with a beautiful, smooth aroma, making it a go-to option when cooking all sorts of curry dishes or meals where rice comes as a side-dish.
Iberia Jasmine Rice is sourced and harvested from more than one country in order to offer the best quality and flavor. Its aroma and robust texture make it a very versatile option for a variety of dishes that serve all kinds of lifestyles. It gets sticky when boiled, a feature making it suitable for both medium- or long-grain recipes.
So, whether you're vegan or simply like to invest more care in what you eat, Iberia Jasmine Rice is a valid gluten free, fat free, and kosher option, and therefore ideal for any household and more or less any need. Simply put, turn to jasmine rice if you're looking to pursue a healthy lifestyle without compromising flavor and taste.
8. Bombay Market Basmati White Rice
Imported straight from the Himalayas, Bombay Market's Basmati White Rice is without doubt the best basmati on the market. What's remarkable about this brand and this particular product is its nutty flavor, originating from the soils in which the grains grow.
Just as most of the varieties of rice on our list, Bombay also offers a rich texture and all the nutritional value you may be looking for. Its low calorie and fat content, coupled with the lack of sodium, make it an excellent choice for those of you looking to maintain a healthy lifestyle without compromising taste. Bombay Market's Basmati is suitable for all sorts of dishes, but note that it's not sticky due to being a long grain.
And last, but certainly not least, while you may not be looking for surprises when it comes to the taste or rice, expect one from Bombay since it offers a certain fragrance that will enhance the taste of any meal.
9. Riceland Extra Long Grain White Rice
Made of high-quality grains and harvested in the U.S., Riceland Extra Long Grain White Rice is another honorable mention of long-grain rice, and one of the best foods of the like to be produced in the United States.
It won't get in the way of your lifestyle rules as it's free from cholesterol, sodium, gluten, and fat, ergo, the best option for you to have it all: eat a delicious and flavorful meal which is also healthy. Long-grain rice is suitable for most of your dishes, and is included in recipes from places all over the world. Riceland makes a great accompaniment for meats, seafood, and even vegetables. Its mild aroma helps it blend perfectly alongside any other main dish, flattering the taste of other ingredients.
10. Kokuho Rose Rice
Rated an excellent 4.8 out of 5 stars in the world's most popular marketplace, Kokuho makes a great option when cooking Asian food, although it's harvested in California. Its medium-grain body is milled and water polished before packing. It's marketed for and, indeed, does very well as sushi rice, but it will work well for dishes that require a stickier variety as well. With only 20 minutes cooking time in water or broth, you'll find yourself making a delicious addition to your main dish.
The brand has been around since 1948, providing some of the best quality rice in the U.S. made in sophisticated production facilities.
Long story short, if you're looking to provide foods from a trustworthy producer for you and your family, Kokuho Rose Rice with its medium-grain body is clearly the option for you. In a nutshell, we're sure that you've got the idea by now: sticky rice is great for sushi, long-grain rice is versatile and suitable for probably the largest array of dishes you could possibly make with rice, and pretty much any rice in this article is as delicious as it is healthy.
Cooking should be fun and, with high quality rice, it's also easy. You can get creative and reproduce dishes from all over the world with the options listed above, ranging from Asian specialties to rice pudding and everything in between. Keep an eye on the overall quality of the product you're about to buy and look out for added ingredients such as preservatives or additives – a class A product should have none. Find the right balance between the nutritional factors that work best for you and your lifestyle, and don't forget that texture and taste can and will influence the end result. Bon appetit!
---
Chef's Pencil is reader-supported. If you buy something through our links, we may earn an affiliate commission, though this not impact the product selection, which is done independently by our editors and contributors.
---