These Are Our 29 Favorite Cod Recipes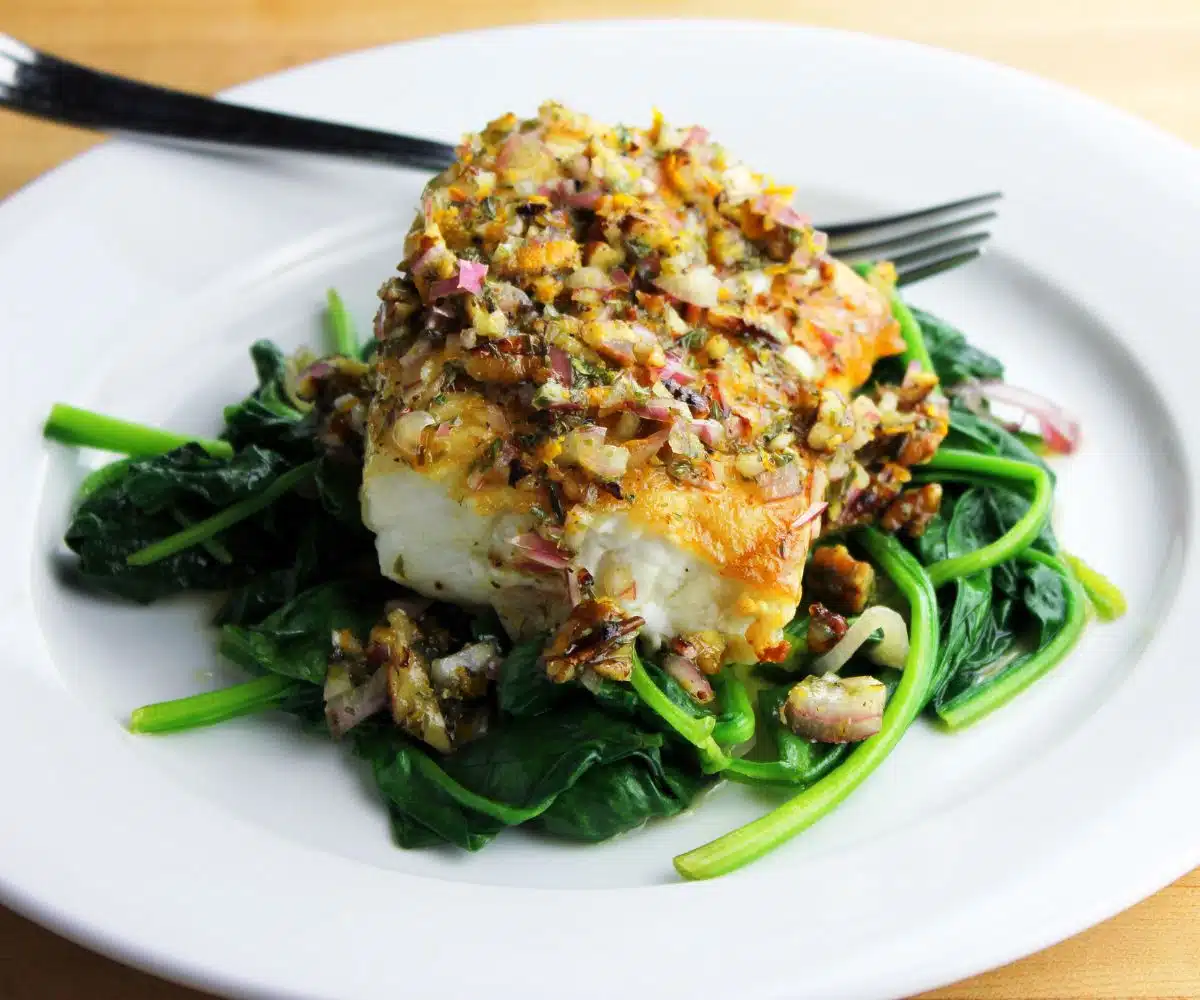 Cod is a very popular fish, highly valued for its flaky white flesh and versatility in cooking. Its mild flavor makes it a favorite even with those who are not huge fish and seafood fans. If you want to introduce your little ones to fish, cod is a great option, for the very same same reason.
Cod makes a great canvas for a wide range of seasonings. Some of the most popular pairings for cod include lemon and herbs (its mild flavor is enhanced by bright, fresh flavors), garlic and butter (always a winning couple), or tomatoes and olives (the acidity of tomatoes and the saltiness of olives add depth and complexity to the flavor of cod).
Cod pairs well with a range of vegetables, such as roasted or sautéed potatoes, carrots, zucchini, or asparagus, and is a popular choice for battered fish and chips. The crisp and crunchy texture of the batter contrasts with the tender flakiness of the fish.
To add to its versatility, cod can be cooked in virtually any way: baked, broiled, grilled, poached, fried, or even used in soups and stews.
As for wines, you should go for crisp and refreshing whites, such as Sauvignon Blanc, or buttery, oaked Chardonnay. If you prefer a red wine with your fish (which is not illegal), a light-bodied Pinot Noir can work well with cod. Look for a wine low in tannins and with bright acidity, which will balance the delicate flavor of the fish. Learn more tips about food & wine pairings here.
In terms of nutrition, cod is an excellent source of high-quality protein, and while not as high in omega-3 fatty acids as some other fish, it does contain some of these beneficial fats. Cod is also a good source of vitamins B12 and B6, as well as minerals such as selenium and phosphorus.
So, if you need a pretext to add more fish to your diet, here are some very tasty cod recipes to serve as inspiration.
1. Miso-Glazed Cod With Black Rice Pilaf & Wasabi Essence
This is a delicious, Asian-inspired cod recipe. It's super tasty and healthy. Give it a try!
2. The Best Baked Cod
Cod baked in a delicious sauce of tomatoes, onions, and white wine leaves the meat infused with plenty of flavor. The addition of feta cheese on top is a nice surprise that really rounds up the dish. You can serve it with pasta or grilled veggies.
3. Crazy Easy Grilled Cod
This is indeed a very simple recipe, but there are some tricks that will help you obtain perfectly grilled cod. Use a grill basket for easy flipping and to avoid the dreaded "fish sticking to grill" scenario. Also, make sure you cook the cod on high heat, to prevent it from drying out.
Once it's done, dress it with some lemon juice and your favorite seasoning. You can serve it next to a salad, in tacos, for a burrito bowl, or paired with grilled veggies.
4. Roast Cod with Caper and Anchovy Paste
Inspired by Nigel Slater, this recipes bets on capers and anchovies for a powerful umami flavor profile that is both salty and tangy. Once the cod is slathered in the tasty paste, you simply pop the roasting pan in the oven for 15 to 20 minutes. In the meantime, you can steam some green veggies for a side dish.
5. Easy Mediterranean Baked Fish
Just eight ingredients and on the table in just 20 minutes, this is plain healthy and delicious – the very definition of the perfect recipe for a busy weekday dinner. The typical Mediterranean flavors (capers, coriander, lemon, olive oil, garlic) complement the cod perfectly.
Just make sure you don't overcook it: once it starts to flake easily, it's done!
6. Bacalao a la Mexicana
This is a favorite Mexican Christmas dish, one that you should try as well, as it's delicious, healthy, and very filling. The deboned cod is cooked in a delicious tomato sauce with other veggies and herbs, then potatoes are added to create a full, satisfying meal.
7. Baked Cod with Spinach, Feta and Tomatoes
Super easy to put together, even on busy weekday evenings, this recipe is full of color and taste. The cod is baked in the oven together with baby spinach, tomatoes, and feta cheese. You can serve it on its own, or next to some white rice, or a crusty piece of bread.
8. Brazilian Fish Stew
This Brazilian fish stew recipes works very well with cod – you simply simmer it in coconut milk and stock, with onions, carrots, tomatoes, chilies, and lime. Spicy and with just the right amount of sweetness and acidity, this recipe is a great option when you have to feed several people, or if you want leftovers.
Serve it on simple white rice.
9. Chinese Steamed Cod with Ginger Scallion Sauce
You can use an entire cod for this recipe, or fillets, whichever you prefer – either will be delicious. The cod is steamed in an airtight pocket of parchment paper, which ensures that the meat stays juicy and tender.
While the cod is in the oven, prepare a ginger, scallion and chili pepper sauce, which perfectly complements the cod.
10. Bacalhau da Consoada (Portuguese Cod Stew)
This cod stew, called bacalhau de consoada, is a popular Portuguese Christmas dish. It's a simple, humble, traditional dish, but super tasty. Definitely worth a try!
11. Cod and Chorizo Saffron Broth with Chickpeas and Lemon
Combining cod with chorizo might not have been on your bingo card, but the combination definitely works. The dish is a filling and hearty stew, and the chorizo is used simply for the flavor, you don't need a lot of it.
The dish contains onions, garlic, white wine and puréed tomatoes, plus plenty of spices, and canned chickpeas are added at the end. Traditionally, it is served with buttered samphire, but if that isn't available, try rice instead.
12. Cod Ajoarriero Style
Cod is cooked in fish broth with onions and peppers for this traditional Spanish dish that's both simple and refined. The texture and natural flavor of the cod takes the front row, while the rich, umami sauce takes the recipe to the next level.
Serve it with steamed potatoes.
13. Cod Fish Cacciatore Style
This one-pan dish combines cod with tomatoes, veggies, wine and various herbs, plus olives and capers. The fish simmers gently in the sauce, being infused with all the delicious flavors. If you want some spiciness, you can add some hot peppers as well.
Serve it with your favorite side dish – pasta, rice, polenta, potatoes, the choice is all yours.
14. Cod in Tomato Lemon Butter Sauce
This dish comes with complex flavors and plenty of color, but is in fact a very quick and easy recipe. The cod is cooked in butter (which, of course, makes it tender and delicious), then you throw the tomato-lemon sauce together in the same pan.
Garnish it with fresh herbs and serve while hot.
15. Cod Provençal with Tomatoes, Capers and Olives
Olive oil, garlic, tomatoes and Provence herbs end up together in a pan with the cod – and don't forget the capers and olives for some extra saltiness and acidity. What could go wrong? Absolutely nothing, as this simple, satisfying, and healthy one-pan recipe will be on your plate in about half an hour or so.
16. Air Fryer Breaded Cod Cakes
Crunchy and flavorful, these cod cakes will be a hit with everyone, children included. The preparation is pretty straightforward: simply combine the cod and the seasoning, form patties, and fry them in your air fryer.
If you don't have an air fryer, don't despair: you can use your oven on high heat, with the fan on. Or, you could also deep fry them in oil, which will render very tasty, albeit slightly less healthy, cod cakes.
17. Grilled Cod Tikka with Cucumber Yogurt
Cod takes flavors really well, which means it's very well suited for this tikka masala based recipe.
First, coat the cod in tikka masala spice paste, then cook the meat in a foil-lined tray, using your broiler on medium heat. Serve it with pita bread and cucumber-yogurt dressing: a delicious Greek-Indian fusion recipe.
18. Fish Piccata with Crispy Smashed Potatoes
The meaty cod is very good choice for this fish piccata recipe. Simply fry the floured fish fillets and baby potatoes already softened in the microwave in olive
oil, for a crunchy and fast meal. The green beans that soak up the flavors from the same pan are a very nice addition to this dish.
19. Healthy One-Pot Cod and Rice
A healthy combo of basmati rice, cod fillets, spinach and tomatoes, this dish starts on the stove top, where you cook the rice almost completely, and then goes in the oven with the rest of the ingredients.
It's a very easy, full meal that includes proteins, carbs and veggies, and makes a great dinner or a delicious packed lunch for the office.
20. Fantastic Fish Pie (Dairy-Free & Gluten-Free)
Adapted from a Jamie Oliver recipe, this dish is for those who love a good British-inspired fish pie but also need to avoid common allergens such as dairy and gluten. The pie filing is made with cod (or other similar fish) combined with various veggies including leek, peas, and carrots, and tied together with coconut milk.
The pie topping is delicious potatoes that go golden brown in the oven.
21. Baked Risotto with Cod
Start this cod risotto enriched with bacon, leeks, and mushrooms, on the stove top, and finish it in the oven, topped with cherry tomatoes, for a hearty, flavorful, Mediterranean-inspired meal.
Although it takes a bit of chopping, sautéing and frying, it's still relatively easy to put together, and you don't have to bother with preparing a side dish.
22. Mediterranean Style Baked Cod
Firm and juicy cod fillets served on top of colorful veggies – definitely something you should try, and it doesn't involve a whole lot of work. In fact, it's a straightforward and easily customizable recipe (you can use whichever veggies you like the most).
However, do make sure you keep the capers, olives and tomatoes, as those flavors pair very nicely with the cod, and don't skip the gremolata sauce that brightens up the entire dish.
23. Oven Baked Chowder
The fact that it's oven baked makes this chowder a breeze to cook, and the combination of hearty root veggies with cod ensures a very satisfying meal for everyone. You can make a big portion of chowder, as it's delicious the next day as well – in fact, some say it's even better after it rested in the fridge overnight.
24. Pan-Seared Cod in White Wine Tomato Basil Sauce
Searing the cod until golden brown ensures a slightly crispy exterior and a juicy interior, while the tangy tomato, garlic and white wine sauce brings plenty of flavor. The recipe is ready in around 20 minutes, and you can pair the dish with rice, polenta, bulgur, or simply with some bread to soak up the sauce.
25. Parmesan Crusted Cod
Few things are better than a perfectly fried piece of fish, with a nice, crunchy crust – so, if that's what you're craving, look no further. Make sure you pat the cod dry before dipping it into the beaten egg, Parmesan, and seasonings mixture. And you don't even have to mess with hot oil and the pan – put the fish in hot oven or air fryer.
The Parmesan crust gets crunchy and delicious this way. You can serve it alongside a green salad, your favorite veggie side dish, or, for a truly indulgent meal, with freshly made French fries.
26. Roasted Chili-Lime Cod
A dry rub consisting of chili and garlic powder plus various herbs is used to flavor these cod fillets, which are then roasted in the oven for 10-12 minutes, until the meat is flaky and opaque in color. In the meantime, prepare a refreshing lime, butter, and olive oil sauce to drizzle on top of the fish, along with your chosen accompaniments.
27. Sautéed Cod with Pea Cream
Cod served on a layer of creamy pea purée is a very hard-to-resist combination – even more so since you're using mustard seeds to season the fish, which bring in nutty, spicy notes. Frying the fish in oil ensures a nice contrast between the crunchy meat and the delicate pea purée.
28. Spiced Cod with Roasted Cauliflower and Salsa
With a North African flair from the harrissa used to season the cod, this is a light, healthy and quick meal to make, mostly done in the oven. A refreshing salsa made with tomatoes, lime juice, and chilies, brings just the right touch of spiciness and acidity.
29. Cod w/ Cauliflower Mousseline & Xérès Emulsion
This is a Michelin-rated cod recipe that will simply wow your dinner guests. The cod is paired with a smooth cauliflower mousseline and a exquisite Xeres emulsion.
---
If you like seafood, check out our round-up of the most delicious halibut recipes. And if you're willing to try something more exotic check out our story about cod milt. It's called shirako in Japan and it's a local delicacy in many East and South East Asian countries.