Trubochki (Ukrainian Wafer Rolls)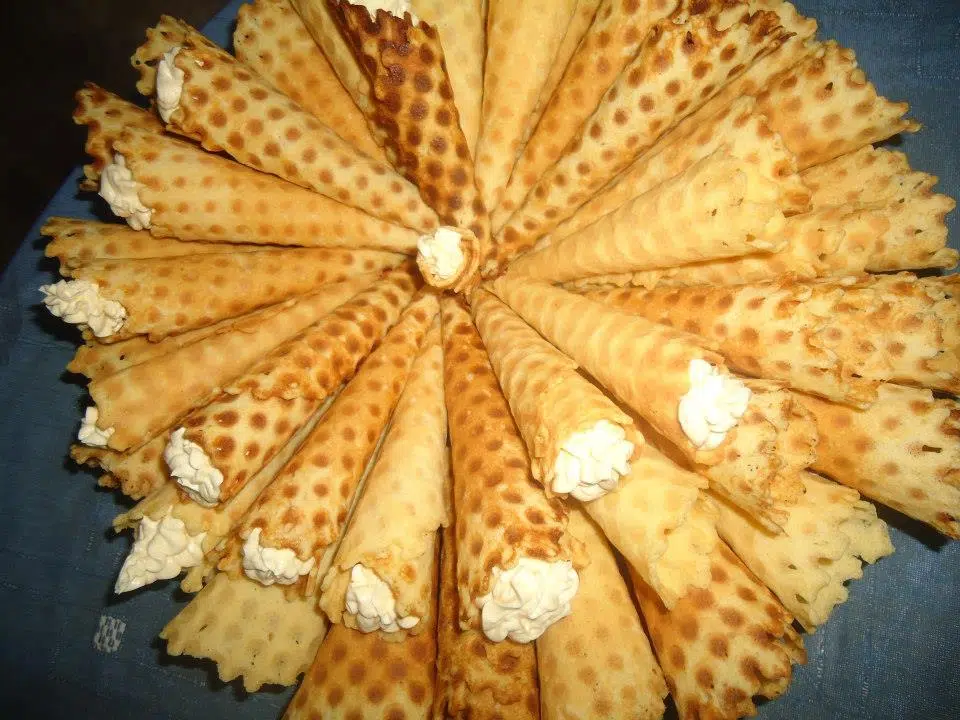 You will adore Ukrainian trubochky if you are already a fan of Ukrainian horishky. Both are divine pastries (albeit of distinctly different shapes and pastry) stuffed with a condensed-milk mixture to die for. Tasting like a piece of heaven and looking elegant and royal, these wafer rolls are slightly reminiscent of Sicilian cannoli but with their own unique twist.
Ukrainian wafer rolls are festive staples and an absolute must-try if you are getting acquainted with the national dessert cuisine. Disclaimer: If you start directly with trubochky, there is a pretty high risk you won't go beyond them. No joke, you will just see no point in looking for anything else. Follow this step-by-step recipe and make your perfect crunchy tubes soaked with creamy dulce de leche.
Trubochky (Ukrainian Wafer Rolls)
Ingredients
For the batter
4

large

eggs (room temperature)

1

oz

granulated sugar 

2

tbsp

use melted cooled butter

½

tsp

vanilla extract 

4

oz

all-purpose flour (sifted) 
For the filling
8

oz

cream cheese (refrigerated)

2 ⅔

oz

condensed milk/dulce de leche (refrigerated)

8

oz

cool whip (frozen)

¼

tsp

vanilla extract 

1

tbsp

powdered sugar 
Instructions
For the batter
Preheat the wafer maker while you make the batter.

Whisk the eggs, sugar, and salt on high speed until the eggs are light in color and the sugar has dissolved (approx. 2 minutes).

Add the melted butter, vanilla extract, and flour.

Whisk everything until the flour is mixed in (approx. 1 minute).

Spoon the batter onto each wafer section and close the lid. Bake for 18-20 seconds or until dark golden. Carefully remove the wafers with a spatula. 

Quickly wrap the hot wafers around a wooden stick (it usually comes with a wafer maker). Don't let the wafers cool down.

Repeat with the remaining batter.

Place each tube on a baking sheet to dry and cool. Make sure there is enough space between them. Do not let them get soggy.
For the filing
Whisk the cream cheese on high speed (approx. 1 minute).

Add the condensed milk and vanilla extract. Whisk for 1 minute.

Add the frozen whip and continue beating until the filling becomes thick and smooth (approx. 2-3 minutes on high).

Fill a piping bag with the cream and fully stuff each wafer tube (both ends).

Dust the tubes with powdered sugar.

Refrigerate until ready to serve.
Notes