15 Traditional Uruguayan Desserts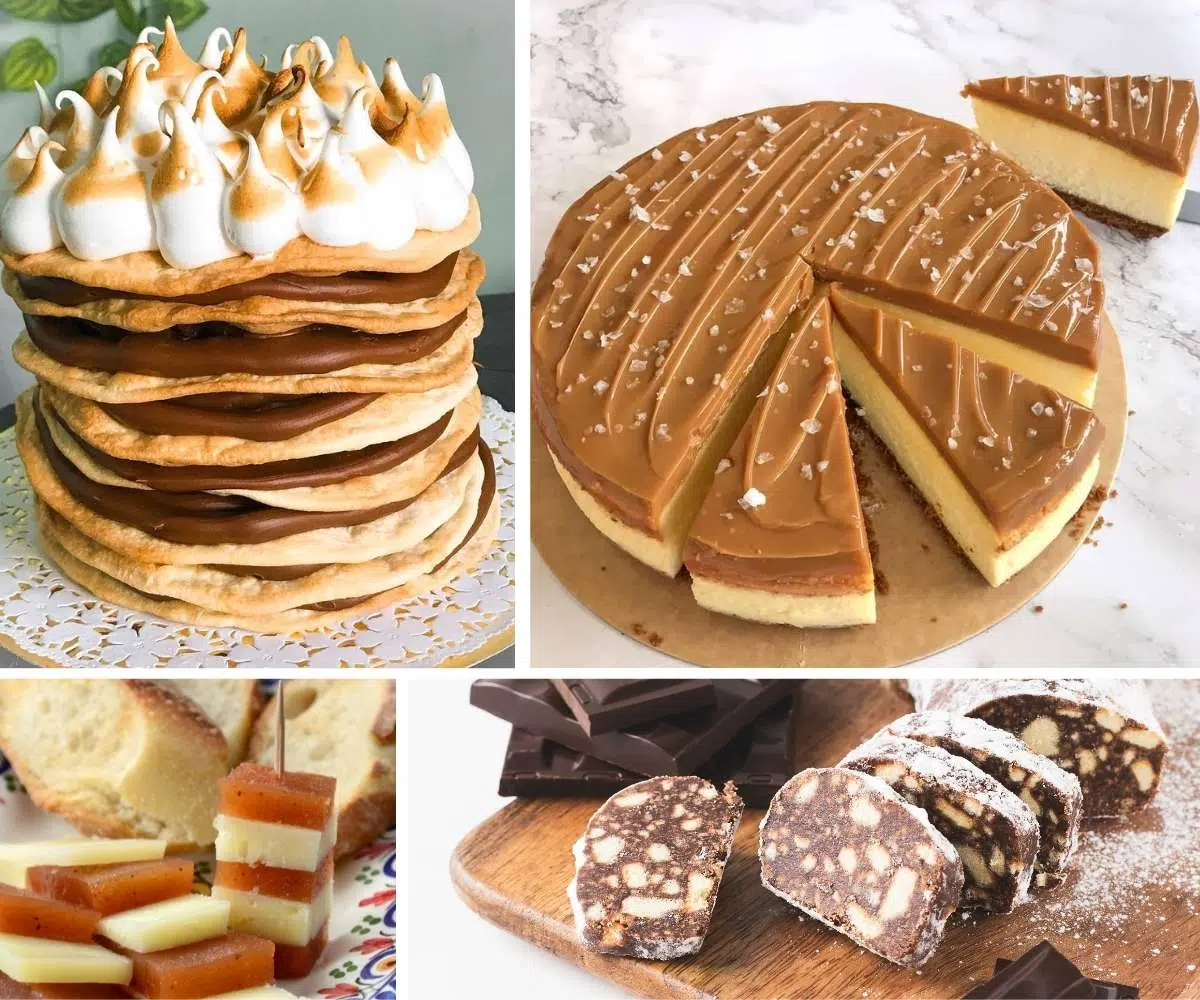 In 1830 Uruguay had only 70,000 inhabitants. By 1900, the population had grown to 1 million. Europeans, mainly Spanish and Italian, arrived in the country and adapted their cuisine with local ingredients.
Eduardo Galeano, an award-winning Uruguayan writer, ironically said, "Mexicans descend from Aztecs, Peruvians descend from Incas, and Uruguayans descend from ships."
Uruguayans have a sweet tooth. We always want to have something sweet after a meal. The country's list of traditional desserts is long and delicious. Below are just the 15 most popular Uruguayan desserts that can be found in almost any restaurant in the country. 
1. Chocolate Sausage (Salchichón de Chocolate)
This is a dessert made from ground Maria cookies, chocolate powder, and butter. Due to its simplicity, it is common for the children of the house to prepare it.
2. Rice Pudding (Arroz con Leche)
Rice pudding is very common throughout Latin America and everyone adds their own special touch. You can add orange or lemon peel, cinnamon stick or powder, jelly, etc. It can be served chilled or warm. There are as many recipes as there are cooks. 
3. Martín Fierro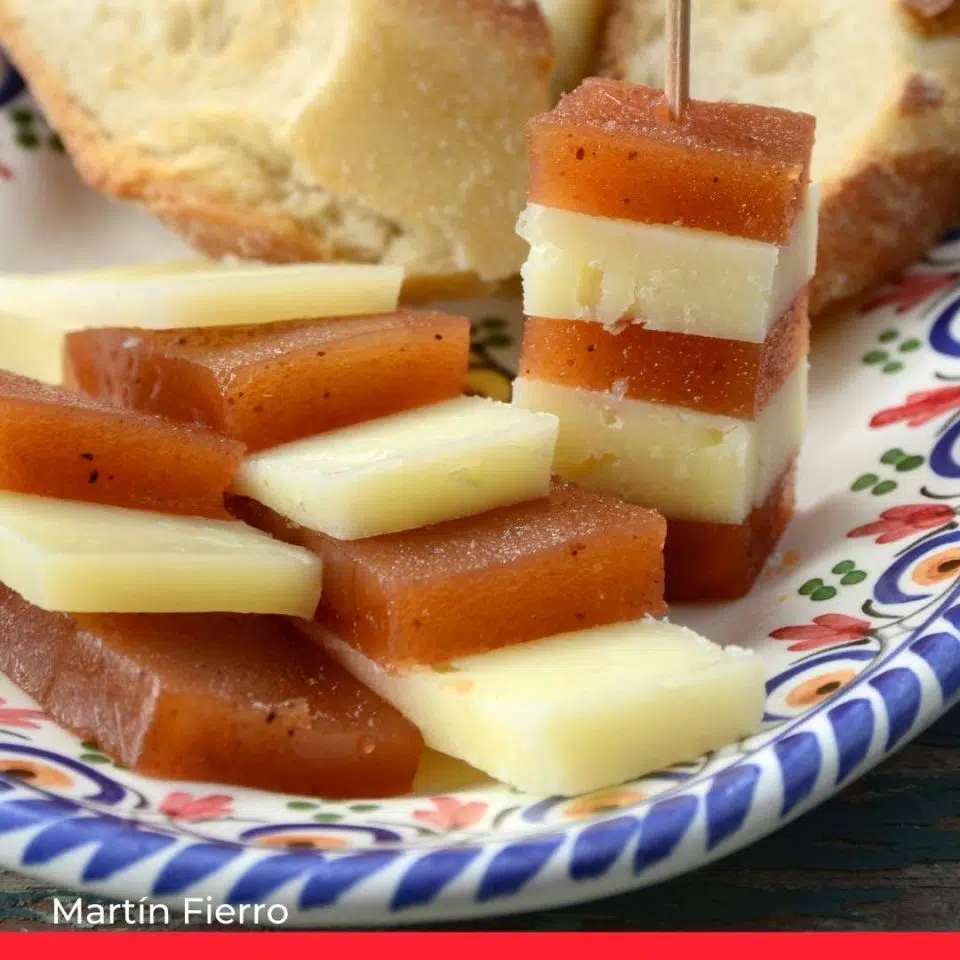 The simplicity of mixing a slice of Gruyere cheese with a little quince jelly creates a perfect balance in this traditional dessert mixing sweetness and sour. It is popular for picnics. 
4. Crepes Filled with Dulce de Leche
The true king of Rioplatese jellys and jams is the dulce de leche. It is very common and found in all homes.
Everyone who eats it adjusts it to their preferred sweetness with the amount of dulce de leche they spread on it. To give it a gourmet touch, caramelized sugar or chocolate sauce are poured over the crepe.
5. Massini
The fusion of textures created by the three layers of this dessert creates the perfect bite.
The lower layer is a thin fluffy pionon. In the middle we find a delicious sweet vanilla cream, and on top there is a generous layer of caramel that gives the dessert its crunch.
It is said that this dessert was invented by an Italian baker and named it after the tenor Angelo Massini.
6. Rogel Cake (Torta Alfajor)
Again, we find the king of the Rioplatense jams, our beloved dulce de leche. The Rogel cake is a layered construction of a crispy dough made with eggs and flour, and the union between the layers is our dear friend, dulce de leche. 
It is coated with a sweet meringue, browned a bit to give it an even more tempting visual touch.
7. Floating Island with Sabayon Sauce (Isla Flotante)
Only three ingredients are needed to achieve the perfection of this dessert: eggs, sugar, and Italian Marsala wine.
The consistency of the floating island takes us back to our childhood, reminding us of that wonderful surprise of melting cotton candy.
Floating island is a very smooth meringue, cooked in a caramel-lined mold, giving it that gourmet touch of sabayon sauce. The sauce is made with the leftover egg yolks from the meringue, sugar, and Marsala wine. An explosive blend of flavors.
8. Flan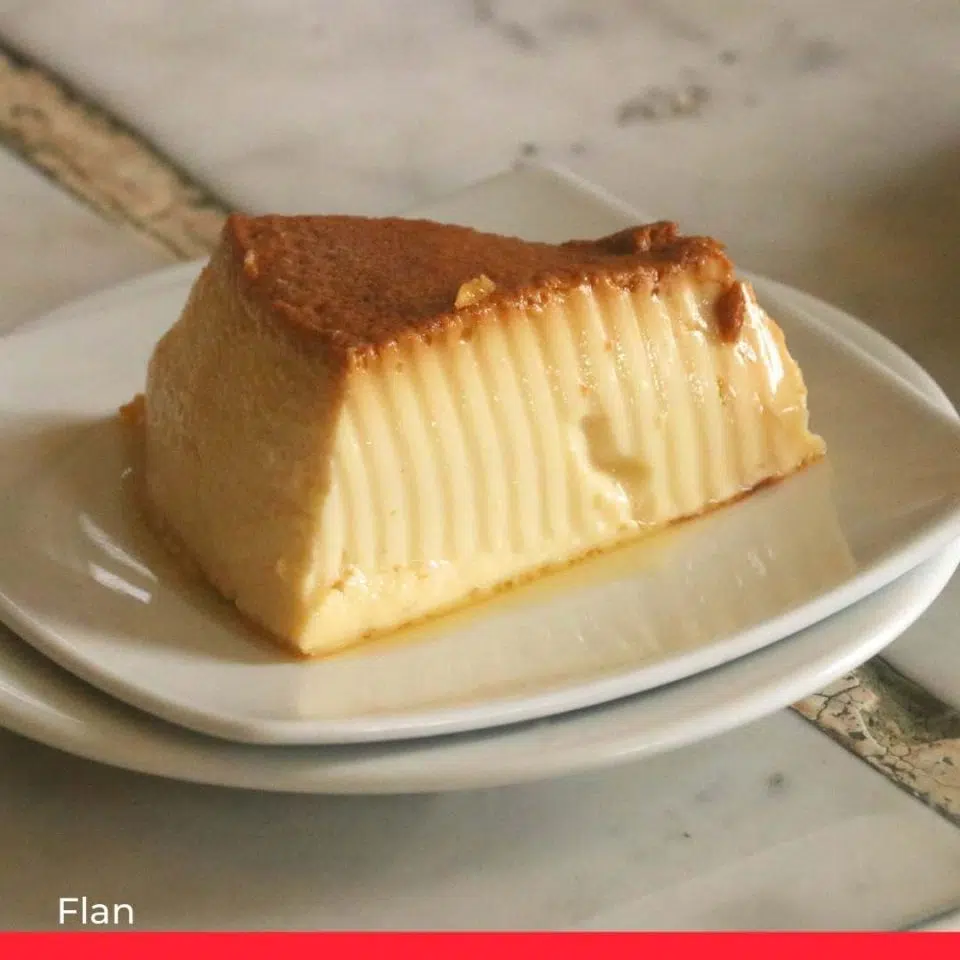 Another dessert that proves you don't need to use a lot of ingredients is made with simply eggs, milk, and sugar. A well made flan will make diners sigh. 
It is the classic family dessert that reminds us of Grandma's kitchen. It is usually served with… Yep! You´ve guessed it! A generous spoonful of dulce de leche.
9. Peaches Preserved in Syrup (Duraznos en Almíbar)
Peaches are harvested in spring and summer. Many generations ago, chefs discovered a great way to conserve fruit for later consumption: placing them in a sterilized glass jar and filling it with syrup.
In Uruguay, peaches in syrup are generally consumed on their own, with a tablespoon of whipped cream, or in cakes and other desserts. 
10. Fruit Salad
Fruit salad is consumed all year round. Nevertheless, the summer, when fruit is at its finest, is when we enjoy it the most. Each cook puts their own stamp on it. There are those who like to cut the fruits in very small pieces, others like it in large chunks; there are those who add orange juice, sparkling water, a spoonful of ice cream on top, etc.
Fruit salad is best best prepared together. With a large gathering of friends or family, you can invite others to the kitchen, give them each a knife and a bowl, and get them to peel and cut the fruit. In this way, we create a memory of sharing cooking that will last for ever.
11. Pasta Frola (Cake with Quince Jelly)
The main actor in this dessert is the quince jelly. This dessert has sweet and sour notes and a powerful and bright reddish color.
The frola pasta is made with a thin buttery and sweet dough on the bottom, a generous layer of quince jam, and, to finish, a net made with the leftover dough. Some people like to sprinkle a little bit of grated coconut on top. It is the perfect combination for serving with a good tea or coffee.
12. Chajá
Chaja was invented in a confectionery shop in the north of the country. It is made with a pionono, whipped cream, peaches in syrup, and cooked meringues. The name chajá comes from a bird that is seen a lot in Uruguay.
It is said that the inventor of the dessert, seeing the chajá, with its abundant and aerated plumage, named the dessert in its honor.
13. Apple Pancakes with Ice Cream
Apple crepes served with vanilla ice-cream have a perfect balance of temperatures (the cold of the ice-cream and the warmth of the crepe) and sweetness-acidity (the sweetness of the crepe, and the acidity of the green apple). And to that spectrum of sensations is added crispy caramel. It's a must-have dessert.
14. Dulce de Leche Cheesecake
This dessert is the perfect example of how to give a regional touch to a world famous dessert. To the commonly known cheesecake is added the sweetness of dulce de leche, generating a sweet cream of intense flavor.
15. Bread Pudding
This rich, easy and inexpensive dessert takes advantage of the previous day's bread to create an excellent dessert. With a few eggs, a little sugar, and the magic of the cook (raisins, orange zest, cinnamon, etc.), this dessert is traditionally seen on Uruguayan tables. It can also be served with a spoonful of sweetened whipped cream.
Over the last decade there has been a great migratory wave of peoples from different parts of Latin America, all of them adding other colors, aromas, and flavors to our kitchen.
Restaurants have been set up by people of nearby countries whose cuisine we had not had access to. And we have started to incorporate other products that, until today, we did not even know existed. That shows that cooking is something alive, ever-changing, and nourished with the history of each place.
---
Related: Most Popular Uruguayan Foods