Tlayuda con Chorizo (Mexican Chorizo Pizza)
Tylauda – also known as "Mexican Pizza" – is one of the most common and versatile foods in Mexico.
It can be made with a variety of different ingredients such as chicken, fish, seafood and vegetables and, much like its more famous Italian cousin, is often topped with melted cheese.
Mexican street vendors use a heated stone similar to a pizza stone to cook the tlayuda, until the ingredients soften and the cheese bubbles. You can recreate this in a hot oven at home, with a pizza stone.
Enjoy this delicious tylauda recipe with smoked chorizo.
Tlayuda con Chorizo (Mexican Chorizo Pizza)
Discover the authentic taste of Mexican pizza with this delicious tlayuda con chorizo recipe.
Ingredients
1

teaspoon

avocado oil

Ghee or lard

½

cup

onion

6

cloves

garlic

a pinch of salt

2

teaspoons

chili powder

1

teaspoon

ground cumin

1

can

black beans

3 – 4

tablespoon

water

4

tortillas

12 inches each

2

cups

shredded Oaxaca cheese

4

ounces

cooked smoked chorizo

2

cups

mesclun

1

cup

salsa

½

cup

fresh cilantro leaves

1

fresh jalapeño pepper
Instructions
Preheat your oven to 450 °F/ 230 °C. Place a pizza stone on the bottom oven rack.

Place a saucepan over medium-high heat and add the avocado oil. When hot, add the onion, garlic and salt and cook until the onion is translucent and the garlic is tender.

Add the cumin and chili powder and stir for 1 minute.

Turn off the heat and add 3 tablespoons of water and transfer to a blender. Pulse blend until the texture is chunky but spreadable.

Take one of the tortillas and spread a thin layer of bean mixture on its surface, then top with 1/2 cup of cheese and 1/4 of the chorizo. Repeat for each of the tortillas.

Take the tlayuda out of the oven and place on a cutting board. Allow it to cool for a minute, top with 1/2 cup of mesclun or cabbage, 1/4 cup of salsa, 2 tablespoons of cilantro and a few chili pepper slices.

Repeat for each tlayuda and cut into wedges with a pizza slicer before serving.
Notes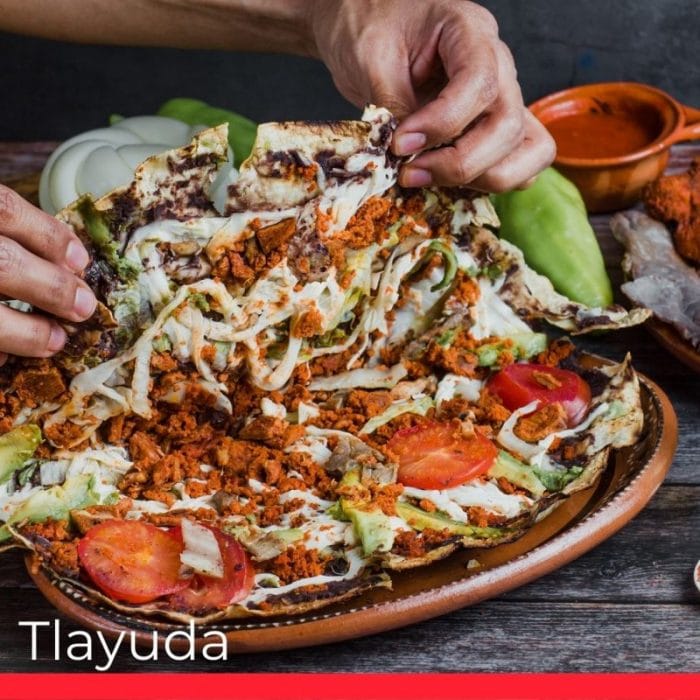 Related: Mixiotes de Pollo
Related: Roasted Mexican Chicken
Related: Chicken Quesadilla with Pico de Gallo
Related: Arroz Verde (Mexican Green Rice)
Related: Chicken Chili with Corn
Related: Beef Machaca (Shredded Dried Beef)
Related: 23 Types of Pizza