Beef Mishkaki
Mishkaki, sometimes spelled Mshikaki is a famous East African street food that consists of marinated meat such as beef, goat, or chicken that is gently cooked on skewers over hot charcoals.
It's a popular food in Tanzania and its beautiful island of Zanzibar, where they are commonly sold in local bars and Indian-style outdoor BBQ restaurants.
The meat is marinated in a blend of herbs and spices to bring out its natural flavor. If using beef, the meat should be marinated overnight. This allows the steak to tenderize and cook more quickly.
This recipe calls for raw papaya as a tenderizer, but vinegar can be used instead. This is a Swahili recipe with ukwaju sauce (a tamarind-based sauce). The sauce really adds a lot of flavor and spice to the dish. Mishkaki can also be enjoyed with fries or chip mayais.
Enjoy this classic beef mishkaki recipe!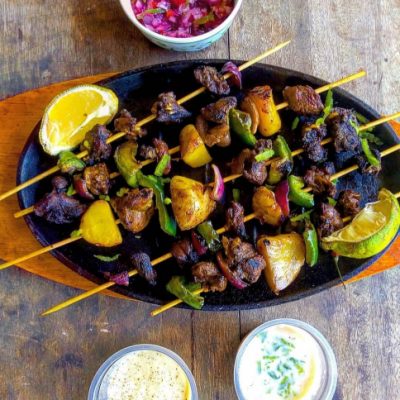 Beef Mishkaki
Mishkaki, or beef skewers in Tanzania, are served with vegetables and tamarind sauce.
Ingredients
1

tbsp

beef seasoning powder

1

tsp

coriander powder

2

tsp

chili powder

1

tsp

cumin powder

1/2

tsp

Arabic spice powder

1

tsp

ground black pepper

1.5

tbsp

vinegar

1

tsp

salt

1

onion

1

green bell pepper

1

red bell pepper

1

dark mushroom soy sauce
Tamarind sauce
1

tamarind

3

garlic cloves

1

medium-sized onion

2

green chili peppers

1

tsp

salt (to taste)
Instructions
Dice the beef, onions, tomatoes, and green and red pepper.

Place them alternately on skewers.

Place your skewers on a foil-lined oven pan.

Add the salt, beef seasoning, cumin powder, and dark mushroom soy sauce.

Place some frying oil on top of the rest of the seasonings.

Shake the tray slightly to let the marinade blend and distribute.

Set your oven to 80 degrees and put your tray on the seat to cook gently.
How to make the Tamarind sauce:
Soak the tamarind in hot water for 10 mins.

Extract the tamarind pulp and strain it.

In a blender, blend the tamarind pulp, onion, garlic, green chili, and salt into a fine paste.

When the meat is almost cooked, brush it with some sauce and let soak for 2 minutes. The sauce can also be used as a dip.
Notes
Featured image courtesy kristiesmunchies2021.