Top 20 Most Popular Foods in Zanzibar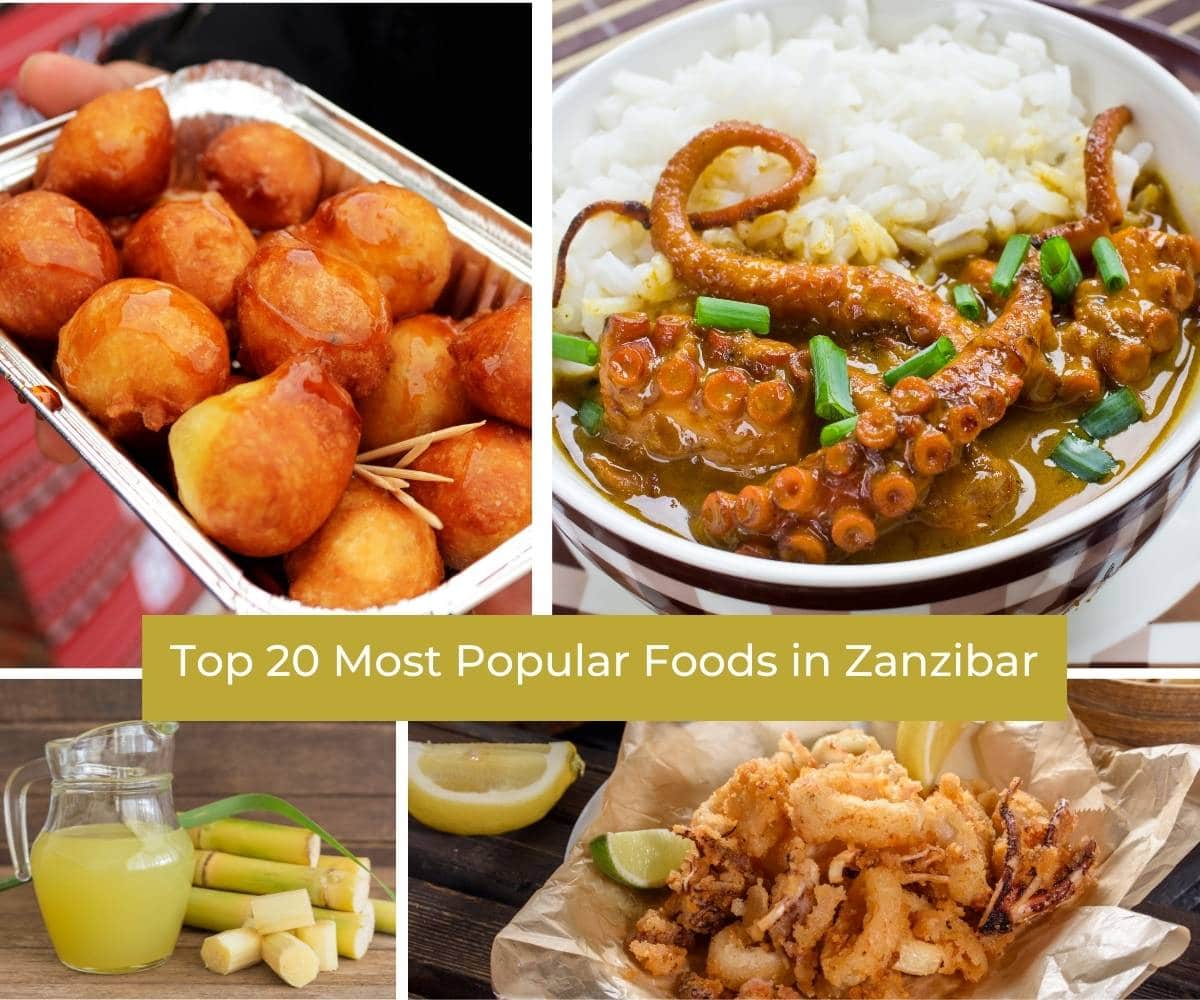 Zanzibar is an archipelago in the Indian Ocean, off the coast of Tanzania. Known as "Spice Island", Zanzibar is famous for its cloves, cardamom, nutmeg, and many more spices, and these islands offers some truly special food.
From the historical, maze-like streets of Stone Town, to the white sand beaches of Nungwi in the north, Zanzibar cuisine is a journey through Swahili culture. Authentic Zanzibari dishes provide the opportunity to experience tropical East Africa, with all the influence of India and the ancient Arab world, mingling seafood, fresh tropical fruits and rich spices for a taste adventure.
Dinner Time in Stone Town
In the heart of the tourist sector of Old Stone Town are waterfront gardens, where you will find lazy cafes along the sea wall and sporadic seating in the shade along the garden's edge. As soon as the sun begins to set, this area transforms: first, acrobats perform on the sand or off the sea wall, fueled by onlookers' cheers (this is technically not allowed, but they do it regardless, chased constantly by local security), then more and more local Zanzibaris close their shops, or depart their offices, and begin to stroll along the waterfront of Forodhani Gardens.
Finally, tables are set up all along the grassy areas of the gardens, each illuminated by several lanterns for a romantic aura. The mouth-watering aroma of freshly-grilled seafood rises from various mobile grills, which are stationed throughout the gardens. As the evening grows darker, a feast appears in Forodhani Gardens: fresh seafood and meat skewers, piles of thick-cut fries ("chips"), handmade flatbreads, prepared soups, and freshly-squeezed juices.
This garden-front buffet is offered every evening, year-round, for locals and tourists alike. This dinner is best eaten while listening to the Indian Ocean lap against the sea wall, watching far-off boats bobbing on the waves, a perfect ending to a day in Stone Town, Zanzibar.
Armchair travelers wanting to satisfy their wanderlust, or foodies looking for ideas on how to incorporate spices with tropical flavors, please check out below the top 20 most popular foods in Zanzibar. Many of the dishes mentioned are readily available at Forodhani Gardens any night of the week, but you'll probably have to visit three or more times in order to have enough stomach-space to try them all!
Soups
1. Urojo Soup (Zanzibar Mix)
This orange-colored soup gets its vibrant hue from an unexpected ingredient: mango pulp, which is thickened with flour. Zanzibar Mix, however, gets its name from all the add-ons, or "mix-ins" that increase the flavor, texture and spice of this Zanzibar staple.
Some include: boiled potatoes, bajhia (chick-pea flour fried dumpling), crispies (fried cassava or potato strips), mishkaki (marinated beef skewers, see below), hot sauce, and tamarind Sauce.
At first glance, these ingredients may seem very random, but they add so much flavor, and make it very filling too. Anyone visiting Zanzibar should try this traditional soup.
Don't be shy when it comes to all the extras. They are what make Zanzibar Mix, or Urojo Soup so fabulous.
2. Octopus Soup (Supu ya Pweza)
This distinctively purple-hued soup is unlike any other. Often eaten for breakfast across Zanzibar, this simple soup is made with octopus meat, garlic, onions all boiled together.
As the octopus comes fresh from the ocean, it lends plenty of salt to this dish, and one should definitely have a few spoonfuls before considering adding any more salt. Usually, it is served with wedges of lemon or lime, an ideal combination with any form of seafood. It is often eaten with soft, fresh bread called Boflo (more about that later).
The freshly cooked octopus provides several different textures; crunchy tentacles, soft, calamari-like bits of white meat, all in a vibrant violet-colored, salty and flavorful sauce. A great way to start your day in Zanzibar.
Curries and Stews
3. Coconut Fish Curry
A common dish found in local Zanzibar homes is coconut fish curry. While on the mainland it is often made with tilapia fish from Lake Victoria, in Zanzibar, it is prepared with freshly-caught ocean fish. If you would like to try preparing your own, follow along with this excellent video, which uses King Fish.
Many Zanzibari homes have a strange-looking stool with a large, spiky knife protruding from one end. This is actually a tool for grating a coconut: the cook sits on the stool and has an easier task of rubbing a half of a coconut against the upward pointing knife. Once the inner, white flesh of the coconut has been scratched out with the serrated knife, the small bits are then squeezed into a pot or jug to extract all the 'milk' possible. This fresh, hand-prepared coconut milk is used for the sauce, lending a sweet and subtle flavor to the onion-based curry. But don't worry if you can't manage freshly-squeezed coconut milk. A can will also do fine!
Typically, the sauce includes tomato paste / pureed fresh tomatoes, minced garlic, and ginger. This curry is delicious with plain white rice or flatbreads (chapatis).
4. Octopus Curry (Mchuzi wa Pweza)
Visitors to Zanzibar may find Octopus Curry offered at any time of day – including breakfast! If you're never sampled octopus before, Octopus Curry is one of the most delicious ways to experience this unique seafood, even as part of your first meal of the day.
While octopus is a common seafood across this East African archipelago, over-harvesting of this eight-legged sea creature has led to regulations and fishing restrictions. Some beaches of Zanzibar have had fishing bans on octopus for a period of time in order to ensure that this creature thrives and can be enjoyed by all for generations to come. If you are interested in enjoying octopus in Zanzibar, ask about the sustainability practices for obtaining this delicious seafood, and if the restaurant or establishment is abiding by current regulations.
Octopus pieces are cooked in a delicious, creamy curry sauce that has all the distinct flavors influenced from Indian curries, prepared with fresh Zanzibar spices. Best served with rice and eaten with a view of the Indian Ocean.Many versions of octopus curry use coconut milk for a rich, creamy sauce, however some recipes use a tomato-base sauce and omit coconut all together. Both options are delicious! You can also follow one traveler's journey in making a Zanzibar Octopus Curry with coconut milk here.
5. Beans in Coconut Sauce (Maharagwe ya Nazi)
Vegetarians are not left out when it comes to Zanzibari cuisine. A common vegetarian/vegan meal is beans and rice, prepared in the Swahili style. Red kidney beans are boiled until soft and combined with a creamy coconut sauce. Served with simple white rice, these beans have so much flavor, even meat-lovers will enjoy this simple Zanzibar staple.
Nearly every local Zanzibar eatery will serve a version of beans in coconut sauce. If you are in Stone Town, check out the iconic Lukman's (near the Old Slave Market) for this and other vegetarian-friendly dishes served all afternoon. If you're staying along the Zanzibar coast, venture away from your hotel and see where local Zanzibaris eat, to find a bowl of tasty maharagwe wa nazi.
Zanzibari Rice Dishes
6. Pilau
Pilau is a spiced rice pilaf which originated centuries ago in ancient Persia. Traders shared the recipe during one of their ventures in East Africa, and the favorite dish took off. Now, pilau is a staple food of East Africa, and each country has their own slightly unique take on this spiced rice. It is commonly eaten on holidays such as Christmas, or for Sunday afternoon lunch.
You will find this rice dish available at nearly every local restaurant in Zanzibar. Some versions are prepared with beef or goat meat, and in Zanzibar you may even see a prawn version of pilau. It is also common for pilau to be entirely vegan, with lovely soft potatoes incorporated with the rice, full of all the flavors of pilau.
The Zanzibar version highlights the fresh spices the archipelago is known for. A typical pilau masala includes cardamom, cloves, cinnamon, cumin and black pepper. Onions and garlic are fried with this spice mixture until the aroma is mouth-watering.
Then, uncooked rice, potatoes, and pureed tomatoes are added to the pot and all boiled together until the rice is fully cooked. The result is a combination of warm spices in each and every bite of the rice dish, with an occasional sweet and soft bit of flavored potato or flavorful piece of meat or prawn.
7. Biriyani
Throughout the week, you may not find many options for good biriyani, but on Fridays, Muslim day of worship, this dish is in the spotlight. Thankfully, you do not need to adhere to any specific belief to enjoy this delicious dish!
Biriyani is a meal of yellow-colored rice paired with a rich sauce of chicken, lamb or beef. It gets its rich yellow color from saffron, and is flavored with garlic, cardamom and cinnamon sticks. The cinnamon sticks and cardamom pods are not eaten, and may often be removed from the rice before serving.
An onion-and-tomato curry is separately prepared, often with chicken, lamb or beef. This is either served layered with the flavored rice out of a large pot, or plated together with the biriyani sauce and meat aside of the yellow, spiced rice. This dish is very popular in Stone Town, so make sure to grab a plate of delicious biriyani if you're in Zanzibar. Or… try to make your own version at home with this recipe.
Zanzibari Snacks and Desserts
In the tropical heat, you may not have much of an appetite for lunch on a warm afternoon. If you're not that hungry, take the opportunity to sample some of Zanzibar's delicious snacks to keep you going until dinner-time. Here are some of the most popular ones found on the streets of Stonetown:
8. Katlesi / Chops
Katlesi (sometimes spelled 'cut-lass') is essentially spicy ground beef, rolled into a ball and covered with mashed potatoes, then dipped in egg and deep fried. Yes, you read that correctly: a fried mashed potato meatball. And it is just as delicious as it sounds!
Sometimes this snack is called "chops" for the beneift of tourists. Whatever the name, make sure to buy a few and enjoy while warm. And want to try making Katlesi at home? Here is a great recipe to follow.
9. Calamari Rings
Delectable, soft tubes of freshly-prepared calamari are often sold along the streets of Stone Town, either grilled or fried in oil for an easy lunch or afternoon snack.
Calamari are served with a wedge of lime and a sprinkle of salt, usually wrapped in newspaper instead of an actual plate. If you're eating fried calamari with chunks of fried cassava (a starchy root vegetable much like a heavy potato), ask for a second piece of newspaper to help reduce the amount of oil that will end up on your hands.
10. Zanzibar Pizza
This popular snack or late-night treat is nothing like an Italian pizza. This is more like a closed, grilled crepe stuffed with various ingredients; quite small and generally eaten with a toothpick. One Zanzibar pizza works as a snack or pre-dinner appetizer.
A thin dough is piled high with your choice of ingredients, then folded over and 'closed' as a small, square pocket. Finally, the outer 'crust' is fried to a lovely golden brown on a piping skillet until it becomes nice and crunchy.
In the case of dessert Zanzibar pizzas, everything inside of the crust becomes all melty and delicious (and messy!) so make sure to grab extra napkins to clean up that melted peanut butter or oozing nutella that may drip off your pizza.
For the savoury pizzas, select from processed cheese, meat, egg and vegetable options to make your personal Zanzibar Pizza. You can also find dessert pizzas featuring nutella and banana. Delish.
11. Chips Mayai
The staple late-night snack across Tanzania is a tasty plate of eggs-and-fries, served hot with ketchup and hot sauce. Chips Mayai takes regular chips (using the British name for thick-cut fries) to the next level by adding a hearty omelette on top.
You will find plenty of small vendors with little mobile grills cooking up chips mayai nearly everywhere in Zanzibar, from Stonetown to local fishing villages. It is the closest thing to 'fast food' available. While certainly not 'healthy', it is filling and tasty and worth a sample while in Zanzibar.
12. Kalimati
If you are looking for something sweet, try kalimati. This sweet is especially popular during the Muslim holy month of Ramadan. Small, fried dumpling are rolled in sugar while they are still warm for a delicious treat, much like a large donut hole.
If you're spending the night in Stone Town, wander down to the area of the Old Fort and look for a chai cart. The kalimati are truly delicious, so big that one can cover your palm, and come slathered in a thick sugar-glaze which goes perfectly perfectly with a tangy ginger tea.
You'll also find kalimati at local bakeries or other shops that sell pieces of cake or biscuits (usually in glass displays at the front of the shop). Best enjoyed in the morning, when still fresh.Try to make your own kalimati with this recipe.
13. Date Cake
Tende is the name of the soft Arabian dates that arrive in Zanzibar's port regularly. At local markets, you are sure to see glass displays packed with the dried fruits, sold by the kilogram.
Tende are pitted, chopped and blended into a popular and delicious confection: date cake, available at the many coffee shops in Stone Town.
Some recipes highlight cardamom, others use ground cinnamon to add more depth to the flavor. It's often served with warm custard or a scoop of ice cream – and why not? It brings out the flavors and adds a creamy something that will make any customer return for more. If you're looking for a sweet treat in Zanzibar, try a slice of date cake.
Zanzibar Staples
14. Mishkaki
Marinated beef skewers are not just for urojo soup. Enjoy them alone, or with hand-cut fries, or added to chips mayai for even more protein. In Forodhani Gardens there are many grills serving piping hot mishkaki alongside seafood options, or find them at street vendors also.
To make mishkaki, cubed pieces of beef are marinated in a mix of garlic, ginger, salt and lime juice for several hours, and then skewered together, sometimes with bits of carrot and green pepper in between for a true kabob, grilled to perfection.
15. Boflo
If you wake early in Stone Town and take a stroll on the quiet streets of the ancient town, you're sure to see someone standing beside an enormous basket, filled with bread. These small, soft white loaves, the size of your hand, are locally known as boflo and are a wonderful breakfast option. One could easily put away a loaf or two with tea.
They are wonderful eaten fresh with just butter and jam, or dipped in octopus soup. You won't need to stock up because they are readily available at nearly any street corner in Stonetown every single morning. Grab a fresh one and enjoy!
Zanzibar Tropical Treats
Zanzibar has an abundance of fresh fruits: pineapple, papayas, and mangoes are just a few of the many tropical fruits available across the archipelago. Here are two lesser-known ones:
16. Jackfruit
Known as fenesi in Swahili, jackfruit has become very popular recently, with many vegan recipes using jackfruit as a meat substitute. However, in Zanzibar it is eaten as a sweet, fresh fruit, and not cooked.
Jackfruit is the largest fruit grown on a tree; a single jackfruit can weigh up to 50 kgs, or 120 lbs! Due to its size, it either shared, or sold in small portions.
On the outside, this enormous fruit is green and spiky, while the inside is full of yellow juicy bits surrounding hard pits or seeds. These sweet fleshy bits look like flower petals when the pits are removed. The soft, yellow petals taste like a combination of bananas and pineapple.Jackfruit is so popular here that there is even a community north of Stonetown called At the Jackfruit Tree (Mfenesini)!
17. Breadfruit
Have you ever tried breadfruit? Have you ever even heard of breadfruit? While the name is a bit odd, as soon as you have your first taste, you will understand what it's all about; while it is technically a fruit and grows on a tree, it has a very strong resemblance to starchy bread. Delicious and highly recommended.
While almost all other fruits are eaten fresh or juiced, this is one of the few fruits that is roasted on an open grill, often served alongside fresh seafood. You may find it at Forodhani Gardens, and it is a nice change from rice and chips, if you're looking for a starchy side to go with your meal.
Beverages
18. Ginger Tea with Kashata
Ginger tea is a staple in Zanzibar. Served strong and sweet, it will certainly relieve any itch in your throat. Ginger tea can be found in any restaurant or cafe, but is also popularly served by sellers strolling streets with a flask of hot tea and a few clanging cups.
And how to counteract the spicy taste of ginger tea? With a treat called kashata. These sesame or peanut crackers have plenty of sugar, and are usually small enough to be gobbled up in one or two bites.
19. Zanzibar Spiced Coffee
No list would be complete without mentioning Zanzibar's signature spiced coffee, which combines all the most-loved spices: ginger, cinnamon, nutmeg, cardamom and black pepper for an exotic caffeine experience you will not find matched anywhere else. Frequently served either hot or iced, often as an iced latte. If you want to try to make your own Zanzibar spiced coffee at home, try this recipe.
20. Sugar Cane Juice
Zanzibar has many sugar cane plantations, processing raw sugar. But another way that sugar cane is used across Zanzibar is in fresh sugar cane juice.
Pressed before your eyes, each piece of cane goes through the juicer once or twice, with bits of peeled ginger and lime added to make it even more delicious. Make sure to grab one when you visit for a taste of the tropics.
21. Dawa Cocktail
Zanizbar knows about sunsets; life pauses, allowing us to catch our breath as recollect the day, and take in the sun's last vibrant rays before it disappears into the Indian Ocean.
From sunset cruises to roof-top lounges, all over Zanzibar, people can savor the sunset with a cocktail, and one favorite is dawa, which means medicine in Swahili. Why medicine? Simple: Dawa features honey and lime juice, two ingredients that are locally respected as traditional remedies for the common cold.
Dawa may not be a true medicine, but you're sure to feel more relaxed and happy after you've enjoyed one or two, while watching the sun go down during your adventure in Zanzibar.
These are the top 20 most popular foods to enjoy in Zanzibar. But don't take our word for it. Go ahead and try some of these delicious dishes yourself, either by following the included recipe links or, if life allows, by traveling to the Spice Island yourself.
Leave us a comment and share your experience with us.
---
Related: Most Popular Foods in Tanzania
Related: Most Popular Foods in Kenya
Related: Most Popular Foods in Mauritius