Explore the Versatile Red Snapper with Our Amazing Recipe Collection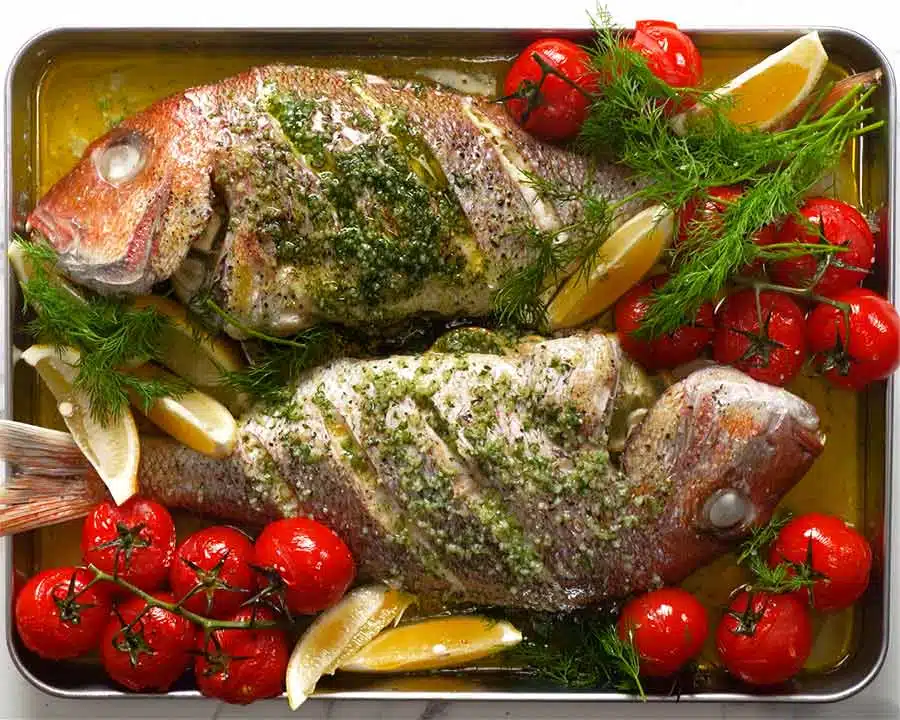 Famous for its vibrant hues, firm texture, and distinct taste, red snapper takes center stage in the world of seafood gastronomy. Red snapper pairs wonderfully with a variety of vegetables and herbs, including roasted or grilled root vegetables such as carrots, parsnips, and potatoes, light and vibrant leafy greens such as spinach, kale, or Swiss chard, or citrus fruit.
Red snapper also pairs well with a variety of fresh herbs. Basil, dill, parsley, cilantro, and thyme are popular choices that can impart a burst of freshness and fragrance to the dish.
When pairing wine with red snapper, you generally want to consider the delicate and mild flavor of the fish. Crisp and light white wines such as Sauvignon Blanc, Pinot Grigio, or Albariño can complement the delicate flavor of red snapper without overpowering it. Dry rosé wines, especially those made from lighter grape varieties such as Grenache or Cinsault, can provide a refreshing and versatile pairing with red snapper. And, if you prefer red wine, opt for light-bodied reds such as Pinot Noir or Gamay.
With no further ado, check out these amazing red snapper recipes that are equally tasty and healthy:
1. Streamed Snapper with Chilli Jam
The chilli jam (that you can use in many other recipes) infuses the fish with its flavor bouquet. Steaming the fish will ensure that its texture stays nice and firm, while the accompanying cucumber salad brings freshness and crunchiness.
2. Baby Snapper with Harissa and Samke Hara Sauce
Bursting with Middle Eastern flavors, this baked snapper recipe will probably become one of your favorite dishes. Serve it with a simple mixed greens salad and a bulgur or quinoa side dish.
3. Blackened Red Snapper
Spice things up with this Cajun-inspired red snapper recipe that packs a little bit of heat. The interesting lime margarita sauce and the fruit salsa definitely make this dish pop.
4. Spiced Snapper on Citrus and Mint Couscous
Fresh and bright flavors get together in this red snapper recipe that's easy to put together. The fish fillets are seared over high heat and finished in the oven. The couscous will delight you with its minty, citrus flavor, and the pop of sweetness for the raisins.
5. Red Snapper Fish with Lemon Caper Butter Sauce
This simple recipe with few ingredients packs plenty of taste – pan fried in butter, the red snapper also gets a tangy, lemony flavor from the capers-based sauce. You can serve with with roasted veggies, with rice, or with a simple salad.
6. Snapper Pie with Slow Braised Green Beans, Fennel and Kataifi
This recipe takes a little bit or work, but you'll be very happy with the results – tasty pies filled with green beans and red snapper. Tomatoes, capers and anchovies add a burst of flavor to each bite.
7. Grilled Whole Red Snapper with Herbs
With its firm texture, red snapper is perfect for grilling – and adding a delicious herb rub to it takes it to the next level. Make sure you don't overcook the fish. Using an instant thermometer renders the best results.
8. Whole Grilled Snapper with Cilantro Lime Garlic Butter
Garlic and citrus fruit work very well with fish, and things get even better when you add butter to the combo. This is the perfect summer recipe – the fish is cooked on the grill, and you can throw some veggies on it as well, for a side dish.
9. Easy Laksa Paste and Snapper Laksa
This Southeast Asian recipe is cozy and filling, with the fish simmered in a flavorful, fragrant soup. The laksa paste can be used in many other recipes and, once you taste it, you'll probably love it.
10. Bouillabaisse Recipe
This classic French recipe comes from Marseille – it's basically a rustic seafood stew that incorporates potatoes, resulting in a filling and delicious meal.
The recipe has quite a few ingredients, and it takes a while to cook it – it's the perfect recipe for a lazy Sunday afternoon, as you'll have plenty of leftovers for the following days.
11. Korean Style Fried Snapper with Seasoning Sauce
The seasoning sauce, that's salty, nutty, sweet, and hot, all at once, and flavored with green onions and garlic, makes the fried snapper truly pop. Serve it with rice, kimchi, or other side dishes, depending on your preferences.
12. Baked Red Snapper Creole
The fish is baked in the oven, in a delicious sauce that contains tomatoes, celery, scallions, and plenty of other herbs and seasoning. The end result is firm and flavorful fish, that you can serve with rice and with the resulting sauce.
13. Whole Baked Fish – Snapper with Garlic and Dill Butter Sauce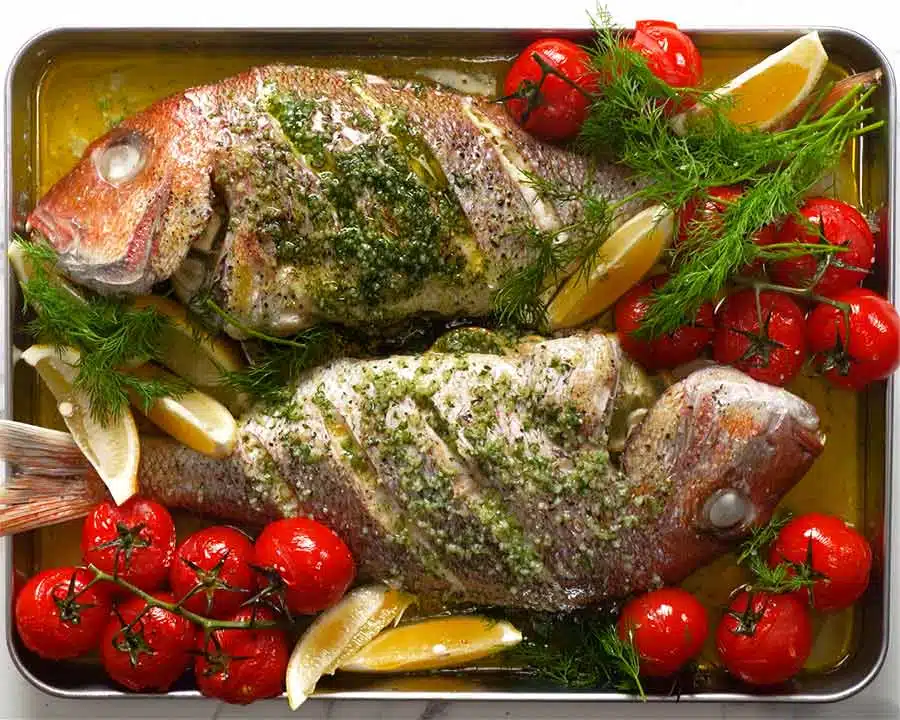 This recipe is easy to put together, as most of the action happens in the oven. The dill, garlic, and the butter combo make it decadent and packed with flavor. Serve it simple, with oven roasted tomatoes, lemon wedges, and some extra fresh dill.
14. Delicious Red Snapper Amandine
The red snapper is seared in the hot pan, so that its skin gets crispy, while the meat keeps is firm and juicy texture. But the real star of the show is the butter sauce made with almonds and lemon juice. Serve it with a side of green veggies or roasted peppers.
15. Red Snapper with Baby Potatoes, Wild Mushroom and Artichoke Ragout with Vierge Sauce
This recipe seems complex and it requires multiple ingredients, but the cooking technique is pretty simple, and you'll end up with a delicious fish served on top of a veggies-packed ragout. It's a very satisfying and healthy dish.
16. Fried Red Snapper with Lime Garlic Butter
Crispy fried fish paired with a delicious lime garlic butter – this combination is hard to pass. You can serve it with roasted potatoes, or french fries, and a simple mixed greens salad, for an even more satisfying meal.
17. Red Snapper Ceviche in Preserved Lemon
Red snapper is ideal for cheviche due to its pleasant taste and firm texture. The preserved lemon paste adds tanginess, a little bit of sweetness, and a bright flavor to the dish. You can serve it with cilantro, jalapeno, tomatoes, harissa, or other toppings.
18. Spicy Fish Tacos with Cabbage Slaw and Lime Crema
The well seasoned, pan fried snapper makes for amazing taco filling – and the cabbage slaw and lime crema make each bite even more delicious. The entire dish can be put together in about 15 minutes, ideal for busy days.
19. Crispy Fried Red Snapper Fish Sticks
These freshly made fish sticks are so much better than the frozen ones – and everyone will love them, not just kids. They're pretty easy to make – you simply fry them in a pan, in a breadcrumbs coating. Serve them with your favorite dipping sauce.
20. Blackened Red Snapper with Peach Salsa
The peach salsa is definitely an unusual pairing for fish, but it's one that works really well – the sweet and savory condiment that also packs a little bit of heat is just what the crispy, pan fried snapper needs.
21. Blackened Red Snapper with Crawfish Cream Sauce
The creamy, flavorful crawfish sauce contrasts nicely with the crispy, pan-fried red snapper. The dish can be served with a side of brown rice or with a nice slice of cornbread.
22. Red Snapper Baked in Orange Juice
Baking the fish in orange juice (with a little bit of zest as well) gives it a sweet and citrus-y flavor, and keeps the meat from drying out. It's a very low-effort recipe, perfect next to a side dish of rice, or some grilled veggies.
23. Fried Red Snapper
Few things are better that a hot, crispy piece of deep fried fish – and, in this recipe, the fish also gets plenty of seasoning, for a burst of flavor. It needs very little else, maybe a nice, garlic-y, tangy, sauce, and a simple salad.
24. Mediterranean Red Snapper Packets
This cooking style offers great results with a modicum of effort – it takes around 20 minutes from start to finish, and you won't even have to wash the pan, as the cooking is gone inside aluminum foil packets.
25. Mexican Style Pacific Red Snapper
Red snapper fillets are cooked in a veggies and herbs sauce, which allows it to absorb plenty of flavor. The dish is done in literally minutes, and you can serve it on rice, or next to roasted root veggies or potatoes, for a full meal.
26. Red Snapper Fish Curry
A cozy, comfort-food type dish packed with flavor, this fish curry takes a bit or prep work, but you'll have plenty of leftovers to enjoy. Serve it with rice, or with flat bread (to scoop up the sauce).
27. Red Snapper with Lemon Caper Butter Sauce
This 15-minutes recipe is bright and zingy due to the lemon and capers combo – the delicious sauce is great not only on the fish, but on the side dish as well. You can pair it with white rice, mashed potatoes or mashed cauliflower, or with creamy spinach dip and a piece of crusty bread.
---
Related: Our Favorite Halibut Recipes
Related: Best 27 Trout Recipes
Related: Top 29 Cod Recipes to Try Out