Top 8 Most Popular Fruits in Korea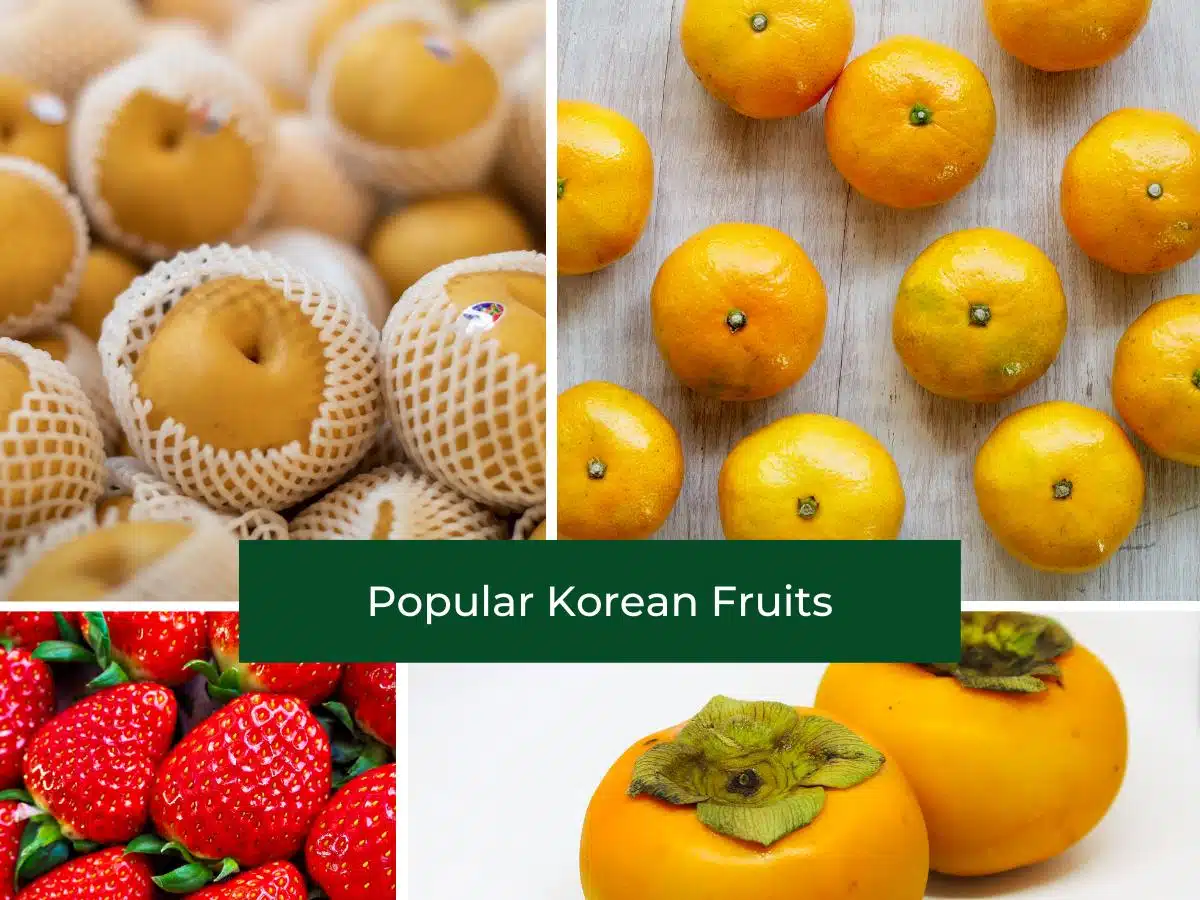 Korea's culinary scene is a rich tapestry of traditions and flavors, and at the heart of it all are the fruits that bring a burst of taste and culture to the table. From the succulent Korean strawberries known as ddalgi to the crisp Korean apples, these fruits play a unique role in Korean cuisine.
We invite you to explore some of Korea's most cherished fruits. From the rolling vineyards of Korean grapes to the vibrant orange allure of Korean persimmons, we delve into the diverse and delicious world of Korean fruits. And don't forget the humble yet surprisingly versatile Korean banana.
So, whether you're a fruit enthusiast, a foodie seeking culinary inspiration, or simply curious about Korean flavors, join us on this fruity adventure to learn about these delectable Korean fruits that have captured the hearts and taste buds of a nation.
1. Korean Strawberry (딸기, Ddalgi)
When it comes to Korean strawberries, or ddalgi, you're in for a delightful treat. These plump, red gems burst with flavor and are cherished for their juiciness. Traditionally, strawberries were a springtime delight in Korea. However, with the development of greenhouses, you can now find them commonly displayed in the market even in January and February, which is the winter season in Korea.
Most Koreans love to eat them just as they are, savoring their natural sweetness. But for those who enjoy a bit of kitchen adventure, they can be turned into homemade jams. It's a bit like what you might find in Western countries, where people spread jam on their bread.
So, whether you prefer to munch on them fresh or spread their sweet goodness on toast, Korean strawberries offer a tasty blend of tradition and creativity in Korean kitchens.
2. Korean Grapes (포도, Podo)
Korean grapes, or podo, have gained renown for their exquisite flavor and exceptional quality. These succulent grapes reach their peak during September, marking the arrival of the autumn season. Most Koreans take pleasure in relishing them in their natural state, reveling in their innate sweetness.
Beyond being a simple snack, these grapes hold a special place in Korean traditions, often gracing the tables of celebrations and gatherings, particularly during September and October. This is notably the case during Chuseok, one of the year's most significant celebrations, when families come together to express gratitude and celebrate the harvest season.
3. Korean Apple (사과, Sagwa)
Next on our list of Korea's favorite fruits is the crisp and refreshing Korean apple, known locally as sagwa. These apples have a distinctively sweet and slightly tangy flavor, making them a popular choice for snacking and cooking alike. Much like Korean strawberries and grapes, Koreans prefer to enjoy these apples in their natural, unaltered state.
The joy of biting into a sagwa is a simple yet gratifying experience that needs no embellishments. The satisfying crunch followed by the burst of sweetness is a testament to the apple's natural appeal. It's a common sight to see Koreans carrying sagwa as an on-the-go snack, savoring their refreshing taste during commutes or outdoor activities.
Korean apples also find their way into various culinary creations, adding a touch of sweetness to salads, desserts, and savory dishes. Whether thinly sliced in a refreshing salad or used as a natural sweetener in Korean cuisine, the versatility of sagwa is a testament to its enduring popularity in Korean households
4. Korean Jeju Tangerines (제주 감귤, Jeju Gamgyul)
The pristine island of Jeju is renowned for its lush landscapes and the exquisite Jeju tangerines, fondly known as Jeju gamgyul. Originally reserved for royalty due to their exclusive growth on the island, these citrus gems have endeared themselves to all Koreans.
Jeju tangerines are typically savored fresh, offering juicy segments bursting with sweet-tart refreshment. They also shine as tangerine tea, a fragrant and soothing beverage crafted by steeping tangerine segments in hot water, providing a taste of Jeju's sunny landscapes year-round.
Interestingly, in Jeju, a unique approach to tangerines has emerged. They are roasted, much like a barbecue, and relished as a natural, refreshing snack. The roasted tangerines acquire a distinct flavor profile with a caramelized sweetness, creating a delightful contrast to the summer sun.
These tangerines are harvested in November and December, just before the onset of the harsh winter.
5. Korean Pear (배, Bae)
Korea's beloved bae pear, often dubbed the King of Fruits, plays a special role in Korean cuisine and culture, thanks to its juicy, sweet, and crisp nature.
One standout application of the pear in Korean cuisine is its crucial role in bulgogi marinades. Grated or puréed pear is a secret ingredient that both tenderizes the meat and adds a subtle sweetness to counterbalance the savory elements.
This natural sweetness comes from the enzymes in the pear, which work to break down proteins in the meat, resulting in incredibly tender and flavorful beef or pork. To create the traditional bulgogi marinade, simply mix grated pear with soy sauce, sugar, minced garlic, sesame oil, and ginger. This unique blend infuses the dish with a hint of fruity sweetness, making it an unforgettable culinary experience.
On the sweeter side of things, Koreans savor bae-ssuk, a comforting dessert or snack made by gently steaming whole pears with a sweet syrup, often crafted from honey or brown sugar. This warm and soothing dessert not only delights the taste buds but is also believed to have therapeutic properties, making it a cherished choice, especially during the winter months.
6. Korean Persimmon (감, Gam)
The vibrant orange hue of Korean persimmons, or gam, is a sight to behold during the autumn season. These fruits are renowned for their natural sweetness and versatility in Korean dishes. Their unique flavor profile, which can be both sweet and slightly astringent, makes them a beloved ingredient in various culinary preparations.
One of the most cherished ways to enjoy persimmons in Korea is by drying them to create gotgam. This delicacy involves carefully peeling, slicing, and drying ripe persimmons under the sun.
The result is a delectable chewy texture with concentrated sweetness, making dried persimmons a popular snack during the autumn and winter months. The process of drying enhances the persimmon's flavor, and it becomes a symbol of the changing seasons in Korea.
7. Korean Watermelon (수박, Subak)
As the temperatures rise in Korea, so does the demand for Korean watermelon, or subak. This juicy and hydrating fruit is a summertime favorite, offering a cool respite from the heat.
One of the most iconic ways to enjoy watermelon in Korea during the summer is by making subak hwachae. This refreshing watermelon punch is a delightful combination of diced watermelon pieces, crushed ice, and often a sprinkle of toasted sesame seeds or pine nuts. Some recipes even incorporate a bit of carbonated water to add a fizzy element.
Subak hwachae is a popular choice for picnics, outdoor gatherings, or simply as a revitalizing thirst-quencher on hot summer days.
8. Korean Chestnut (밤, Bam)
Koreans have a deep-rooted love for chestnuts, or bam, which are widely celebrated for their nutty and earthy flavors. These versatile nuts are not only cherished for their taste but also for their symbolic importance in Korean culture, signifying abundance and prosperity.
One of the most cherished ways to enjoy chestnuts in Korean cuisine is by making bam bap or chestnut rice. In this dish, chestnuts are combined with glutinous rice and other ingredients such as jujubes, ginkgo nuts, and pine nuts.
The result is a flavorful and slightly sweet rice dish that is often enjoyed during special occasions and holidays. The combination of chestnuts and rice creates a delightful contrast in texture and taste.
---
Related: Top 25 Korean Desserts
Related: Most Popular Korean Street Foods
Related: Popular Korean Drinks