10 Popular South Korean Drinks (Alcoholic and Non-Alcoholic)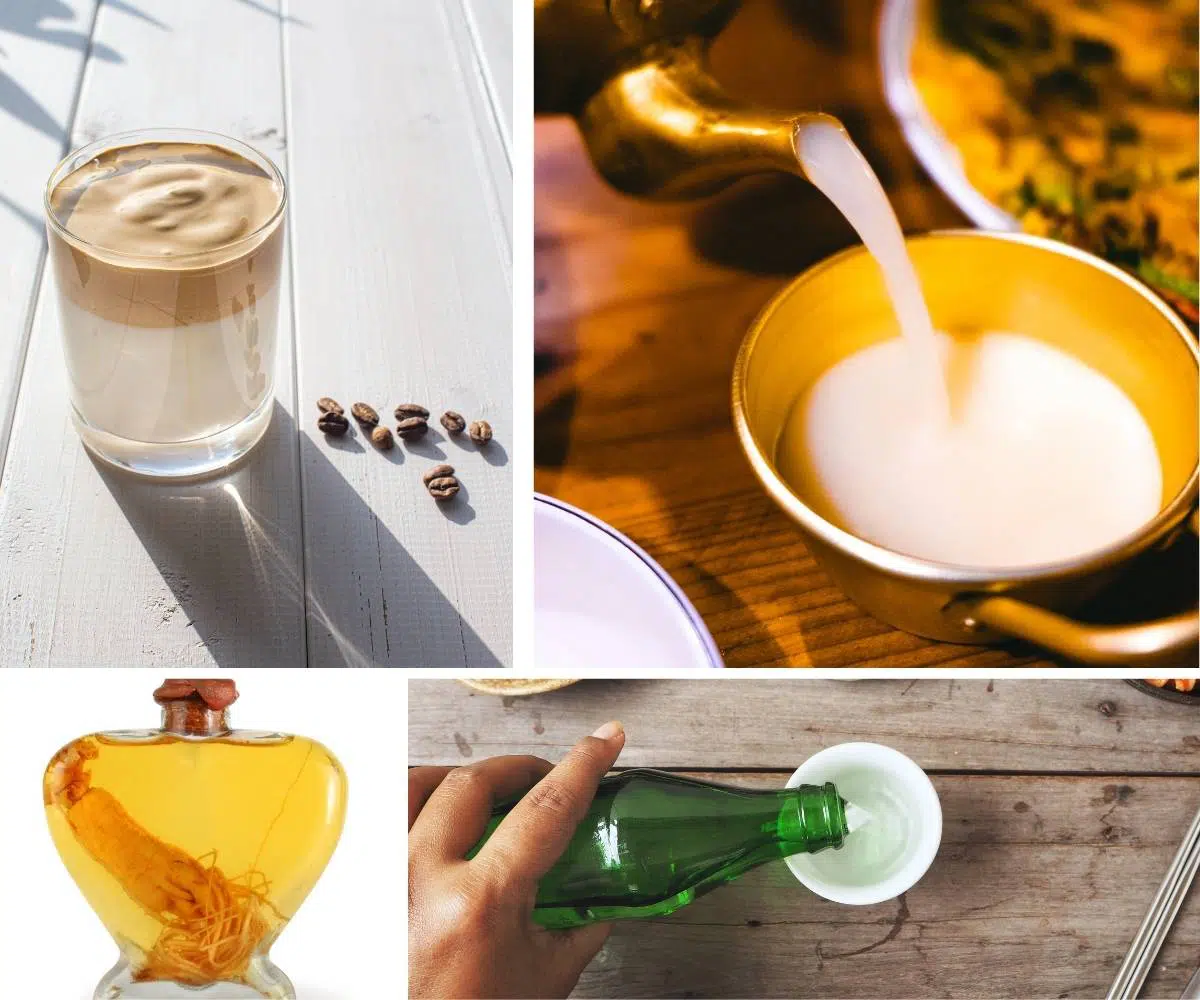 South Korea is one of the largest markets for alcoholic drinks in the world. It is not a surprise, given that drinking alcohol is typically encouraged in both social and professional situations.
Whenever you meet a new person, or even an old friend, most of the time, you end up drinking alcohol. If you've ever been to South Korea as a drinking-age adult, you will already have noticed how important the drinking culture is there.
South Korea remains a country that deeply loves alcohol, but there are non-alcoholic drinks that foreign visitors are recommended to try, too. Korean non-alcoholic beverages will refresh the body and mind.
Let's take a look first at the most famous non-alcoholic drinks that you must try. Then, popular alcoholic drinks that are mostly used for creating and tightening emotional bonds will be introduced.
Non-Alcoholic Drinks
1. 바나나맛우유 (Bananamat uyu: Banana-Flavored Milk)
Probably the most famous non-alcoholic drink in South Korea is Bananamat uyu. According to statistics, about one million bottles of banana milk are sold per day in South Korea.
It may sound like a boring drink, since Bananamat uyu literally means 'banana-flavored milk.' However, given its totally addictive combination of sweet and savory flavors, it is no surprise that this beverage is so popular.
Bananamat uyu is not just a drink, but memories of childhood for South Koreans. Initially, it became popular because bananas were a luxury food. In 1974, Binggrae, which is the most popular flavored-milk brand, created Bananamat uyu as a nutritional snack that enabled the general public to taste bananas while drinking more milk for their health.
You can easily purchase Bananamat uyu at any convenience or grocery store.
2. 박카스 (Bacchus)
If you need to stay awake while traveling, studying, or working in South Korea and don't feel like having coffee, give Bacchus a try! Bacchus is a South Korean energy drink that was first introduced to the market in 1963. Since then, it has been on the list of iconic steady sellers.
Bacchus was initially created as a hangover remedy. Now, it is compared to Red Bull as an energy booster, targeting those who really need a boost. You can easily grab a bottle of Bacchus in a convenience store.
3. 미숫가루 (Misutgaru: Ground Grains)
Do you drink protein shakes daily? If yes, Misutgaru is the right choice for you! It is a shake made from a powder of various healthy ingredients, such as nuts, beans, and grains. You can also add some honey to it if you like, or any other ingredient.
This shake is good diet food, because it is high in protein and fiber and gives you nutrition with a variety of whole grains. It is an easy-to-make shake, since you can simply mix this ready-made powder with milk or water.
If you are planning to go sightseeing around Seoul or other cities in South Korea, this easy and quick nutritious beverage would be especially great.
4. 숭늉 (Sungnyung: Scorched Rice Tea)
Nurungji, scorched rice (or crunchy rice), is a commonly used ingredient in Korea. Sungnyung is a traditional Korean infusion made from the thin toasted rice found at the bottom of a cooking pot after cooking rice, and it has a clean and savory taste.
You may not be able to see Sungnyung on restaurant menus, since it is usually served for free after a meal. Many believe that Sungnyung aids digestion and replenishes the body with nutrition.
Would you like to try this drink? You can easily make it at home! Remove the cooked rice from the pot, pour water into the pot, and boil the rice that is stuck to the bottom.
5. 아침햇살 (Achimhaetsal)
Achimhaetsal means 'morning rice.' As its name suggests, it is a drink made of three different types of Korean rice (white, brown, and black). When it first launched in 1999, it became a sensation with a slogan of 'makes your stomach comfortable' and was patented as the world's first grain drink using rice.
Because of its appearance and lengthy name, it is also called rice milk or rice drink. Many people describe its taste as sweetened almond milk. If you are a fan of this kind of taste, you will instantly fall in love with Achimhaetsal.
As mentioned above, this beverage is regarded as a great drink for the stomach. So it's perfect with Korean spicy food like Buldak (fire chicken) or Nakjibokkem (spicy stir-fried octopus)!
6. 커피믹스 (Korean Coffee Mix)
If you're a coffee lover in South Korea, you should not miss trying the instant mixes that can be found almost everywhere. With the coffee culture expanding from the early 2000s onwards, South Korea has now become a coffee republic, and coffee is deeply rooted in its culture.
There are thousands of fabulous cafes to visit in Seoul or any other metropolitan city in South Korea, but you will easily find many vending machines selling instant coffee on the streets. It is also not difficult to find instant coffee sticks in South Korean homes or offices, since these instant coffee sticks enable everyone who loves coffee to enjoy a cup of coffee quickly and conveniently.
The steps to make instant coffee are very simple. Firstly, you get an instant coffee stick and tear it along the top where it says 'easy cut.' Then, pour the fine powder from inside the stick into a small cup and mix the powder with hot water. Lastly, stir until the powder has dissolved and take a sip!
Alcoholic Drinks
7. 소주 (Soju)
Without a doubt, the most representative drink of Korean origin is soju. Soju is a clear, distilled alcoholic drink made from sweet potatoes.
Two major soju brands that dominate the South Korean market are Chum Churum (처음처럼) and Chamisul (참이슬). You can also find regional brands that offer interesting tastes with their own characteristics. It can vary, but usually, the alcohol content is between 17 and 25 percent.
If you meet your old friends and feel like getting wasted, you could drink soju all night without worrying about the price. It would still be cheaper than one bottle of whisky. Soju costs about 1,000 to 2,000 won in stores and maybe 3,000 to 4,000 won in pubs or restaurants. Soju is also served in ice cold shot glasses with many Korean dishes.
Many Koreans prefer the combo of soju and Samgyopsal, Korean-style grilled bacon. If the taste of plain soju is too strong for you, you can go with flavored soju, which would be a lot easier to try. Commonly ordered flavors are lemon, grape, and apple.
8. 복분자주 (Bokbunjajoo: Korean Raspberry Wine)
Bokbunjajoo is a wine made with the Korean black raspberry, which is widely grown on mountains all around the country.
It tastes relatively sweet compared with standard wines. The name Bokbunja contains a meaning of effect of boosting energy that is strong enough to overturn the Yogang, which was commonly used as a bedpan in the old days. 
According to a folk tale, an old couple picked raspberries and accidentally made wine with them. After drinking Bokbunjajoo, the man in the couple became so energetic that his pee overturned the Yogang, and soon after, his wife gave birth.
For more information about local fruits, check out our story on popular Korean fruits.
9. 막걸리 (Makgeolli: Traditional Korean Rice Wine)
Makgeolli is the oldest alcoholic drink in Korea, and as of late, it has become one of the most popular. It is a traditional Korean rice wine that is made from various grains, but mostly rice. The top layer of the final fermented rice wine is called Dongdongju (동동주), which is smoother than Makgeolli.
The bottom layer, with some sediment mixed in, is Makgeolli. It is unfiltered, with a milky white color, unlike Dongdongju or other clear alcohol, including soju.
Related: Best Rice Wine Substitutes
Makgeolli used to be regarded as a drink for farmers, but recently its popularity has been growing among all age groups. Younger generations create their own flavors by mixing Makgeolli with Chilsung Cider (South Korea's version of Sprite) or strawberry-flavored milk.
Nowadays, you can see many bars that offer different Makgeolli flavors and cocktails. It pairs well with Pajeon (파전), a savory pancake, or Bindaetteok (빈대떡), a mung bean pancake.
10. 인삼주 (Insamju: Korean Ginseng Liquor)
Insamju is a ginseng liquor. Its main ingredient is premium ginseng, and the Korean recipe dates back more than 1,500 years.
Korean ginseng is believed to strengthen the body's immune system, increase blood circulation, relieve stress, and restore vitality. Insamju was developed so that people could enjoy both an alcoholic drink and the health benefits from ginseng.
In the past, many people in the upper classes served Insamju to houseguests, believing that this cherished ginseng liquor had medicinal properties that brought health benefits. As of late, the South Korean beverage market has been affected by a huge health and wellness trend.
Because of that, Insamju is no longer considered an old-fashioned drink. You can see that younger generations enjoy Insamju, especially with Samgyetang, ginseng chicken soup, which is thought to be a great pairing with this ginseng liquor.
---
Related: Top 25 Korean Foods
Related: Most Popular Korean Street Foods
Related: 10 Delicious South Korean Soups & Stews
Related: 25 Korean Desserts & Sweets