15 Most Popular Guatemalan Desserts & Sweets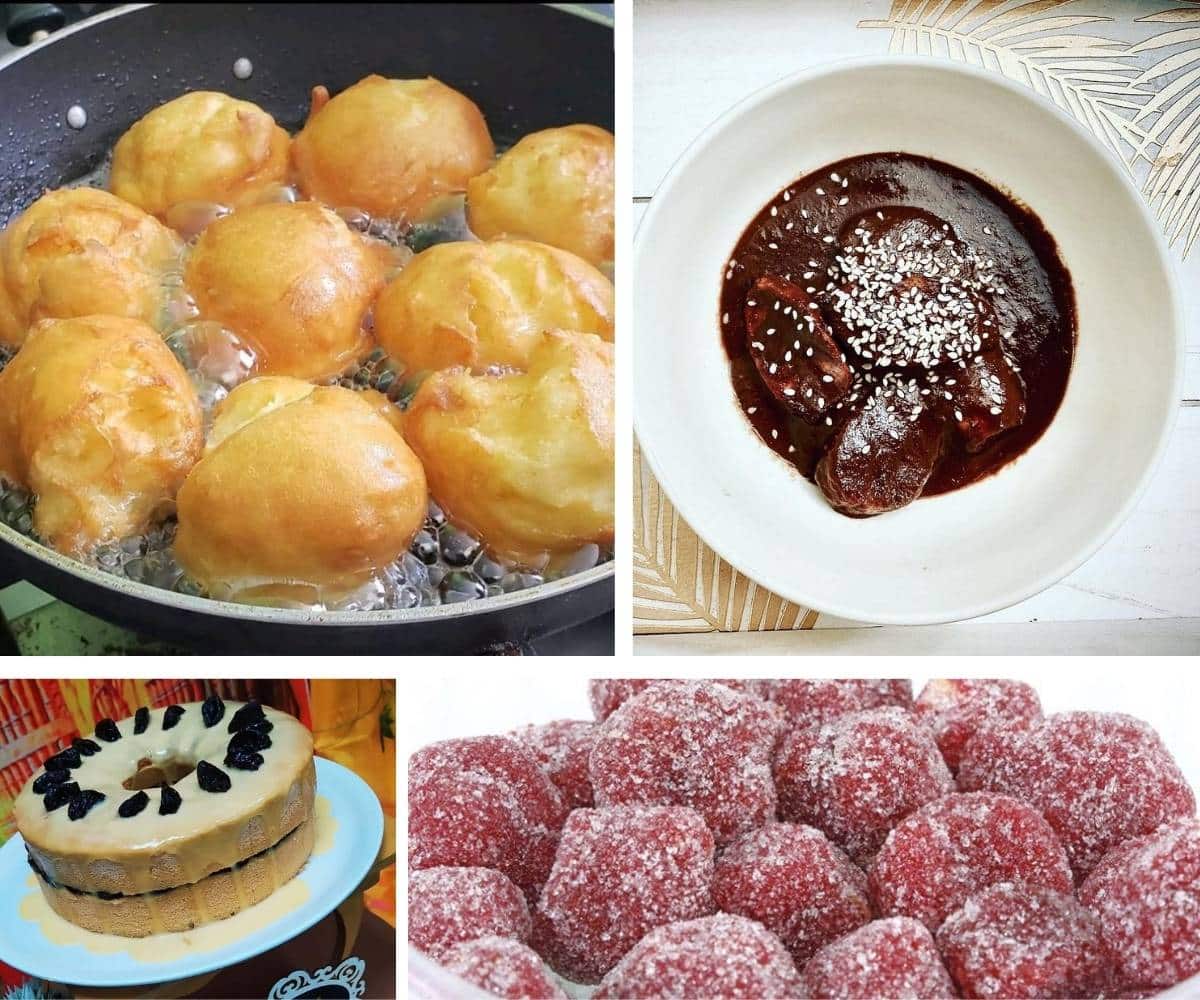 Guatemala is a beautiful country with amazing landscapes, welcoming locals, and an amazing cuisine.
The food culture in Guatemala is a strong factor in the country's identity. From the delicious Christmas tamales, to the fiambre for All Saint's Days, Guatemala's cuisine is unique and exotic.
That is no different when it comes to the traditional Guatemalan desserts and sweets. Just like all the savory recipes Guatemala has to offer, the desserts and traditional candies are to die for.
You might be familiar with some of them, like arroz en leche or pan dulce. However, there are many other delicious sweets that you have to try the next time to visit the country. Here are 15 of the most popular desserts and sweets in Guatemala!
1. Polvorosas
Polvorosas are an iconic dessert in Guatemala. They're sweet shortbread cookies, covered in powdered sugar, which is where they get their name.
Eating them can be messy, your fingers and mouth will end up covered in powdered sugar, but it is worth it given how tasty these small cookies are. They might be simple. In fact, they only need five ingredients: flour, cornstarch, sugar, butter, and shortening.
But no matter how simple they are, these cookies are rich in flavor and you won't be able to stop yourself once you eat your first one.
2. Borracho
When it comes to Guatemalan cakes, borracho takes the crown. The name in Spanish literally means 'drunk', and that's due to the alcohol-based syrup that drenches the cake.
Borracho is a light cake made with dark rum, whipping cream, and sugar. The cake is rather simple and can be eaten on its own. However, some enjoy topping it with exotic fruits or pitted prunes.
It doesn't matter which way you decide to eat it, the cake packs a punch of flavor that will have you licking the plate.
3. Quesadilla de Arroz
Talking about cakes, quesadilla de arroz is another popular cake-like dessert from Guatemala.
When you hear quesadilla, you probably think of those found in Mexico, which are tortillas with cheese. Well, the Guatemalan quesadilla is something completely different.
Quesadilla de arroz is a thick, fluffy cake made with rice flour, butter, sugar, cheese, and cream. Some people also add whole milk, heavy cream, and even Latin cheese. Its appearance is similar to cornbread, but it is much softer and lighter.
Additionally, it has a has a crunchy sesame seed topping that really adds some extra flavor.
4. Champurradas y Pan Dulce
Champurradas are a trademark of Guatemala. The country is known for producing all types of pan dulce (sweet bread), and each of them is more delicious than the next.
Champurradas and pan dulce are not necessarily desserts, though they can definitely be eaten after a meal! Guatemalans eat them at all times of the day. Usually, they're paired with coffee, so you can eat them for breakfast or in the afternoon after lunch.
Champurradas are thin, crispy cookies with a buttery flavor. They also have a sesame seed topping.
Pan dulce is a broad term that covers all types of enriched breads. There are campechanas, pan tostado, pan de yemas, etc.
5. Arroz en Leche
There are different versions of this dessert in every Latin American country. In Guatemala, it is a dessert and a beverage. Its consistency is thick, known in the country as 'atol'.
It is made by boiling rice in water, with cinnamon sticks, until it reaches a soft and spongy consistency. Then you add whole and evaporated milk along with salt, sugar, and raisins.
The magic of this dessert is that it can be eaten hot or cold – it is just as tasty either way.
6. Rellenitos de Plátano
Plantains are a common ingredient in Guatemalan cuisine. This dessert is commonly known as rellenitos, or 'stuffed', which is exactly what this dessert is all about.
Rellenitos are made with mashed plantains, rolled out, and stuffed with refried beans. It might not sound like a dessert, but they also include cinnamon, sugar, and sometimes even cocoa powder.
Rellenitos are always served with a bit of sugar on top, making it a truly delicious treat!
7. Buñuelos
Buñuelos are a classic Spanish dessert. There are different versions all over Latin America, but they're most commonly found in Guatemala during the holiday season.
They're crispy tortillas covered in cinnamon and sugar, deep-fried and served with a sweet syrup.
8. Corbatas
Another Guatemalan dessert that is deep-fried are corbatas. These got their name due to their shape, which resembles a tie.
Made with crunchy puff pastry, they're usually soaked in a glaze or honey to make them taste sweeter. They're very common during Lent, but can be enjoyed all year long.
9. Torrejas
Torrejas is another dessert that's covered in sweet syrup. They're made with eggs, flour, pan dulces, and vegetable oil. However, the syrup is the show stopper in this dessert, made with allspice, orange, cinnamon, and cloves.
You can expect an explosion of flavors when you taste a torreja. They have a great taste. You can even add raisins or prunes to give it something extra.
10. Plátanos en Mole
You've likely heard or even tasted Mexican mole. Well, it is also a very common Guatemalan dessert. In fact, it is a very traditional Guatemalan dessert made with plantains covered in mole sauce, with sesame seeds sprinkled on top.
The secret is in the mole sauce. It is made with chocolate, water, pasilla chilis, pumpkin seeds, sugar, and cinnamon. So iconic is this dessert in Guatemala that the government has declared it a cultural heritage of Guatemala.
11. Camote en Dulce
Camote en dulce is a delicious Guatemalan dessert that is prepared in every home, based on sweet patato (camote).
This dish is very easy to make. All you need is sweet potatoes, cinnamon sticks, cloves, and sugar. With the sugar, cinnamon, and cloves you create a syrup and you cook the sweet potatoes in it until they're soft.
They're a simple and delicious dish that will get you from the first bite.
12. Higos en Dulce
Prepared almost identically to camotes en dulce, higos en dulce is another delicious Guatemalan dessert.
Higos, or figs in Spanish, are very popular in Guatemala. This dessert, however, is eaten cold. Once the syrup is ready, you drench the figs in it and then let them cool down for at least 1 hour.
13. Bolitas de Tamarindo
Dulces típicos, or traditional candies, are very famous in Guatemala. There is a large variety of candies which can be purchased in every market in the country.
Bolitas de tamarindo are one of the most popular candies in the country. They're little balls of tamarind and they're super easy to prepare. All you need is tamarind, sugar, and food coloring.
14. Canillitas de Leche
Another popular Guatemalan candy is canillitas de leche. They're a delicious candy made with milk and sugar. They have a hard exterior and a smooth and soft inside. They melt when you pop them in your mouth, releasing their delicious flavor.
You can easily recognize them because they're white, long and thin, and usually come in bags of at least six.
15. Núegados
Guatemalan núegados are another iconic candy often served for dessert. You'll find different variations all over Latin America, but in Guatemala, they are orange-scented balls of a flour-based dough, deep fried and covered in a sugar glaze.
They're hard to miss. Usually sold in little stacks of six, the insides are kind of like mini doughnuts, but even more delicious.
All of these desserts and candies are part of what makes Guatemala's cuisine so unique and exotic. The flavors and textures are like nothing you'll ever find anywhere else. If you find yourself in Guatemala, make sure to try these delicious desserts!
---
Related: Most Popular Christmas Foods in Guatemala
Related: Most Popular Desserts in Mexico