Top 20 Most Popular Spanish Dessert Recipes
Food and drink are two of the main pillars of Spain. No doubt about it. When it comes to what people love about Spain, tourists and natives alike rave about Spanish gastronomy, giving them a great reason to explore different regions, trying out dishes, soaking up the richness of the country's history, and enjoying the warm sun.
The Mediterranean diet is considered one of the world's healthiest. Paella, tortilla, gazpacho, marmitako, pisto, callos, jamón… there seems to be an almost infinite list of irresistible dishes.
But what about Spanish desserts? Can they rival their mouthwatering savory cousins? The answer is a resolute yes! So without further ado, here's a list of some of the most delectable sweet treats that Spain has to offer, and it comes with a warning that you will want to try each and every one of them!
1. Carolina de Bilbao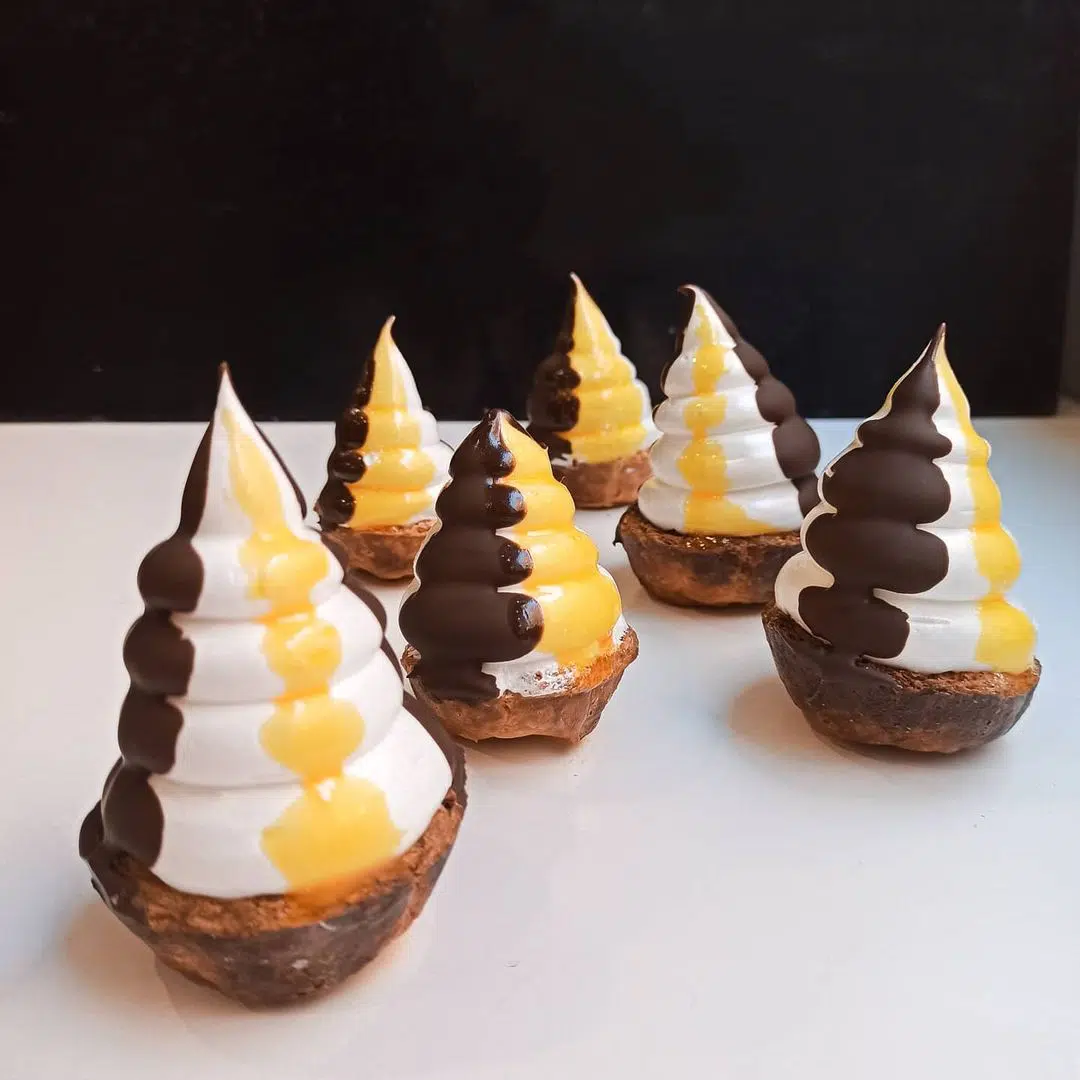 A Carolina de Bilbao is one of the most popular desserts in the northern Basque Country. Over 100 years old, it was created by a baker from Bilbao for his daughter's birthday.
This simple but delicious creation is made from meringue, puff pastry, egg yolk, and chocolate. Easy to find and perfect to eat at any time in the day, if you can handle the sweetness.
2. Arroz con Leche (Rice Pudding)
Rice pudding (arroz con leche) may be found in dozens of countries around the world, but that doesn't make it any less scrumptious. A simple blend of rice, milk, sugar, lemon zest, and cinnamon, it's a hit with adults and kids alike, and you'll find it on practically any menu in any restaurant in the whole of Spain.
It is of Arabic origin and spread from Asturias in the north, where it remains very popular. It is a filling dessert with a great texture that should be neither too firm nor too soupy. Serve with fruits or a further sprinkling of cinnamon. Perfection.
3. Churros
You can't walk five yards in Spain without running into some churros. What are they? Basically a long, thin donut. Common in most bars at breakfast time, they are all sold on food trucks, and you'll always see them at festivals and fairs.
Certainly not the healthiest snack, but they are still delicious at any time of day, going perfectly with hot chocolate milk or good ol' coffee. Most people like to sprinkle some sugar on them, because, hey, if you're going to be unhealthy, why leave out the sugar, right?
The origin? One theory says they were imported by the Portuguese from China, but no one knows for sure. Who cares where they came from, they're delicious.
4. Torrijas
Around Easter time, all the bakeries in Spain fill up with torrijas. So, what's a torrija? Take some leftover bread that's going hard, soak it in sugary milk, dip it in beaten egg, then fry before drizzling on syrup.
A calorie bomb for sure, but one that is worth the damage. While it is possible to make torrijas with any kind of bread, a special pan de torrija is available if you're making them yourself. In Galicia, they use a thicker loaf than the torrada kind down in Madrid. Don't let Easter pass without trying one of these.
5. Roscón de Reyes (King Cake)
At Christmastime, Spaniards enjoy nothing more than sharing a roscón de reyes with family and friends. The name means King's Cake, in reference to the three Magic Kings who come on Epiphany, bearing gifts, and the oval shape represents, naturally, a crown.
A light, bready dough is bejeweled with candied fruits. Inside, it's filled with whipped cream or perhaps chocolate, though the classic roscón has no filling at all. You could find a small figurine somewhere inside your roscón, and if you do, you will have good luck for the coming year. If you happen to be in Spain at Christmas time, grab yourself a roscón, big or small.
6. Majorcan Ensaimada
The Majorcan ensaimada is the most famous sweet treat that the Balearic Islands has to offer. This pastry has a sugary dough, made with strong flour, water, eggs, sourdough, and lard (saïm in Catalan; from there we get the word ensaimada).
They make for a great breakfast or afternoon snack. Ensaimiadas are available to buy everywhere, and if you forget to try one, you can always pick one up at the airport, which many people do in order to give as gifts to friends or family.
7. Buñuelos de Calabaza (Pumpkin Fritters)
Simply delicious, these pumpkin fritters come from Valencia. They are a classic dessert at the Fallas festival, a must if you travel there around that time. The main ingredients are flour, milk, eggs, and sugar and they  go very nicely with a cup of hot chocolate. Buñuelos of every kind can be found nationwide. Simply irresistible!
8. Tarta de Santiago (Spanish Almond Cake)
The tarta de Santiago originated from Galicia in the north west of Spain, during a medieval pilgrimage to Santiago de Compostela, nowadays famously known as the Camino de Santiago. This dessert, made with eggs, sugar, almonds, lemon, and sometimes cinnamon, is an almond cake traditionally decorated with a St James cross.
It's practically the same as the tarta de Elche from the other end of the peninsula, except it isn't prepared with flour. What better way to finish off a big lunch than with a slice of this and a steaming coffee.
9. Turrón
Turrón is the Spanish almond nougat you can traditionally eat around Christmastime. With origins going way back, you can nowadays buy turron in many places around the country, even if holidays are not around the corner.
Chocolate turrón is very popular—especially with children—but there can be many varieties, such as crunchy turron with nuts or soft turrón. You won't see turrón in restaurants, but you might in the kitchen cupboard!
10. Flan
Made with eggs, cheese, vanilla, condensed milk, sugar, or coconut, topped with a sticky caramel sauce, and cooked au bain-marie, we have… flan! With its smooth, dense texture and mixture of umami and sweet flavors, there's a good reason why many choose to go for a flan pudding after a hearty lunch. It's not heavy and it hits the spot perfectly when there's not much room left in the tummy. Virtually every restaurant in the country will have flan on its lunch menu.
11. Crema catalana
Just like the French have their crème brûlée, Catalonia offers this traditional dessert made with milk, flavored with cinnamon and lemon zest, thickened with cornflour. The caramelized crust with sugar poured on top makes it simply unique and delicious.
You can find crema Catalana all around Spain, and all around Europe also. Its history goes a long way back over centuries, and it is considered one of the oldest desserts in Europe. Needless to say, it's a must if you visit the region.
12. Basque Cheesecake
There are many cheesecakes on this planet, but the Basque version is out of this world! Unlike some of its cousins, this delicacy has a firm caramelized exterior formed when baking it at a high temperature. The inside remains creamy and has a strong cheese flavor.
The original Basque burnt cheesecake comes from a small bar called La Viña in San Sebastián-Donostia, in the north of Spain, and today there are so many variations that we would need another article to cover them all!
13. Miguelitos (Puff Pastries)
Miguelitos are a cream puff pastry or cake whose origins are La Roda, in Castilla-La Mancha. History tells us that Manuel Blanco is their creator and that the name Miguelitos is that of his friend Miguel, who had the first bite.
This dessert has a square shape with a creamy custard-like filling (or chocolate), covered with sugar powder and with a flaky crust. If you go to Castilla-La Mancha, don't hesitate to order one of these with a white coffee. Your stomach will thank you!
14. Leche Frita
Yes, the name can be confusing, but it's not what you think. Leche frita (fried milk) is a milk pudding encased in a delicious shell of egg and flour, fried and served with a sugar glaze and cinnamon powder.
The origin of this dessert is uncertain, although it's believed to have spread from the province of Palencia, in Castilla and León and today it is a popular dessert throughout northern Spain.
15. Pestiños
Christmas in Andalusia (and in other regions of southern Spain) means eating… pestiños, or borrachuelos as they are called in Málaga. This popular dessert consists of pieces of dough flavored with ground spices, fried in olive oil, and glazed with sugar or honey.
There is something about their shape and crispiness that you can't really resist. Locals also eat them during All Saints' Day, Carnival, and Lent.
16. Frixuelos (Spanish Crepes)
Back to the north again, frixuelos are a typical dessert in Asturias, León, and Cantabria. There are pretty similar to French crepes and often filled with pastry cream or fruit compote. The primary ingredients are milk, eggs, flour, salt, sugar, and anise. When it comes to the filling, fill them with whatever you fancy; they're incredible!
17. Polvorones
Polvorones are one of the most popular desserts in Spain at Christmas. The name comes from the Spanish word polvo, which means powder, describing their crumbly consistency, and also the powdered sugar you can find on top. They are a type of mantecado, a shortbread or cookie made with pork fat.
Don't just wait for Christmas. You can eat these all year round!
18. Tocino de Cielo
The translation might seem weird, since tocino de cielo literally means heaven's little pig, but there's no pig in sight. Tocino de cielo is, rather, a flan-like dessert made solely with egg yolks, so it is a much lighter and sweeter custard than a standard flan. It comes from Jerez de la Frontera, Andalusia, and dates back to the 14th century.
19. Leche Merengada
Leche merengada is a sweet, creamy drink made with milk, egg whites, sugar, cinnamon, and lemon zest. You can think of it as a partially frozen milkshake, perfect for a hot day.
If you happen to be in Spain in the summer, why don't you give it a try?
20. Príncipe Alberto
Príncipe Alberto is one of the most typical desserts from the Canary Islands, specifically from La Palma. It is a chocolate and almond cake made with sugar, butter, eggs, sponge cake, coffee, chocolate, hazelnuts, and toasted almonds. It originated as a homage to Prince Albert, the husband of Queen Victoria of Great Britain, hence its name. Delicious!
---
Related: Top 25 Most Popular Foods in Spain
Related: Most Popular Spanish Cheeses
Related: Most Popular Spanish Cookies