Panama's Favourite Christmas Food and Drinks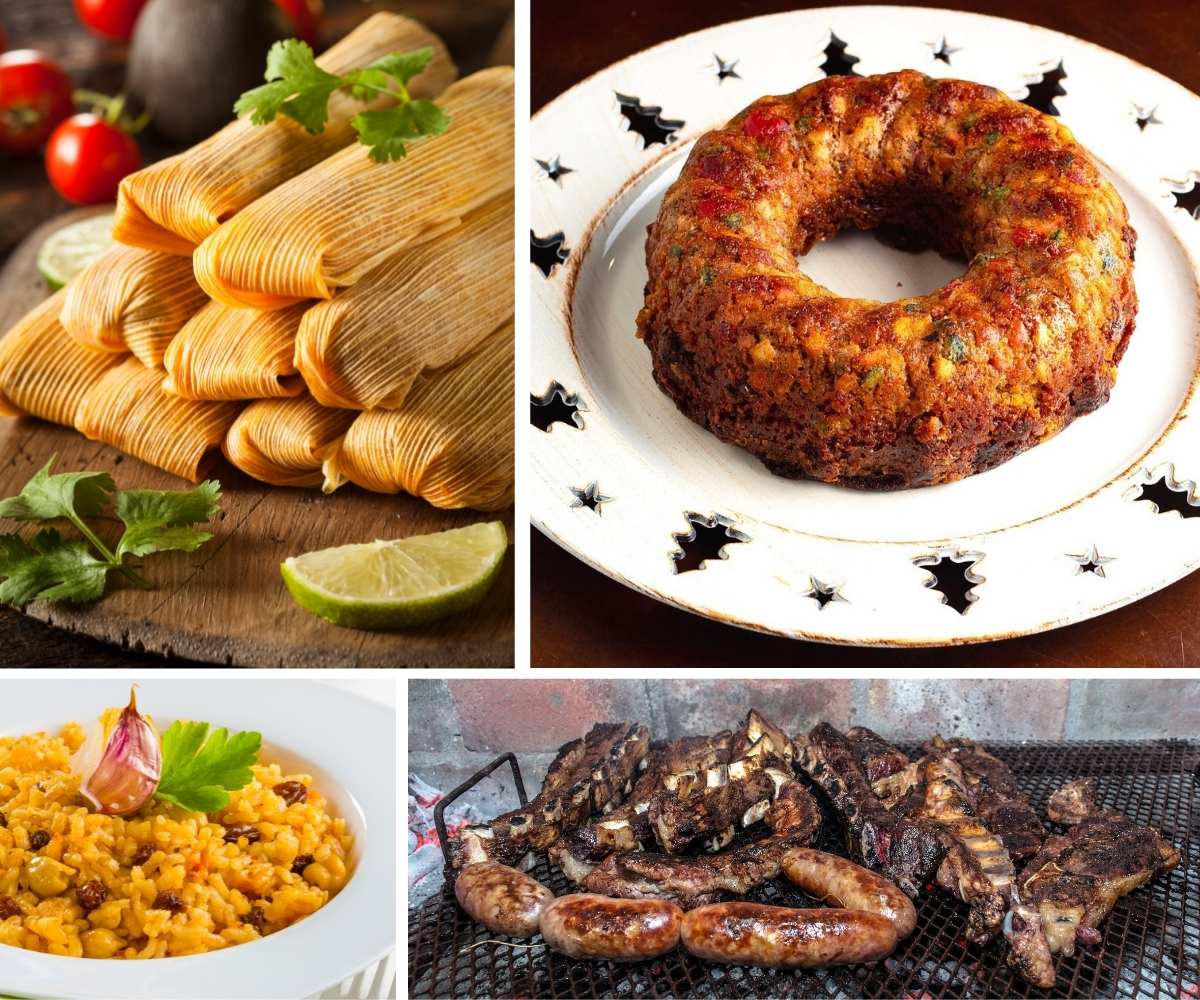 When it comes to celebrating, Panamanians really know how to do it best.
Both Christmas and New Year's Eve, which fall within Panama's dry season, involve similar menus and I have to tell you, some of the dishes are the most delicious from Panama's rich cuisine.
Let's round up some of the most popular Panamanian Christmas dishes and drinks.
1. Tamales
Tamales are typical in various countries in Latin-America. The Panamanian version is a corn-based dough filled with a delightful mix of chicken, vegetables, and raisins cooked in banana leaves.
This is definitely one of the best parts of the Christmas menu. They are filling, comforting, and also zero waste, as they come in their own bio gradable plate.
2. Asados (Roast)
The Christmas roast is the center of Panamanian Christmas meal. It can be turkey, pork or ham, depending on the preference and economy of the family.
The meat is usually roasted with pineapple and fruits on top and served with various types of rice and salad.
3. Arroz con Guandú (Rice with Pigeon Peas)
Panamanians eat a lot of rice, and this one is probably one of my favorites. Guandú is a legume that has been grown in the country since the 17th century.
The rice is cooked the together with the guandú, oil, cumin, salt, and the unmissable local herb, cilantro.
4. Arroz con Pollo (Rice with Chicken)
Arroz con pollo is an excellent dish for every occasion. It can be made in big quantities, and is a great choice for giving leftover chicken new life.
Similar to a Spanish paella, it is rice with pieces of pulled chicken, olives, peas, and whatever other vegetables the chef chooses, such as tomatoes and carrots. 
5. Arroz con Pasas (Rice with Raisins)
This is a very delicious dish that perfectly compliments the roast. The rice is cooked together with raisins, and, depending on taste, spices such as clove, cinnamon, curcuma, and sometimes a bit of brown sugar are added.
6. Ensalada de Papas (Potato Salad)
Another part of the Christmas and New Year ensemble, potato salad cannot be left out of the festive plate. Boiled potatoes are mixed with eggs and mayo, making the white versions, and cubes of beetroot are added for a pink version.
7. Platano en Tentación (Plantain with Cinnamon and Sugar)
There are many varieties of plantain in Panama, and they are eaten either green or mature. Platano en tentación literally means plantain in temptation, and it truly is.
Mature plantains are caramelized with cane sugar, butter, and cinnamon and the dish is served as a side to roast.
8. Rosca de Huevos (Plaited Bread)
Rosca is a bit like challah. It is egg based and braided into a circle before baking. The dough includes yeast and eggs, it is sprinkled with flaked almonds, and then baked until crispy and golden outside and soft inside.
9. Dulce de Frutas (Fruit Cake)
The preparation for this traditional Panamanian Christmas dessert starts the day before by soaking the fruit in rum.
The dough has festive spices such as nutmeg and cinnamon, cloves and brown sugar, with a little rum or whiskey. It is bake it in a round shape, perfect to share on these joyful days.
10. Chica de Saril (Hibiscus Drink)
Chica de saril is a drink made from hibiscus and also known as flor de Jamaica or sorrel drink. With West African origins, it's now on the most popular drinks in the Caribbean and Central America.
The tea is made from the hibiscus flowers, with optional spices such as cinnamon, clove, and sometimes crushed ginger. It is refreshing and has many health benefits as it contains a lot of vitamin C and antioxidants.
12. Ron Ponche (Rum Punch)
There's no Christmas or New Year's Eve in Panama without ron ponche. Condensed and evaporated milk mixed with nutmeg, vanilla, and, of course, rum is cooked with fresh eggs. Some modern recipes leave this the eggs.
---
Related: Most Delicious Desserts in Panama
Related: Most Popular Drinks in Panama