Top 25 Foods of Panama (With Pictures!)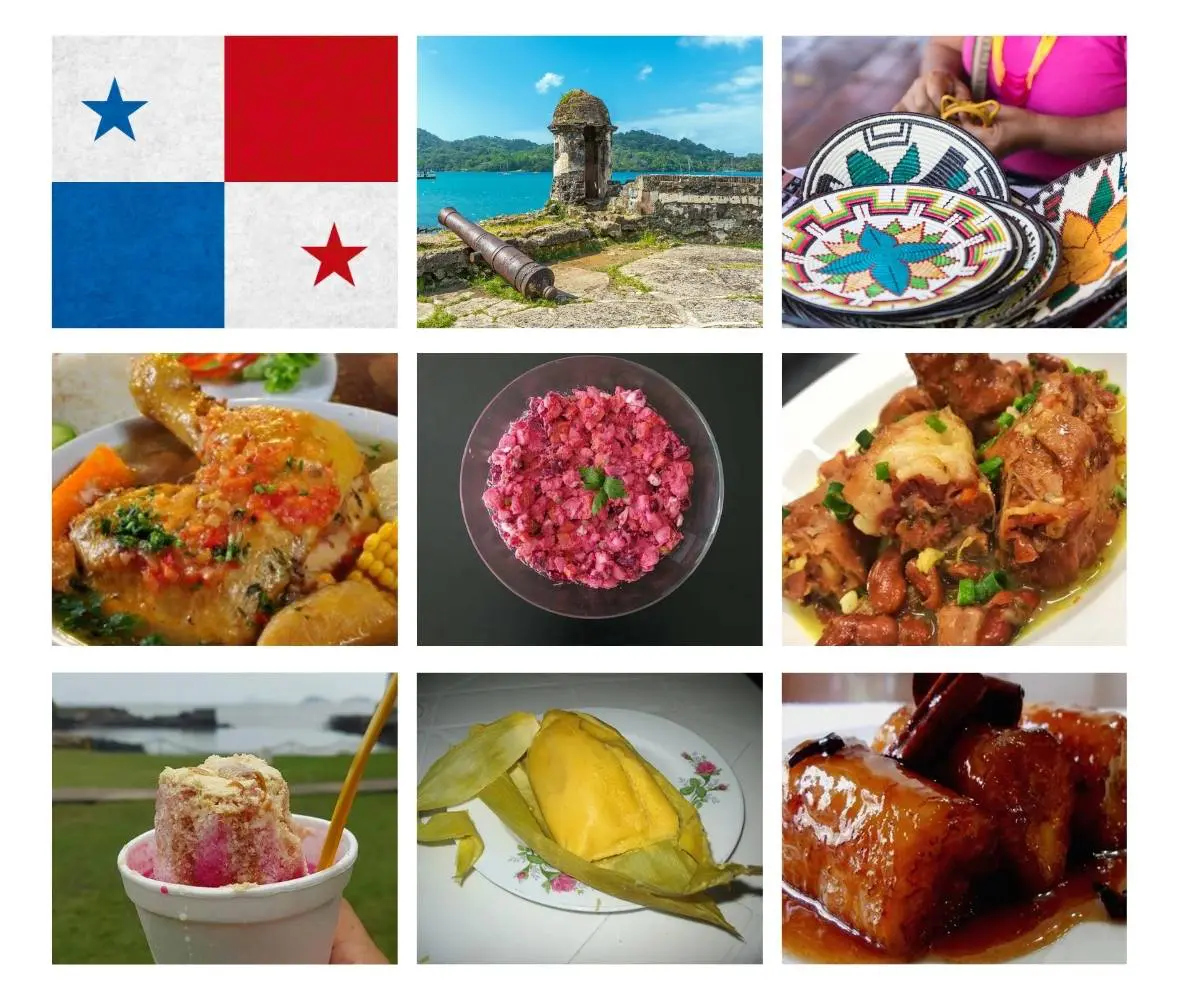 Panama is a country with a rich and diverse nature, and the same applies to its cuisine. The Panamanian food reflects the history of the country: indigenous mixed with Spanish – the conquistadors arrived way back in 1501 – topped with Afro-Caribbean influence.
The cuisine and ingredients vary depending on location. On the Caribbean side, Panamanians eat more seafood and flavor many things with coconut, while in the mountainous interior, root vegetables, pork, and poultry are more dominant.
As Panama was part of Gran Colombia, there are similarities between the food in Panama, Colombia, Venezuela, and Ecuador. So what are Panamas most popular foods? Check out our list of the 25 most popular Panamanian dishes and a description of each dish.
1. Sancocho de Gallina (Chicken Stew)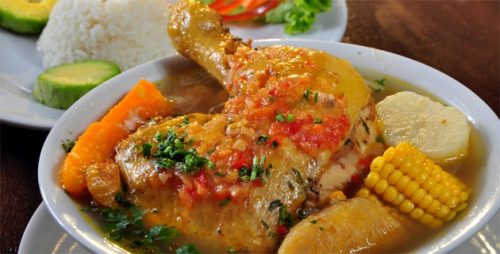 This is the signature dish of Panama. And while it might sound crazy to eat chicken stew in such a hot climate, it is the perfect meal for almost every occasion (and known as an excellent cure for hangovers and colds).
Slowly cooked chicken, corn, and root vegetables such as ñame, yuca, and otoe, flavored with their secret ingredient, a herb called culantro. This is a little similar in flavor to cilantro and it's very common in Panamanian cooking.
They normally eat sancocho with white rice, served on the side.
2. Arroz con Pollo (Literally Rice with Chicken)
Another go to comfort food is arroz con pollo. Similar to a Spanish paella, it is rice with pulled chicken pieces, olives, peas and whatever other vegetables the chef decides to add, such as tomatoes and carrots.
This delicious and healthy meal is often served at parties, as it is easy to make in big quantities.
3. Hojaldre
Almost every culture has some kind of fried dough recipe. The version in Panama is called hojaldre, and it's an egg and flour based dough, normally left overnight to rise and fried fresh in the morning. A typical breakfast with salchichas (sausages) or eggs and local cheese.
There's also a sweet version with powdered sugar, and I have to say it's delicious either way.
4. Tamales
Tamales are typical in various countries of Latin America. The Panamanian version is corn-based dough filled with a delightful mix of chicken, vegetables, and raisins and cooked in banana leaves.
A traditional dish around Christmas and New Year, but also eaten for breakfast. They are also eco-friendly as they come in their own biogradable plate.
5. Ropa Vieja ('Old Clothes' Shredded Beef Stew)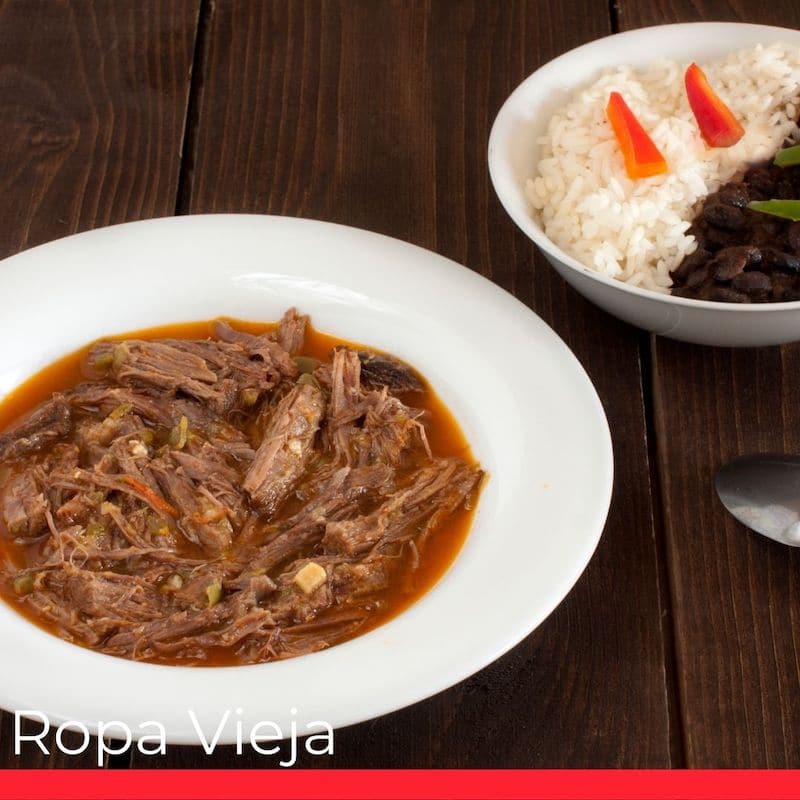 The name of this dish comes from a legend where a poor man had to provide food for his family and he had no choice but to cook some of his old clothes as a stew, which miraculously turned to a delicious meal.
Shredded beef with culantro, cumin, and black pepper makes this dish mouthwatering. It is normally serve with rice and fried plantain.
6. Arroz con Guandú (Rice with Pigeon Peas)
Panamanians eat a lot of rice, and this recipe is probably one of my favorites. Another traditional dish around Christmas time, the rice is cooked together with guandú, oil, cumin, salt, and, of course, culantro.
It is a side dish, but as it has a lot of protein, can be eaten on its own too.
7. Carne Guisada (Beef Stew)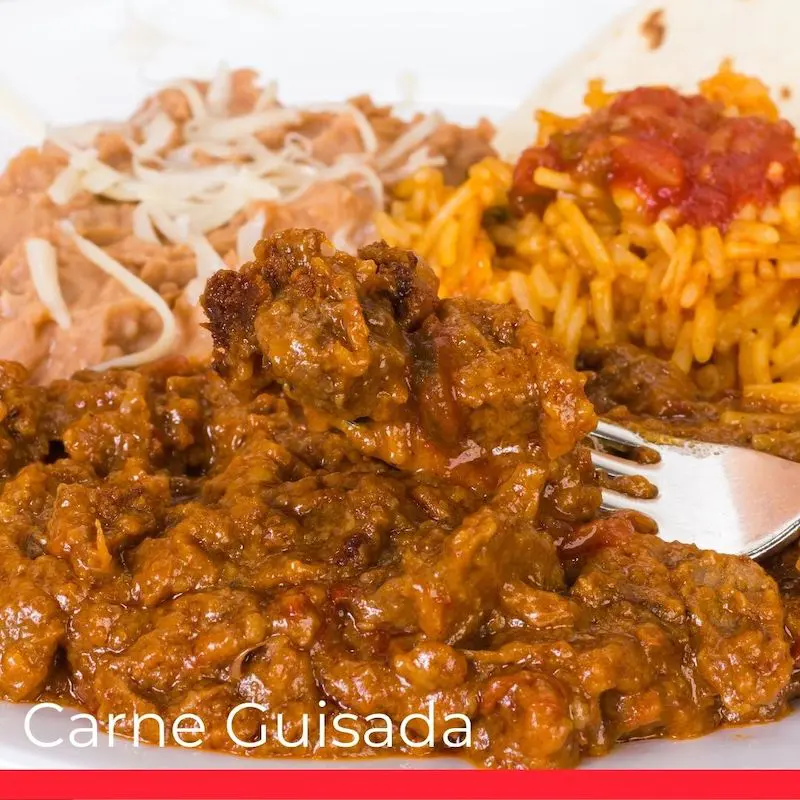 This is the Panamanian version of beef stew, slowly cooked with potatoes, pepper, tomatoes, onions. It is a full meal in itself, though is often served with rice or plantain chips (patacones) on the side.
8. Chicheme
Chicheme is a drink/dessert made from corn, milk, and spices. Corn is one of the most common ingredients in Panama, and while a milky corn drink might sound weird, it's very filling and very nice.
The preparation includes cooking broken corn kernels with evaporated milk, sugar, and spices such as nutmeg, cinnamon or vanilla. The home of Chicheme is said to be a small town an hour away from Panama city, La Chorrera.
9. Patacones
These double fried plantain chips are a versatile elements on any Panamanian table. From breakfast to side dish, with cheese or without, they are yummy, crunchy, and comforting.
Sliced and fried the plantains are then flatten with a glass, small plate or a dedicated patacon maker, and fried all over again.
10. Tortillas
Panamanian corn tortillas are small, thick and disc shaped. They are either deep fried or toasted on a grill. They are typically enjoyed for breakfast accompanied by eggs or the local white cheese.
11. Ensalada de Papas (Potato Salad)
Another piece of the Christmas/holiday ensemble, this potato salad cannot be missed out of the festive table. Boiled potatoes are mixed with eggs, mayo, and boiled beetroot, giving it its typical pink color. As well as Christmas, it is popular at weddings and all kinds of ferias (celebrations).
12. Porotos con Rabito (Red Beans with Pig Tail)
What parts of an animal are eaten varies from culture to culture around the world. And why? Well, delicacy for one thing, curiosity for another. Pig tails are something usually cooked at home by mums and grandmas.
This recipe is from the interior of the country. The pig tails and beans are cooked together in a stew with tomato paste. It is served with rice and fried plantain.
13. Bollo de Maiz (Cooked Corn Dough)
Bollo is a simple yet tasty dish made from corn cooked in banana leaves. The flavor and texture depends on the corn: there are bollos from tender corn (bollo de maiz nuevo) for a creamier, sweeter flavor or from dried corn, where the dough is more dense and has a less sweet taste.
There are several versions of bollo, including the bollo relleno, filled with cooked minced meat.
14. Plantinta (Plantain Tart)
This sweet pastry is very traditional in the Caribbean area of Colón. The dough is made from mature plantains and flour, and it's filled with lemon flavored cream.
15. Ceviche (Raw Seafood/Fish Cocktail)
With 2,857 km of coastline, Panama is heaven for seafood lovers.
Ceviche is very popular around the beaches. This refreshing seafood or fish cocktail is often served with 'soditas', traditional salty crackers. As well as mixed seafood, another popular ceviche in Panama is made with corvina fish.
16. Pesada de Nance (Corn Flour Dessert)
This is abuelitas' (grandmothers) ultimate dessert, a comforting taste that brings back childhood memories.
It is made from various fruits, but the queen of the pesada is nance, which is a sour fruit related to the cherry but with its own unique flavor.
Nances are cooked with evaporated milk and corn flour, which is then topped with local white cheese. Served hot or cold, the pesada is definitely an authentic Panamanian experience.
17. Raspado (Shaved Ice Dessert)
Another dish on the sweet side, Raspado is basically shaved ice, topped with evaporated milk and fruit juice. Raspadura, artisanal, unrefined cane sugar is used to sweeten the mix, hence the name. Very refreshing in the tropical heat.
18. Carimañola (Yuca Fritter)
Yuca (cassava) is one of the most popular root vegetables in Panama. It can be cooked or fried as a side, but it is also the key ingredient for carimañolas, a fried yuca fritter filled with minced meat or shredded chicken. An excellent little bite for something quick to eat or to accompany drinks.
19. Platano en Tentación
Plantain comes in many varieties in Panama, and they are eaten green or mature. Platano en tentcion literally means plantain in temptation.
Mmature plantains are caramelized with cane sugar, butter, and cinnamon for this truly tempting side dish. Platano en tentacion normally comes alongside rice.
20. Mondongo a la Culona (Tripe Stew)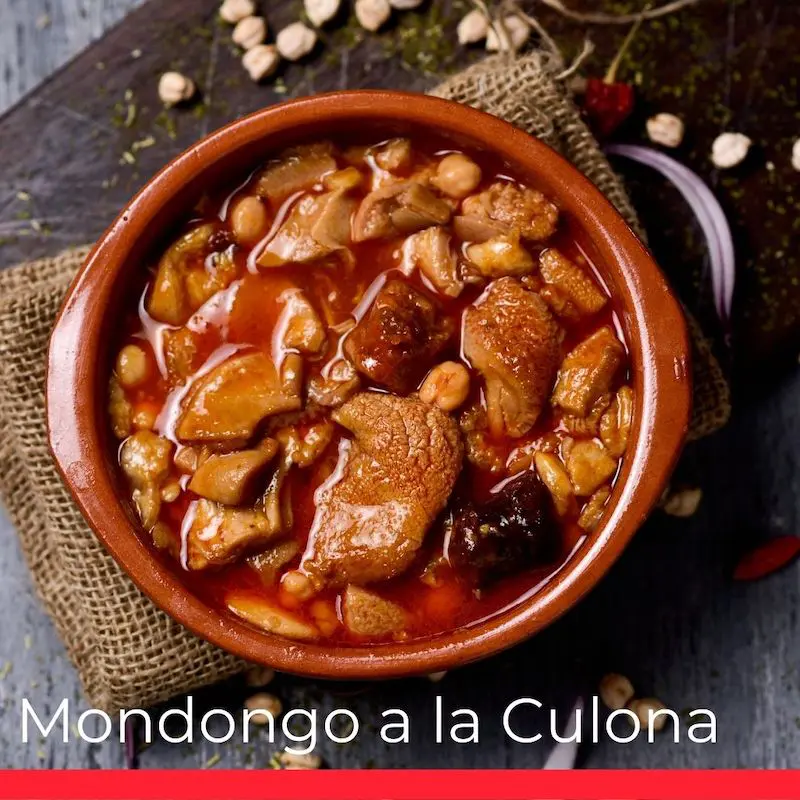 Many cultures have their own delicacies made from various internal parts. Mondogo, aka tripe, is the man ingredient of this typical dish.
The name means tripe in the style of a woman with a big backside. The origin of the name is unknown, although some suggest it's because this meal comes with everything. The tripe stripes are cooked in tomato paste with chickpeas, potatoes, and other vegetables.
21. Sopa de Pata (Cow's Feet Soup)
This hearty beef soup is a very well-known dish in Panama, but as it requires a time to cook, it is more often prepared at the weekend.
The cow's feet are cooked with various vegetables, including corn, chayote (vegetable pear, a squash-like fruit), squash, root vegetables, and herbs such as culantro.
22. Enyucado (Yuca Cheescake)
This delicious pudding made of yuca, coconut, fresh local cheese, and aniseed is very popular on the Caribbean side. Like many typical recipes, this sweat treat has an unknown origin as the recipes were passed down through generations.
23. Bacalao con Papas (Salted Fish with Potatoes)
Another gem from the Caribbean side, this dish needs to be started 24 hours before as the fish need desalting (soak it in frequently changed cold water).
When ready, the fish is cooked together with potatoes and carrots, and seasoned with herbs, onions, and garlic.
24. Cocada
Cocadas, as the name suggests, is made from coconut. They can be found all over Latin-America, with slight variations.
Made from shredded coconut, condensed milk, and cane sugar and baked in the oven, they can be enjoyed with coffee, as a dessert or as a snack. They are the most popular around Easter.
25. Sopa Borracha ('Drunken Soup')
Panama's drunken soup is not a soup. In fact, it's not even savory, but it sure is drunken. It's a dessert, sponge soaked in a syrup prepared from rum, sherry, and sweet wine, flavored with spices and raisins. It is a must for festive occasions, weddings, birthdays, and quinciñeras.
---
Related: 15 Delicious Desserts of Panama
Related: Top Drinks of Panama