9 Popular Turkish Cookies & Biscuits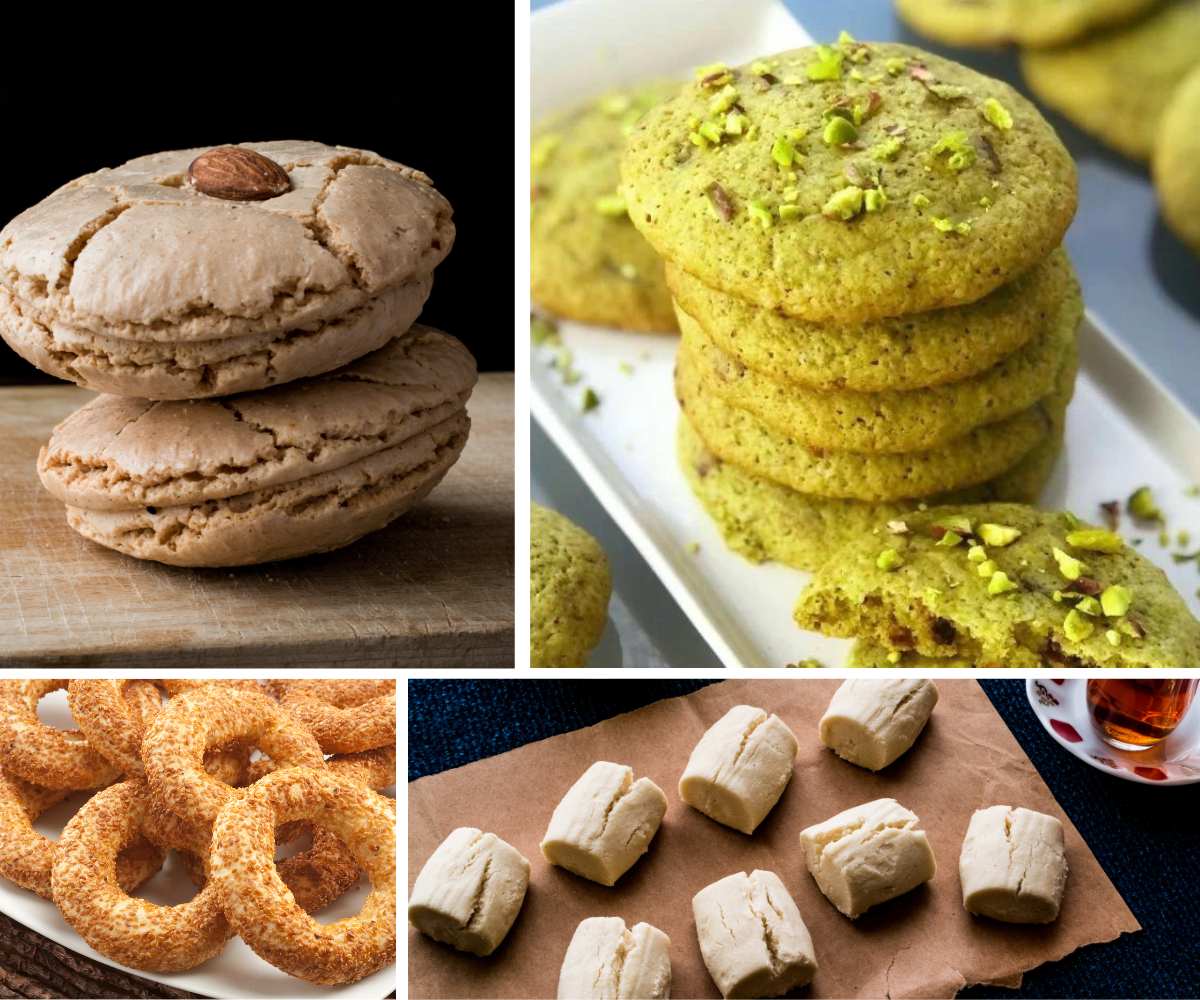 You will find a patisserie or bakery on every corner in Turkey, and the smell of freshly baked simit and börek is a constant on the streets. Pastries are an integral part of Turkish culinary culture. Anatolia grows plenty of wheat, making wheat flour a common ingredient in pastries.
From delicious breads, simits and crispy böreks, which star at breakfast, to soft buns, delicious mantı, and pide, which take the leading role at lunch or dinner, there is a wide range of wheat-based products.
Today's topic is cookies, though not as you know them. In Turkey cookies are kurabiye, a shortbread-type biscuit in which leavening agents are not used.
Qurabiye, from which the Turkish kurabiye comes, was first used in written form in a 10th century cookbook. But they are thought to have been made in Persia for the first time in the 7th century, shortly after sugar was introduced to the region. It is believed that kurabiye entered Ottoman cuisine in the 15th century, and were quickly influenced by peoples living in Ottoman-controlled areas and by the palace kitchen.
Here we dive deep into the world of crunchy, delicious kurabiye, perhaps the most delicious baked goods in Turkish cuisine. When offered a kurabiye in Turkey, you have a choice of sweet or savory.
First, we explore the hundreds of different kinds of delicious sweet cookies offered in home kitchens and in patisseries then we look at the savory offerings. It is such a diverse pastry, often differing only because of a couple of ingredients added to a base dough of butter, flour, and sugar.
1. Acıbadem Kurabiyesi (Bitter Almond Cookies)
These are some of the most popular traditional Turkish cookies and originate in Istanbul. The recipe was first printed in Melceü't-Tabbâhîn (A Manual of Turkish Cookery), the first Turkish cookbook.
Bitter almond cookies are traditionally made with bitter ground almonds, sugar, and egg white. Since bitter almonds are not so common today, they are generally made with bitter almond extract added to the meringue, although ground hazelnut can also be used.
They can be thought of as a kind of large macaron but without the ganache; unlike the macaron, you actually want the top of the cookie to have cracks. A single bitter almond sits on the top. While the cookies are still hot from the oven, two are joined together like a sandwich, with the bottoms facing each other. They look just like macarons, but these cookies are chewy and have a dense texture.
Bitter almond cookies are one of the biggest sellers at many patisseries in Turkey, particularly in Istanbul. 
2. Un Kurabiyesi (Flour Cookies)
Flour cookies are a relatively simple cookie made with butter, sunflower oil, wheat starch, powdered sugar, and all purpose flour. They can be made easily at home, but you can also find them in every patisserie. They are popular because they only need a few ingredients, they stay fresh for a long time, and they are very tasty.
They stay fresh thanks to the starch, which also gives them a good consistency. Flour cookies easily fall apart and completely dissolve in your mouth. The starch also means they crack slightly while baking, so they look and taste different to classic cookies made only with flour.
Flour cookies have different names according to the region they come from and the ingredients used. The Alaçatı cookie, for example, is a gummy flour cookie. Others may be made with sesame seeds or almonds.
3. Cornmeal Cookies (Trabzon)
As we have seen, in Turkey we like to diversify, enriching the cookie dough with new ingredients to create new types of cookie. Semolina, corn flour, or roasted chickpea powder change the flavor and texture of the cookie dough. What is important point here is geography; each region uses local produce.
For example, in Trabzon in the North, we come across a very hard textured yellow cookie made with cornmeal. This is not surprising since much corn is grown here. This might be a hard cookie, but that's ok because the Black Sea region, where Trabzon is located, is the center of Turkish tea production. The cookies simply get dipped. 
4. Leblebi (Yellow Chickpeas Cookies)
Let's move a little bit south, where you'll find the Çorum leblebi cookie. Çorum is a city famous for its leblebi, a snack of roasted yellow chickpeas. Ground into a powder, leblebi makes a very tasty cookie when mixed with flour and sugar.
These are so special, they are often served to guests on special occasions, such as weddings and engagements. 
5. Antep cookie
The last example of enriched sweet cookie is the Antep cookie. This cookie is a registered and geographically marked cookie from Gaziantep, a city famous for its cuisine in the southeast of Turkey. This cookie is prepared with semolina and pistachios, which is no surprise as these are the major agricultural products of the region. 
6. Cookies with Filling (e.g. Izmir Bomb)
Filled cookies are just as common in Turkish cuisine, especially the hugely popular fruit jams, particularly apricots, dates, and apples. Moist in the inside and crunchy on the out, these are easily found in every patisserie.
Probably the most contemporary and highly popular filled cookie is the Izmir Bomb (praline stuffed cookies). As you can likely work out, this cookie emerged from the city of Izmir, in the West, and is filled with creamy chocolate. If you ever get to visit Izmir, don't forget to try this popular street flavor! 
7. Savory Turkish Cookies
Savory cookies are as common and popular as sweet cookies. When hosting guests, at least one type of savory cookie will be found on the table for serving with tea. Savory cookies come in various flavors and shapes, from spiced to sesame seeds, from ring-shaped to stick-shaped.
Again, the base dough is prepared with butter, flour, salt instead of sugar, and usually eggs. They can also be enriched with other ingredients such as yogurt, vinegar, and spices.
8. Kandil Simidi
Kandil simidi takes its name from the famous Turkish street flavor, simit, because of its similar shape. But this is a cookie, not a bagel-style product.
It is a bit special as it is only found in patisseries during the religious Kandil holiday or it can be found sold on the streets. It is made with mahaleb and plenty of sesame or black sesame.
It has a long shelf life because it also contains vinegar, so it is bought in large quantities during the Kandil holiday.
9. Spicy Turkish Cookies
The centerpiece of spice-enriched cookies is mahaleb. Mahaleb is a type of cherry tree indigenous to Iran. The pit of the cherry are ground into a powder which has a very pleasant aroma reminiscent of bitter almond and vanilla.
Mahaleb is a popular ingredient in savory pastries as it makes the pastry crispier and creates a texture that melts in the mouth.
Mahaleb cookies smell and taste delicious, which might be why they are so popular. Egg white and vinegar are used to strengthen the crispy texture. The most common mahaleb cookie is the "fork cookie", so called because of its shape. It's a delicious snack made with black sesame seeds on top. You can buy this cookie from any patisserie in Turkey and enjoy it with tea.
Of course, mahaleb is also used in sweet cookies, especially if you want to add a different flavor profile and smell. But only use a little as mahaleb has a very strong taste that can easily overwhelm other flavors.
Another spicy cookie comes from Hatay, the southernmost point of Turkey. Kömbe is usually eaten on holidays and special days, probably because they smell so heavenly.
The dough contains cinnamon, nutmeg, ginger, allspice, cloves, mastic gum, and of course, mahaleb, they are filled with cracked walnuts, and dipped in sesame seeds. You should definitely try this amazingly beautiful cookie. And if you can't get to Hatay, find a recipe because they can be easily cooked at home.
---
Related: Most Popular Turkish Desserts
Related: Baklava Recipe