18 Famous Street Foods in Turkey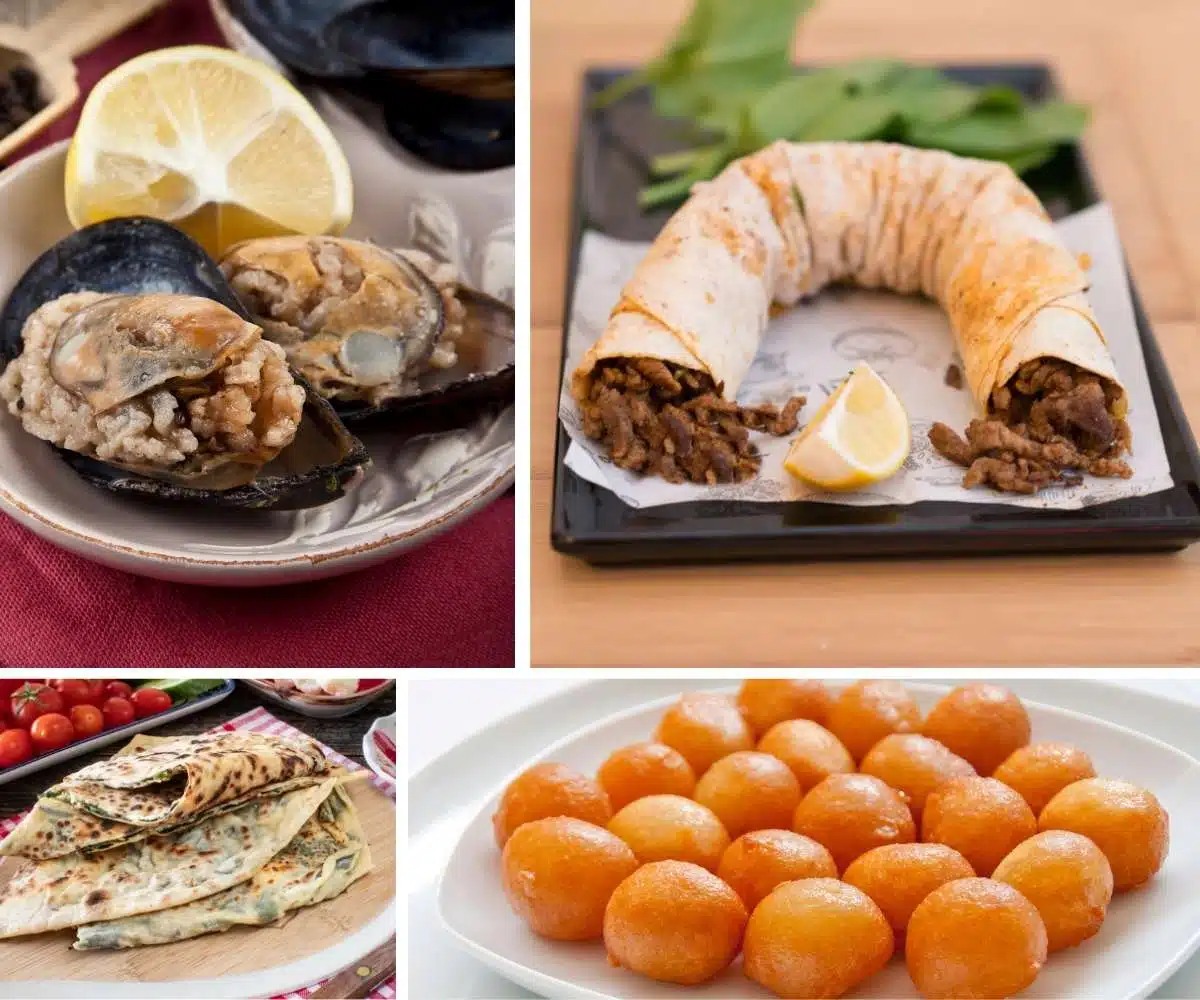 Street food in Turkey has been around for centuries, well before we had restaurants, which may be true of many places in the world. In fact, it would not be wrong to say that the dishes characteristic of Turkish cuisine entered our lives with them being sold on the streets, and they then began to be made at home. But you can be sure that the most delicious dishes can still be bought at street stalls.
There are many historical reasons for street food being as popular as it is in Turkey. One of the most important is the Byzantine heritage of Istanbul and the Ottoman empire, which brought in multiculturalism. Today, we enjoy street food handed down from the Ottoman Empire that brings together influences from Central Asia, the Mediterranean, and the Middle East.
Turkish street foods is some of the best in the world. It is is a cheap and delicious way to sample the local cuisine. Our guide to some of the best street food in Turkey provides something for everyone: fish, simit, roasted chestnuts, tantuni, mussels, pilav, and ciğköfte.
Turkey is actually worth visiting just to try out the delicacies on the streets. Their deliciousness always satisfies, even without a comfortable table. Usually the kiosks and carts selling street food have only a few stools for perching.
The design of the carts depends on the food they sell. Sometimes there is a charcoal grill, sometimes boiling water, and sometimes a glass dome to protect the food.
1. Balık Ekmek (Fish in Bread)
Fish in bread is a symbol of Istanbul. Fresh, grilled fish is served in bread with fresh greens from bobbing boats by the side of the Bosphorus.
It is a dining experience you wont forget, as you perch on little wooden stools, munch on your fish in bread and watch the boats on the water as gulls circle and caw above you. It is what Istanbulites missed the most when they are away for too long.
2. Turşu ve Turşu suyu (Pickle and Pickle Juice)
Turks love to keep eating even when they are full, just for the fun! But a glass of salty, sour pickle juice with slices of cucumber, carrot, and cabbage can actually calm your overfed stomach. So you feel better even though you've eaten more!
3. Simit
Simit is a type of Turkish bread that is compared to a bagel. It is often dipped in grape molasses and coated with sesame seeds. Delicious with some local white cheese and a cup of tea.
It is the most popular quick breakfast and you'll see loads of people on the way to work or school, tearing up a simit brought from a wheeled cart.
Sometimes sellers walk through the street with baskets of simit over their heads calling out to announce their wares. People lean out of their windows to order their breakfast, lowering a basket or bag on a rope for the seller to put the simit in, then hoisting up the freshly baked simit. This has been done for hundreds of years.
4. Kumpir
Kumpir is a street food that originated in Istanbul, where there is even a Kumpir Seller Street. Dozens of kumpir booths stand side by side, and there is always a line in front of them. It is a huge tourist attraction.
Kumpir is a giant baked potato that is hollowed out and filled with cheese, butter, and a variety of toppings such as pickles, olives, sweet corn, and sausage. It is usually served with a dollop of ketchup or mayonnaise on top.
5. Arnavut Ciğeri (Albanian Liver)
Despite the name, this dish originated in Istanbul. It is known as Albanian because it was sold by Albanian street vendors who migrated to Istanbul from the Balkans in the 15th century.
Medium-sized cubes of lamb or veal liver are seasoned with chili pepper flakes and fried. It can also be garnished with onion and parsley and mixed with diced and fried potato. Starting out as a street food, it is now a popular meze appetizer on rakı tables.
6. Tantuni
This is a dish of thinly sliced beef or chicken cooked in a special tray and served with parsley and onion like a burrito or sandwich.
The unique tantuni tray has a deep well in the center for cooking the meat, which is then kept warm by putting it round the edge of the tray. This prevents it being overcooked.
When the customer arrives, the meat is reheated in the middle and plated or wrapped in thin pastry. A true fast food. If you get the chance to taste it, add some hot pickled hot pepper and lemon juice to really draw out the flavors.
7. Islak Hamburger (Wet Hamburger)
This is one of the newest Turkish street foods. As fast-food chains began to open in Turkey, making hamburgers popular, a local variant emerged using Turkish meatballs, garlic, and tomato paste sauce.
They are sold from kiosks, the most famous area being at the top if Istiklal Street near Taksim Park in Istanbul. So popular did ıslak burgers become, the vendors were selling hundreds at a time so they developed a solution for preparing in advance what was needed for peak hours: stacking the burgers in a warm glass bowl!
A crazy idea, you might think, but in the hot glass chamber the hamburgers absorb the steam they create, making them very soft – hence the name. They are about as attractive as they sound, but they are extremely moreish and have become a signature dish of Istanbul.
8. Midye Dolma (Stuffed Mussels)
Seafood lovers will adore this! It is such a unique flavor that you will want to stop by every mussel seller you see, especially if you have eaten them hot. The mussels, cooked and mixed with plenty of spicy rice, are sold from a large round tray that rests on a fold up stool.
To eat them, remove the top shell and use that as a spoon to scoop out the filling. Give it a squeeze of lemon juice and pop it in your mouth. Ummm!
9. Kokoreç
Kokoreç is prepared from the small intestines of a lamb cooked on a skewer then chopped up with spices and sometimes onions, tomatoes, and parsley. As soon as you enter a street with kokoreç stalls, you instantly recognize the unique smell. The dish has very ancient roots, proving that the heritage of Byzantine cuisine is still preserved in these lands.
It is quite common to end a good night out with a wet hamburger, mussels or kokoreç. It is part of the experience of being young in Turkey.
10. Sokak Pilavı (Street Pilaf)
Street pilaf with chickpeas, salad, and chicken is a dish that is impossible to replicate at home. Eaten along with tiny, hot pickled peppers on the side, this dish makes a quick and cheap lunchtime option.
The street pilaf cooks say they only serve "normal" rice and that there is nothing special about the dish. But they underrate it, as the flavors are really worth seeking out. Seriously, this is one of my absolute favorites and a must-have if you are in Turkey.
11. Köfte Ekmek (Meatballs in Bread)
A meatball sandwich can be eaten any day. Such a delicious and practical dish, it never gets boring. But the dish is synonymous with a very special occasion: football.
Football is incredibly popular in Turkey, bringing people together in celebration of their team. Eating these sandwiches from meatball carts is part of the ritual of match day. And so much better than a hotdog!
12. Lokma
Dough-based syrupy desserts are also a very common street food. Lokma is one of the most interesting and is surrounded in tradition.
Lokma is eaten to reach out to the soul of someone who has just been lost. It is also eaten at happy events such as marriage, when it is said to increase abundance, fertility, and happiness. Another tradition around lokma is to share it out as a promise to God when something you want actually happens.
You can buy a Lokma from a dessert shop whenever you want, but sometimes it is served from a food truck on the streets, free!
Another syrupy dough-based dessert is halka, or ring dessert. It is usually sold from glass counters in front of baklava shops or patisseries and is cheaper than the desserts sold inside. Munching on one of these is a lovely way to walk through the streets and markets.
13. Mısır (Sweet Corn)
One of the food stalls that color the streets in summer is the one selling sweet stalls. Both boiled and roasted, the cobs are sold from wheeled carts.
The texture and taste are quite different from home-cooked corn, although the cooking techniques are not different. The intense aroma of sweet corn wafts through the streets, drawing you in for a taste that is even better!
14. Türk Dövme Dondurma (Turkish Battered Ice Cream)
Turkish battered ice cream is a delicious and unique treat that is perfect in summertime. Turkish ice cream is made with goat's milk and has a thick, chewy texture. It is is often sold by people wearing traditional Turkish clothing.
Since the ice cream is so thick, it isn't easy to get off the spoon, a unique selling ritual has emerged. The seller scoops out the ice cream with a long-handled spoon, puts the cone onto it, and reaches it out to the customer. But when the customer takes the cone, the ice cream is still stuck to the spoon and the seller pulls it back out of the customer's hand.
Eventually you get your ice cream, of course, but the children love the mischievousness of the ice cream seller!
15. Kestane Kebap (Roasted Chestnuts)
Roasted chestnuts are very common in Turkish cuisine and are often made at home. Chestnuts are eaten throughout the season and are a snack that warm you up in winter. On the streets the wafting aroma of roasting chestnuts will draw you in.
Only the specially selected, largest and tastiest chestnuts are used. They are first scored with a knife so the shell opens up as it roasts. You will only see this great snack on the most crowded streets and squares of the city.
16. Gözleme
Gözleme is a single layer of thinly rolled pastry stuffed with cheese, potatoes, minced meat, or spinach. In small gözleme shops, the dough is rolled out on wooden tables and baked on a domed steel plate called a gözleme saci, gozleme sheet.
It can also be found at farmers' markets and special events. Gözleme making is a female-dominated profession; male gözleme makers are nearly impossible to find.
17. Döner
Doner is a street food that has become immensely popular all over the world. But it is a dish that has been part of our culinary experience for hundreds of years.
Doner kebab is made with lamb, beef, or chicken that's been spit-roasted and thinly sliced. It is served with onion, lettuce, and tomato.
We love doner kebab in Turkey, whether it's sandwiched in bread, wrapped in a wrap, or served on a plate. Nowadays it can also be find in the fanciest of restaurants, some of which only serve doner kebabs. On a visit to Turkey, we can safely say that whatever city street you walk down, you will not be far from a doner restaurant.
18. Falafel
Falafel is another popular street food in Turkey. These fried balls of chickpeas are usually served on pita bread with salad and tahini sauce. But falafel is not a traditional Turkish street food; it is one of the newer ones.
Syrian refugees who found themselves in Turkey established new lives for themselves, many opening up Syrian restaurants. These have been embraced by the local population and falafel has taken its place as a popular food.
---
Related: Most Popular Turkish Desserts
Related: Typical Turkish Breakfast
Related: Popular Turkish Sausages