Top 15 Most Popular Swiss Dessert Recipes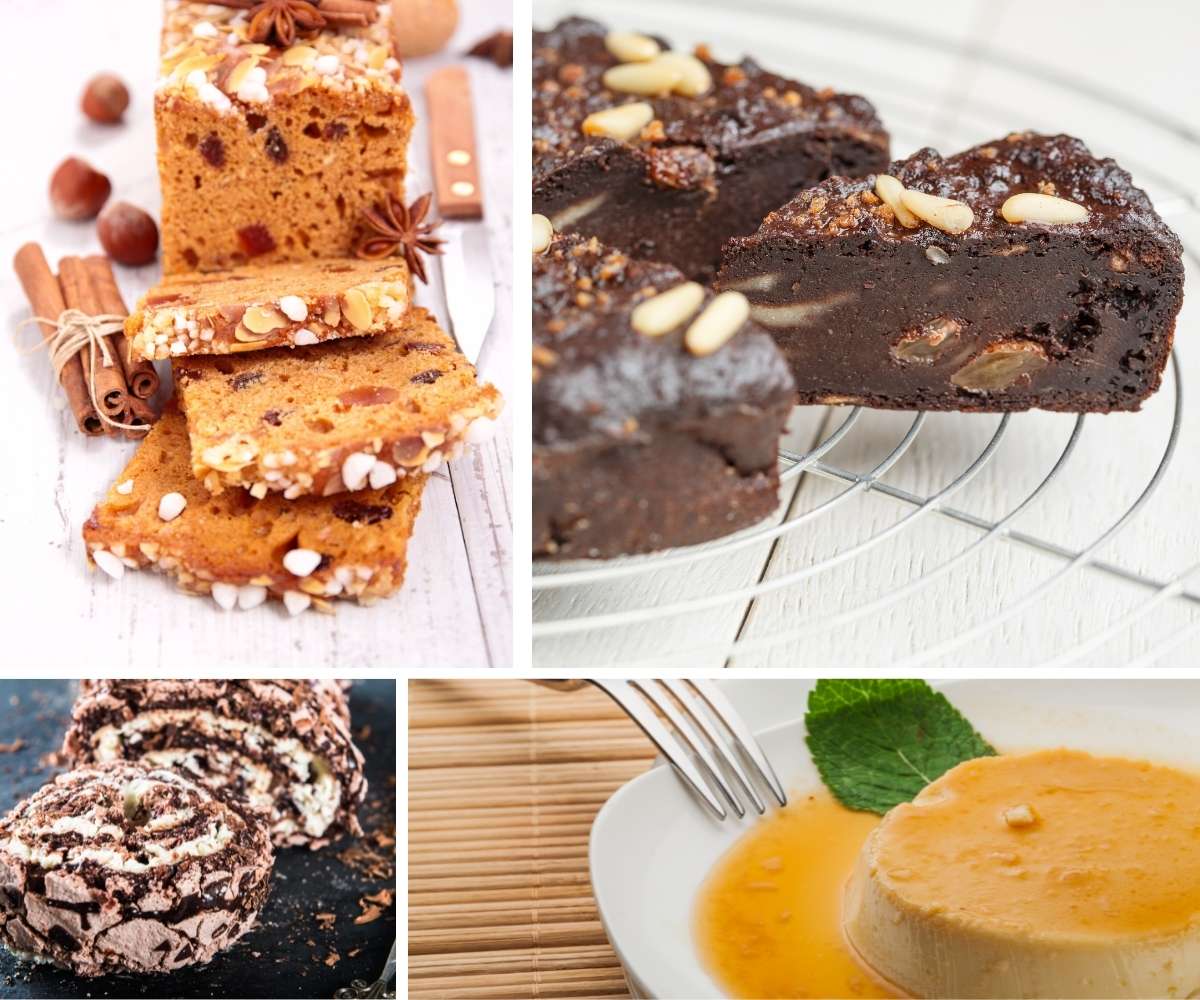 Although Switzerland might not be as well known for decadent desserts and sweets as other, neighboring countries, for example France or Austria, it is nevertheless a country with a rich dessert tradition!
As Switzerland never had royalty and very little in the way of nobility too, it was more of a peasant country than anything else, and many of these desserts come from peasant and religious traditions using simple but delicious ingredients.
While today, Switzerland is mainly known for its chocolate, this industry has been built relatively recently, so most of the traditional recipes do not contain chocolate. But there has always been an abundance of milk, eggs, and cream, fruits, nuts, and vegetables – and these have been turned into the most delicious Swiss desserts!
1. Caramelköpfli
For many Swiss, this typical dessert evokes fond childhood memories – it is the kind of dessert your grandma would have made when you came to visit!
Caramalklöpfli is a flan made with a rich, sweet custard topped with caramel sauce. It's similar to the French custard dessert, crème brûlée, or the Spanish crema Catalan. It is a bit more dense and instead of a brittle caramel top, the caramel is soft.
It is one of those desserts that looks intimidating to make but is pretty simple. The key is to bake it in a water bath, which regulates the temperature and evenly distributes gentle heat around the flan, ensuring the eggs don't curdle.
When serving, the final crowning glory is a generous blop of whipped cream – simply delicious!
2. Zuger Kirschtorte
One of the best-known Swiss desserts is the Zuger Kirschtorte, or cherry brandy tart. Everyone who stops in Switzerland should try the airy cake with the delicate cherry flavor.
Kirsch is the name of the typical brandy from this region, made from cherries. Invented in 1915, the cake was loved by Charlie Chaplin and Audrey Hepburn among many others.
Zuger Kirschtorte is a round cake, 4 to 4.5 centimeters high. It consists of a light sponge cake soaked in either cherry syrup or kirsch, cherry brandy, sandwiched between two brownish Japonais layers. Two thin layers of pink cherry cake cream, each between the sponge and the Japonais layers, prevent the cherry syrup from seeping out.
The top of the cake and the edge are also spread with cherry flavored cream. The surface is dusted with powdered sugar, and the edge is decorated with toasted almond slices. The diamond pattern embossed in the powdered snow is typical.
Initially, the cherry brandy was only used as a flavoring and not as an essential component. Over time, the proportion of kirsch increased continuously, and today it makes up a significant part of the cake.
3. Luzerner Lebkuchen
The round, flat Lucerne gingerbread with its typically cracked surface is a culinary specialty produced throughout the canton of Luzern.
Lucerne gingerbread occupies a special position among Swiss gingerbread with its unique production method. Instead of bee's honey, pear honey is used for the dough. And in addition to the usual milk, cream is also mixed in. This makes the dough more nutritious, softer, and more porous than honey gingerbread.
The origins of today's gingerbread lie in the medieval monasteries when honey pastries were enriched with spices. The availability of various oriental spices is rooted in the medieval spice trade, which reached Europe in the 11th century and in which many monasteries participated. Gingerbread production gradually spread from the monasteries to the cities in the late Middle Ages.
In Switzerland, the gingerbread trade emerged in the 15th century. Today's variety of gingerbread gradually developed from the 17th century onwards. It was also then that the first gingerbread recipes appeared in cookery books.
4. Magenbrot
Magenbrot, or stomach bread, is a very traditional Swiss sweet and is considered a market treat. In autumn, when fairs and festivals open up in French- and German-speaking Switzerland, the typical pink bags filled with Magenbrot are impossible to miss.
Magenbrot is a sweet gingerbread biscuit cut into small square pieces and covered with a thick, deep brown sugar glaze. The color of the icing comes from cocoa or chocolate powder.
What distinguishes the Magenbrot from other gingerbread biscuits is the unique sugar glaze. The glaze is the most important part of dish; the honey flavor, which is central to Biber or Basler Läckerli, plays a subordinate role.
Magenbrot owes its name to the spices and the sugar it contains, and the healing, digestive, and stimulant properties these ingredients were thought to have on an upset stomach. Even in the fifth Idiotikon volume, published in 1905, the Magebrot is presented as an "easily digestible pastry made from sugar dough".
5. Meringues
These are simply delicious and not to be missed: Meringues! The dry, airy, fluffy sugar and egg white biscuits are sometimes eaten on their own, but most often with a generous helping of whipped cream. And there is always the option to add a vanilla or strawberry ice cream for the complete dessert experience! In autumn, meringues are often paired with Vermicelli.
Meringues are said to have originated from Meiringen in the Bernese Oberland, central Switzerland, where they were probably invented around 1600 by the Italian confectioner Gasparini. Meringues are well known and highly appreciated in the Bernese region of the Emmental and the foothills of the Vaud and Fribourg Alps and are enjoyed throughout Switzerland all year round.
In the canton of Fribourg, and especially in the picturesque medieval town of Gruyères, the combination of double cream, meringue, and fresh local strawberries in early summer has been an institutional delicacy for several decades.
6. Engadiner Nusstorte
This is one of Switzerland's most beloved flagship cakes, and the Swiss can't get enough of this classic walnut and caramel-filled pastry. In fact, the Engadiner Nusstorte makes up 20 to 40% of bakers' sales in Switzerland. It is also one of the country's most significant cake export.
The nut cake is the specialty of the canton of Engadin, a southern region in Switzerland; a high valley where several dialects of Rumantsch are spoken.
The recipe for the Engadiner Nusstorte has been known in Engadine since around 1900. But its success story began with an Engadine confectioner who emigrated to Toulouse. From there, it was distributed throughout France. From the 1930s onwards, the delicious cake also became known in Switzerland and is now a household name.
Lots of caramelized sugar, heavy cream, and chopped walnuts, wholly enclosed in a shortcrust pastry, and the Sunday afternoon dessert is perfect.
7. Salée Sucrée
Salée sucrée is perhaps the most illogical name of all the recipes on this list as it means salted sugared! This sweet cream pankcake is a specialty of the French speaking regions of Switzerland, especially the canton of Vaud. And it is not only enjoyed with coffee, but also with wine!
The salée au sucre is a round flat cake made of sweet yeast dough, garnished with a mixture of sugar and cream, sometimes with milk or butter egg added.
The name salée au sucre sounds paradoxical; in the manner of the famous "déçu en bien", "pleasantly surprised", which is equally typical of Vaud. Undoubtedly, the salée au sucre presents itself sweet and not salty to the taste buds.
However, it should be remembered that the term salée (salty) designates numerous cakes, mainly in the canton of Vaud: including salée au fromage, au lard, à la crème, au vin (salée with cheese, bacon, (sour) cream, wine)… so why not with sugar?
8. Vermicelle
Those served this sweet dessert for the first time often look a bit perturbed, as the whole thing looks a bit fussy. But let me tell you, it's worth trying. For me, it's the best Swiss dessert ever!
Vermicelli, as they are called in Switzerland, is a dessert made from chestnuts and is therefore in high season in autumn. The chestnut purée is pressed through a perforated surface, producing strands laid out in a nest. The whole is placed on a tartlet and/or meringue and embellished with whipped cream.
Vermicelle is common throughout Switzerland but is a southern Swiss specialty. The term is derived from the Italian word vermicelli, meaning little worms, which initially referred to a form of pasta made of fine, long threads used to prepare soups. Later, this word was applied to the strands of chestnut purée that we know and love today.
9. Aargauer Rüeblitorte
Rüebli is the Swiss-German expression for carrots. So this is a carrot cake – delicious, juicy, and not-to-be-missed!
The Aargauer Rüeblitorte is a compact cake made with grated carrot, eggs, and almonds or hazelnuts. The diameter varies depending on the baking tin. The cake is often iced with sugar and decorated with marzipan carrots.
The Rüeblitorte is, along with Kirschtorte, one of the most famous cakes in Switzerland. In 2013, probably the largest carrot cake in the world was baked in Aargau, with a diameter of 5 m and a total weight of 590 kg, 150 kg of which were carrots. A beautiful piece!
Although the Rübelitorte is made and consumed throughout Switzerland, especially in German-speaking parts, it is attributed by origin to the canton of Aargau, which is also jokingly called Rüebliland.
10. Brönnti Crème
Another beloved childhood memory for many is brönnti crème, or burnt custard! For many Swiss, this is one of the first desserts they learn to prepare in school cooking classes. And it's likely also the most used recipe in the school cookbook they get to take home from class.
The brönnti crème is a straightforward recipe: first, you slowly turn sugar into caramel, then add milk, maizena, and eggs – and that's it!
Originally, similar desserts were found in Spanish, Portuguese, and French cuisine and are called crema catalana or crème brûlée. The unique feature of the Swiss version is that the caramel crème is served much softer, without a crust but with whipped cream. Super delicious and a Swiss dessert classic that you can hardly get enough of.
11. Basler Läckerli
This is a treat that you will find throughout Switzerland and also at the airports on the way back home – the perfect souvenir! The Basler Läckerli is a small, square, flat gingerbread biscuit with roughly chopped almonds, hazelnuts, and citrus fruit peels, covered with a fine sugar coating.
Unlike other gingerbread versions common throughout Switzerland, it is relatively hard. This is also the origin of the term: Läckerli comes from the Old High German leckon, to lick – as these biscuits are so hard, you need to either lick them to soften them or dunk them in your tea or coffee.
The Basler Läckerli is mainly produced in the Basel region, the only canton to have borders both with Germany and France.
12. Süssmostcrème
This is another very unique and slightly old-fashioned Swiss dessert, not so common anymore but known to everyone. It is the kind of dessert that you get served when visiting your grandma, and one that you certainly learn how to cook at school: Süssmostcrème, sweet apple cider cream.
And you don't need to peel apples for this autumnal dessert! All you need is some fresh sweet cider, a bit of sugar, maizena, and eggs – start cooking it slowly while stirring constantly. And there you go: the refreshing and light cream can be conjured up in no time at all. Serve it with a bit of whipped cream on top, and enjoy!
13. Torta di Pane
What's the best way to use stale bread? By making torta di pane, of course! As its name suggests, bread cake is a cake made from stale bread softened in milk and containing many other ingredients such as dried and candied fruit.
Originating from Ticino, this bread cake is a famous specialty, especially in Sopraceneri. This Italian-speaking canton is the most southern of Swiss cantons, across the Alps, closer to Italy than to the rest of the country.
While there are many variations for this sweet cake, the basic ingredients include stale bread, milk, eggs, sugar, lemon zest, egg, and pine nuts. Of course, you can also add spices such as cinnamon, nutmeg, and vanilla for extra flavor. You can also throw some almonds or raisins into the mix.
This delicious cake is often found at local festivals, bakeries, and rustic restaurants throughout Switzerland. And, like so many of the nation's sweet treats, it can be enjoyed any time of the day, perhaps for breakfast or as an afternoon snack with tea or coffee.
14. Zigerkrapfen
Many Swiss desserts are tied to the celebration of Easter, and especially to the forty days before that – or more precisely, to the days of celebrating and indulging in sweets to then be able to go through the fasting period!
Zigerkrapfen is one of these unique and seasonal desserts. It is a doughnut made from a buttery, grated white flour dough filled with a sweet dough mixture and either baked or fried. Within the large doughnut family, the Zigerkrapfen is Switzerland's best-known and most widespread type of doughnut.
The word Krapfen can be traced back to the Old High German terms crapho, kraphun, and kräpfen, which were known in the 9th century. It primarily meant claw or hook and probably referred to the curved shape that Krapfen pastries still have today.
15. Carac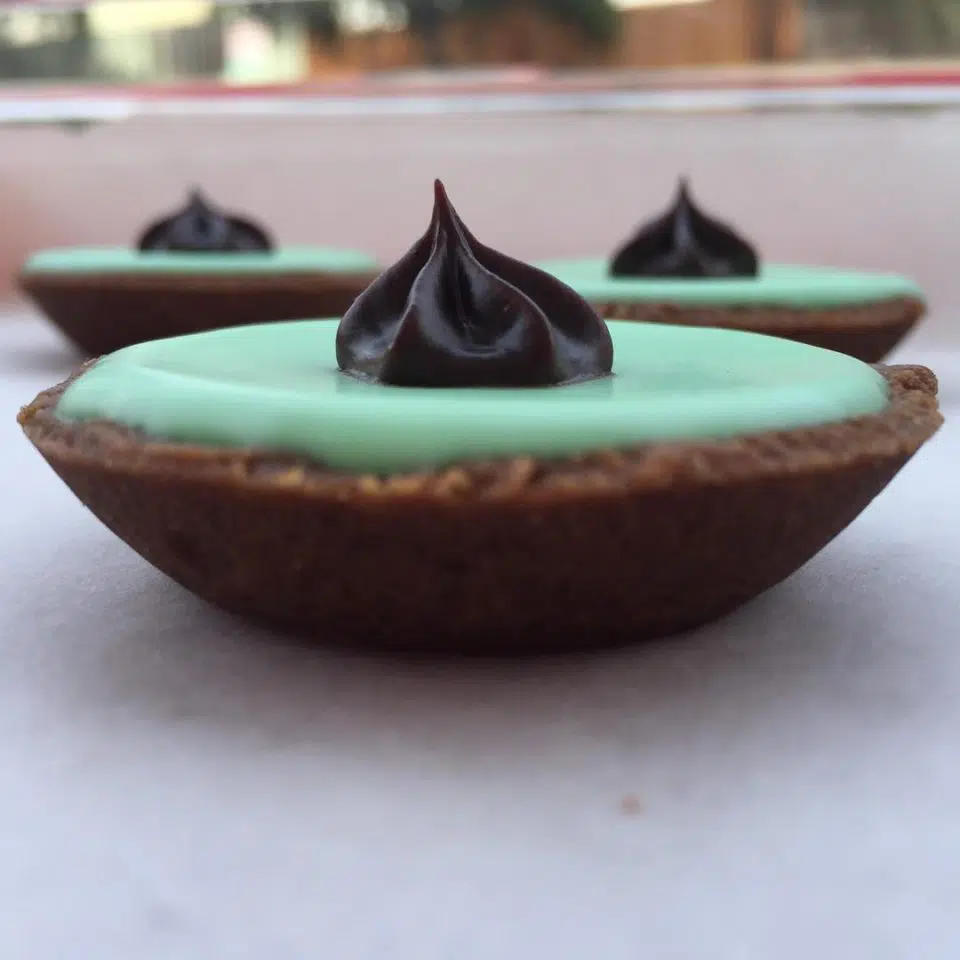 Carac is a chocolate tartlet that is very popular throughout French-speaking Switzerland, and also known in the German-speaking parts.
Thanks to its playful appearance, light green in color and reminiscent of a flying saucer, it does not go unnoticed in the windows of confectioners. Children – but not only children! – appreciate it for its high chocolate content.
Carac is made from a shortcrust base in tartelette form, filled with rich and sweet chocolate ganache, and topped with this unique, light green fondant and a small disc of chocolate.
The origin and history of carac are unclear. According to some, the ganache, a fundamental ingredient in the making of carac, has Austrian origins. Indeed, the sachertorte, invented in 1832 by a young Austrian, contains ganache. However, there is no evidence that carac comes from this country.
As you can see, the desserts in Switzerland are unique, tasty, and different from the desserts found in other countries. This is one of the reasons why you should visit, to try their desserts and get a taste of their culture. Enjoy!
---
Related: Most Popular Traditional Swiss Foods