6 Great Substitutes for Emmental Cheese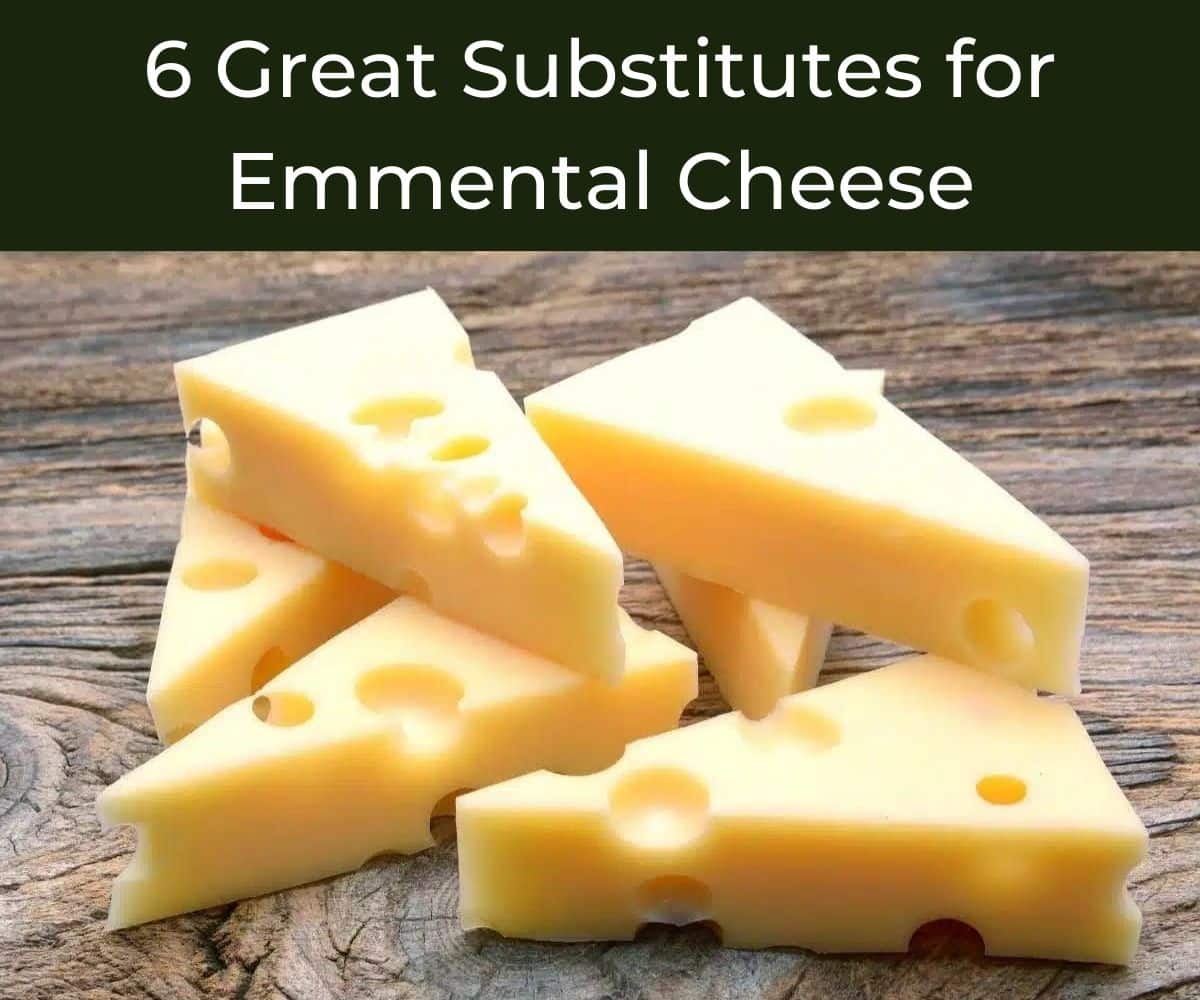 Emmental cheese originated in the Emmental region in Switzerland and it's one of the most well-known and well-loved cheeses throughout the world. Also known as Emmentaler, it has been produced in Switzerland since the 15th century, making it one of the world's oldest known cheeses!
Known for its rich, nutty flavor, Emmental cheese is made from cow's milk and has a distinctive appearance due to its large, asymmetrical holes. These holes (or eyes) are created during the cheese-making process when carbon dioxide is released, forming small pockets in the cheese which eventually expand and settle, leaving permanent holes.
Production begins in the countryside of the Emmental cheese-making region, where local cows feed on grass but, uniquely, they are also fed straw and hay, which contributes to the distinct sweet flavor that compares to no other!
The milk is put into huge copper casks where whey and rennet are added and a thick curd forms. The curd is then whisked rapidly and drained of any excess whey. It is placed in huge molds and then brined (washed in salt water) before setting aside to age for several months (or in some cases, years!).
Because Emmental contains only raw milk, it must be kept at a very specific temperature under the strictest control.
The result is a complex and delicious cheese that has tones of ripe fruit, hazelnuts, and dessert wine. The most popular way of enjoying this cheese is making it into a classic cheese fondue!
To make traditional Swiss fondue, simply melt Emmental cheese over very low heat with a touch of cream, a splash of good quality white wine, garlic, and nutmeg. Simmer until combined and the kitchen smells amazing. Invite your favorite people over and then dip bread, vegetables, and meats in the cheese mixture for a delicious and super satisfying meal!
Emmental is also a great addition to a charcuterie board, paired with meats, fruits, and other Swiss or French cheeses. It can be tricky to find outside of Europe so if you cannot track down Emmental, here are a variety of other cheeses that are great substitutes for Emmental.
1. Swiss Cheese
While Emmental and Swiss cheese share many similarities, there are some key differences that set them apart.
The most obvious difference is the size of the holes. Emmental has much larger holes than Swiss cheese, and the holes are irregular in shape. Swiss cheese, on the other hand, has smaller and more uniform holes. Another difference is the flavor. Emmental has a sweeter, nuttier flavor than Swiss cheese, which is more mild and buttery.
Emmental is always produced in the Emmental region of Switzerland, whereas Swiss cheese can be produced anywhere. Swiss cheese is substantially less expensive than Emmental, but it is equally delicious!
2. Gruyère
Gruyère is a popular Swiss cheese that is similar in texture and flavor to Emmental. It has a nutty and buttery flavor that pairs well with a variety of foods, making Gruyère a great substitute for Emmental cheese in a lot recipes, especially in the case of soups or chicken cordon bleu.
Gruyère also melts well, making it a great choice for quiches and delicious kid-friendly options like pizza and grilled cheese sandwiches.
Being milder in flavor, Emmental is a great choice for those who prefer a less intense cheese. The texture differs too as Emmental has a firm texture whereas Gruyère is softer and creamier.
Emmental is often used as a snacking cheese or in sandwiches while Gruyère is more commonly used in cooking. Gruyère is a great choice for adding flavor and richness to quiches, fondues, and gratins, and makes a great substitute for Emmental and many other cheeses! It's a good one to have in your back pocket and we think it will quickly become a favorite.
3. Parmesan Reggiano
Parmesan is one of the hardest cheeses on the market, with a granular texture with a very high fat and salt content.
Although it is smooth when melted, Parmesan has a somewhat grainy texture while Emmental is smooth, but it still makes a fine alternative!
Both cheeses are made from unpasteurized cow's milk, although Emmental is much less expensive than Parmesan. Prices can fluctuate wildly based on fuel costs and inflation, so sometimes using Parmesan in a humble recipe is beyond the budget.
Parmesan can also be hard to find in some places, so keep in mind any of the following substitutes.
4. Jarlsberg
Jarlsberg cheese is a Norwegian cheese that is often used as a substitute for Emmental. Like Emmental, it has a mild, nutty flavor and a similar texture, making it a great choice for recipes that call for Emmental.
Jarlsberg also melts well, making it a great choice for fondues, German spaetzle, and macaroni and cheese. Jarlsberg can be easier to find in Europe, but it may be difficult to find in North America, so if you cannot find this cheese, stick to one of the others on this list!
5. Tilsit Cheese
Tilsit is a German cheese that is often used as a substitute for Emmental, especially in German Spaetzle.
It has a tangy flavor and creamy cheese melt, as well as a similar texture to Emmental, making it a great substitute. Tilsit cheese also melts well, making it ideal grilled cheese sandwiches and casseroles.
It can be melted at a low temperature without getting browned or crispy, making it a good substitute for a fondue, or if you want, you can take it to the next level and broil it to get a nice bubbly, brown crispy texture.
6. Vegan Cashew Cheese
Vegan cheese is becoming more widely available and accessible, so finding a cashew (or other nut) version of an Emmental-like cheese should not be too difficult! It is important to note that while vegan cheeses sometimes taste very similar to the real thing, the texture and meltability might be where things start to differ.
Vegan cheese doesn't get stringy when it melts, which you would want for a fondue, but you can make a vegan version, blending nuts and tapioca starch, which has the melty stringiness that people know and love! 
Emmental is a staple in many households and restaurants around the world, but especially in Europe. It is prized for its deep flavor, mild savory notes, its nutty flavor and signature holes, all of which make it a unique and delicious cheese that pairs well with a variety of foods.
Whether you enjoy it on its own or in a recipe, Emmental is sure to delight your taste buds and will make your dinner guests feel well looked after. With so many different ways to enjoy it, there's no reason not to try this delicious cheese for yourself and the good news is that if you cannot track Emmental down at the specialty store in your area, there are plenty of great alternatives!