Top 15 Nepali Sweets and Desserts
India has heavily influenced Nepali cuisine, which you would expect as the two countries share open borders and close socio-cultural ties. Nepali cuisine has adapted many different Indian sweets and desserts, added their regional twist to them here and there, and incorporated them into its own culinary identity.
Nepali sweets and desserts have also been moulded by the socio-cultural and religious aspects of Nepali society, much like other food. Some sweets and desserts are reserved for special occasions or festivals, while some sweets have an entire festival dedicated to them. You can expect to be served particular sweets during particular festivals when in Nepal!
Without further ado, here are 15 of the most popular sweets and desserts of Nepal.
1. Yomari
Yomari is a traditional dish of the Newa people, native inhabitants of the Kathmandu Valley. It is a steamed dumpling made with rice flour with fillings such as chaku (jaggery taffy) and khuwa (evaporated milk solids) on the inside.
It is typically teardrop shaped and is culturally and religiously significant. According to the book Social History of Nepal, the people of Kathmandu started making yomaris from the time of Amshuverma, in the 6th century.
A specific festival is also dedicated to yomari, known as yomari punhi. It is a festival celebrating the end of the rice harvest and usually falls during November and December.
In Newa culture, yomari also has a romantic aspect as the day after yomari punhi, lovers exchange yomari as a sign of their love. Yomari can be found in most Newa eateries around the Kathmandu Valley, although they are not difficult to make at home, requiring basic ingredients and a steamer.
2. Lakhamari
Lakhamari, a traditional Newa sweet, is famous for its significance during marriage ceremonies. It is primarily made of flour, sugar, butter, and other ingredients. The batter is deep-fried and made into different shapes, each named differently.
Customarily during Newa wedding ceremonies, the groom will send wedding invitation cards with lakhamari to close relatives as a sign of goodwill.
One of the most iconic shapes of lakhamari is a spiral of rings diminishing in size. This type of lakhamari is usually produced during festival seasons and used as offerings during pujas. They can be crunchy or soft, with the older generation typically preferring the crunchier version while the younger generations adore the softer versions.
3. Juju Dhau
Yoghurt is one of the staples of Nepali desserts. During celebratory events such as weddings, traditional desserts will almost always contain yoghurt. Sometimes, the yoghurt is mixed with fresh fruits such as grapes, apples, or slices of banana.
Among the different varieties of yoghurt found in Nepal, none are more famous than the Juju dhau, a kind of yoghurt that originated in Bhaktapur. Literally translating to 'king of yoghurts', juju dhau has a rich, creamy texture, almost like cheese.
Due to the popularity of juju dhau, there are plenty of dairy stores in and around Kathmandu valley that stock it, but to get the best quality, one needs to visit Bhaktapur, specifically the Bhaktapur Durbar Square area.
4. Jerry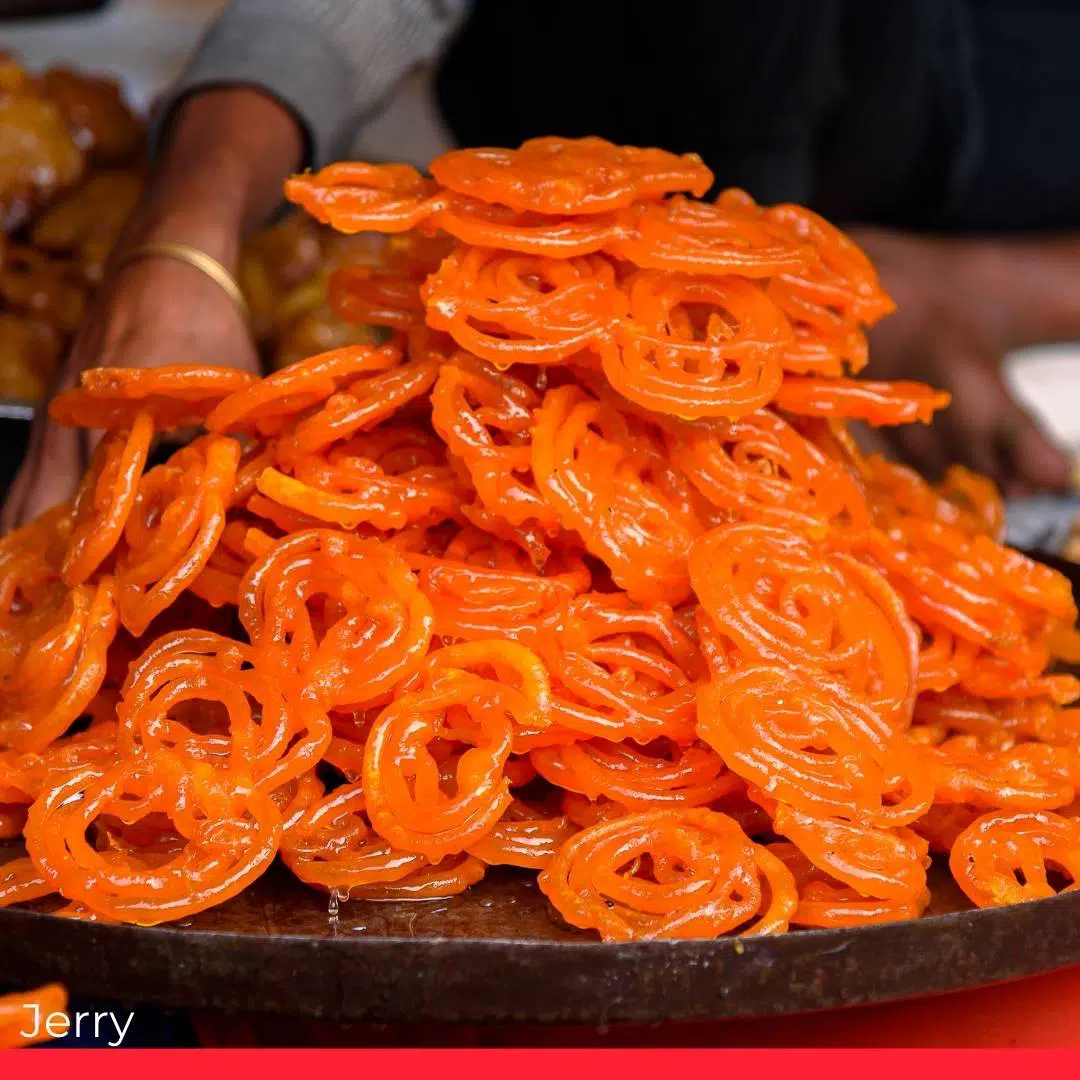 Jerry is made by deep-frying maida flour (plain flour or all-purpose flour) batter in pretzel or circular shapes and soaking them in sugar syrup. It is one of the most popular desserts for ceremonies in Nepal. Since it is coated in sugar syrup, jerri is extremely sweet.
During festivals like Dashain and Tihar, people will throng to sweet shops to buy this sweet by the kilo.
Jerry is also commonly eaten during breakfast with a cup of tea. But in Newa sweet shops, jerri is combined with a deep-fried flatbread called swari to create a dish called jerry-swari.
5. Gud-paak
Gud-paak is a sweet popular in the Kathmandu valley as a nutritious food to give to new mothers. This sweet is usually made with a base of khuwa. Khuwa, which is made with cow's or buffalo's milk ( or even goat or sheep), is mixed with dried fruits or nuts such as almonds, cashews, coconuts, pistachio, dates, fox nuts (makhana) and decorated with watermelon seeds and dry grapes (raisins). Sometimes, spices such as cinnamon, cloves, and cardamoms are added for extra flavor.
Visitors to Kathmandu valley from across the nation often take souvenirs of gud-paak to give as gifts to children or to expectant mothers. Due to its popularity, there have been frequent cases of gud-paak being prepared with sub-standard ingredients in shady sweet shops, so it should always be bought from well-established chains in the Kathmandu valley.
6. Til ko Laddu
Laddu is one of the most popular sweets in the Indian subcontinent. Also spelt laddoo, this spherical sweet is made with of flour, ghee, and sugar. A plate full of laddus is a common sight during festivities and depiction of festivals in media and Bollywood.
In Nepal, laddus can have a variety of toppings such as coconut pieces, fenugreek, pistachio, etc. One of the most popular toppings is til (roasted sesame seeds), and this type of laddus are known as til ko laddu. It is one of the essential sweets for the festival of Maghe Sankranti that falls on the first day of the Nepali month of Magh.
7. Peda
Peda is a simple sweet made with sweetened condensed milk or khuwa and sugar. It is usually circular shaped and topped with traditional flavorings such as pistachios or almonds.
In Nepal, as Indian sweet shops chains and confectioners began opening up, traditional Indian sweets such as peda quickly began to increase in popularity. As peda is relatively cheap and ubiquitous, it is a typical sweet offered to the deities. In temples around Nepal, one can often see pedas being offered to the statues of gods.
8. Rasbari
Rasbari is a classic milk-based dessert and is famous in Nepal and the entire Indian subcontinent. Initially originating from Bengal, the dessert has gained much popularity in Nepal.
Rasbari is small white milk balls usually soaked in a sugary syrup. It is very popular during gatherings and parties and is often served as desserts on special occasions.
Since rasbari is based on milk, it is not overly sweet, and many people prefer it to satisfy their occasional sweet cravings. The process of making rasbari is similar to the process of making curd out of milk. Lemon juice is added to boiled milk and the resulting mixture is strained and shaped into little balls, which are then cooked in boiling sugar syrup to create rasbari.
9. Khuwa Barfi
Khuwa barfi is a common and popular sweet available in almost all sweet stores in Nepal. It is a milk-based fudge topped with pistachio, so it has a dominance of a sweet and pistachio taste. Khuwa barfi is usually shaped in either a star or cube shape.
While barfi can be prepared using condensed milk, the trend in Nepal is to make barfi from khuwa and hence it is colloquially known as khuwa barfi. While sugar-free khuwa barfi are now available too, the simple milk-flavored khuwa barfi is still the most popular.
10. Kheer
Kheer is a type of wet pudding popular in the entire Indian subcontinent. It is usually made by boiling milk, sugar or jaggery, and rice with added ingredients such as coconut, pistachio, almonds, cashew nuts, raisins, and other dry fruits and nuts.
Since kheer is a dessert popular all over Nepal, many different recipes and ingredient variations can be found.
Kheer is an integral to parties and ceremonies: from weddings to funerals, kheer is served and eaten to observe the occasion. While it is usually eaten as a dessert, it can sometimes be the main dish served with a side of spicy vegetable curry or achaar (fermented or pickled vegetables).
11. Khajuri
Khajuri, a famous Nepali cookie, is usually made during the festival of Chhath Parva or during Tihar. This holy offering is imbued with a lot of Nepali flavors. This scrumptious delicacy comprises refined flour, milk, ghee, and salt.
The Nepali version of a cookie, khajuri is also used offered extensively during festivals and celebratory occasions such as weddings. While it can be quickly cooked at home, most people usually buy khajuri in prepacked boxes from sweet shops.
12. Kulfi
Kulfi is a frozen dairy dessert originating in the Indian subcontinent in the 16th century. It is made by boiling milk, sugar, and other flavors (most popularly pistachio), then freezing it. In the past, during festivals and carnivals, cart-vendors selling kulfi were common, but their numbers have dwindled in recent years. However, kulfi can still be found in sweet shops in Nepal.
Kulfi presented in small mud pots can be found in areas such as the Patan Durbar Square, Kathmandu Durbar Square, and Bhaktapur Durbar Square in Kathmandu.
Kulfi is also highly popular in Punjab and Pakistan.
13. Suji ko Haluwa
Haluwa refers to pudding and though there are a variety of haluwas such as gajar (carrot) ko haluwa and maida ko haluwa, suji ko haluwa is one of the more popular types of haluwa in Nepal.
Semolina, known as suji in Nepal, is the main ingredient of suji ko haluwa. During the preparation of suji ko haluwa, ghee is used in considerable amounts to create a smooth texture. It is a beloved snack among young children. Haluwa is often used as an offering to the gods (prasad), but if it is used as a holy offering, then maida ko haluwa is preferred rather than suji ko haluwa.
14. Sel Roti
Sel roti is a traditional ring-shaped sweet rice bread famous in Nepal. It is most commonly prepared during the festival of Dashain and Tihar in homes and used in pujas and given as a snack to guests.
Sel roti is made with semi-liquid rice flour dough, which is then deep-fried in a ring shape. It is recommended to add lightly crushed rice grains in the rice flour dough so that the sel roti will have a traditional grainy texture when cooked. Sel roti is often eaten with a spicy side dish such as sadheko or any other achaar.
15. Gajar ko Haluwa
Gajar ko haluwa is another typical dessert in Nepal that originated from India. Making it is similar to the process of making suji ko haluwa. The essential ingredients of gajar ko haluwa are grated carrot, ghee, raisins, grated coconut, milk, and sugar. It is considered a healthier version of haluwa, and so is often given to children for their school lunch.
Gajar ko haluwa is a simple recipe in which grated carrot is cooked in ghee until they soften, and then grated coconut and milk are added and stirred for ten to fifteen minutes over a low heat.
---
Related: Most Popular 20 Nepali Foods