5 Popular Lithuanian Appetizers and Snacks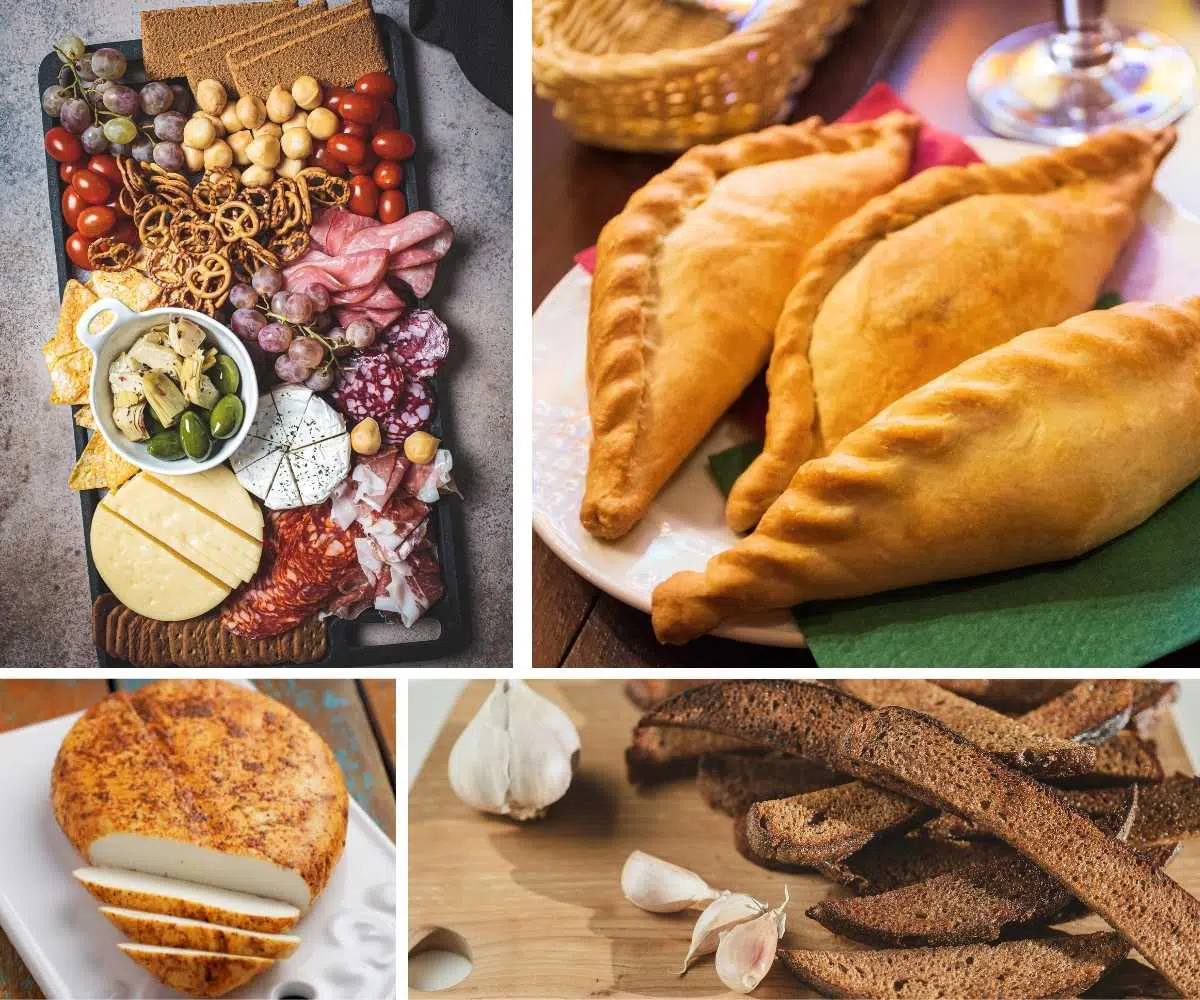 Even though Lithuanian food is not very well-known worldwide, it has a lot to offer. Here, we present you with a small selection of the most popular Lithuanian appetizers and snacks that you could prepare for your next party.
Some of them are adapted from other cuisines; however, taking their place on Lithuanian tables and menus for years makes them traditional. 
1. Kepta Duona (Fried Bread)
No doubt, the most Lithuanian snack that comes to mind for eating with a glass of cold beer or kvass is fried bread.
This snack is made with rye bread, cut into relatively thin strips, and quickly pan-fried in oil until crispy. The crucial step is rubbing garlic and salt into the fried pieces on both sides. Other options are adding cheese sauce, dipping in mayonnaise, or even dipping in mayonnaise and then covering it with grated cheese!
Sounds greasy and salty, and it is! But it is better than beer and potato chips with a basketball or football match, or during the night out in a pub.
Kepta duona can usually be found on every bar and pub menu, as well as in simple restaurants. They be also found in supermarkets, but freshly made ones are definitely the best.
2. Mėsyčių Rinkinys (Meat Charcuterie)
No traditional snack table should be without a meat-heavy charcuterie platter. Lithuanians produce and love different kinds of meat produce. Usually, the platter consists of pork in different shapes and forms – smoked, cured, dried meats, salami, bacon and much more. 
One of the main delicacies is smoked pork ears and salted or smoked pork fat, also called flitch. This platter is usually arranged with pickles, fried bread, and smoked cheese.
The modernized version of the platter includes meats from other cuisines such as prosciutto or serrano, and more types of cheeses paired with olives, tomatoes or even grapes.
This charcuterie platter is popular all over the world; however, the Lithuanian one always includes traditional types of meats and dried bread, which is not so common in other countries. You can find this platter in most bars and pubs as a snack to go with your drink. It is also easy to make at home with supermarket meats and snacks!
3. Kibinai (Kibin)
These savory pastries are a favorite Lithuanian snack.
Kibinai dough is thin and enriched with butter, eggs, and sour cream. It is hand-rolled and filled with meat filling. Then the dough is firmly sealed, and a braid-like top is made.
Traditionally, the filling is made of minced mutton with onions and various herbs. Nowadays, the filling can be made of pork, beef or chicken. A vegetarian version offers fillings of curd, cabbage, and other vegetables. 
Kibinai can be served as a snack or the main dish since they are good both hot and cold. Usually, they are eaten with a cup of warm broth, cold beer or kvass.
You can find them still warm in most supermarkets. However, the best ones can be found in special Kibinai restaurants and kiosks, especially in the city of their origin – Trakai.
4. Keptas Varškės Sūris (Baked Curd Cheese)
Lithuanian cuisine is impossible without dairy products, especially curd, also known as a type of cottage cheese. This curd cheese is made by pressing the curd or by boiling fresh, sweet milk. This cheese is one of the most typical Lithuanian cheeses.
Lithuanians like their cheese smoked or baked, with spices, garlic, herbs, and even honey. It can be easily prepared at home and tastes even better when still warm, but supermarkets offer a wide variety of this appetizer with various additions.
The cheese can be served together with other cheeses on a platter, as well as paired with a meat charcuterie or even mixed with greens in a salad.
Make sure to try this typical Lithuanian product. If you decide to buy one, reheat it in the oven as written on the package. Put it on some rye bread and enjoy!
5. Silkė (Herring)
Herring has a special place in Lithuanian traditional cuisine. Salted, marinated, in oil or without, it is a common food in households all over Lithuania and eaten daily as well as on special occasions.
Herring is traditionally eaten on Christmas Eve, as Lithuanians observe the fast and don't eat meat or dairy products on this occasion.
During other celebrations, herring is served with different side dishes: fried onions and carrots, beans, raisins, or mushrooms. Typically, herring is also eaten with boiled potatoes or rye bread, pickles or onions.
There is also a salad called "herring under a fur coat", the coat meaning potato, beetroots, carrots, eggs, and mayonnaise. Sometimes it is prepared for special occasions.
This traditional appetizer can be found in local traditional restaurants, while herring can be found in every supermarket.
---
To sum up, these are some of the most traditional Lithuanian snacks. Nowadays, Lithuanians look out for new flavors, improvise, and make a wide variety of internationally known snacks. However, if you want to get closer to traditional Lithuanian cuisine, try the suggestions above. They might surprise your taste buds!
Related: 15 Popular Lithuanian Desserts