Top 20 Most Popular Foods in Benin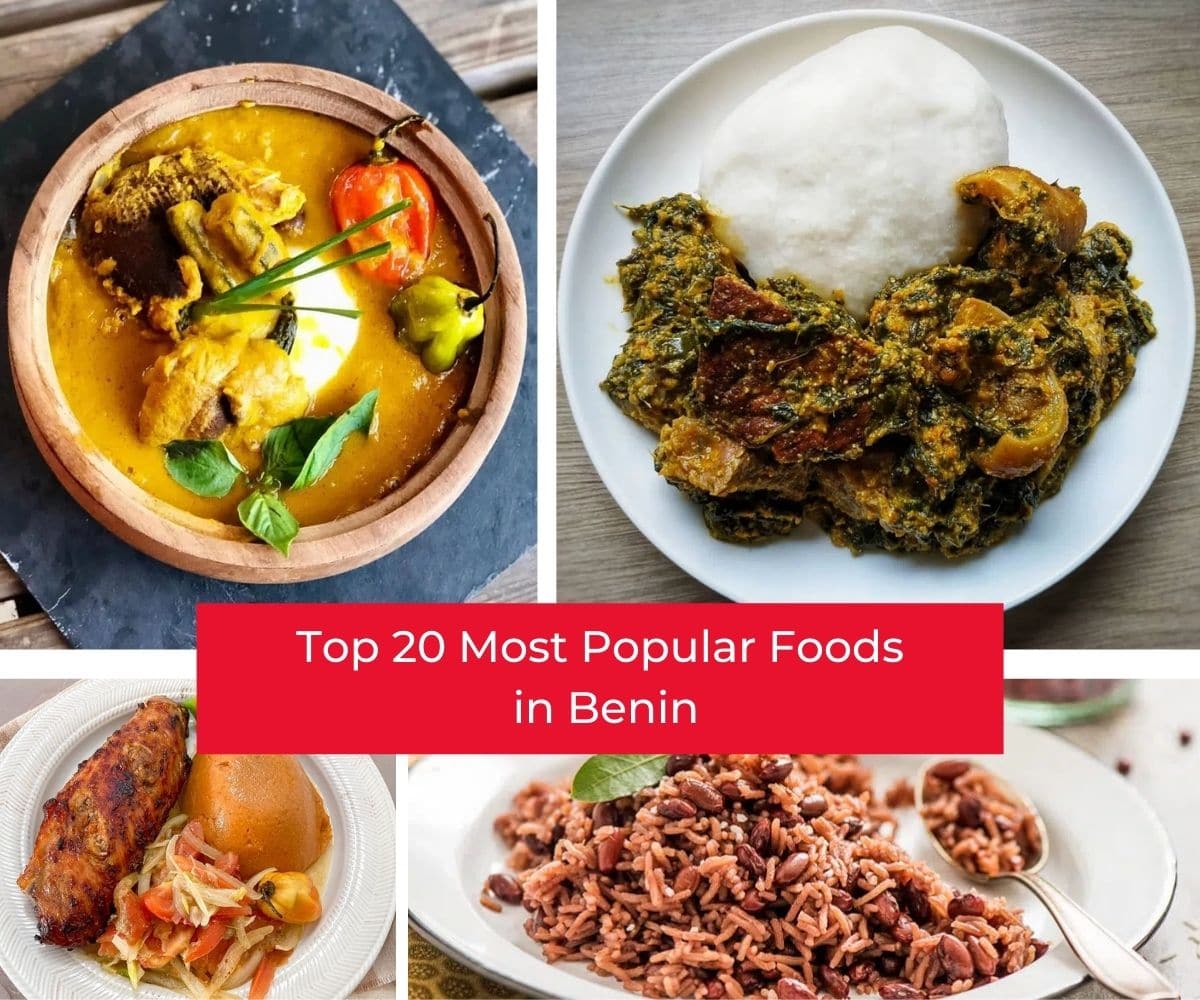 You may have heard of Benin, a small country in West Africa, with a little-known, but ancient history, and you may have wondered what kind of food is eaten there. There are a lot of very rich, delicious dishes to discover in Benin, as the country's cuisine varies from region to region.
Some local foods can be found in other West African countries as well, sometimes under different names, but Beninese dishes are something special and an important part of the country's culture and traditions.
So, let's discover some of the best dishes that Benin has to offer!
1. Djewo (Salted Paste)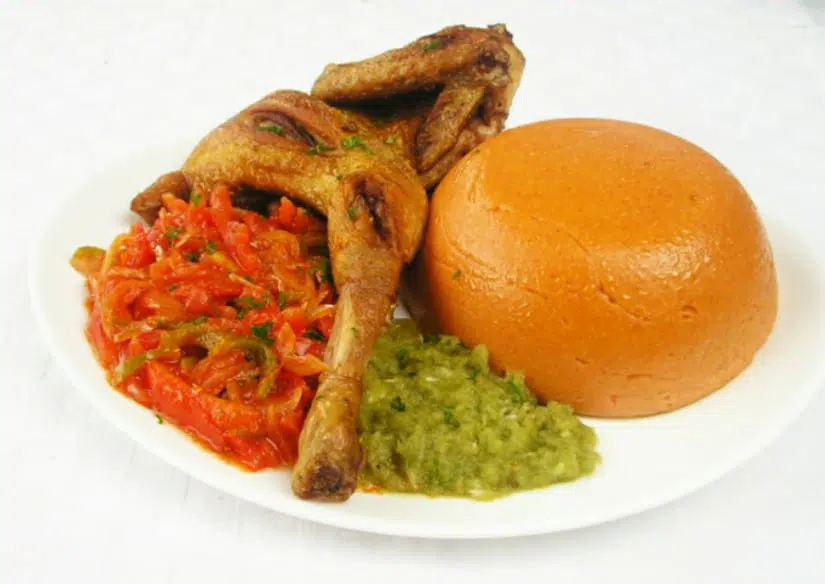 Djèwo, commonly called Amiwo in Fon, is the most popular meal in southern and central Benin. Djèwo is a dough prepared with corn flour that is well-seasoned.
When all the ingredients are combined and cooked, the dish smells delicious. Djèwo is eaten with fried foods, like onions, tomato juice, or crushed green pepper, and, usually, with chicken, guinea fowl, or mutton (meat of older sheep).
2. Watché or Atassi
Watché, or Atassi, is one of the most consumed dishes in northern Benin. It is prepared by mixing rice with beans, and it is mostly eaten with fried fish or meat.
Depending on the region, this food is eaten either in the morning or the afternoon. It is a highly popular dish, as the ingredients are easy to come by.
3. Monyo
Monyo is a sauce that is consumed almost everywhere in Benin. The flavor of this sauce varies depending on the ingredients that are added. In southern Benin, mustard (afittin in Fon), a bit of vegetable oil, and onions are added. When these three ingredients are combined, the flavor becomes grandiose!
Monyo is much appreciated because it doesn't take too long to cook. It is often accompanied by Akassa or Piron (eba). To make the dish complete, a few pieces of fried chicken or fish are added. 
4. Dekounoun Sounnou (Seed Sauce)
This seed sauce is obtained from palm nuts. This sauce is mostly eaten in southern Benin, especially in the capital, Porto-Novo. Apart from the irresistible taste and flavor of this sauce, it is very rich in lipids.
In some households, vegetables or crabs are added to the already-seasoned sauce to make it more exotic. Dékoun Sounou is easily eaten with Télibo, a white or black corn paste.
In eastern Benin, it is accompanied by crushed plantains paste, commonly called Foutou or Fufu banana.
5. Wo (Corn Dough)
White paste, or corn paste, is usually called wo in the Fon language. It is one of the most consumed dishes in southern Benin. Whether in the south or the north, this paste is often consumed in the evening.
However, some people like to consume this paste when it is reheated, i.e., boiled in hot water the next day. This meal is called wo koli in Fon. To enhance the flavor, it is usually accompanied by a sticky sauce, for example, Assrokouin or Crincrin.
6. Tchokourou (Pounded Yam)
Tchokourou, also called Agoun in the Fon language, is a very special dish in Benin. Indeed, it is the favorite dish of the central and northern communities. It is very well known for being the food of ceremonies, that is to say, that a seasonal festival is specially dedicated to it.
Tchokourou is consumed much more during the yam harvest period. It is a very fascinating meal, very tasty and energizing. In the north, it is accompanied by peanut sauce and bush meat, while in the country's center, it is accompanied by vegetable sauces.
7. Gboman (Large Nightshade)
Gboman is eaten all over Benin. It is a stew prepared with vegetables. It creates a lovely and irresistible smell when all the ingredients are combined.
To intensify its flavor, some people add mustard. Gboman is a universal stew, which means that it can be accompanied by almost anything, for example, white paste, black paste, and Akassa.
8. Ninnouwi (Crincrin Sauce)
Crincrin sauce is a very popular meal in Benin. It is often consumed on its own, but in some cases, it complements other dishes like Dékoun Sounnou.
9. Ablo (Rice Cake)
In Benin, rice is processed in different ways to create several different foods. Among these foods are rice paste and Ablo.
Ablo is eaten everywhere in Benin, in restaurants, markets, etc. It is greatly appreciated because of its sweet flavor. To make it even tastier and to enhance the flavors, a little bit of chili can be added. This dish is often accompanied by fried chicken or fish.
10. Hankpete (Pork Sauce)
Pork sauce is one of the most succulent dishes of Benin. Unfortunately, its consumption is forbidden by the Muslim community.
Hankpetè is specific to the south, mainly the capital (Porto-Novo). The sauce is prepared with the blood of the animal mixed with spices and meat cuts. The well-seasoned meat is generally grilled over a fire using special techniques.
11. Wassawassa
Wassawassa is a meal obtained from cassava (a root vegetable, specially cultivated in Africa, used in various culinary preparations, including boiling, frying, baking, and even grinding into flour) or yam. It is specific to the north, but it is also eaten in some regions of central and southern Benin. This meal is most commonly served with fried foods.
In some locations in Benin, like in Bassila, Wassassa is flavored with cheese, beef skin, or black pepper. But in other places, like in Parakou or Natitingou, it is eaten with fried fish, beef, or soy cheese.
12. Gbo Kpete (Mutton Sauce)
Like pork sauce (Hankpètè), Gbokpètè is also one of the most delicious dishes in Benin. This sauce is specific to the population of Zou and the south.
Like pork soup, it is prepared by collecting the blood of sheep. Afterward, this blood will be transformed into a sauce after the addition of spices and various other ingredients. Gbokpètè is usually eaten with Akassa or red Piron (eba in the Goun language). It is a very delicious and nutritious meal.
13. Ata (Bean Cake)
Ata is usually made with bean flour (white or red bean). It is seen as the most popular food supplement in northern Benin. Bean cake is sold in almost every town in Benin, mainly in back alleys.
In northern Benin, it is consumed in the evening around 4 pm, with millet or sorghum porridge. But in some places in the south, it is eaten in the morning. Ata is a traditional food of Benin and is very appetizing.
14. Toubani
Toubani is cooked mainly in northern Benin. It is made by grinding beans or cassava into flour. It is often accompanied by millet porridge or sorghum. However, some people like to consume it only with vegetable oil mixed with chili.
This dish is sold in small or large boxes everywhere in the alleys of the north and it is very affordable.
15. Telibo (Black Paste)
Telibo is a specialty of the North that has quickly spread throughout Benin because of its flavor. It is prepared from yam pods and is usually of black or brown color.
The black paste is a delicious accompaniment to most sauces, such as peanut sauce, glutinous sauce, or vegetable sauce. Because of its very delicious and tender taste, it is eaten at any time of the day. Telibo is sold mainly in markets, restaurants, and by some street vendors.
16. Eba (Piron)
Piron, Eba in Fon, is prepared from the flour obtained from cassava (Gari). It is consumed everywhere in Benin.
There are two types of Piron: red Piron and white Piron. In the case of white Piron, the preparation is very easy and does not require any additional ingredients, while red Piron is made by adding tomato paste, chili, onions, and ginger. In Benin, eba is the ultimate friend of sticky sauces, namely Crincrin sauce, Assrokoiun sauce, and okra sauce.
17. Assrokouin (Wild Apple Almond Sauce)
Assrokouin, also called Adindon, is a yellowish-colored sticky sauce. It is prepared from the powder obtained after processing wild apple seeds. When it is well-seasoned with spices, mustard, crab, cheese, smoked fish, or Kpanman, it creates a very pleasant smell.
Moreover, it is very easy to prepare and does not require much work. Once the Adindon sauce is ready, it can be served with all forms of dough cooked in Benin, namely, white dough, Piron, or black dough.
18. Fevi (Okra Sauce)
Okra sauce, commonly called Févi in Fon, is classified in the category of sticky sauces. It is much more appreciated in the north than in other parts of Benin. Okra sauce is usually accompanied by white paste, Piron, or pounded yam (a root vegetable that looks like sweet potatoes). 
19. Tchantchanga
Tchantchanga is a dish consumed mostly in northern Benin made from grilled mutton or beef.
It is usually sold at the edges of markets, in restaurants or bus stations and it is appreciated by foreign tourists visiting Benin. It is often accompanied by wheat bread.
20. Baobab Leaf Powder Sauce
Baobab is a tree with many properties. Its pulp is usually used to make juice. Likewise, its dry leaf is used to prepare a delicious sauce. In northern Benin, this sauce is called Koukoum or Kouka.
The name varies from one ethnic group to another. The preparation of this sauce does not require much time. It is usually accompanied by all kinds of dough.
---
Related: Most Popular West African Foods
Related: Most Popular Nigerian Foods
Related: Most Popular Foods in Ghana