12 Most Expensive Cheeses in the World
There are two types of people in this world: those who enjoy fancy, expensive cheese, and those who turn away at the mere sight of a blue. If you find yourself in the first category, then this article will be right up your alley.
Cheese connoisseurs know that there's no better treat at the end of a long day than a few pieces of cheese paired with a glass of your favorite wine.
This relaxing ritual, however, comes at a steep price, as some of the cheeses on our list can cost you hundreds of dollars per pound. Still, if you're a cheese aficionado, then you might want to include these 12 most expensive cheese varieties on your bucket list.
1. Pule | ~$600 per pound
Pule, also known as donkey cheese, is by far the priciest cheese on the planet, selling for $600 or more per pound. It's produced by just one farm in the world, located in the Zasavica Special Nature Reserve in Serbia, so if you want to try it out, you'll have to take quite the road trip.
Making this type of cheese is no picnic either: over six and a half gallons of donkey milk is required to make just 1 kilogram of cheese.
The recipe for pule is 60% donkey milk and 40% goat's milk. Sounds simple, but it's a laborious process that takes time, as donkeys usually produce very small amounts of milk and only in six months of the year.
2. Moose Cheese | ~$500 per pound
Those of you new to the fascinating world of cheese might be thinking donkey milk cheese sounds pretty out there. But did you know that there is such a thing as moose milk cheese?
That's right, there are people out there whose job involves milking a 1,200-pound moose in order to make super-expensive cheese.
Moose milk cheese will cost you roughly $500 per pound, and, once again, you will have to travel to Europe to taste it. It's produced at The Elk House in Sweden's Bjurholm region, by just three moose named Gullan, Juna, and Haelga. They make four types of moose cheese at the Elk House: dry blue cheese, creamy blue cheese, feta, and white mold.
3. White Stilton Gold | ~$400-$450 per pound
White Stilton Gold is the priciest cow cheese in the world, and you'll have to shell out around $400 per pound if you want a taste. It's made in the village of Long Clawson in Leicestershire County, England, and is reportedly a big favorite among celebrities around the world. What makes it so fancy is the fact that it's made with edible gold leaf and gold-cinnamon schnapps.
It was initially produced as a limited edition Christmas variety of the White Stilton cheese, but due to its popularity, it's now made year-round.
It's probably the fanciest, 'blingiest' cheese you can get, so if you want to add some glamour to your salad or literally spread golden cheese on a cracker this Christmas, then White Stilton Gold is the right cheese for you.
4. Wyke Farm Cheddar | ~$200 per pound
At number four on our list we have Wyke Farm Cheddar, a type of cow's milk cheese produced in the county of Somerset in Southwest England. This popular British cheese has been made at the Wyke Farms since 1861, and their delicious recipe, crafted by Ivy Wyke, remains a secret to this day.
All we know is that this is the best-tasting cheddar you can get, and it will cost you around $200 per pound. And, compared to other types of fancy cheese on our list, you can actually buy Wyke Farms Cheddar online and in stores.
The brand is sold in 150 countries across the globe, and you can order products directly from their website, as well.
5. Extra Old Bitto | ~$150 per pound
If you're not into really old, really stinky cheese, then you should look away now. But cheese lovers may well have heard of Bitto Storico, the oldest edible cheese in the world. This is not an exaggeration. This Italian cheese can be aged for years and years. It's made by just 12 producers in Valtellina Valley in Lombardy, an area known around the world for its fine wine and fancy cheese.
Extra Old Bitto is, as the name suggests, an even older type of Bitto, usually aged for a decade or more. A batch of this spicy-tasting cheese was bought by a cheese importer from Hong Kong and sold for roughly $150 per pound. The extra old variety is hard to come by, but you can find Bitto Storico cheese online if you want to give it a try.
6. Caciocavallo Podolico | ~$50 per pound
Caciocavallo cheese is made from the milk of a rare breed of Italian cow, the Podolica, in San Nicandro Garganico, Southern Italy.
This cheese is famous for its elongated shape, and over the years it's become one of the most popular delicacies in Italy. Long slabs of cheese are tied with rope, hung over a wooden rod, and left to mature for roughly three months during winter.
The result is a hard, dry, flavorful cheese that costs roughly $50 per pound. You can travel to Southern Italy to get the rare Podolico cheese straight from the source, or, depending on where you live, you can also place an online order to try it out.
7. Old Ford | ~$50 per pound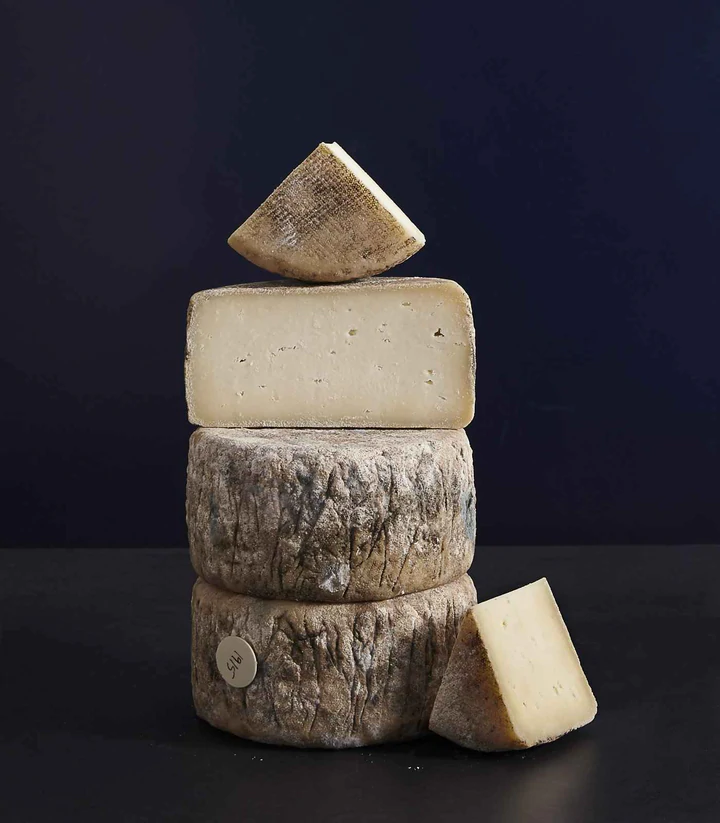 Old Ford is a type of firm cheese produced in Somerset, England that is matured for roughly eight months, usually during the summer.
It was created by Mary Holbrook at Britain's Sleight Farm, and is made using goat's milk and pressed by hand. The cheese is firm, crumbly, dense and savory, and coconut-like in appearance. Unfortunately, Mary Holbrook passed away in 2019, and her signature cheese creations are no longer in production.
8. Germain Époisses | ~$45 per pound
Époisses by Germain is a cow's milk cheese produced in Burgundy boasting a gorgeous orange rind that's washed with Marc de Bourgogne, a local grape spirit. Its creamy center has an intense, unique taste that goes very well with dry red or white wine. Be warned if you're a cheese beginner, because this one has a very pungent aroma.
However, it's definitely worth a try, especially since it's not going to break the bank, like some other cheeses on this list. Époisses sells for roughly $45 per pound, and can be found at online stores and even in your local Auchan or Carrefour.
9. Jersey Blue | ~$45 per pound
Jersey Blue, as the name suggests, is a type of blue cheese that was created by cheesemaker Willi Schmid in Switzlerand's Valais region in 2006.
The cheese is made using raw, fresh cow's milk, and it's shaped like a dome covered in gray, white, and blue molds. There's blue mold inside the cheese, as well, so you can imagine that Jersey Blue packs quite a punch.
For blue cheese fans, this is a dream come true, and one that isn't crazy expensive, selling for about $45 per pound. You can find it on various online stores around the world, and if you live in the US, you can order this and various other types of Swiss cheese here.
10. Cacio Bufala | ~$45 per pound
Even if you're not that into cheese, you have still probably heard of Cacio Bufala, a popular Italian cheese made from pasteurized water buffalo milk. It's produced by Casa Madaio in Campania, Southern Italy, and boasts a semi-hard texture and a sweet and aromatic taste.
The process consists of draining the curd and letting the cheese mature for eight to twelve months in the natural caves at Casa Madaio.
You can find different variations of Cacio Bufala online, but if you want the real thing, you can go straight to the source and order it from the Casa Madaio website.
11. Beaufort d'Ete | ~$45 per pound
A raw cow's milk cheese, Beaufort d'Ete, or summer Beaufort, is made in the Savoie region of the French Alps. That should be enough to make your mouth water instantly – or is it just us?
Roughly $45 per pound and just one taste of the buttery, slightly-sticky French cheese will make you feel like you've traveled to the pristine mountains of France or Switzerland. Summer Beaufort is aged for five to ten months, and pairs wonderfully with a nice Bordeaux.
It can be hard to find if you live in the States, but if you're in Europe or the UK, there are several online stores that carry this delicious cheese, such as The Cotswold Cheese Company.
12. Rogue River Blue | ~$40 per pound
Rogue River Blue is the priciest cheese produced in the US, more specifically, in Central Point, Oregon.
The raw cow's milk cheese is made by Rogue Creamery, and it's an award-winning product – it was named World Champion at the 2019/2020 World Cheese Awards held in Bergamo, Italy.
It's a type of blue cheese wrapped in pear brandy-soaked vine leaves left to mature for about nine to eleven months, after which it's hand-wrapped in organic Syrah grape leaves.
We're betting you're feeling peckish just reading that. Unfortunately, Rogue River Blue is only available for purchase around November-December, so it's pretty much sold out everywhere for now. However, when the time comes, you can pre-order it directly from the Rogue Creamery website.
---
Related: 32 Most Popular French Cheeses

Related: Most Expensive Michelin Restaurants in the World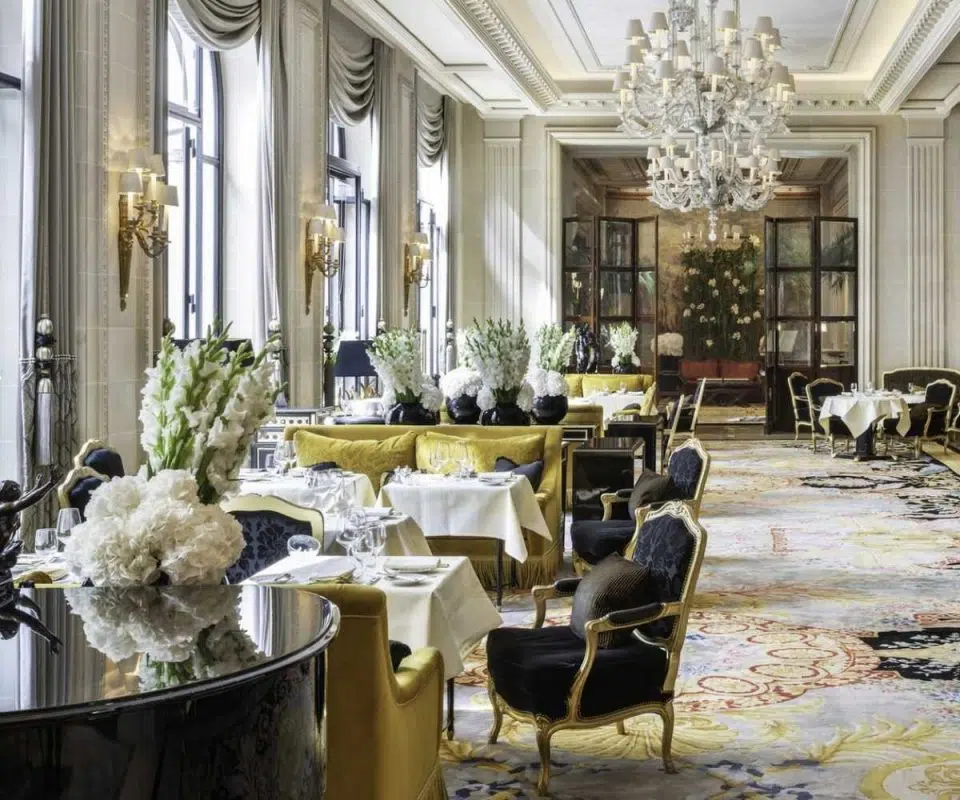 Related: Most Expensive Spices in the World
Related: Most Expensive Caviar in the World
Related: Most Expensive Fruits in the World
Related: Most Expensive Eggs in the World
Related: Best 13 Cheese Slicers