Best 13 Cheese Slicers
Do you want paper-thin cheese slices for a sandwich, or equal sized cubes for your cheese platter to impress your date or guests. With the perfect cheese slicer you'll be Queen or King of hors d'oeuvres!
Gone are the days of trying to cut equal sized piece of cheese to create an attractive plate. Cheese slicers do all that and even more! And there are so many types, there is bound to be one that is ideal for your kitchen.
One of the biggest benefits of having a slicer in your kitchen is that you'll get uniform chunks. And with everything shaped consistently and even, you'll get great plating! Another great advantage is that you'll save a lot of time and energy.
No crumbling the cheese, no slippery knife, no unpleasant platters. So, if you're a cheese lover, this article is definitely for you! Discover some of the best cheese slicers out there and how to choose one for you!
Types of Cheese Slicers
What's worse? Hard cheese crumbled all over the plate or soft-cheese smooshed and squashed when you try to cut it with your knife? There are other ways to cut your brie, cheddar, and gorgonzola into beautifully shaped pieces for the perfect pairing of wine. Cheese slicers should be in every cheese lover's kitchen. You just have to figure out what type of cheese slicer you want.
1. Cheese Plane
Aka the classic. It's ideal for hard cheeses, such as aged cheddar, parmesan, and semi-hard cheeses. This type of slicer has a flat metallic base attached to a handle. It has a hole in the middle of the base through which sliced cheese slides out.
This is perfect for preparing a fast meal for you and yours, but if you're in charge of a kitchen or have big parties, you'll need more! Check out some other options below!
2. Wire Cheese Slicer (Cheese cutter or cutting board cheese slicer)
This is quite the device, made from a cutting board, made of either wood, marble, or metal, and a wire mechanism attached to it. It works like a guillotine, since the cheese is sliced by raising and lowering the wire.
If you love soft, creamy, and sticky cheeses such as brie, this is your machine! It's probably the most versatile of them all since it can also be used to cut hard, semi-hard, and semi-soft cheeses. A great thing about this type of slicer is that is cuts paper-thin slices as well as cubes!
3. Handheld Cheese Wire Slicer
These cheese slicers are very easy to maneuver and very safe to use and can slice various sizes. They are quite versatile, working for both soft and hard cheeses. However, with soft cheeses the slices can stick to one another.
Since this type of cheese slicer is the safest and doesn't have a cutting edge, it can also be used by children. You may have to adjust the size of the block of cheese to fit the slicer since it is rather small.
4. Rolling Cheese Slicer
With a T-shape and resembling a vegetable peeler, it slices with a roller and a wire. Use it for semi-hard and semi-soft cheeses.
5. Mandolin Cheese Slicer
Mandolin cutters are some of the best cheese slicers. They are even versatile enough to slice fruit and veggies as well. They are easy to use and your hands will not get tired, but you need to choose sturdy high-quality plastic! Another great advantage of these is that you can select a great variety of thickness for your ingredients. Chop-chop!
---
Chef's Pencil is reader-supported. If you buy something through our links, we may earn an affiliate commission, though this does not influence the product selection, which is done independently by our editors and contributors.
---
13 of the Best Cheese Slicers
We tested a couple (well, a lot, actually) and we list the pros and cons of each. Thirteen "made the cut". Cheesy line, huh?! Well, since we can't stop with the jokes, how about we cut to the chase…
1. Fox Run Marble Cheese Slicer
Probably the looker on our list, this cheese slicer is elegant, slick, and modern. Is it wine and cheese night? You feel like impressing your guests with a nice spread of cheese and a good wine? Got the fruit and nuts ready?
It goes with any decor and kitchen design and it can sit on your counter without ruining the look. It's a wire cutter and it has a base made from marble, so it's long lasting.
Pros:
Works on soft and hard cheeses
Two cutter wire replacement blades included
Non-slip rubber feet, so it will not slide
Easy to clean with a wipe, and it does not hold any residue
Durable: stainless steel and marble
Cons:
May be difficult to get uniform slices of cheese since you have to push the block of cheese forward with every cut
2. Westmark Multipurpose Slicer
Westmark is known for high quality utensils. This multipurpose slicer has an ergonomic design and can be used to cut veggies, meats, fruit, cheeses. It has a stainless steel blade and aluminum cast handle. It has a cheese slicer included and it's adjustable so that you can measure the size of your cheeses.
Pros:
You can adjust the thickness
Great for slicing many foods
High quality, durable plastic (polypropylene)
Rubber feet, so it doesn't slide and doesn't scratch your working area
Anti-slip board
5 year warranty
Versatile, high precision blade
Interchangeable blades
Cons:
Not the best choice for very hard, mature, dry cheeses such as Parmesan, Grana Padano or cheddar since the slices will likely crumble
Probably not the most elegant of them all
Quite large (9.2 x 9 x 2.1 inches)
The cheese falls off the end of the board when slicing it.
3. Bellemain Adjustable Thickness Cheese Slicer
This is a great cheese slicer for any kitchen. It's made from zinc alloy, it's light, and it has an ergonomic handle that fits perfectly in your hand. You can get paper-thin as well as chunky slices.
Pros:
Back-up slicing wire
Easy to clean
5 year warranty
Adjustable roller for the thickness you want
One of the best prices
Cons:
Great with semi-soft and semi-hard cheeses and hard cheeses, but not the best choice for soft cheese like mozzarella or brie and not the best for hard cheeses either
The cord can break
Only 1 year warranty
You need a screwdriver to adjust the roller
4. Prodyne Bamboo Cheese Slicer
This has a modern and fashionable design and it works on any type of cheese. Yes, even the hardest of them! It goes with any kitchen design. We deem it to be one of the best cheese slicers because:
Pros:
Bamboo, resistant, durable board
Non-slip feet
Lifetime warranty
Suitable for cutting blocks of cheese, though not the best for hard cheeses
Comfortable handle
Cons:
It doesn't come with a replacement wire, but if anything happens to the existing wire, according to the warranty you can get a free replacement from the manufacturer.
Not dishwasher safe.
5. Norpro Heavy Duty Adjustable Cheese Slicer
This slicer is quite good for many purposes. You can adjust the thickness of the cheese slices which makes it quite versatile. Say goodbye to clumsy cheese slices because this utensil offers consistent cuts. It's made from durable zinc alloy and it doesn't corrode. The wires are made from stainless steel, so they are resistant as well.
Pros:
Portable
Adjustable slicing
Even, consistent slices
Cons:
The wire can be too thin and delicate
6. Mueller Austria Premium Multi-Blade Cheese Slicer
This is a mandolin cheese slicer and can be used to cut, chop, slice, shred cheeses and other ingredients. It's a sturdy, durable kitchen aid and it comes with different types of blades.
Pros:
Comes with a plastic container in which you can store the blades
Full refund or replacement from the manufacturer if you're not satisfied
Non-slip legs to keep steady during use
Cons:
The instructions are not very clear
It's easy to nick yourself while cutting food; however, this can happen with any mandolin slicer
7. Oxo Good Grips Wire Cheese Slicer
If you're looking for a wire cheese slicer, one you can maneuver easily, one that is sturdy, this is the one for you. It has a comfortable and soft handle and your hands will not tire when using it.
Pros:
Extra wire for replacement
Tension wheel to easily adjust the wire
Dishwasher safe
Easy to grip
Good price
Cons:
While it's one of the best cheese slicers, you can't achieve paper-thin slices of cheese with this model, so keep this in mind.
Made from spring steel, which makes it rather flexible but more prone to breaking. However, if this happens you get a replacement, no questions asked
Not the best for cheese shaving
8. BOSKA Copenhagen Cheese Slicer
BOSKA is a stainless steel with a one-piece blade. The blade is very sharp. It's very light and easy to use and the round handle makes it even more comfy.
Pros:
Dishwasher safe
Great for semi-hard and hard cheeses
10 year warranty
Super easy to clean even by hand
Comfortable grip, perfectly shaped to fit your hand
Cons:
Not the best for soft or sticky cheese, since the slices can smoosh and stick to one another
After frequent usage the blade can become dull if not properly taken care of
9. Westmark Heavy Duty Cheese Slicer
This is a durable tool with a stainless steel wire. It's what we call a roller cheese slicer. It cuts through any type of cheese. Made from die-cast aluminum, which means it's strong but light and easy to maneuver, also due to its comfortable grip.
Pros:
What cheese slicer to buy for big blocks of cheese? This one, for sure!
Can produce paper-thin slices and thick slices, depending on the angle you use it at
5 year manufacturer's warranty
Great price
Cons:
We think it's one of the best cheese slicers, although the wire is not replaceable nor is it adjustable. Although this slicer is known for its longevity, take this into consideration when making your choice.
Not to be washed in the dishwasher since it will corrode, yet easy to wipe clean
Not that heavy duty for hard cheeses
10. BOSKA Holland Monaco Stainless Steels Cheese Slicer
Simple, stylish, and sturdy this slicer is efficient and doesn't take up a lot of space. It has a flexible blade that easily glides over the cheese, bending back and forth. It's made from 100% stainless steel, so it will last, if properly taken care of. No wires included, the blade is built into the handle, which makes it even easier to use.
Pros:
Great for semi-hard cheeses
Thin, sharp blade, easy to use
Dishwasher safe
10 year guarantee
The best for home use
Dishwasher safe
Cons:
Hard, dry cheese can crumble
You can't adjust the thickness of the slices
11. Westmark High-Quality Stainless Steel Cheese Slicer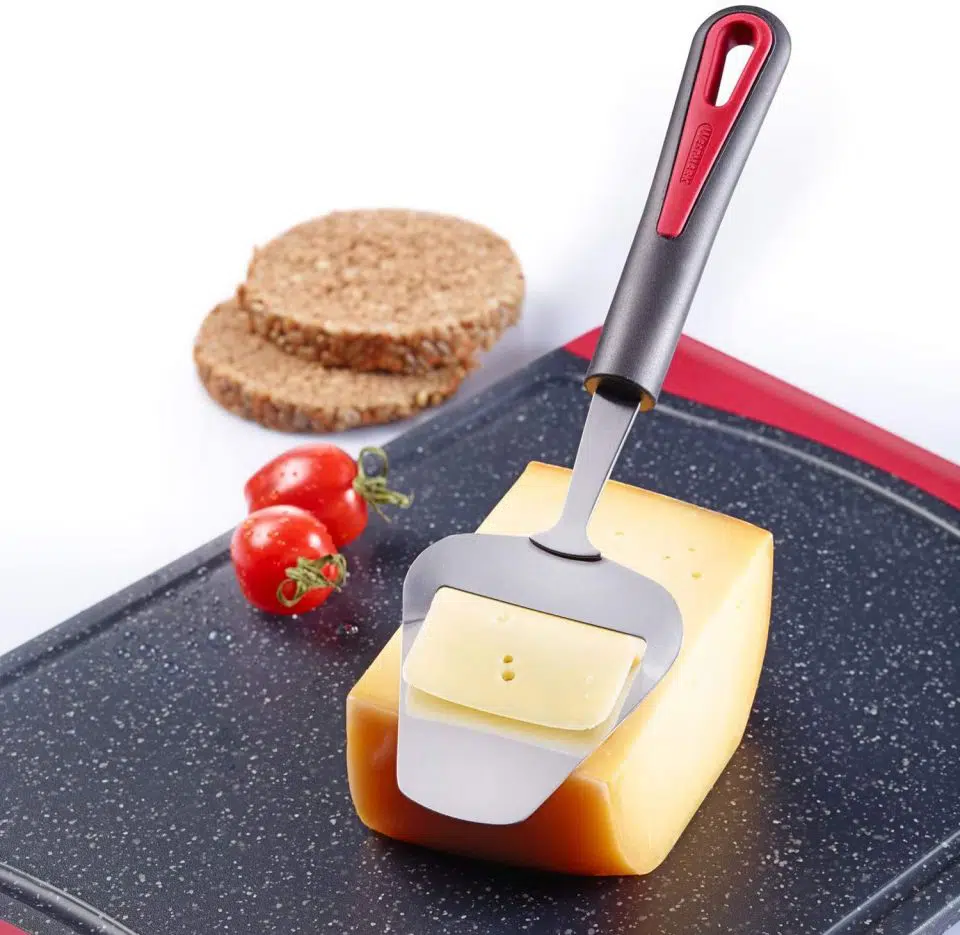 This is a classic cheese plane, made from stainless steel, with a soft-touch, rubberized handle. You can get the thinnest cheese slices with this one!
Pros:
Good grip, non-slip and ergonomic handle made from polypropylene and thermoplastic elastomer
You can adjust the thickness of the slices, changing the angle at which you hold the slicer
Dishwasher safe
Can be used to peel fruit as well
5 year warranty
Cons:
Only makes thin slices
Doesn't work with large blocks of cheese
12. RSVP Marble Board Cheese Slicer
Now here's one cheese slicer that can hold a party. It's quite elegant and you can pre-cool it in the freezer to keep the cheese chilled before the event. It's probably one of the best board cheese slicers and it works for both soft and hard cheeses.
Pros:
Durable, marble board
Easy to clean
Great, chic design
Sharp cutting and very resistant wires, which are very easy to install
It includes two replacement wires
Compact size
Clear instructions for use
Cons:
The stainless steel lever and wire are a little wobbly and unstable during use
The wires need frequent adjustment
Now you know everything about the best cheese slicers, how to choose them, and what matters. Choose the recommended versions for the types of cheese you want to serve. Make sure to cut your cheeses when they are room temperature, to get the best results. Always cut them slowly, with a slow, fluid motion.
Always slice hard cheeses lengthwise. For round cheese, it helps to cut the chunk into quarters and then in half. For triangular cheeses, make rectangular cuts. Always clean and dry your slicers after use. This way you prevent decay, rust, and corrosion. And always enjoy!
How to choose the best cheese slicer
Adding a cheese slicer to your kitchen is a must, especially if you tend to entertain a lot. It's quite the gadget to have and while it can be hard to choose the one that works for you, we've put together some information about what you should think about when choosing one.
1. The Material
Choose high quality, durable materials!
If you're a cheese lover, you'll only want the best so choose a durable material. Stainless steel is probably the best option out there since it will not rust or break.
Also, stainless steel slicers don't blunt quickly so you won't need to sharpen it. When it comes to slicers with a cutting board, go for marble and wooden slabs, not plastic bases. A good solid base helps keep the slicer stable. Marble might be the best material since it doesn't hold odors and it looks quite elegant.
Watch out for the handles
Cheese slicers have wooden, stainless steel, plastic or rubber handles. Some materials make the slicer easier to handle and provide a good grip. An ergonomic design makes it comfortable to use.
The only thing you need to know about the cutting part is that both wires and blades need looking after. Wires can break, so you have to change them, and the blade can become blunt over time, so you'll have to replace the whole slicer.
2. The Size
Choose a slicer based on what type of cooking you do, how often you host parties and gatherings, how often you prepare cheese platters, and, of course, on your type of work surface. Consider the counter space and whether you want to keep the slicer out. A large cheese slicer needs some space and if you like to keep surfaces clear of objects, you many want to reconsider.
4. Design Matters
Choose a user-friendly slicer. Focus on how light and comfortable it is to handle. A good grip matters in terms of safety, and a good design will be easy to use.
It's all about adjustability…
This is a great plus. Not all slicers have the option of adjusting the thickness or controlling the angle. Ones that do are good quality.
Slicers differ and handle different types of cheese. While most slicers can cut semi-soft and semi-hard cheeses, when it comes to soft and hard cheeses, you need flexible blading. Some slicers handle hard cheeses like Grana Padaono, Pecorino or Parmesan, while others work wonders on cheddar, mozzarella or brie. So, always choose a slicer for the cheeses you usually eat. 
It's better to avoid flimsy slicers. You don't want to ruin your cheese, your fingers or your mood! When it comes to slicers with cutting boards, make sure to choose rubber feet so the machine doesn't slip.
Ergonomic design keeps the hands happy
It's all about how it feels in your hands. Look for a slicer you can easily hold and that is sturdy enough to perfectly slice the cheese without tiring your hands. Look for a perfect shape and a weight that helps slice cheese without deforming it and yet is light enough not to tire your hands.
While the chances of cutting yourself increase when trying to slice perfectly even pieces of cheese with a regular knife, a cheese slicer can also cut your hands. Make sure to choose a slicer with safety features.
4. Ease of Cleaning
Don't neglect how the slicer is cleaned. Some cheese slicers are dishwasher safe, others have to be washed by hand, so you have to careful when cleaning to cutting parts.
And now you know how to choose one, here are some of the best cheese slicers out there.
---
Chef's Pencil is reader-supported. If you buy something through our links, we may earn an affiliate commission, though this does not influence the product selection, which is done independently by our editors and contributors.
---
Related: 13 Amazing Charcuterie Board Ideas
Related: Most Popular French Cheeses
Related: Most Popular Italian Cheeses
Related: Most Popular German Cheeses