Top 29 American Desserts To Try Out
You've heard the phrase "as American as apple pie". But what about as American as shoofly pie? Or German chocolate cake? America has a rich history of desserts and this list explores the top 29.
1. Boston Cream Pie
One of the first questions about Boston crème pie is "Why is it called a pie when it's a cake?" The answer is simply that cakes and pies were once baked in the same pan and the words were used interchangeably.
A golden cake filled with custard and topped with a rich chocolate glaze, this dessert was first created in 1881 at the Parker House Hotel. Formerly referred to as the "Parker House Chocolate Cream Pie", Boston cream pie is now the official dessert of Massachusetts.
2. Baked Alaska
Baked Alaska's history starts with a scientific discovery. In the 1900s, Sir Benjamin Thompson, inventor of the kitchen range, discovered that meringue was an excellent insulator. French chefs then created a variety of meringue-covered ice cream desserts dubbed omelete Norwegge.
The first to bring Alaska into the picture was Delmonico's chef Charles Ranhofer, who came up with Alaska Florida, a walnut cake with banana ice cream and meringue.
He named it after the then recent acquisition of Alaska by the US, and because of the contrast between the cold ice cream and the toasted meringue.
3. Key Lime Pie
A simple dish with a rich flavor, key lime pie is a staple in Florida, especially the Florida Keys. Made with the yellow juice of key limes, this pie is blended with egg yolks and condensed milk, and sometimes topped with whipped cream or meringue. 
In 1965 a Florida state representative tried to make it illegal to make a key lime pie with any other lime. That bill did not pass.
4. S'Mores
The recipe for s'mores is simple: a hot toasted marshmallow is sandwiched between a piece of chocolate and two graham crackers to make a messy and delicious dessert. S'mores were originally known simply as graham cracker sandwiches and commonly made by Girl Scouts.
They first appeared as Some Mores in Trampling and Trailing with the Girl Scouts in 1927. After you have one, you always want some more!
5. Apple Pie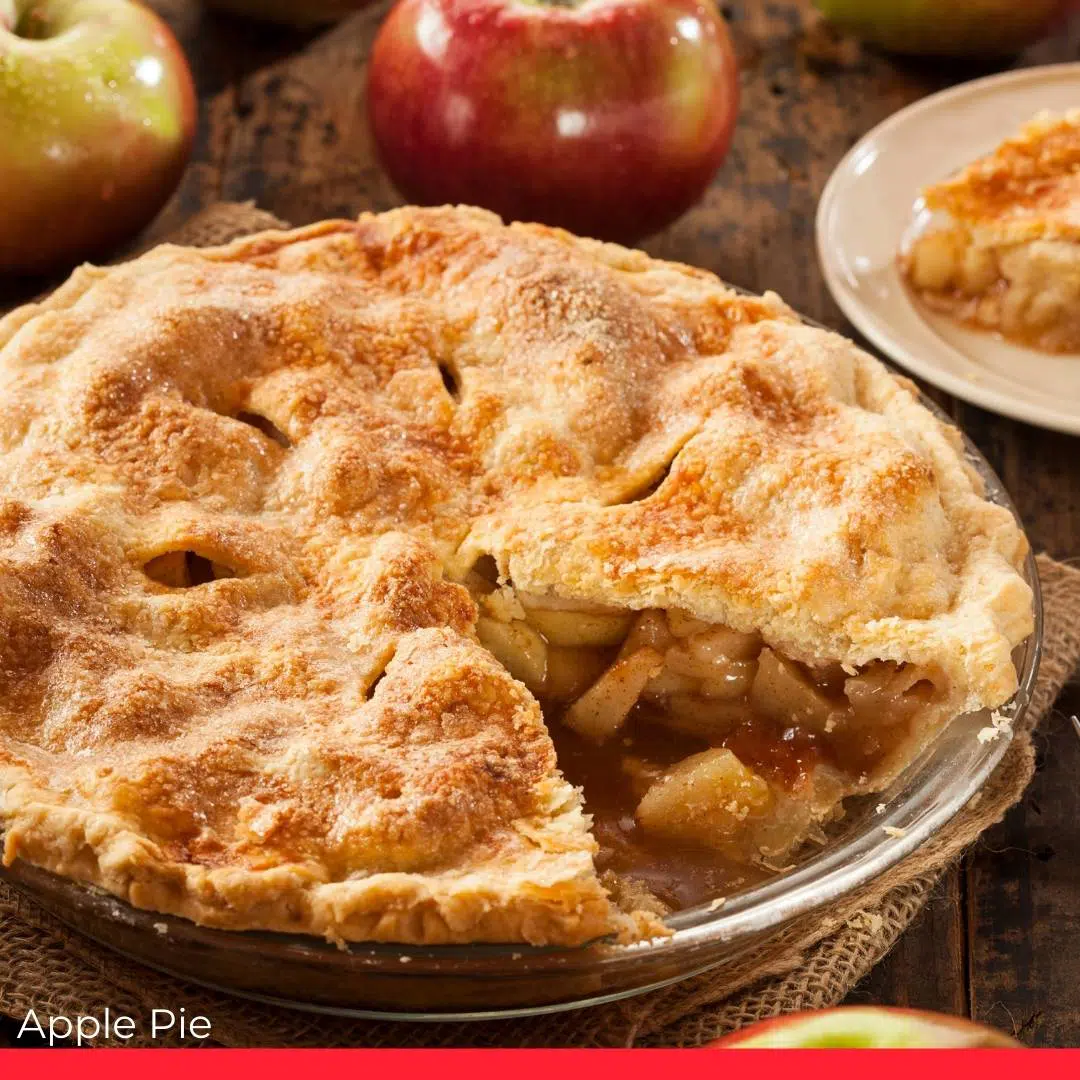 It may come as a surprise that the apple pie was not originally an American dessert. The only apples native to North America are crabapples, and those were mainly used to make mead. However, after being brought over by European immigrants, the apple pie quickly made it's place on the American table.
6. Rice Krispie Treats
The Rice Krispie treat is usually credited to Kellogg employee Mildred Day, who is said to have created them as a fundraiser for the Campfire Girls. However, her original recipe was slightly different and contained molasses and corn syrup.
The buttery marshmallow version we know and love today was created by the Kellogg Home Economic Department as a whole.
7. Pecan Pie
Contrary to popular belief, Karo Syrup did not invent the pecan pie, but they did develop the version most popularly made today.
Originally, pecan pie was made with sugar syrup or molasses. However, the dish was widely popularized when Karo began printing the recipe on their bottles.
8. German Chocolate Cake
German chocolate cake is named for American baker Samuel German, who developed the sweet chocolate used in the cake for the Baker's Chocolate Company in 1862.
The first recipe for German chocolate cake appeared in the Dallas Morning News in 1957 as "German's Chocolate Cake" and consisted of chocolate cake layers and coconut pecan icing
9. Whoopie Pie
The origins of whoopie pie are disputed. Some say it was invented by Amish women and named for the sound Amish husbands would make when they found them in their lunchbox.
Whoopie pie is made with two chocolate cakes with creamy vanilla filling, although you can find flavor variations such as pumpkin or lemon. The largest whoopie pie was made in South Portland, Maine, in 2011 and weighed in at 1,062 lbs!
10. Chocolate Chip Cookies
The story of chocolate chip cookies heard most often is that Ruth Wakefield, who ran The Toll House Inn, forgot to add chocolate to a cookie recipe and added them later hoping they would melt.
In reality, the recipe was created intentionally and originally meant to be served with ice cream. Wakefield sold her recipe to Nestlé, who paid her with a lifetime supply of chocolate.
11. Sugar Cream Pie
Sugar cream pie is an Amish dessert originating in northeastern Indiana. The unofficial Hoosier state pie, it's made with ingredients commonly found on a farm: sugar, cream, lard, and flour.
Sugar cream pie is commonly bruléed on top, resulting in a crackly sweet crunch to pair with the creamy filling.
12. Texas Sheet Cake
Texas sheet cake goes by many names: Texas sheath cake (because the cake is sheathed in icing), chocolate brownie cake, sheet brownies, and several more. However, no matter what you call it, the cake must be large, thin, and frosted while still warm.
13. Derby Pie
Derby Pie, a chocolate and walnut pie baked into a pastry crust, was created in 1954 at the Melrose Inn in Prospect, Kentucky by the Kern family. Since each family member had a different idea for the name, they put all of them in a hat and drew one out.
Derby Pie was drawn, and soon became the registered trademark.
14. Bananas Foster
Owen Brennan, of famed Bourbon St. restaurant Brennan's, asked his sister to prepare a special dessert in honor of Richard Foster, who at the time was chairman of the New Orleans Crime Commission. 
Frustrated, she grabbed what she could find, and since her father ran a produce business, what she could find was bananas. Remembering the baked Alaska, she decided to flambé her caramelized banana dish. Though the dish was a big hit at the restaurant (and still is today), Ella herself wonders why the simple dish is so popular.
15. Angel Food Cake
Beaten egg whites and a somewhat meticulous method give angel food cake its signature light, fluffy, sweetness. The cake is baked in an ungreased pan (so the cake can "climb"), and inverted while cooling, giving it height and maintaining its airy texture.
Accompanied by a scoop of ice cream, some fresh fruit, or whipped cream, angel food cake is the perfect dessert for summer.
16. Black and White Cookie
Commonly found in delis, bagel shops, and bodegas, the black and white cookie is a mainstay of New York cuisine. Technically a cake, the black and white cookie is dome-shaped and frosted half and half with chocolate and vanilla fondant.
It's believed to have been invented in 1902 by Glaser's Bake Shop in Manhattan and was one of their original recipes.
17. Grasshopper Pie
Fortunately, grasshopper pie is not a literal name. It's a no-bake, mousse pie made with crème de menthe and crème de cacao. It can also be frozen to make an ice cream pie. The pie takes its name from the grasshopper cocktail, which is equal parts crème de menthe, crème de cacao, and cream.
18. Jell-o
Jell-o has a long and storied history, starting with cough syrup manufacturer Pearle Bixby Wait. Gelatin desserts had already been popularized, but powdered gelatin wasn't invented until 1845.
In 1897, Wait trademarked a version with fruit flavors added to sugar and gelatin and called it Jell-o. Despite its ubiquity today, it was a long road for Jell-o. But thanks to strategic marketing, it's a household name and you'd be hard-pressed to find someone who can't sing the jingle J-E-L-L-O.
19. Banana Split
David "Doc" Strickler is generally credited with inventing the banana split, having been inspired by the fruit sundaes he saw in Atlantic City. The drugstore Walgreens is then said to have been instrumental in popularizing the dessert, which is made with a split banana, three scoops of ice cream, and chocolate, strawberry, and pineapple topping.
20. Shoofly Pie
Shoofly pie originated among the Pennsylvania Dutch in the 1880s as a crumb cake. Eventually, homemakers added a crust to make it easier to eat along with coffee in the mornings. Because it has no eggs, historians believe that it was generally baked during the winter, when eggs were less available.
Made thick with molasses and brown sugar, it's certainly easy to believe this was a winter comfort food. The name "shoofly" derives from a popular brand of molasses available at the time.
21. Lemon Bar
Many variations of lemon bars exist, but the first widely spread recipe was published in 1962 by Eleanor Mickelson. The two basic components are a shortbread crust and lemon curd. It is also often dusted with powdered sugar to finish.
The lemon bar took off in popularity and is now featured at many an event. There is even a national lemon bar day on October 15th!
22. Pumpkin Pie
Pumpkin pie is a staple of Thanksgiving Dinner. However, it wasn't always such a must-have. It wasn't until the early 19th century that pumpkin pie began to make its appearance on the Thanksgiving table. Before that, pumpkin was generally served as a savory dish. Even then, pumpkin pie was not pumpkin pie as we know it.
The pumpkin, native to North America, was stuffed with apples and spices and baked whole. Eventually, pumpkin pie made its way to the custard pie we know today and has inspired many flavors in beer, coffee, and other desserts.
23. Red Velvet Cake
Named red for its color and velvet for its texture, the red velvet cake originated in Maryland in the early 20th century. Originally colored with beetroot, the red velvet cake is considered mainly a southern dessert and made popular in recent years by the movie steel magnolias, which featured a red velvet groom's cake in the shape of an armadillo.
Now colored with red food coloring and cocoa powder, the red velvet cake is often served with cream cheese icing and is a popular dessert on Christmas and Valentine's Day.
24. Mississippi Mud Cake
Mississippi mud pie's earliest known reference is 1975. Packed with chocolate sauce and a crumbly chocolate crust, the dish is named after the muddy banks of the Mississippi River. It's often served with ice cream and sometimes contains marshmallows or nuts in the filling.
25. Puppy Chow
Puppy chow goes by many names. muddy buddies, muddy much, monkey much, and reindeer chow, to name a few. Made with cereal, most often chex or crispix, peanut butter, and chocolate, the dessert is thought to have originated in the Midwest and was named for its resemblance to dog food. These days you can find branded puppy chow or muddy buddies all over the country.
26. Ambrosia Salad
Salad may be a stretch for the name of this light, sweet treat. Most recipes include sour cream, mandarin oranges, pineapple, coconut, and marshmallows. The earliest written recipe of the salad appeared in Dixie Cookery by Maria Massey Berringer in the 1800s.
Light, refreshing, and fluffy, it's the perfect dessert to accompany a summer picnic.
27. Buckeyes
The candy buckeye originated in Ohio, the buckeye state. This are peanut butter fudge balls partially covered in a chocolate coating. The dessert is named for its resemblance to the nut of a buckeye treat. Though the buckeye candy may be delicious, don't try a buckeye nut, they're poisonous!
28. Marionberry Pie
The marionberry is a relatively new fruit, developed in the 1940s by Department of Agriculture researcher George F. Waldo. It was first tested in Marion county, which is where the berry got its name.
Marionberry pie is a distinctly Oregonian dessert, but the marionberry can also be used in cobblers, ice cream, and even cocktails.
29. Pineapple Upside Down Cake
The pineapple upside-down cake gained notoriety in the 1950s and 60s. However the recipe dates back to the late 1800s. Upside down cakes in general first began appearing with the French apple tarte tatin and others.
In 1925 the Hawaiian Pineapple Company sponsored a recipe contest, and so many of the entries were for pineapple upside-down cake that they decided to run an ad campaign. The cake has since become increasingly popular.
---
America is home to other amazing sweet treats like cherry-flavored candy or grape juice and jelly, which are very hard to find outside of the United States (well maybe with the exception of Canada). We'll follow-up with a dedicated story on delicious American sweets that you must try out on your next trip to the States.
Related: Top 27 Quintessential American Foods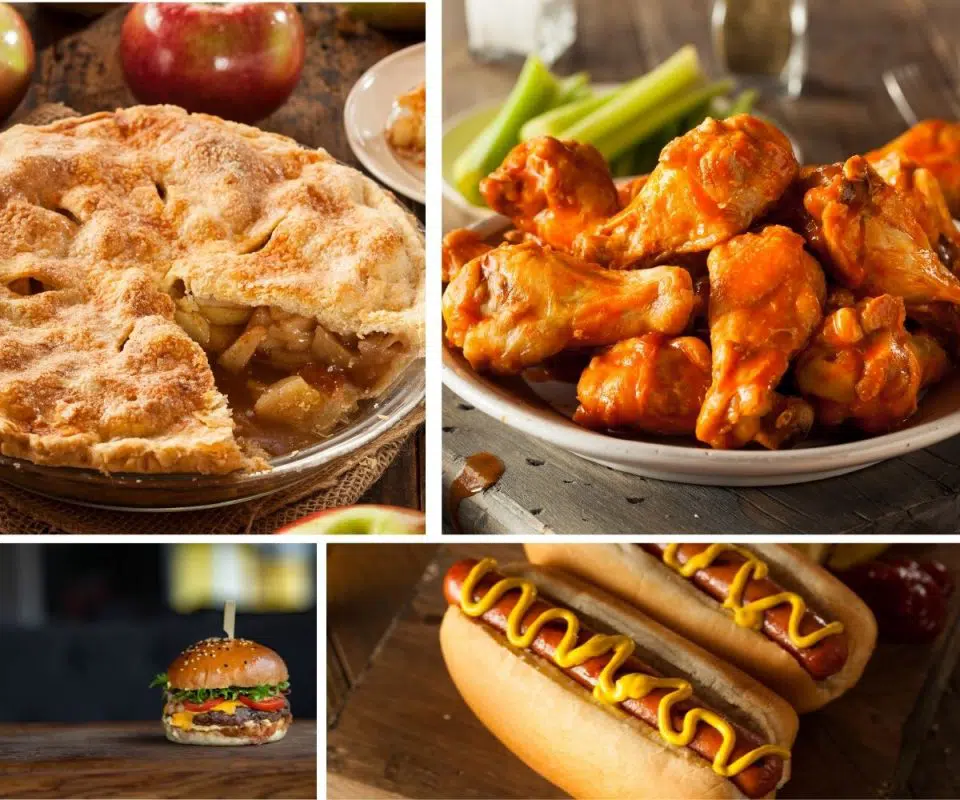 Related: Easter Food Traditions in America