9 Good Fromage Blanc Substitutes
Fromage blanc, or white cheese, is a popular French cheese. It is popular in Europe for its mild flavor and versatility and is enjoyed for breakfast with fruit, in savory dishes, or served plain on cheese boards. It can also be used as a filling for pasta or sandwiches and due to its low-fat content it is relatively healthy compared to many other French cheeses.
Fromage blanc is a low-fat cheese, as it is primarily made with skim milk. Sometimes cream is added to make it richer and more flavorful, so make sure you check the label if this is a concern for you.
Overall, Fromage blanc is a popular, palatable cheese but it can be a bit hard to find outside of Europe. If your recipe calls for it, you can use any one of the following cheeses as a reasonable (and tasty!) fromage blanc substitute.
1. Queso Fresco
Queso Fresco is a soft, pure white, crumbly cheese that is mild and salty. This raw cow's milk cheese is often made at homes by curdling and pressing milk.
If you want to try making this cheese yourself, it's quite easy. Just bring whole milk to a boil and curdle it using an acid (lemon juice or vinegar work well!) For this homemade cheese to work as fromage blanc, skip the pressing step, and just serve it as is!
2. Goat's Cheese
Although goat's cheese (or chevré) is known for having a very specific flavor profile, the texture is quite similar to fromage blanc in that it is thick and creamy.
You may want to use goat's cheese in combination with ricotta or another cheese from this list, as it can be overpowering, but if you love the flavor, then go for it!!
3. Ricotta
Fromage blanc often serves as a filling for savory dishes such as crepes, ravioli, or Mexican fare such as burritos or enchiladas. For these, you can use a very soft cheese such as ricotta to achieve the same texture and flavor profile.
Ricotta may also be less expensive, so if you're cooking en masse, this might be a good route to go. Keep in mind that ricotta and other soft, unripened cheeses spoil quickly, so use them up quickly once they are open.
3. Cream Cheese (or Vegan Cream Cheese)
Cream cheese is very similar to fromage blanc because it is spreadable, mild in flavor, and pure white. Cream cheese is used as sandwich spreads and for fillings, but its primary use is for baked cheesecakes, which are very popular in Europe and the west.
The super creamy texture and mouth-feel of cream cheese makes for an excellent substitute for fromage blanc, and the only main difference is the slightly tangy flavor of cream cheese and its richness, because cream cheese is made from milk and cream. Its fat content can be double or even triple that of fromage blanc, so be sure to consider this.
Vegan cream cheese is becoming increasingly easier to find as more folks adopt a plant-based diet or have dairy allergies, so if you're looking to make your cheese-based recipes more vegan-friendly, try a store-bought vegan cream cheese (often soy-based).
4. Mascarpone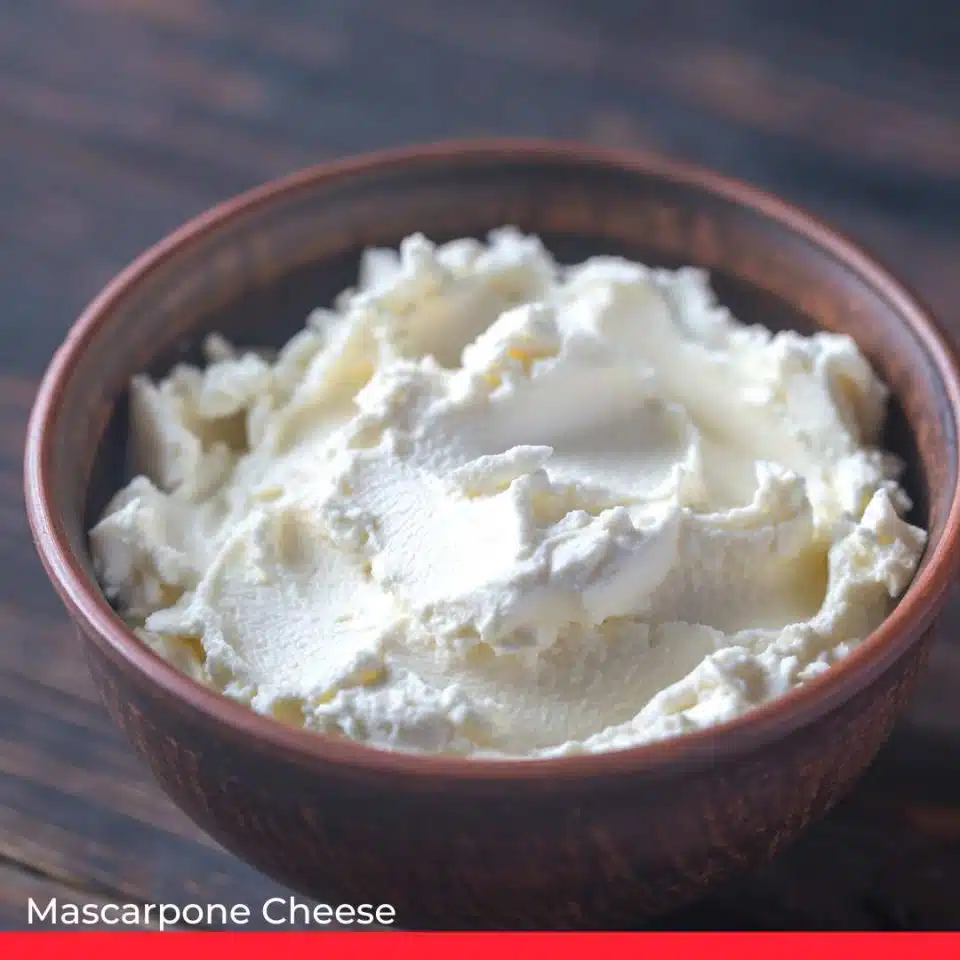 This silky smooth, spreadable, soft cheese is probably the closest cheese to fromage blanc in flavor, texture, and consistency. Like fromage blanc, mascarpone, as it is often very low in salt and is often served as a dessert.
Mascarpone is made from pure heavy cream and is much richer than fromage blanc, which is made with skim milk and sometimes a touch of cream. So, depending on the application, it might be the best substitute you will find!
5. Sour Cream, Yogurt (or Vegan Versions)
Sour cream and yogurt might be tangier than you are looking for, so keep this in mind when using it as a direct replacement for fromage blanc.
Sour cream is a cultured dairy product that is not technically a cheese. However, it is an excellent alternative because it is pure white, super creamy, and contains little to no salt. Again, this will depend on the application in which you are using this alternative, but give it a try!
6. Cotija Cheese
Cotija is an aged Mexican cheese made from fermented cow's milk and can be aged anywhere from one week to six months.
Regardless of its age, cotija is characterized by its salty, milky flavor. When this cheese is aged for a long time, it becomes firm and dry, but the younger version of cotija has a mild, crumbly texture.
No matter what you're cooking, whether it is a classic Mexican dish, some sort of fusion, or something different altogether, cotija is an excellent addition to any recipe and will be a reasonable replacement for fromage blanc.
7. Cottage Cheese
Very similar to ricotta, cottage cheese makes a good alternative to fromage blanc (or any soft, mild cheese) but has a different texture entirely, so keep this in mind when choosing a replacement.
Cottage cheese has larger curds that can be anywhere from mealy to gritty to chewy. So if you're looking for a smooth texture, this may not be the best alternative.
Cottage cheese is, however, super nutritious and goes great with a lot of the same foods fromage blanc is served with, including fresh or dried fruit, cereals, muesli, and honey.
8. Soft Tofu
Did you know that by placing soft tofu in a blender and adding a very small amount of lemon juice, you are basically left with an awesome vegan fromage blanc replacement!?
You can use this interchangeably with all soft cheese recipes, but keep in mind that it has that certain flavor that soy products often have. Soft tofu works as a replacement if you're making baked dishes.
9. Quark
Quark is an European cheese that is often made at home but is also sold in supermarkets, especially in Eastern and Central Europe.
In Germany, quark is served all day in the form of quark and muesli, quark and fruit, sliced on sandwiches, whipped, with bread, on salads and savory dishes, and, probably its most popular usage, baked cheesecake.
Quark is also used as a filling in various pastries, and the thicker versions can come battered and fried in the form of a savory or sweet doughnut. Quark is very popular in Germany, the Baltics, and Slovakia and we think once you give it a try, you will love it too! It makes a great replacement if you cannot find fromage blanc.
---
Freshly made fromage blanc is a real treat, but is not easy to find in North America. It is sometimes called marqée, or white cheese, and is a favorite of French children because of its milk and neutral flavor. In essence, fromage blanc is similar to a very thick Greek yogurt in consistency and texture, but can also be spreadable like mascarpone or cream cheese, though it can be firmer and resemble cotija or queso fresco.
Like these cheeses, fromage blanc is always pure white in color and unaged, meaning once it's made, it is ready to eat!