Best 19 Goat's Cheese Substitutes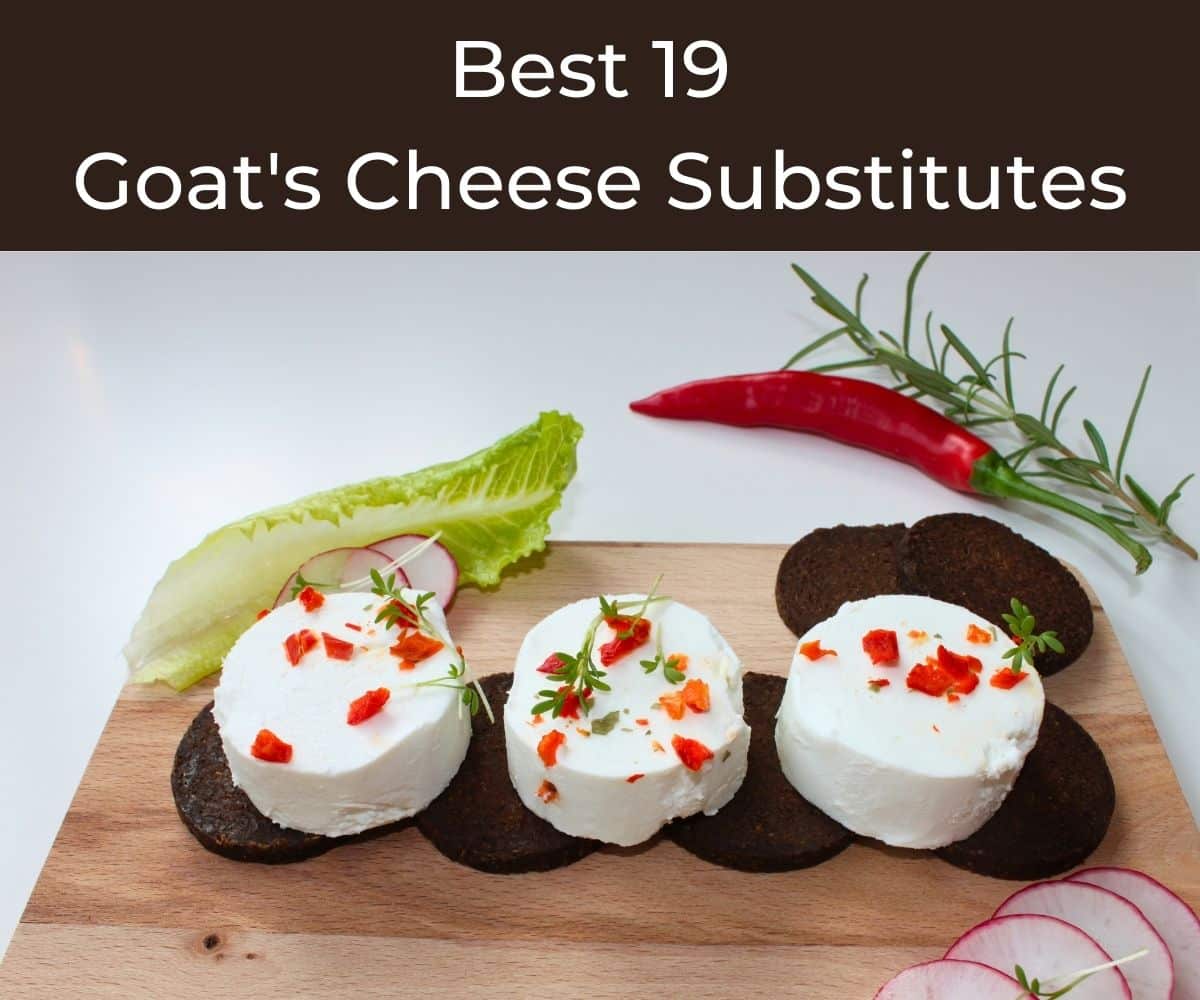 It has a creamy texture and a distinct flavor. It's very versatile and cheese addicts simply cannot go without a little chèvre. Yes, goat's cheese is one of the most popular types of cheeses but sometimes you find you've run out. And sometimes, people just want to replace it ꟷ it's not to everyone's taste. So here's what to replace goat's cheese with, depending on the recipe, the texture, the flavor, and consistency!
If you're thinking of making a charcuterie board, you simply cannot go without goat's cheese. Its soft, buttery, utterly creamy, and spreadable texture makes goat's cheese one of the best. Its tangy, tart flavor, its intense yet elegant, smooth aroma make this type of cheese a great pair for just about anything.
However, if for some reason you don't fancy it (not judging, but why? And how? And why? #hihi) or you adore it but couldn't find any at the store (the horror!), there are plenty of goat's cheese substitutes you can try!
Chèvre: how it's made and all you need to know before choosing a replacement
Goat's cheese is obviously made from goat's milk. It has a distinctive earthy, deep, robust flavor that is tangy and tart. The fatty acids in goat's cheese create its texture and aroma. It's usually creamy and soft but if it's matured, it can have a hard, flaky, crumbly texture and an intense, acidic taste and smell.
It can have a mild, delicate aroma or it can be pungent and "goaty", also depending on maturation and how it's prepared. It can be on the sweet, light, fresh side or it can be quite salty and acidic and quite heavy when it comes to digestion.
History of goat's cheese
A fresh goat's cheese is sweet, creamy, soft, and has a little moisture. A matured goat's cheese has a crubly texture and a more tangy taste. An aged goat's cheese has a strong flavor and odor and a hard texture. Fromage de chèvre varies in strength and it goes a long way, history-wise. It's thought to be an Ancient cheese, going back to Ancient Greece.
How it's made:
Goat's cheese is simply curdled raw milk. After curdling, the cheese is pressed and drained. It is produced in many countries around the world, but France, Italy, Belgium, and Norway are better known for it.
Health benefits of adding chèvre to your diet:
In terms of nutritional value, goat's cheese has healthy fats as well as proteins, minerals, and vitamins. It's mostly praised for its medium-chain fatty acid, called capric acid, that has anti-inflammatory and antibacterial properties. Goat's cheese is known to have a smaller amount of saturated fats and lower cholesterol, though these claims are disputed.
Another great thing about goat's cheese is that it has a low lactose content, which makes it friendlier to those who cannot eat dairy. So, now that we've got it all covered, let's get to it! Here are the best substitutes for goat's cheese.
19 goat's cheese substitutes you should try
You either love it or you hate it. If you hate it but want to try recipes that use goat's cheese, you can still go for it! There are good alternatives you can try. If you love the cheese but can't always find it, the same applies to you ꟷ there are alternatives.
Some alternatives are dairy but we also have some vegan options for the lactose-intolerant or vegans among you. And for those of you who love to spend time in the kitchen making your own ingredients, we've got you covered too!
Some alternatives replicate the taste of chèvre while others resemble it in texture and consistency. We recommend you select an alternative depending on the recipe as some go better in uncooked dishes, such as salads, dips, toppings, and spreads, while others are perfect cooked dishes. Check them all out!
Goat's cheese alternatives that replicate the taste and flavor
If you're aim is to replicate the flavor and you are less bothered about the texture, try these goat's cheese replacements:
1. Blue Cheese
Blue cheese is creamier and softer than goat's cheese. Blue cheese has a strong taste and a flavor similar to goat's cheese. However, keep in mind that the older it gets the stronger the smell and taste, just like with chèvre.
2. Fromage Blanc
In terms of both consistency and aroma, fromage blanc is probably the most similar to goat's cheese. It's easily spreadable, rich, and packs quite the punch without being overwhelming.
3. Feta Cheese
One of the stronger goat's cheese substitutes, feta has a strong, tangy, salty taste and a certain richness and softness to it, while its consistency is rather crumbly.
4. Cotija
With a solid, hard, crumbly texture, cotija has a very different texture compared to goat cheese. However, in terms of taste, they are both salty, tangy and quite bold. It's really more similar to parmesan cheese, come to think of it!
5. Ricotta Cheese
While ricotta is made from sheep's milk and is rather moist, sweet, and milky and with a firmer texture than goat's cheese, they are similar in terms of flavor.
6. Manchengo
Neither smooth nor solid texture-wise, Manchego is similar to goat's cheese in terms of taste. It has an aged flavor, with a nutty, deep, and yet fruity, acidic aroma.
7. Queso Añejo
This aged cheese packs quite the punch when it comes to aroma. When it comes to consistency, it's a hard, crumbly cheese with no moisture. It's best for use in cooked dishes, giving that aged goat's cheese effect.
8. Halloumi
The best goat's cheese alternative for your salads or veggies. It works great in recipes that mention chèvre chaud (warm goat cheese) and it has a salty, briny, tartness to it. In terms of texture, halloumi is quite hard and chewy so not really like goat's cheese at all.
9. Parmesan
To mimic the flavor of goat's cheese, especially an aged one, parmesan is perfect. It's salty, tangy, acidic, and aromatic without being overwhelming and its hard, crumbly texture is similar to aged goat's cheese.
10. Gruyere
Gruyere has a sharp, yeasty, salty, and tangy taste but with a sweet, mild, and milky side. It resembles matured goat's cheese when it comes to aroma and texture.
11. Emmental
With a salty kick and a mild and flavorful taste, Emmental is similar to goat's cheese. Texture-wise, it's rather fatty and hard and on the chewy side, but it can be used in cooked dishes.
12. Tofu & Cashew Cheese
Tofu's crumbly texture is similar to matured goat's cheese. Cashew cheese is rather smooth, onctuous, and spreadable, just like fresh chèvre. They're both similar to goat's cheese when it comes to flavor.
Find the best substitute for goat cheese in terms of texture and consistency
If you'd like the same texture and creaminess of goat's cheese but want a milder, sweeter taste, consider these goat's cheese substitutes:
1. Cream Cheese
If texture is important to you, cream cheese is the best goat's cheese replacement. But do keep in mind that cream cheese is more buttery, onctuous, and rich, and contains much more fat than goat's cheese.
2. Mascarpone
Creamy, fatty, soft, silky smooth, but not as sticky as goat's cheese, mascarpone is a sweet, not so salty, tangy cheese. It can replace chèvre when you need to replicate the texture.
3. Cottage Cheese
Since cottage cheese normally has a lumpy consistency, we recommend you make it smooth by blending it in a food processor and then leave it to sit in the fridge overnight to solidify. Then you'll get the same texture as goat's cheese.
4. Camembert
For recipes that require the cheese to melt and bubble, Camembert is goat's cheese's twin. It has a smooth, onctuous texture and a mild, tangy flavor.
5. Boursin
This Normandy cheese has a soft, creamy texture and is easily spreadable, just like fresh goat's cheese. If you don't like the flavor of goat's cheese, go for Boursin, since it doesn't have such a pungent aroma.
6. Queso Fresco
This Mexican cheese resembles aged goat's cheese in texture and consistency. It is on the creamy, moist side with a crumbly aspect to it. So, it's best to describe queso fresco as a firm, fresh cheese. It also has a tangy flavor, so it can easily replace its French cousin.
7. Paneer
This traditional Indian cheese is similar to aged goat's cheese in terms of consistency. However, paneer has a rather chewy texture and is quite dense. It also resembles goat's cheese taste-wise, though it has a milky, fresh, bright flavor.
8. Greek Yogurt
When you're looking for the same texture as goat's cheese but want an alternative with fewer calories, simply leave Greek yogurt to drain!
Extra tips and tricks when choosing a goat's cheese substitute:
When using hard cheeses to replace goat's cheese, try soaking them in milk to rehydrate them. This will make them creamier and softer.
Always choose a substitute depending on the recipe: while the taste will be similar when the goat's cheese alternative is cooked, its texture will vary. Hot recipes will make the cheese creamier and cold recipes will help the cheese maintain its form and properties.
Make your own goat's cheese substitute:
While goat's cheese may not appeal to everyone, if you're reading this you are clearly a fan! These recipes will provide you a with a cheese with similar taste, flavor, texture, and consistency.
1. Dairy goat's cheese homemade alternative
You can follow the classic recipe and let goat's milk curdle and then leave it to drain. You can add rennet, vinegar or lemon juice to give it an acidic, tangy taste. Or you can mix together some of the cheeses presented above with fat yogurt or labneh to obtain the same texture and taste. Probably the best blend uses the following ingredients mixed in a food processor:
8 ounces of cream cheese
4 ounces feta cheese
4 ounces Greek yogurt
Herbs and condiments
2. DIY vegan goat's cheese substitute
If you follow a plant-based diet, you will want to make a goat's cheese replacement. It doesn't take much and it's so tasty, robust, and rich in flavor. You need to blend the following ingredients:
1/4 cup raw rehydrated macadamia nuts
1/2 cup raw rehydrated cashews
2 tbsp filtered water
1/2 tbsp apple cider vinegar
1/2 tbsp lemon juice
Pinch of sea salt, to taste
Optional: half a teaspoon of miso
Optional: half a tbsp of Irish moss after culturing if you want to make a firm cheese that you can slice