17 Delicious Foods South Carolina is Famous For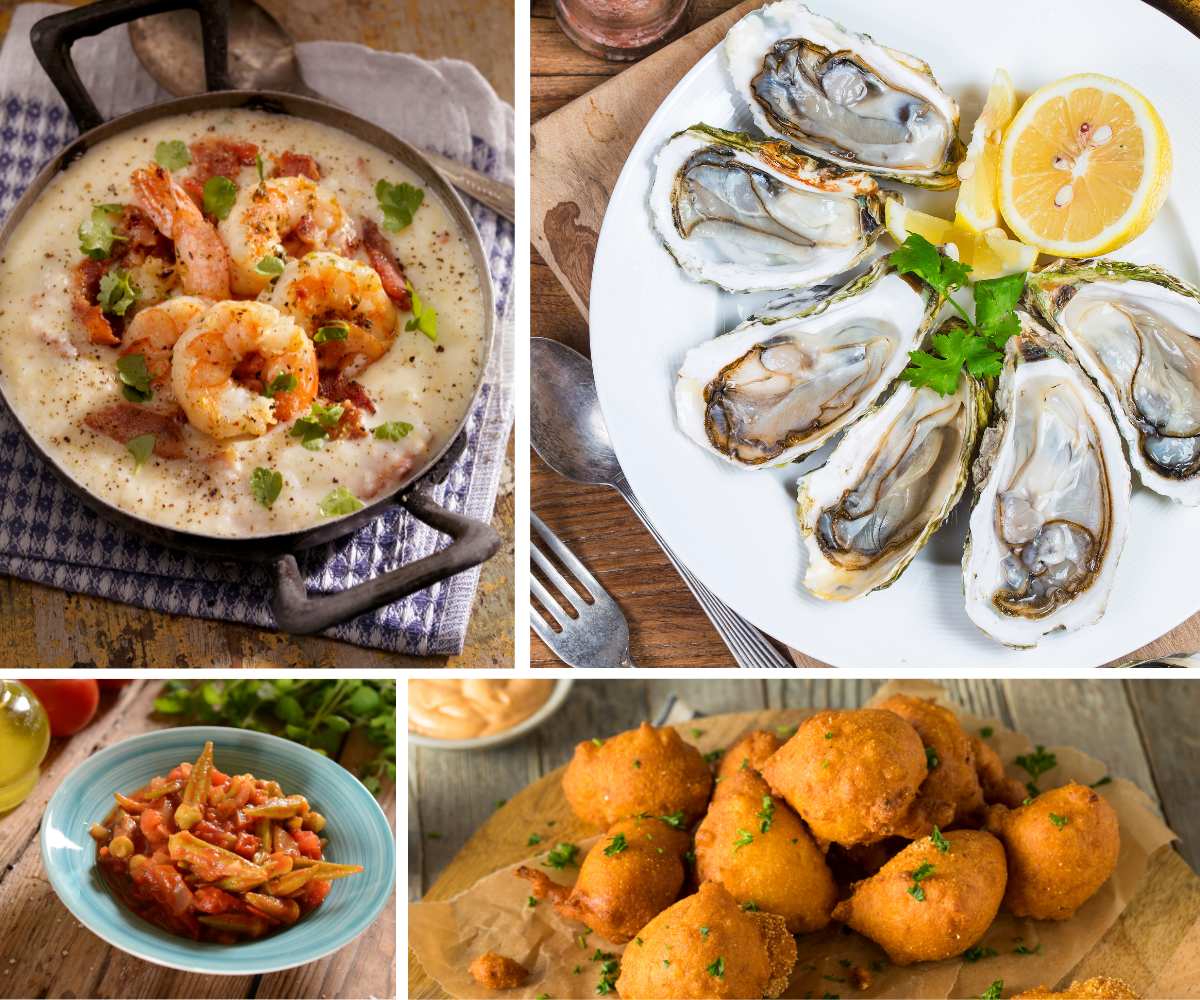 South Carolina is one of the most visited states in the United States, attracting millions of tourists to the area every year. For locals, this comes as no surprise. After all, the Palmetto State is home to beautiful beaches, golf courses, breathtaking mountains, rich history and, most importantly, delicious cuisine.
From classic southern comfort food to fresh seafood and barbecue, there's no shortage of tasty dishes to try in South Carolina.
The state's food has been heavenly influenced by a variety of cultural and historical factors over the centuries. Its cuisine is a unique blend of African, European, and Native American culinary traditions, which have been shaped by geography, climate, and social history.
For example, the coastal areas of South Carolina provide a bounty of seafood, including shrimp, crab, and oysters, which are used in many traditional dishes. The fertile soil of the state's Lowcountry region also provides an abundance of fresh vegetables, such as collard greens, okra, and sweet potatoes.
One of the most significant influences on South Carolina food is the Gullah-Geechee culture, which developed along the coastal areas of the state. The Gullah people were enslaved West Africans who brought their own culinary traditions to South Carolina, blending ingredients available in the region with their cooking techniques .
So what types of food might you expect to find during a trip to South Carolina? See the list below. Just don't blame us if you get hungry checking it out.
1. Chicken Bog
For at least a century, this appetizing one-pot dish has been satisfying tastebuds throughout South Carolina, particularly in the state's coastal regions. Chicken, smoked sausage and rice serve as the main ingredients, with salt and pepper often added to enhance the flavor.
Some of the most well-known areas for chicken bog include the towns of Loris and Galivants Ferry, which host annual chicken bog festivals and cooking contests. However, the dish can be found throughout the state, from local restaurants and food trucks to home kitchens and community events.
So how did chicken bog come to be? To be honest, that's a bit of a mystery. The dish is believed to have been influenced by African, Native American and European cooking traditions. This hearty meal, which has been a South Carolina favorite since at least the 1920s, is similar to other one-pot rice dishes found in many cultures, such as jambalaya and pilaf.
According to Coastal Carolina University, the chicken and seasoning that make up the meal are meant to mirror the humid, swampy Horry County environments of Myrtle Beach, Conway and Loris, S.C., with the "bog" signifying a stewed texture.
2. Palmetto Cheese
Palmetto Cheese is a homestyle pimento cheese and a must-try for anyone visiting South Carolina. The brand was founded in 2006 by Brian and Sassy Henry in Pawleys Island, a small coastal town in the Lowcountry.
In the early days, the Henrys sold their Palmetto Cheese at local farmers' markets and grocery stores, where it quickly gained a following. Over time, the brand expanded its distribution to other parts of the state and the Southeast, making it more widely available to consumers.
A beloved staple of Southern cuisine, the main ingredients of pimento cheese are shredded cheese, pimentos and mayonnaise. It's commonly served as a spread for crackers, sandwiches and vegetables. It can also be used as a dip for chips or as a topping for burgers and other grilled foods.
While the true origin of pimento cheese is somewhat debated, it is widely accepted that South Carolina perfected it.
3. Barbeque Hash
Barbecue hash is another popular dish unique to South Carolina, and it's been around for a while. In fact, the Abbeville Press and Banner published several accounts of hash being served at community barbecues as far back as the 1850s, according to Greenville native, Robert F. Moss.
This dish is typically made with finely chopped or shredded pork that has been slow cooked in a barbecue pit or smoker until it is tender and flavorful. The meat is then mixed with a sauce made from a combination of ketchup, mustard, vinegar, spices and often includes diced onions and cheesy macaroni. It is also a staple at many local barbecue restaurants and is often served at community events, including church fundraisers and outdoor festivals.
While the exact origin of barbecue hash in South Carolina is unclear, it is believed to have originated from the state's long tradition of slow-smoked barbecue, which dates back to the 19th century. Over time, cooks began to experiment with new ways to use leftover barbecue meat, which eventually led to the creation of barbecue hash as a distinct and beloved dish in the state's culinary landscape.
4. Boiled Peanuts
Considered the "caviar of the South," boiled peanuts have served as South Carolina's official state snack since 2006. Introduced first by West African slaves, South Carolinians have been enjoying boiled peanuts for a long time – since at least the US Civil War.
During the War Between the States, as the war was known, Confederate soldiers often lacked bread or meat, so many times they would turn to peanuts. Soldiers would roast or boil peanuts over campfires, adding salt as a preservative, the National Peanut Board reports.
In the early 20th century, boiled peanuts became a commodity in South Carolina, especially for people who called rural areas home. That's because they were a cheap and easily accessible source of protein and other nutrients, and they were often sold by street vendors and at roadside stands.
Prior to consumption, peanuts are typically immersed in boiling water for about an hour while still in the shell. Salt can be added to the water as desired to boost the legume's taste. Once done, simply crack open the shell and enjoy the meaty treat inside.
5. Duke's Mayonnaise
If you were to go to any South Carolinian home and open the refrigerator, you're likely to find it stocked with Duke's mayonnaise. While similar condiments exist, true natives accept no alternatives. It would just be blasphemous.
Eugenia Duke, an entrepreneur from Greenville, SC, who began selling sandwiches made with her homemade mayonnaise to army canteens during WWI, created her popular mayonnaise brand in 1917.
It quickly gained a following and became a popular condiment throughout the southern United States. She went on to start her own business, selling her mayonnaise and other sandwich spreads, which eventually became the Duke Sandwich Company.
Today, Duke's is owned by the C. F. Sauer Company and continues to be a beloved brand of mayonnaise in the South. Its distinctive tangy flavor and creamy texture make it a popular choice for sandwiches, salads and other dishes.
6. Collard Greens
South Carolina not only ranks No. 1 in the nation for collard green production, but the leafy green vegetable is also the official state vegetable.
Most people cut the leaves into small pieces and boil or slow cook until tender. To enhance the flavor, salt, pepper and small pieces of meat such as bacon are often added.
The exact origin of collard greens in South Carolina is difficult to pinpoint since the vegetable has been cultivated and consumed for centuries in many different cultures. It is believed that collard greens were first introduced to the southern United States during the colonial period, likely through the slave trade.
Collard greens are also believed to have been cultivated by Native Americans, who were growing them in the southern United States long before European settlers arrived.
Collard greens are a good source of several important nutrients, including vitamins A, C, and K, as well as calcium, iron, and fiber.
7. Hoppin' John
Hoppin' John is a traditional South Carolina dish made with black-eyed peas, rice and pork. It is often eaten on New Year's Day for good luck. The first recipes for Hoppin' John appear in cookbooks that date back to the 1840s, History.com reports.
It is believed that this delicious southern meal is a product of the Lowcountry's Gullah culture.
As far as the name of the dish goes, legend has it that an old man who sold rice and peas in Charleston walked with a hobble, which earned him the name Hoppin' John, according to Discover South Carolina.
8. Frogmore Stew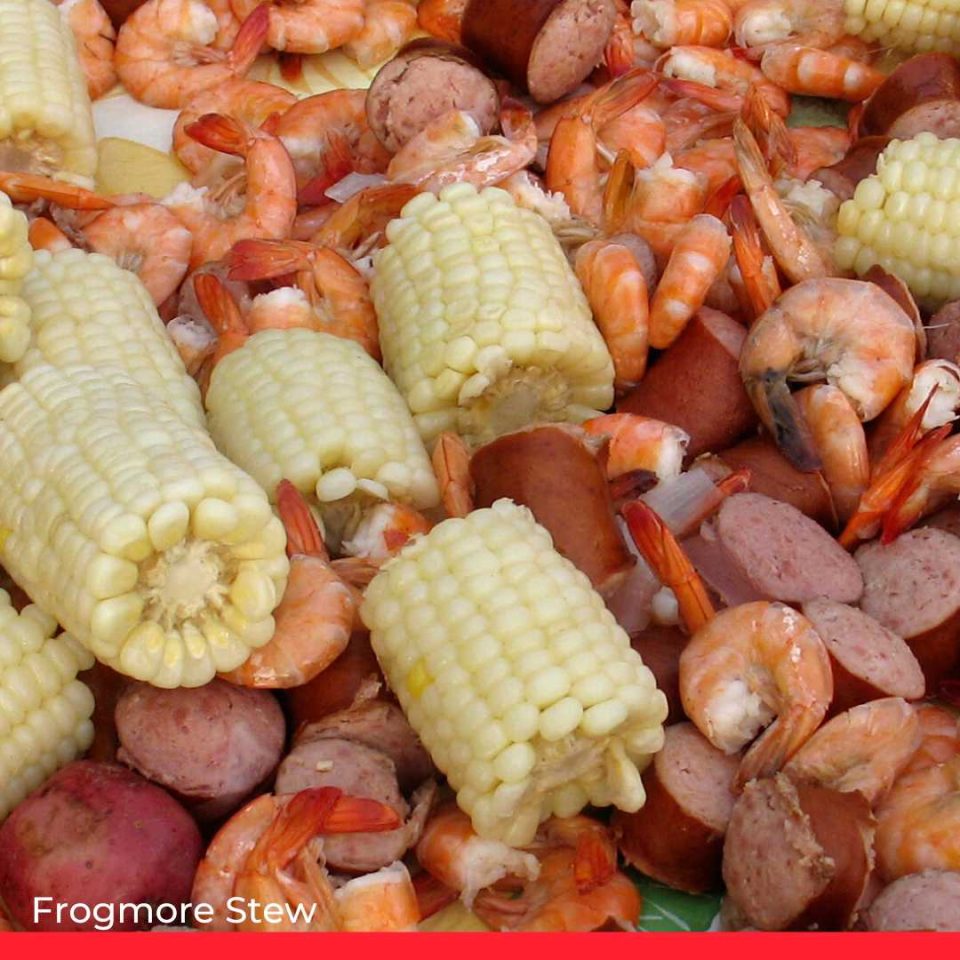 Frogmore Stew is a traditional Lowcountry dish that originated in the coastal community of Frogmore, South Carolina. It is also known as Lowcountry Boil or Beaufort Stew.
The dish typically consists of fresh local seafood, such as shrimp, crab, or crawfish, sausage, potatoes, and corn on the cob, all boiled together in a large pot with a seasoning blend that typically includes Old Bay seasoning, hot sauce, and lemon. The ingredients are usually layered in the pot with the sausage and potatoes on the bottom, followed by the corn and then the seafood on top.
Once the ingredients are cooked, they are drained and served family-style, often on a newspaper-covered table for easy clean-up. The dish is typically enjoyed with buttered bread, cocktail sauce, and/or hot sauce, as well as cold beverages such as beer or sweet tea.
9. Shrimp and Grits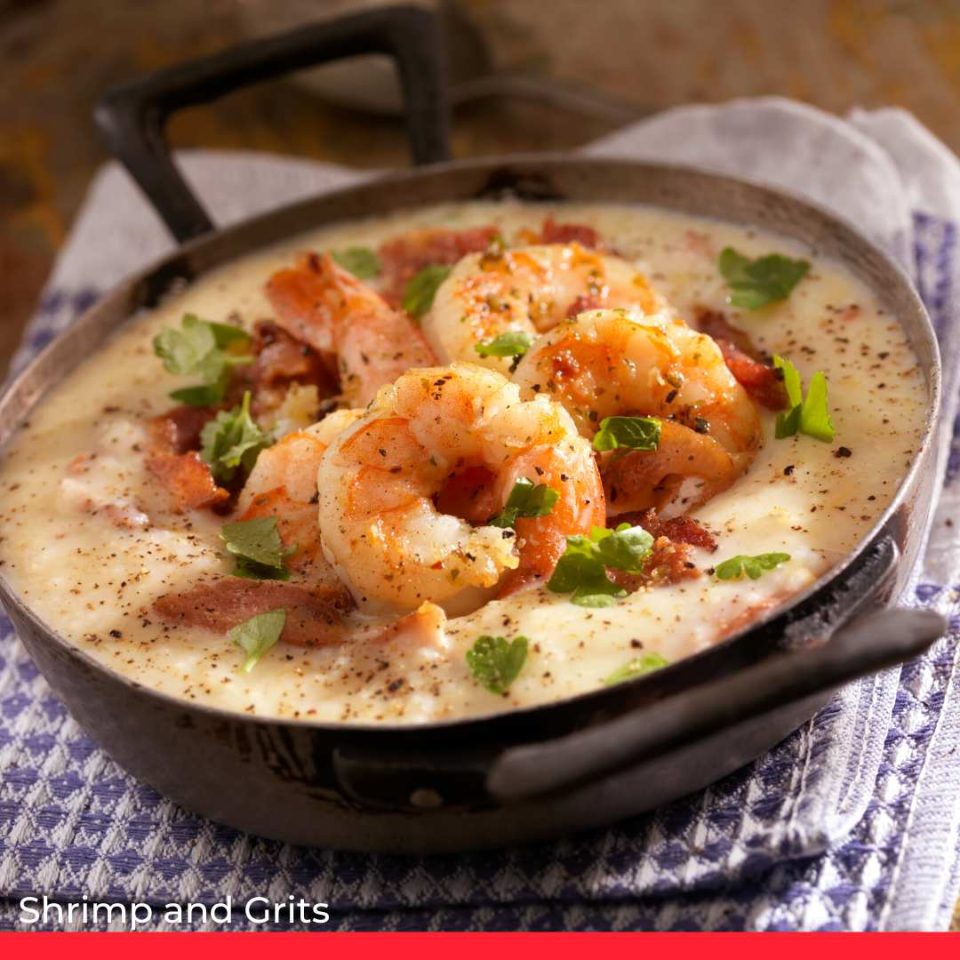 Shrimp and grits is a yummy dish enjoyed in South Carolina, particularly in the coastal areas where fresh seafood is abundant. The dish has become a staple of Lowcountry cuisine, which is known for its blend of African, European, and Native American influences.
The origins of shrimp and grits can be traced back to the Gullah-Geechee communities. The dish evolved from the traditional African dish of rice and seafood, which was adapted to include grits instead of rice, as grits were a more readily available staple food in the area.
10. Peaches
Although Georgia may get a lot of attention for its peaches, South Carolina grows over 30 varieties and ranks second in fresh peach production in the United States behind California, according to the South Carolina Statehouse.
Peaches have been commercially grown in South Carolina since the 1860s. The state's warm climate, fertile soil, and abundant sunshine create ideal growing conditions for the fruit.
Since 1984, the peach has been the official state fruit of South Carolina.
11. Cornbread
Cornbread is perhaps one of the most common daily breads in South Carolina that typically accompany and complete a meal. According to South Carolina Encyclopedia, Sarah Rutledge included 34 variations in The Carolina Housewife in 1847.
Cornbread was originally made with cornmeal, which was ground from dried corn, and water or milk. The addition of other ingredients, such as eggs, buttermilk, and baking powder, was introduced later on.
The exact origin of cornbread in South Carolina is difficult to trace, as it is a quintessential American dish that has been a part of southern cuisine for centuries and has likely evolved over time.
12. She-Crab Soup
She-crab soup is a classic dish that originated in South Carolina and is traditionally served in Charleston. The soup is made with blue crab meat and roe, heavy cream, and a splash of sherry.
It is called "she-crab" soup because only female crabs are used to make it, as they are prized for their sweet and delicate flavor.
The soup is typically served hot and garnished with a sprinkle of fresh parsley or chives. It is a rich and creamy soup that is perfect for a special occasion or a comforting meal on a cold day.
13. Benne Wafers
The history of benne wafers in South Carolina dates back to the colonial era when West African slaves brought sesame seeds to the region, according to Olde Colony Bakery.
The seeds were then used in cooking, including the making of benne wafers. The name "benne" comes from the Bantu word for sesame, which is still used in many African languages today.
Today, benne wafers remain a popular sweet treat in South Carolina and can be found in many specialty food stores and bakeries throughout the state. Some of the most well-known places to find benne wafers in the Palmetto State include the Charleston area, particularly in the city's historic district.
Some popular brands that produce benne wafers in the region include Olde Colony Bakery and Callie's Charleston Biscuits.
14. Hush Puppies
Hush puppies can be found on menus all over South Carolina, from seafood shacks to upscale restaurants.
They are typically made with a mixture of cornmeal, flour, buttermilk, eggs, and seasonings, and are deep-fried until crispy and golden brown. Hush puppies are often served with tartar sauce or other dipping sauces, and are a beloved part of Southern cuisine.
Some historians believe that hush puppies were invented in South Carolina by enslaved Africans who used leftover cornmeal to create a tasty and filling side dish. The fritters were originally called "red horse bread" or "corn dodgers" and were often eaten with fish or other seafood.
15. Stewed Tomatoes and Okra
Stewed tomatoes and okra are another traditional Southern dish that is particularly popular in South Carolina.
You'll often find different variations of this soupy meal. Some people like to also include okra, beans and carrots and serve it over white rice. This simple yet flavorful dish is easy to prepare and can be enjoyed as a side dish or a main course.
Speaking of the state's West African influence, okra is a staple food in West Africa and you'll find it in many popular West African foods.
16. Carolina Gold Sauce
Carolina Gold sauce is a type of barbecue that is unique to the Palmetto State. This mustard-based sauce is often used as a marinade, dip, or finishing sauce for pork, chicken, and other meats.
The sauce is made with a base of yellow mustard, apple cider vinegar, and sugar, and often includes other ingredients such as Worcestershire sauce, hot sauce, and spices such as garlic, paprika, and cayenne pepper.
The mustard gives the sauce a tangy and slightly sweet flavor, while the vinegar adds a tartness that helps cut through the richness of the meat.
17. Roasted or Fresh Oysters
Oysters have been an important part of South Carolina's history and culture for centuries. Native American tribes living in the region long before European contact harvested and ate oysters, and early European settlers quickly followed suit.
Oyster season in South Carolina runs from September through April. If the month has an "R" in it, you'll find fresh harvests, according to Discover South Carolina.
The state is also home to a number of oyster festivals, including the Lowcountry Oyster Festival in Mount Pleasant and the Bluffton Oyster Roast. These festivals celebrate the state's rich oyster culture and offer visitors the chance to enjoy fresh oysters in a festive, outdoor setting.
---
Related: Most Popular Cajun Foods
Related: Florida's Most Famous Foods
Related: Top 29 Traditional American Desserts