25 Most Famous Black Chefs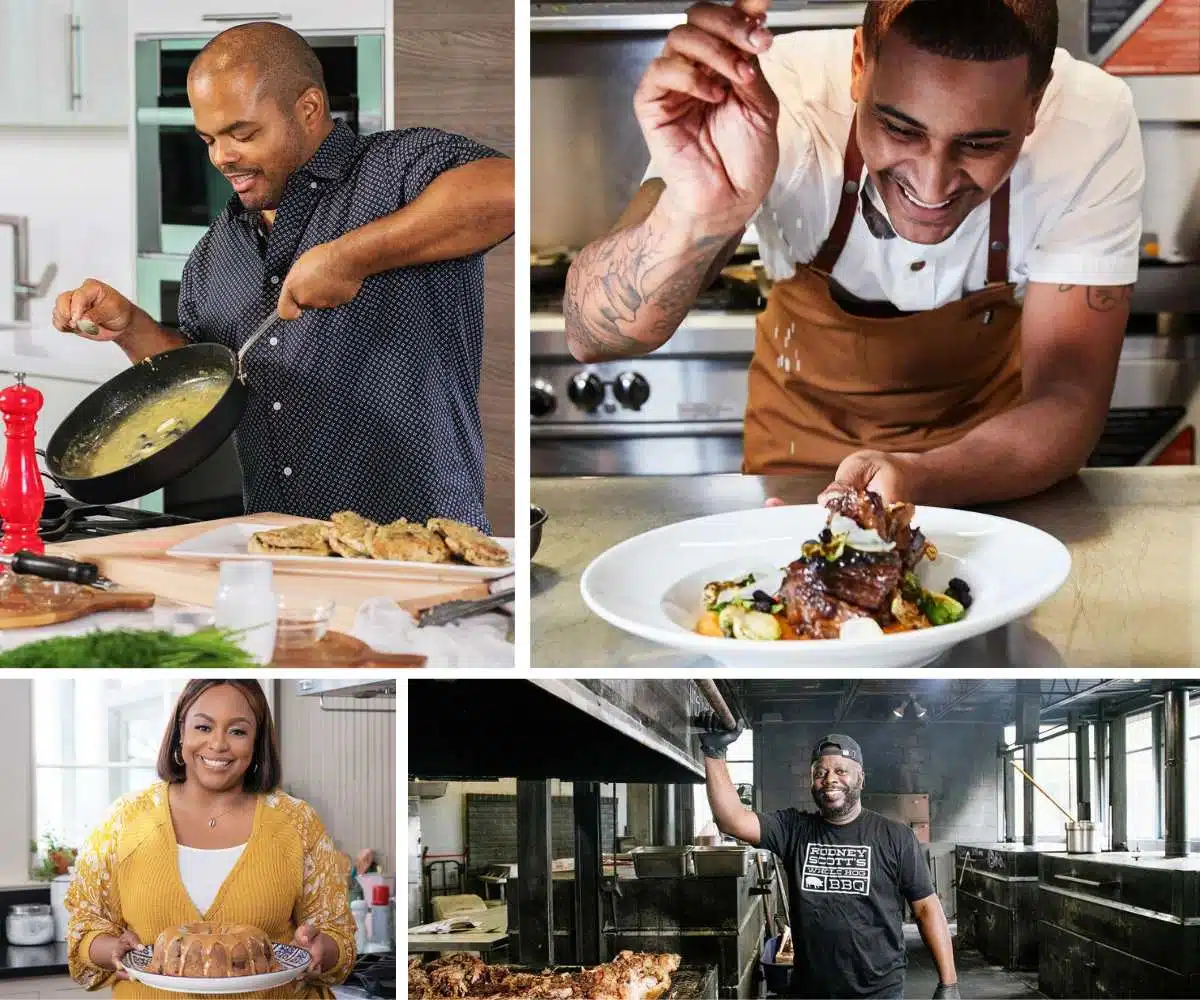 With Black History Month just around the corner, we turned yet again to Google's data repository to identify some of the most popular Black chefs.
Here we profile 25 of the most famous, exciting and arguably most popular (i.e. googled) black chefs of the past year showcased in no particular order.
Our list includes chefs who combine their passion for cooking with running innovative restaurants. Some are authors, vloggers, TV personalities, entrepreneurs and advocates for cooking, inspired by their homes and heritage as well as contemporary food trends.
What they all share is their desire to share their take on traditional dishes with lovers of great food everywhere, and inspire the next generation of great Black chefs.
1. Carla Hall
Carla Hall is possibly the most recognizable Black chef in the US due to her appearances on Top Chef and for hosting The Chew. Cooking with love and preparing food to nourish the soul are fundamental to her approach.
A Nashville-born graduate of Harvard Business School, she soon realized that food was her passion. Her cooking blends southern influences with the classic French techniques she learned when modeling in Europe.
Now based in the Washington DC area, she communicates her passion for food as a TV personality and author. Her best-selling cookbook, Carla Hall's Soul Food, reimagines mouth-watering dishes from all over the world to inspire you.
2. Marcus Samuelsson
"Hard work IS its own reward. Integrity IS priceless. Art DOES feed the soul."
At the age of 24, Ethiopian-born Marcus Samuelsson was the youngest-ever executive chef to gain the accolade of a three-star restaurant review from the New York Times.
This award-winning author, activist, and TV personality showcases his love of food, culture, and history to raise awareness of Black cooking in the US – including the many influences of diasporas.
Featured recipe by Marcus Samuelsson: Asparagus Salad, Meyer Lemon Dressing & Egg Salad Crostini
3. Sunny Anderson
On leaving the US Air Force, veteran Sunny Anderson started her new career as a DJ at a top-rated radio station. However, Sunny's love of cooking for her friends in the entertainment business led her to create a catering company, helped by the client list of devoted fans she'd gained along the way.
A regular on The Food Network, she's hosted many shows, including How'd That Get On My Plate? and Cooking for Real as well as Gotta Get It, where she reviews kitchen gadgets. Her approach combines familiar comfort foods with a unique twist inspired by her extensive travels.
4. Lorraine Pascale
UK native Lorraine started in the modeling business, walking the runway for designers such as Chanel and Versace. However, she abandoned the glamorous jet-setting lifestyle and followed her passion. She studied at the prestigious Leith's School of Food and Wine to gain the professional grounding and skills she needed, graduating after 12 months.
Lorraine followed this with a two-year foundation in International Culinary Arts in Pastry. She then gained experience in some of London's world-famous kitchens, including Petrus, The Mandarin Oriental, and Gilgamesh, before launching her own business making celebration cakes, Ella's Bakehouse in London. Lorraine's first TV series was BBC Two's Baking Made Easy.
5. Kwame Onwuachi
Kwame Onwuachi has received many accolades, including being named Esquire's Chef of the Year 2019. He started as a line cook at New York's famous Eleven Madison Park, then rose to fame in 2015 as a popular contestant on Top Chef.
Within a year, he opened The Shaw Bijou in Washington, DC. The ambitious menu was widely praised, but the restaurant closed within a year. His next venture, Kith and Kin in DC, received wide recognition for its adventurous Afro-Caribbean menu.
Now based in LA, his acclaimed memoir Notes from a Young Black Chef is being turned into a movie starring LaKeith Stanfield.
6. Rodney Scott
Legend has it that at just 11 years old, Rodney Scott cooked his first whole hog! His family's variety store in Hemingway, South Carolina, soon transformed into Rodney Scott's Whole Hog BBQ. Since those early days, he has gained a stellar reputation as one of the USA's master pit masters.
At his Charleston restaurant, he serves whole pigs, soul-food-influenced fried chicken, pit-cooked chicken, and mac and cheese. He's made countless TV appearances and is a regular at food festivals.
7. Eric Adjepong
"Sound techniques, bold flavors, and creativity" underpin Chef Adjepong's passion for food. This first-generation Ghanaian-American, born and raised in New York City, often references flavors and ingredients from the West African dishes of his childhood in his cooking.
His menus call on the rich culinary traditions of West African cuisine and its diaspora's influences on South American, Latin American, Caribbean, and American dishes. He's currently a consultant and personal chef based in DC, with two cookbooks in the works.
8. Michael Twitty
Widely acknowledged as one of the world's most influential food bloggers, Michael Twitty is a chef, author, and food historian. His book The Cooking Gene explores the way his own heritage is inescapably entwined with the culinary traditions of enslaved Africans across the Southern USA.
He shot to fame in 2013 after his "open letter" to restauranteur Paula Deen, who had been sued for using racial slurs. Since then he has published several books, the latest being KosherSoul, published in 2022. Twitty is also a prominent public speaker, earning up to $100,000 for a live keynote speech.
9. Gina Neely
The highly-rated Food Network show, Down Home with the Neelys, shot Gina Neely (and her now ex-husband) to fame
. Since then, she's hosted other cooking shows, authored three books, and even launched her own cookware brand. She's currently residing in Atlanta, where she's writing her memoir.
10. Tabitha Brown
With over 12 million social media followers and a top-rated vegan cooking competition show on Food Network, Tabitha Brown's down-to-earth and fun approach to a plant-based lifestyle makes it easy and accessible to her growing legion of fans.
A native of North Carolina, wife and mother Tabitha is also the best-selling author of the interestingly-titled Feeding the Soul (Because It's My Business!), and her ground-breaking vegan cookbook, Cooking from the Spirit.
A successful entrepreneur, she's partnered with retailer Target to promote multiple products and launched her signature, Caribbean-inspired Sunshine Seasoning, which is sold in stores and on her website.
11. Todd Richards
Award-winning Chef Todd Richards is best known for his contemporary twist on Soul & Southern cuisines.
Originally from Chicago, Richards developed his skills in some of Atlanta's most highly-rated kitchens, including the Four Seasons Hotel, the Ritz-Carlton Buckhead, and White Oak Kitchen & Cocktails, before moving on to open Richard's Southern Fried in 2016.
He's now co-owner of The Soulful Company Restaurant Group, which includes Soul: Food & Culture, located inside Atlanta's trendy Krog Street Market.
His first book, Soul: A Chef's Culinary Evolution in 150 Recipes, was published in 2018 and garnered rave reviews. A prominent food activist, Todd is a board member of Wholesome Wave Georgia and an active supporter of the Southern Foodways Alliance. A founding council member of the Atlanta Food & Wine Festival, he co-hosts the podcast Sunday Supper on the Heritage Radio Network.
12. Ashleigh Shanti
Praised as one of "16 Black Chefs Changing Food in America" by the NYT, North Carolina native Ashleigh Shanti's cooking is an exciting fusion of Black Appalachian food and modern interpretations of early Black American cuisine with influences from West Africa, Japan, and Europe – which she titles "Afro-lachian".
After resigning from the prestigious Benne on Eagle, she's exploring ways to open her restaurant with pop-ups across the state. "As a Black chef who's a woman and queer," she explains, "it's vital to have some representation when it comes to restaurant ownership."
She credits her mother and grandmother, who would sell fried fish to the congregation after Sunday church services, for inspiring her vision and the name of the new venture: unsurprisingly, it's Good Fried Fish.
13. Erick Williams
Owner and Executive Chef at Virtue Restaurant & Bar in Chicago, Chef Erick Williams expresses his passion for cooking in the most straightforward words, passed down to him by his father: "Sharing a meal is a universal expression of respect and dignity."
Virtue, which opened in 2018, was his first solo venture. There he melds uber-sophisticated fine dining with authentic southern cuisine and an unwavering dedication to excellence. The winner of multiple awards and accolades, Williams has catered for numerous celebrity and high-profile events. In addition, he has hosted dinners for the prestigious James Beard Foundation. He is an acknowledged leader of the restaurant community.
Outside the kitchen, Williams donates his time and talent to those less fortunate via his charitable activities, passing on his wisdom and giving back to the community.
14. Charlie Mitchell
The time and effort his grandmother put into cooking for family and friends inspired Charlie Mitchell to enter his first professional kitchen.
After an extensive apprenticeship with some of the country's most ambitious chefs, Charlie joined the team at Clover Hill, Brooklyn Heights, as Executive Chef/ Co-Owner in 2020. The menus use carefully-sourced seasonal and local ingredients to reimagine comforting dishes with the added refinement of fine dining presentation and attention to detail. Clover Hill was awarded a Michelin star less than one year after its re-opening.
Even more impressive, Chef Mitchell gained the Young Chef Award in 2022, the first Black chef ever to receive this honor in NYC and only the 2nd black chef in the USA.
15. Nyesha Arrington
According to a 2017 survey, only 2% of female chefs working in the USA are Asian American, and only 4% are Black. Nyesha Arrington is one of the pioneers defying stereotypes and helping the next generation break down restaurant industry barriers. As she says: "I aspire to inspire".
Born into a multi-ethnic family in Southern California, Nyesha gained her love of cooking from the age of 5, working alongside her Korean grandmother and learning to prepare ingredients such as bulgogi, octopus, and kimchi made to the family recipe.
Nyesha gained extensive experience in several prestigious eateries, including the Michelin two-starred Melisse in Santa Monica, before opening her restaurants in LA – Leona and Native.
In the words of Chef Pyet de Spain: "For future generations, representation matters and greatly impacts, influences, and inspires. I have no doubt that Nyesha has strong enough shoulders that many who follow her will stand on."
16. Eddie Jackson
Former NFL star Eddie Jackson is now one of the Food Network's biggest stars. He's a judge of Fire Masters, in which teams compete in grilling challenges, as well as on The Big Bake (Food Network Canada). In addition, Jackson hosts shows such as Christmas Cookie Challenge (Food Network) and Yum & Yummer (Cooking Channel).
Jackson has recently released his first cookbook, Game Day Eats, in which he presents 100 recipes that make it easy to enjoy eating great food while spending time with friends and enjoying the game. Eddie is also the founder/owner of the ultra-popular food truck park Rosehill Beer Garden in Cypress, Texas.
17. Kardea Brown
While South Carolina native Kardea Brown's cooking style can be described as contemporary southern, her dishes pay homage to the Gullah culture, with its African roots, typical of her grandmother's home Wadmalaw Island, off the coast of Charleston.
An ex-social worker, Brown was initially rejected for a Food Network pilot and told to improve her cooking skills. By 2021 she had agreed on an exclusive contract with the network and hosted The Great Soul Food Cook-Off.
In 2015, she launched the pop-up New Gullah Supper Club in 2015, highlighting authentic Gullah dishes with her own twist, often accompanied by Gullah singers and storytellers.
18. Tiffany Derry
Top chef and TV personality Tiffany Derry began her career at her local International House of Pancakes aged 15.
Derry, partnering with investor Tom Foley, opened Roots Southern Table in June 2021 in Farmers Branch, Texas, as an expansion concept to her original Roots Chicken Shack. She oversees the concept of contemporary, high-end twists on classic southern recipes and seasonal, farm-to-table ingredients.
Roots Southern Table was featured in the NYT "2021 Top 50 Restaurants List" and, in 2022, received two James Beard Award Final Nominations for Best New Restaurant and Best Chef, Texas.
19. Jamika Pessoa
Classically trained in Italy and Austria, Chef Jamika famously describes her cooking style as "Caribbean Heat meets Southern Sweet". Her sumptuous recipes offer bold flavors with surprising twists, inspired by her grandmother's approach of adding a "pinch of this" and a "splash of that."
As a businesswoman and regular on TV shows, including Good Morning America, her popularity is due partly to her positive and motivational approach to cooking and life – acting as a role model and helping to inspire the next generation of female chefs.
20. Mashama Bailey
Bronx-born Mashama Bailey has earned accolades such as being dubbed 'The Most Important Chef in America' by the prestigious Financial Times and winning Outstanding Chef at the 2022 James Beard awards, which are recognized as the 'food Oscars.'
After an apprenticeship in well-known New York eateries, she partnered with entrepreneur John O. Morisano to found The Grey. This almost derelict Greyhound station had been segregated in the Jim Crow era. In 2015 The Grey, which combines southern cuisine with classical French technique, was a nominee for the James Beard Foundation Award for Best New Restaurant.
As well as featuring on TV shows such as Top Chef and Chef's Table, Mashama Bailey is also Vice Chairman of the Edna Lewis Foundation. This works to preserve and celebrate the legacy of the iconic Black chef who died in 2006 and whose style still heavily influences the menu at The Grey.
21. Joseph "JJ" Johnson
Joseph "JJ" Johnson is a chef, author, and founder of Ingrained Hospitality Concepts. This collaborative group opened the community-led restaurant Fieldtrip in 2019. The fast-casual rice bowl eatery in Harlem reimagines traditional rice dishes from around the globe. Says Johnson, "Rice is culture."
His signature cooking style was inspired by the Caribbean tastes he grew up with, inspired by his travels, and in particular, the food of the African diaspora. His first cookbook, Between Harlem and Heaven (co-authored with chef, restaurant owner, and opera singer Alexander Smalls), was published in 2018.
A popular TV personality, Johnson is a chef on Buzzfeed's Tasty platform, and the host of Just Eats with Chef JJ.
22. G. Garvin
Chef Gerry Garvin, aka G. Garvin, started cooking in his native Atlanta before traveling and training in Europe, then moving to California and developing his skills in some of the West Coast's most iconic restaurants.
Garvin partnered with Keyshawn Johnson to open Reign in LA, and after a successful launch, opened his signature restaurant, G.Garvins. He counts high-profile clients, including Bill Clinton and Halle Berry, among his fans.
Today, G. Garvin is respected in multiple niches: as a cookbook author, businessman, and TV host with a flair for showing how to create mouth-watering yet easy-to-prepare everyday dishes, all with his signature southern flair.
23. Roger Mooking
Trinidadian-born, Canadian-raised Roger Mooking is recognized as a celebrity chef and respected as the creator of multimedia immersive art experiences. As a chef, he's inspired by his culturally-rich family heritage, and his menus feature Chinese and Caribbean specialties.
Due to his love of travel, Roger has trained under Japanese, Chinese, French, and Swiss German chefs. His passion for creating new culinary experiences integrates a wealth of global flavors.
As a restaurateur, he's opened and consulted on several operations, including Twist by Roger Mooking, at Toronto Pearson International Airport.
As a globally-acclaimed entertainer, author, and award-winning recording artist, he is fast becoming one of today's most recognized Black chefs.
Feature Recipe by Roger Mooking: Allspice Pork Chops & Easy Sambal Vermicelli
24. Nina Compton
St Lucia-native Nina Compton is a graduate of The Culinary Institute of America. She made it her mission to work with the best-of-the-best chefs, such as Daniel Boulud, Scott Conant, and Norman Van Aken.
Hard work paid off, and in 2018 she was named the best chef in the American South by the James Beard Foundation. At Compère Lapin, her New Orleans restaurant, the menu is an inspired blend of Caribbean home cooking incorporating the technical excellence of Italian cuisine she developed over two decades.
In addition to Compère Lapin, Compton supervises the Bywater American Bistro, where her protégé Levi Raines manages the kitchen.
25. Tanya Holland
Praised for her innovative take on contemporary soul food and traditional comfort dishes, Tanya Holland is the Executive Chef/Owner of the legendary Brown Sugar Kitchen restaurant in Oakland, California.
She holds a Grande Diplôme from La Varenne Ecole de Cuisine in Burgundy, France. She is the author of The Brown Sugar Kitchen Cookbook and New Soul Cooking. She's also a regular on TV cooking shows such as Top Chef (Bravo) and hosts Tanya's Kitchen Table (OWN).
Tanya Holland is a highly acclaimed public speaker and lecturer known as a thought leader on inclusion and equity in the hospitality industry.
Not only has she served as the president of Les Dames d'Escoffier, San Francisco chapter, but the city of Oakland honored her by declaring June 5th, 2012, as 'Tanya Holland Day' for her outstanding role in "creating community and establishing Oakland as a culinary center".
---
Related: These are the only four Black chefs who have won a Michelin Star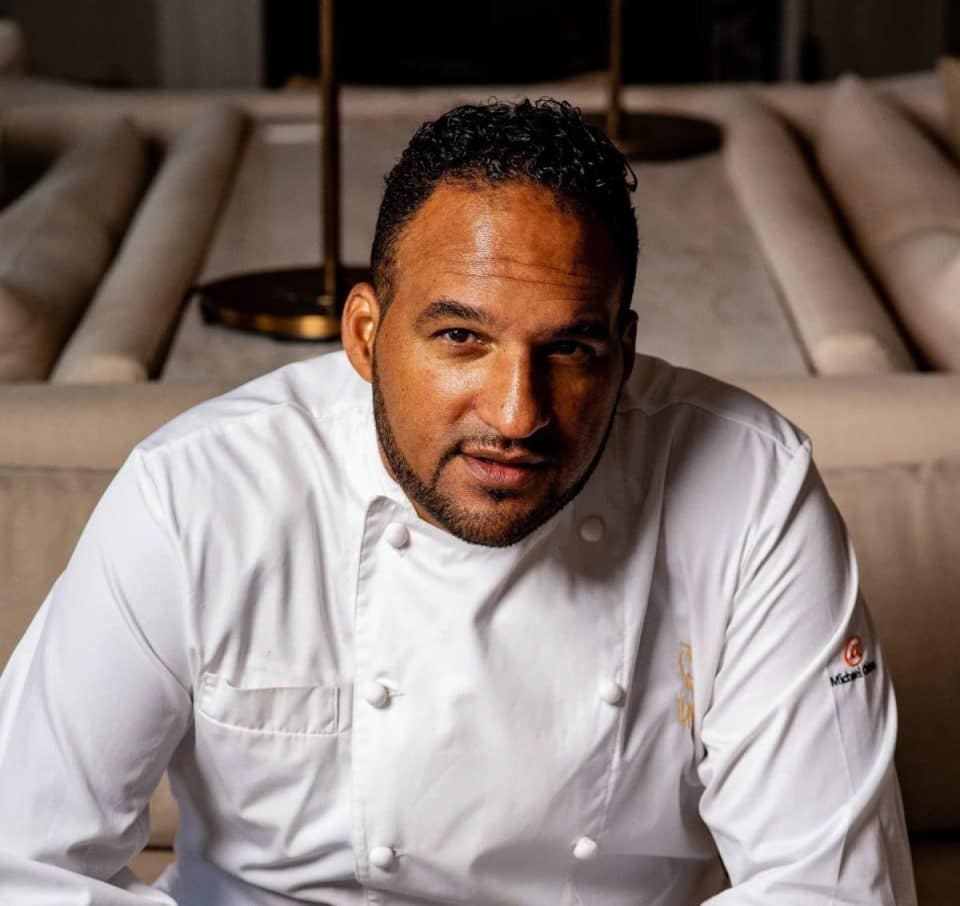 Related: Most Famous Chefs in the World