The Fresh Flavors of Spring: Delicious Recipes to Savor the Season
Fresh and seasonal ingredients, lighter and brighter flavors – what could be more delicious (and nutritious) after a long winter? Now's the season to enjoy them all, from colorful salads and to grilled asparagus or artichokes, risottos with peas and herbs, roasted meats with spring vegetables, and desserts featuring spring's greatest delights, strawberries and rhubarb.
Eating seasonally is not just healthy and delicious. It is also good for the environment since seasonal produce involves far less consumption of resources and reduces the need for long-distance transportation and storage. And, of course, when produce is grown and harvested in its natural season, it is more likely to have been picked at the peak of its ripeness and is more likely to be full of flavor and aroma.
If you're looking for fresh, flavorful, and light recipes with a focus on seasonal spring produce, check out these amazing ones we selected for you.
1. Asparagus and Brie Puff Pastry with Thyme Honey
This sophisticated appetizer is perfect to impress your guests, or to treat your family during a lazy weekend brunch. Crunchy and light puff pastry, creamy brie and tender asparagus, all come together in a delicious combination, and each bite gets even more flavor from the thyme honey.
As an alternative, you could also try hot honey for this recipe.
2. Asparagus Polenta with Dill-Pistachios and Burrata
Polenta and burrata are a peak-creaminess dream team, and you can use the combination as a side dish for different veggies and meats. In this recipe, polenta and burrata serve as perfect companions to asparagus bits cooked in butter.
Everything is garnished with fresh dill and, for extra crunchiness and a flavor boost, sprinkle everything with some toasted pistachio.
If you don't have burrata in your pantry, try these great burrata substitutes for an equally delicious recipe.
3. Baked Strawberry Glazed Donuts
These homemade donuts are both relatively easy to make and healthier compared to store-bought alternatives. The fact that you bake them in the oven instead of frying them in oil saves time, effort, and calories.
Both the batter and the glaze contain fresh strawberries, for a desert that definitely spells spring time.
4. Carrot and Spring Onion Toad in the Hole
A toad in the hole variant that packs more flavor and more nutrients than the classic: beside the classic sausages, you also include sweet, crunchy carrots and spring onions. It makes a really satisfying weekend breakfast, or even a quick dinner.
5. Citrus Ceviche with Avocado
You can use any firm white fish for this recipe, such as cod. Marinate it with bright citrus flavors and red onions, then serve it on top of well seasoned mashed avocado mixed with green chilies and crunchy cucumbers.
You could also add some corn chips to scoop up all the goodness.
6. Creamy Spring Onion and Radish Dip
This amazing dip goes well with everything from raw veggie sticks to grilled veggies, focaccia, hard boiled eggs, or even on top of some potato salad. The base of the dip consists of sour cream and mayonnaise, mixed with thinly sliced radishes and spring onions.
A simple dip, but one than will make other dishes a lot more interesting.
7. Green Spring Salad
This vibrant green salad contains green asparagus, broccolini, zucchini, green peas, and avocado. Both the broccolini and the asparagus are baked in the oven, which makes them sweet and tender.
The fresh oregano leaves and the bright vinaigrette made with lemon juice and pistachio oil make things a lot more interesting.
8. Grilled Romaine Salad with Charred Lemon Vinaigrette
The smoky, charred notes from the grilled romaine and lemon used for the dressing make this salad really stand out. Charring the lemon on the hot grill brings out its natural sweetness as well. The vinaigrette can be used on many other salads and, once you try it, it will probably become one of your favorites.
9. Kale Salad with Apple Cider Vinaigrette
An amazing combination of crunchy and creamy, sweet and tangy, with subtle hints of bitterness, this salad makes for a satisfying, nutritious meal – but you can also use it as side dish next to some roasted lamb, for your Easter meal.
The star of the show is the apple cider vinegar dressing, mixed with Dijon mustard, lemon juice, honey and olive oil.
10. Lamb Pasta with Springtime Veggies & Lemon Pesto
The foundation of this pasta dish consists of minced lamb seasoned with garlic, fennel, and Italian seasoning among others.
The freshly made pesto with its creamy texture and symphony of flavors perfectly balances the richness of the lamb meat – throw some extra veggies into the mix, such as peas, asparagus, and broccolini, and enjoy one of the best pasta dishes you ever tried!
11. Lemon Butter Ravioli with Roasted Asparagus and Peas
Cheese ravioli is combined with delicious roasted spring veggies such as asparagus, peas, zucchini, and so on, prosciutto, and Parmesan cheese. It already sounds amazing, but once you factor in the lemon-butter sauce that forms in the pan where you cook prosciutto and veggies, it gets even better. Garnish with fresh mint.
12. Rhubarb Pie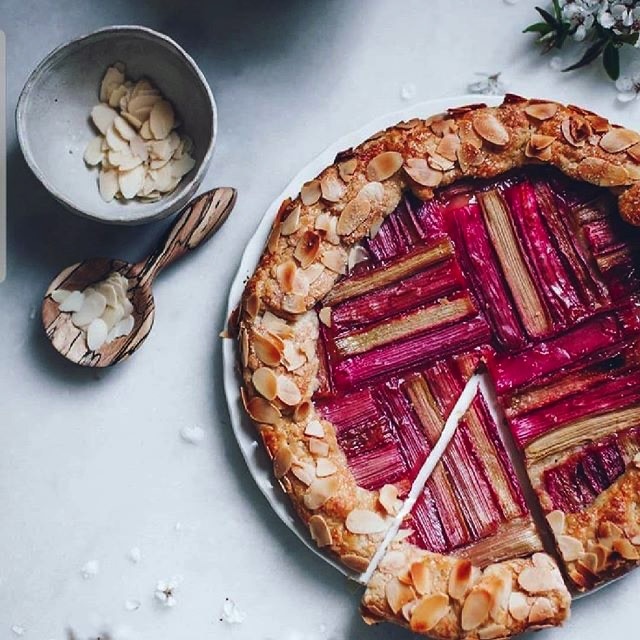 The quintessential spring dessert, rhubarb pie is refreshing and easy to make – you can dress it up with ice cream if you want to, but it's spectacular on its own as well.
The buttery pie crust is best if you rest it overnight in the fridge, and the rhubarb takes little preparation – simply slice it in batons and toss it with lemon zest, juice, sugar and cornstarch, before arranging it on top of the pie crust.
13. Sorrel Soup
One of the first greens to show up in the spring is sorrel, a veritable miracle of nature, containing huge amounts of vitamin C and fibers, iron, and potassium.
This Ukrainian-inspired sorrel soup is thus not only delicious but very healthy too, and just what we need after a long, dreary winter. The soup also contains potatoes, hard boiled eggs, and sour cream. The sorrel is added at the end, so it keeps all of its nutritional properties.
14. Spring Crudité with Minty Pea Hummus
Fresh and crunchy spring veggies need very little preparation to be delicious. Sometimes, all you need is to cut them up on a colorful platter and have some amazing dip on hand.
This recipe suggests a new and creative take on hummus – add some fresh green peas to it and some mint leaves, for extra sweetness and freshness.
15. Chicken Florentine Bake
Use spinach and artichoke hearts, combined with three types of cheese, to create an amazing dip that goes on top of the chicken breasts. Roasting the chicken breast slathered in the spinach-artichoke-cheese dip makes the meat flavorful and keeps it very juicy.
The dried tomatoes add sweetness and a smokey flavor that goes very well with the slightly bitter, nutty taste of the artichoke hearts.
16. Spring Farro Bowl with Herb Yogurt Sauce
This dish combines farro and roasted spring veggies with a delicious Greek yogurt and herb dip. Farro contains complex carbohydrates that keep you full for longer, the roasted veggies come packed with micro-nutrients, and the Greek yogurt dip has proteins and fats, so it's a well rounded, satisfying meal that takes less than 30 minutes to prepare.
17. Spring Minestrone with Mint Pesto
Enjoy a bowl of fragrant, light soup, packed with green veggies such as celery, courgettes, sugar snaps, and peas. New potatoes make for a delicious addition, and so does the Parmesan cheese grated at the end. Don't forget to garnish the soup with fresh basil and mint leaves.
18. Spring Quinoa Salad
A side dish that works perfectly next to your favorite protein, this quinoa salad bets on red onions, creamy goat's cheese, and sugar snap peas. The honey-roasted almonds add some crunch, while the lemon, Dijon mustard, and honey salad dressing brings just the right combo of tangy, sweet and spicy.
19. Spring Roll in a Bowl
If you love spring rolls, but you don't feel like getting takeout, this bowl helps keep the craving under control, and, best of all, it's really easy to make – it definitely takes less time than having your food delivered.
All you need do is brown the minced meats (beef and pork), and mix them with veggies including green cabbage, red cabbage, onion, and carrots. Season the dish properly, and enjoy!
20. Spring Salmon with Creamed Leeks, Potatoes, and Asparagus
This salmon recipe is easy enough for a quick dinner, but it's also pretty festive, with its bright colors and refined tastes. It can even be a great option for your Easter meal if you'd rather have fish than lamb or beef.
While your salmon, potatoes and asparagus are roasting in the oven, you can go ahead and prepare the star of the show: a creamy leek sauce, fragrant with thyme and garlic, that will end up on top of the potatoes.
Another secret that makes this recipe truly amazing is the crisp the salmon in a hot skillet before finishing it in the oven, next to the potatoes and the asparagus.
21. Spring Veg and Lemon Broth
A low in calories but high in nutrients meal, this spring veggie soup contains celery, leeks, and baby leaf greens. Use small pasta shapes to give it extra consistency and dress it with chopped basil, lemon zest and juice, and some Parmesan.
22. Spring Vegetable Brown Butter Gnocchi
Making gnocchi might sound intimidating at first, but it's actually a very fun and relaxing activity – you can take the time during the weekend to make a larger batch, as they freeze very well (and homemade ones are usually superior to store-bought).
The brown butter, asparagus and snap peas beautifully dress the delicate homemade gnocchi.
23. Strawberry Honey Custard Tarts with Lemon Curd
This is an elaborate dessert that will simply shine on your Easter table. It might take a little bit of time and effort, but it's well worth it. Start by making the lemon curd that can cool off in the fridge until you need to use it, then get busy with the crust.
You can do both the night before, so the next morning you only have to make the filling, assemble, and bake the tarts. You can bake individual, small tarts, which are very cute, but, to save time, you can also use a large 12-inch tart pan for the whole composition.
24. Spring Greens, Leek, Pea and Pesto Risotto
This vegan risotto recipe is packed with green veggies, while the pesto adds creaminess and flavor. The pesto is made with brazil nuts, but you can add some pine nuts as well, or substitute them with your favorite nuts. Top off the dish with some vegan Parmesan.
25. Gluten Free Carrot Cake Cupcakes
An easy one-bowl carrot cake, this recipe works great with 1-to-1 gluten-free flour, but also with regular flour if you don't have to follow a gluten-free diet. The recipe is made special by the addition of maple syrup, crushed almonds, and cranberries.
The frosting is the classic cream cheese – why mess with perfection, after all?
26. Baked Egg Crepes with Spring Herbs and Avocado
Made with a few simple ingredients, this egg-based dish is fun (kids will definitely love it). Start with some crepes – you might not have extra crepes on hand, because who makes crepes and doesn't eat all of them right then and there? However, making a small batch just for this recipe is not too much of an effort.
Place the crepes on a greased baking sheet, and load them with cheese, spinach, and prosciutto, folding the edges so that they form a nest – then, crack an egg in each nest, and bake until the eggs are set.
27. Pork Tenderloin with Rhubarb, Onion and Tarragon
You might be more familiar with rhubarb in pies and desserts, but with its tart and sweet notes, it's an excellent companion for meats as well. This recipe combines pork tenderloins with rhubarb and tarragon for a refined, flavorful dish – just make sure you don't overcook the pork.
It pairs well with potatoes, whether mashed or roasted, or with a creamy risotto.
28. Roasted Garlic Lentil Dip and Vegan Spring Bruschetta
This colorful vegan appetizer is very nutritious – the lentil dip is rich in proteins, healthy carbs and fibers, and it's topped with spring veggies roasted in the oven. The white wine and herbs make the lentil dip truly irresistible.
Serve it on toasted baguette slices or on crackers. Alternatively, you can skip roasting the veggies and present the dish as a crudite platter with lentil dip.
29. Spring Mix Salad with Sweet Miso Dressing
The miso dressing adds an interesting twist to this salad – the deep umami flavor of the miso is perfectly complemented by the roasted sesame oil and seeds, plus sweet and tangy notes from the honey and the rice vinegar.
You can turn the salad into a full meal by serving it next to some grilled fish.
30. Spring Onion Pancakes with Sticky Pork Recipe
A recipe inspired by Taiwanese cuisine, the spring onion pancakes are a good option for a weekend lunch or maybe for a game night with your friends. You can pack them easily, so keep the recipe in mind for your next picnic.
Although the pancakes take a little bit of kneading and rolling, they're fun to make, and the sticky pork and green onions combo is truly delicious.