Try These 7 Great Substitutes for Burrata Cheese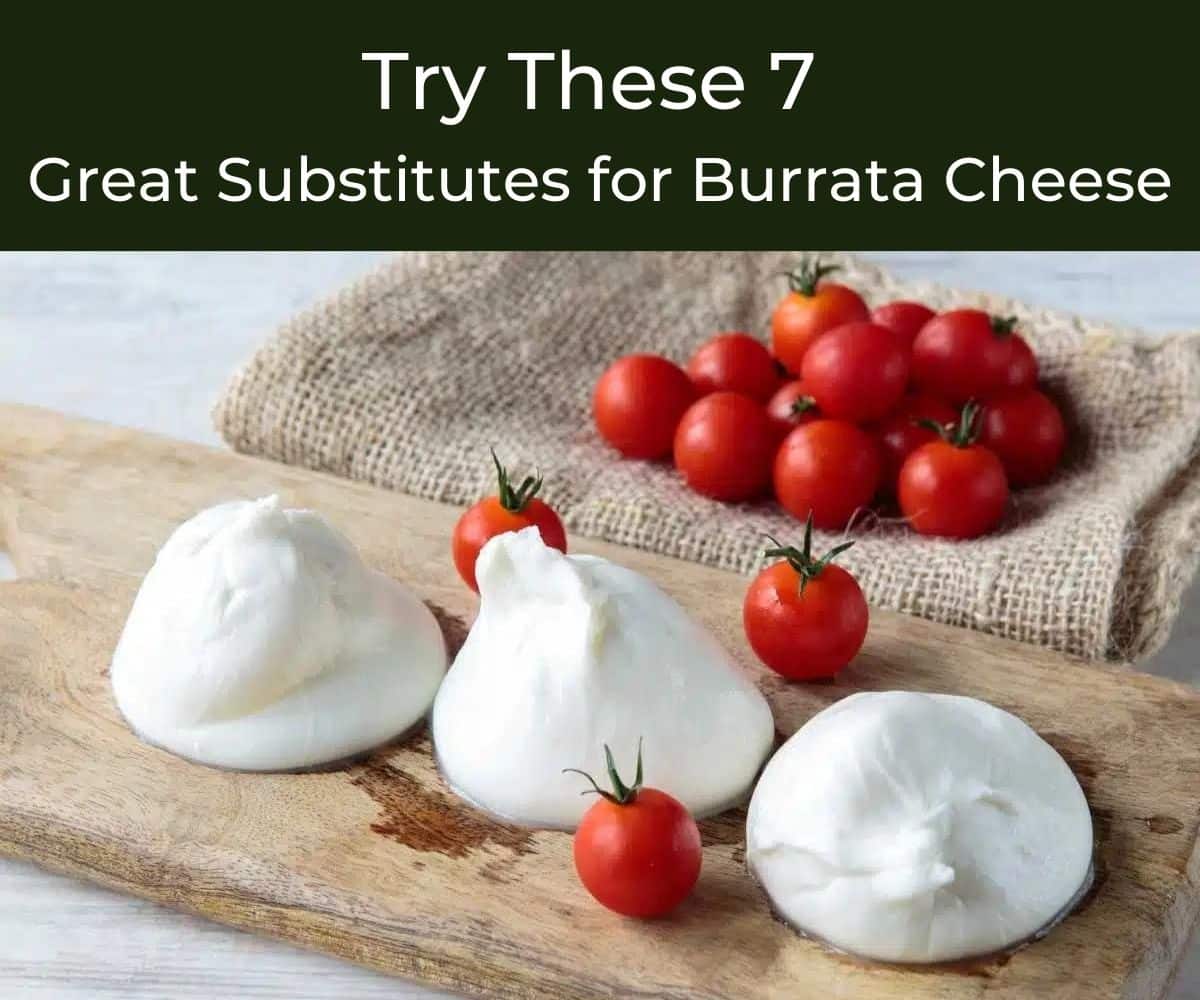 Originating in the Puglia region of Italy, burrata is a deliciously sensual and unique fresh cheese that has gained worldwide popularity in recent years.
Burrata has been around for over a hundred years and was originally made by Italian cheese makers who were looking for a way to use up their cheese scraps, leftover from the massive mozzarella production that went on in Italy around that time.
The cheese was first made in the town of Andria in Southern Italy, where it quickly became a local favorite and later became a staple in local markets and restaurants. In the early days of burrata making, it was made almost exclusively from buffalo milk, but today it is often made from cow's milk.
Burrata is technically a type of mozzarella that has a stretched exterior and is filled with creamy stracciatella cheese (and sometimes added cream… as if it could get any better!).
It is a soft Italian cheese that has a rich, extremely buttery flavor and a texture that is somehow both creamy and delicate at the same time, which cannot be achieved by many other kinds of cheese… Burrata is just that special!
In fact, burrata is so special, it literally means "buttery" in Italian, which is the perfect name for this delicious, rich, flavorful cheese! The cheese is traditionally made by hand, which is why it is often more expensive than other types of cheese. It has to be consumed within a few days of production, giving it one of the shortest shelf lives of any cheese out there.
The soft, delicate texture of burrata is what makes it so delicious, but it also means that it can be a challenging cheese to produce (and expensive!)
This cheese has become a staple in many restaurants and home kitchens, as it can be used in such a wide variety of sweet and (more commonly) savory dishes. It can be incorporated into pasta dishes and melted onto pizzas, or served with cured meats on beautiful charcuterie boards. One popular way to serve burrata is with a simple Caprese salad, which consists of sliced tomatoes, fresh basil, balsamic vinegar, really good olive oil, and of course… a big chunk of burrata cheese.
The creaminess of the cheese pairs perfectly with the acidity of the tomatoes and the fresh, zestiness of the basil. It is often served on its own with crusty bread, or with fruits and olives. Burrata can also be used to add a creamy and decadent element to any dish, making it a versatile ingredient for any cuisine, though it is most commonly found in Italian food.
Its rich and buttery flavor makes it a perfect addition to pasta dishes, especially those with a simple or spicy tomato sauce, cream sauce, or pesto.
Although it is becoming more widely available, it is still expensive, so we've provided a list of similar cheeses that you can use instead. If you're looking for real burrata cheese, explore the Italian cheese section at your local specialty grocery store, or call your favorite Italian restaurant and see if they have it on their menu!
If you come up short and cannot find it, please feel free to try one of the many excellent burrata substitutions on this list.
1. Regular Ol' Mozzarella (Fresh)
Mozzarella is the main ingredient of burrata cheese, so it is no surprise that it makes a great substitute!
While it doesn't have the creamy interior of burrata, mozzarella has a similar texture and flavor that works well in many recipes. It is perfect for adding to salads, pizzas, or sandwiches, and can be used in place of burrata in many pasta dishes.
Mozzarella mimics the flavor of burrata, and you could combine it with other very creamy cheeses (such as brie or cream cheese) to add the creamy effect of burrata's interior.
2. Bocconcini Cheese
Bocconcini is a type of mozzarella that comes in small to medium-sized pearls and is very similar to mozzarella (and therefore burrata.)
Although the part of burrata that most people love the most is its creamy, stringy, rich interior, there is also a lot to love about the firm exterior… which is a lot like bocconcini cheese!
You can use these pearls with tomatoes and basil on a skewer, which makes an excellent appetizer for your next dinner party! You can also toss these cheese pearls with balsamic vinegar, olive oil, and herbs and serve as a healthy, low-fat snack full of calcium and flavor!
3. Ricotta Cheese
Ricotta cheese is a wonderful, neutral, healthy alternative to burrata cheese, especially if you are melting it or adding it to pasta or sauces!
Now, it is important to note that ricotta and burrata don't have the exact same texture – burrata is stringy and has a solid exterior with a creamy interior, whereas ricotta cheese is spreadable and sometimes even pourable!
The curds of Ricotta are visible, even the smooth variety, so it is chunkier and has a different texture than burrata. However, both these cheeses go great in Italian recipes and make a fantastic replacement for burrata in any recipe!
4. Cream Cheese or Vegan Cream Cheese
Cream cheese is another great substitute for burrata cheese, especially in recipes that require a rich and creamy texture. It has a similar texture to burrata and can be used in salads, dips, or as a spread on bagels or toast.
Cream cheese can also be used as a substitute for burrata in pasta dishes, as it adds a rich and velvety texture to the sauce.
Many vegan alternatives to cream cheese will make an excellent dairy-free version of burrata-based recipes such as filled pasta.
Vegan cream cheese can be found in most supermarkets and is often quite affordable and has the same tangy, cheesy flavor as its dairy counterpart. Both of these options will make ideal burrata alternatives.
5. Feta Cheese
Although feta is not a soft cheese, and nor is it Italian, it is an excellent alternative to burrata because it is creamy and salty and holds up on its own in a salad.
Feta, probably the most famous Greek cheese, can be made from different types of milk and ranges from very salty to less briny, and can be sliced, diced, crumbled, or spread, depending on the type. In the famous Caprese salad that put burrata on the map, feta cheese makes a fine alternative – not quite the same thing, but delicious nonetheless!
Feta can also be added to pasta sauces, sandwiches, and pizza and adds that creamy, salty punch that burrata lovers know and love!
6. Queso Fresco or Farmer's Cheese
Both of these crumbly fresh cheeses have certain things in common with burrata. Although not creamy or stretchy like burrata, they do come in a pure white color that makes a beautiful topping for salads, soups, sandwiches, tacos, pizza, and more.
They are also both quite mild with subtle saltiness and sweetness. Instead of burrata on a salad, you could absolutely add a slice of farmer's cheese or crumble some cubes of queso fresco to add a nice flavor punch and a bit of texture.
It won't be quite the same as burrata, but we can promise you it will still be delicious!
7. Cashew or Almond Cheese (Vegan Option)
If you're waiting to try vegan cheese, this is the time! Cashew cheeses are taking over cheese counters all over North America as a healthier and equally delicious option for both vegans and non-vegans who just love cheese! These cheeses often contain certain flavorings that make them indistinguishable from the real thing… and we're just waiting for them to create a vegan version of burrata!
So far, most cashew and almond cheeses are more like cream cheese in the sense that they are spreadable, sliceable, and full of creamy flavor. They also make a fantastic addition to any salad or sandwich and can be eaten plain as a snack!
Burrata cheese is kind of magical. It is made by stretching the mozzarella cheese into a thin layer, which is then filled with a dreamy mix of creamy cheeses so that it is both stretchy, creamy, cheesy, sweet, salty, and more. Whether you are a cheese lover or just here for the salad, you'll be sure to love burrata as soon as you try it!