Arroz con Pato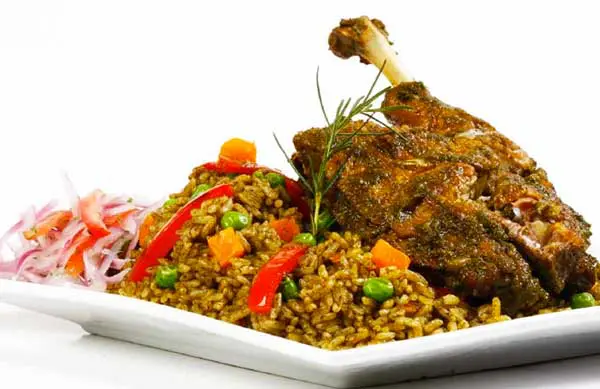 Arroz con Pato translated to rice with duck is one of the most popular dishes from Peru. It's similar to the famous Arroz con Pollo (rice with chicken), a popular dish throughout Latin America.
The process of cooking this dish involves frying the duck legs and cooking them together with the rice, duck broth and beer, as well as Pisco (an alcoholic beverage commonly found in Peru).
The savory combination of all these flavors, along with the hearty helping of rice on the side makes for a unique dining experience! Enjoy this classic arroz con pato recipe!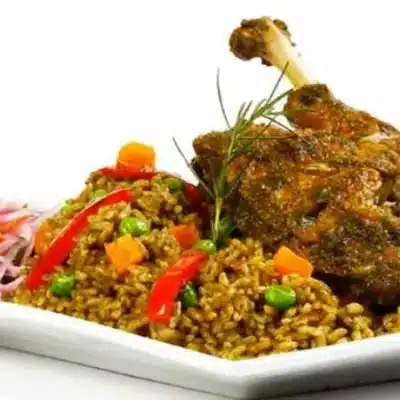 Arroz con Pato
Ingredients
4

duck legs

1/2

cup

oil

1

cup

onions

chopped

3

cloves

garlic

minced

3

tablespoons

yellow pepper

ground

1

cup

coriander

ground

1/2

cup

pisco

Peruvian alcoholic beverage

4

cups

duck broth

1

cup

beer

preferably dark

3/4

cup

peas

1/2

cup

carrots

cut into cubes

2

red peppers

chopped

1

yellow peppers

cut into strips

3

cups

rice

salt

pepper
Instructions
Begin by pricking the skin of the duck legs with a fork or small knife and seasoning them well with salt and pepper. Fry the duck legs in some cooking oil in a large pot, turning on all sides until browned. Transfer to a plate and set aside.

In the same pot add a little more oil if necessary and sauté the onion until just translucent, then add the garlic, chopped yellow pepper and coriander and stir it all together under medium heat for a couple of minutes to soften.

Pour in the pisco, duck broth and the beer and bring to a simmer.

Add the duck legs in the pan and cook everything on medium-low for about 35 minutes.

After the 35 minutes take out the chicken legs in a separate dish and cover to keep warm. To the pan add in the rice, peas, cubed carrot, yellow pepper and chopped spicy pepper and simmer on low for another 15-20 minutes until all the ingredients have become tender.

Serve the rice and vegetable mix alongside the duck leg, garnishing everything with thin strips of yellow pepper.
Notes
If you love Peruvian food, check out our article on the top 15 Peruvian foods and Peruvian desserts.
Photo credit:https://comidasperuanas.net/