12 Typical Spanish Breakfast Foods
Breakfast in Spain (aka desayuno) is so good it's eaten twice!
The first breakfast, soon after waking, may just be a cup of coffee, with something light as an accompaniment to get you going. Then, around 10am, there's often a second breakfast. This is a kind of early brunch to keep you going until lunchtime around 3pm.
Whether you're looking for something sweet or savory, something light, or something that will fill you up for hours, you'll find something to love.
We've listed twelve of our favorite breakfast dishes below, in no particular order. Keep in mind that most of these traditional recipes vary from region to region, so no need to stick rigidly to one option – there's plenty of room to experiment until you find an authentic recipe that's perfect for you!
Do you have any other suggestions for Spanish breakfast dishes that are worth trying? Share your feedback and ideas with our community – we'd love to hear from you!
1. Tostada (Toast)
In Spain, toasted bread can be served with either sweet or savory toppings to be enjoyed with your cup of café con leche.
Topped with butter and jam or honey (con mantequilla y mermelada o miel), it makes a light start to the morning.
But it's frequently served with a topping of olive oil and tomato (con tomate y aceite). There are plenty of regional variations. For example, in Andalusia, you'll find toasted bread (often a flatbread called mollete is preferred) topped with colored lard (manteca colorada), locally produced extra virgin olive oil, crushed tomato, and Iberian ham – perfect if you want a really hearty start to the day!
Another traditional regional twist to look out for is the Catalan dish pa amb tomàquet, which dates back to at least 1884, when it was devised as a delicious way to use up stale bread. The toasted bread (often a sourdough named pa de pages) is sprinkled with salt, then rubbed on both sides with intensely flavored vine tomatoes. It's finished off with a drizzle of olive oil. It is quintessential Mediterranean cuisine: fresh flavors, healthy and delicious!
2. Chocolate con Churros, Soletillas o Melindros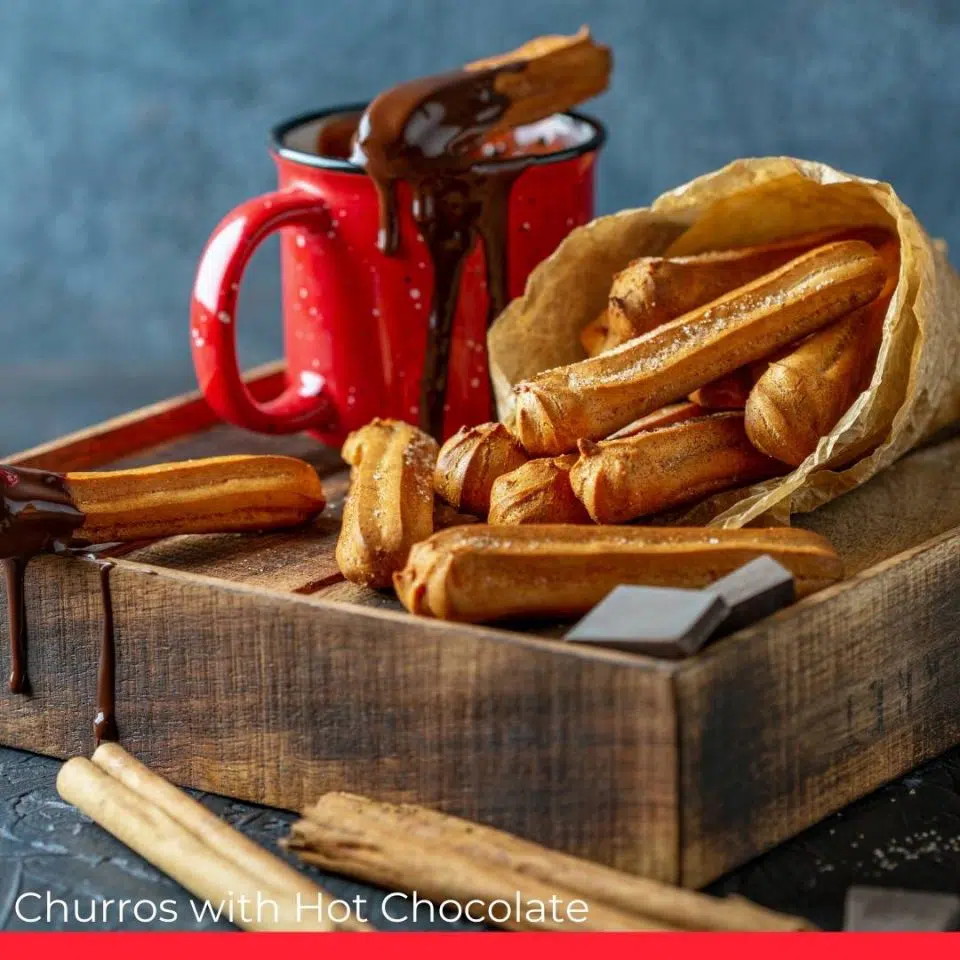 Spaniards adore sweet breakfasts, and this pairing is one of the most loved.
First, let's talk about hot chocolate (chocolate caliente). Hot chocolate has been a drink of choice for the Spanish aristocracy since the 17th century, and over the years has become a staple throughout the country.
It bears no resemblance to the pale, sweet commercial stuff you'll find the world over. The Spanish version is made with melted pieces of dark chocolate, mixed with cornstarch, and milk, and cooked slowly over a low heat until it's so thick that a churro can stand straight up in the cup. Given how rich it is, it's served in small cups, rather than the huge comforting mugs you'll find elsewhere
Churros are the long, fried Spanish donuts you'll find everywhere, from street vendors to chic cafes. They can be dusted with sugar and perhaps cinnamon. Again, each region has its own variations. In Cadiz churros are thin and crispy, while in Madrid, you'll find porras, which are fatter and chewier.
If the thought of fried donuts dipped into the ultra-thick hot chocolate are too much for you, then choose ladyfinger-type cookies known as soletillas in Barcelona or melindros in Madrid, as a lighter alternative.
Whichever you opt for, enjoy every scrumptious chocolatey bite.
3. Tortilla Espanola (Spanish Omelette)
The iconic Spanish omelet can almost be considered the country's national dish. It can be eaten at any time of day, as a main, as a side, or as a tapas. However, it's a very popular breakfast dish, especially in Madrid and northern Spain.
This appetizing dish is made from caramelized onions and potatoes, in olive oil and beaten eggs. As a breakfast (or second breakfast) option, the tortilla Espanola, also known as tortilla de patatas, is typically served in slices or between pieces of fresh, crusty bread (bocadillo). If it's being eaten as a brunch option, a caña (small draft beer), makes a great substitute for coffee.
If you want to sample the ultimate tortilla, the Casa Dani restaurant, near Madrid's central marketplace, recently won the award for best tortilla in Spain!
4. Croissant de Alemandra (Almond Croissant)
Short of time but need something delicious to get you on your way?
The Spanish eat a variety of pastries for breakfast, from the humble plain croissant (sometimes with jam and butter) to its fancy cousin, decorated with toasted, flaked almonds and filled with a rich and delicious almond cream.
One of these, a cup of steaming fresh coffee and you'll be ready to go!
5. Bocadillos (Sándwiches)
Sandwiches make the perfect fast and tasty Spanish breakfast. There are countless variations and each region has its favorite filling.
Bocadillos don't only come as huge chunks of bread that could probably serve two or three people. In Madrid, in many breakfast bars you'll find smaller versions, known as pulgas or pulgitas. In Andalusia, mini sandwiches are known as montaditos. In Barcelona, sandwiches are known as entrepan.
How are bocadillos traditionally filled? With just about anything. Freshly made tortilla, Iberian ham, tomatoes and olive oil are common choices. In Catalonia a simple combination of grilled ham and cheese on white sandwich bread is known locally as a bikini. In Sevilla, try a pringá, a savory and flavor-rich mixture of leftover meats from a typical local stew.
6. Magdalenas (Spanish Muffins)
Magdalenas are light and lemony Spanish muffins traditionally enjoyed at breakfast with coffee, milk or fresh orange juice. They are found everywhere in Spain, in bars, bakeries, and restaurants. They're also quite quick and easy to make at home.
7. Bizocho (Sponge Cake)
Bizocho with coffee is one of the most traditionally enjoyed Spanish breakfasts. You'll find it in almost every café across Spain.
And it's no surprise. Bizocho is the lightest of sponge cakes, so it's a perfect complement to hot fresh coffee. The intense citrusy aroma comes from the addition of rind from Spanish lemons.
8. Torrijas (Spanish Egg Bread)
Ready to sample another delicious sweet traditional Spanish breakfast? What about delicious and calorie- laden torrijas with cafe con leche.
On one level, you could compare Spanish torrijas to French toast because they're sweet fried bread slices. But they're far more complex and delicious than their French cousin.
First, old bread slices are soaked for an hour or more in hot milk and wine with spices (cinnamon, typically, sometimes lemon rind and cloves), then dipped into beaten egg, and then fried. The result is a luscious and slightly sinful breakfast which will fill you for more than a few hours.
9. Embutidos de Carne (Cold Cuts)
If the previous breakfast options are just too sweet for your taste, don't worry. In Spain your choice isn't limited to sweet vs. heavy and savory.
Cold cuts of ham or sausage are popular breakfast choices in Spain. Sliced cold meats with picos (small chunks of crusty bread) with the coffee of your choice are a great way to start your day.
Jamón (ham), lomo (cured pork loin), chorizo (Spanish spicy red sausage), and salchichón (Spanish salami) are all popular choices. Perhaps include some slices of curado or semi curado cheese.
And if your day starts a little later in the morning, cold cuts with picos and Spanish beer are a quick and perfect brunch!
8. Empanadas (Half-Moon Pastries)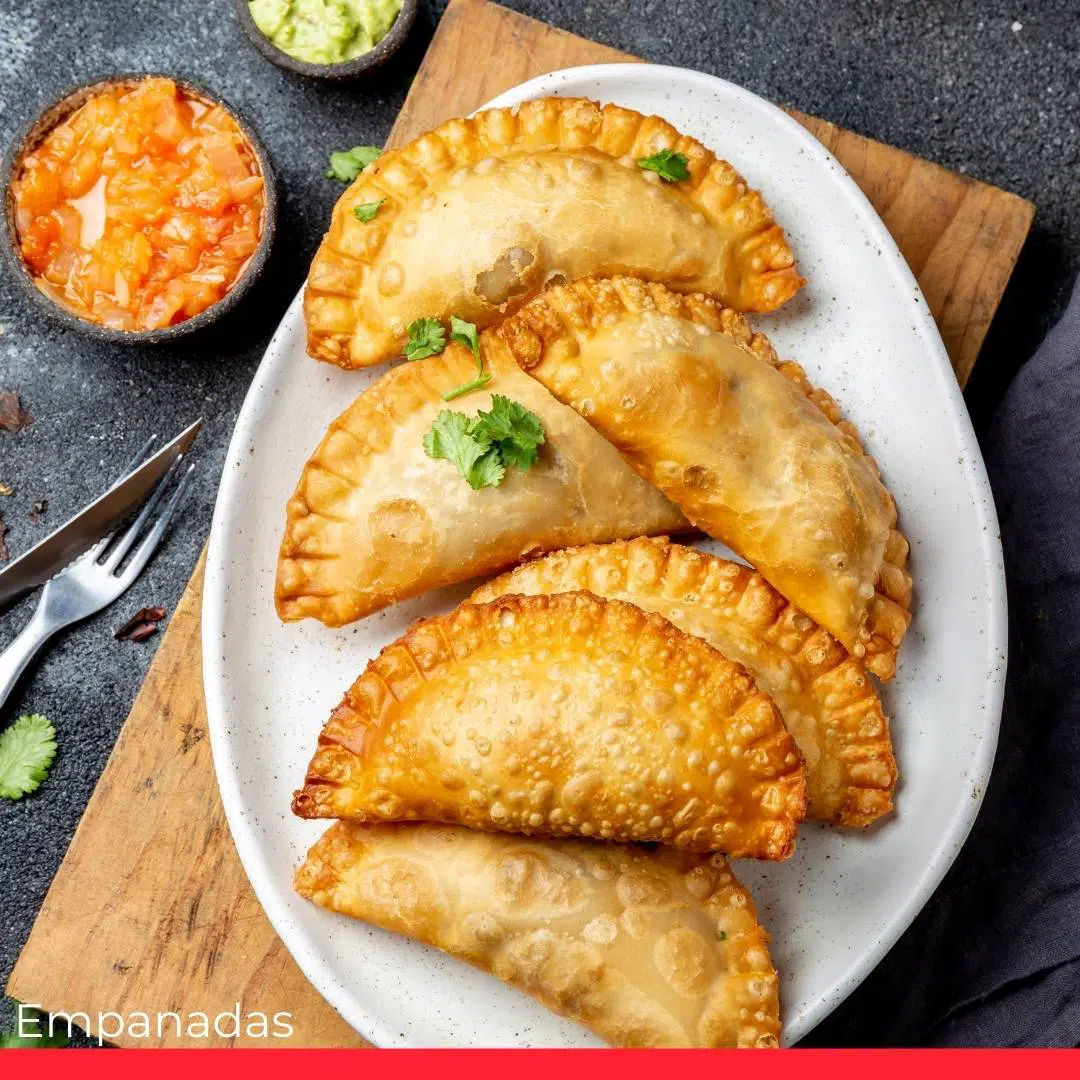 These traditional semi-circular pastries come stuffed with a wide range of fillings: from meats, seafood, or vegetables, mushrooms, cheeses, and even fruits such as plums or apples.
Empanadas originated in Galicia, northwest Spain. Today known as empanadas Gallega (aka empanadas de atún), they were first made with tuna, sofrito sauce (made from tomatoes), and green olives.
Today there's a huge range of empanada fillings which are found not only in Spain but also in other Spanish-speaking countries like Argentina, Colombia and Uruguay. Empanadas are not only enjoyed at breakfast either. They are eaten throughout the day.
9. Ensaimada de Mallorca
There are so many regional specialities to enjoy at breakfast time it's hard to make a choice, but the ensaimada de Mallorca is one that stands out.
It's a large, sweet pastry spiral made from a yeast dough combined with eggs and lard. The simple recipe is unchanged since the 17th century. The base consists of flour, sugar, yeast, eggs, water, and, of course, saïm, meaning lard, by which it is known.
Having said that, there are now many creative twists on the basic recipe which include cream, chocolate, and even pumpkin.
10. Frisulelos (Spanish Crepes)
Frisuelos can be enjoyed as a sweet or savory breakfast treat.
Fancy something sweet to get you going? Then you have to try frisulelos (aka frixuelos, frisuelos or fayuelos), a traditional treat from the northwestern Spanish regions of Asturias or Leon. As you can enjoy them filled with apples, egg custard, or whipped cream, it's no surprise that they're often served as a dessert.
If you're looking for something richer and more savory to fill you up, choose scrambled eggs and cheese as the filling.
Whichever one you choose, you'll have a mouthwatering breakfast to keep you going until lunch at 3pm!
11. Migas (Scrambled Breadcrumbs)
This delicious traditional breakfast dish is made from day-old bread. Originally prepared by shepherds, it remains popular across Spain. There are many creative variations.
It's a typical breakfast of hunters in southern Spain, where it's often served with a fried egg on top. In the Extremadura region, the bread is soaked in water, garlic, paprika, and olive oil before frying. In Aragon, migas includes chorizo and bacon, and, surprisingly, is often served with grapes. In Andalucia, Migas is also eaten with sardines as a tapa in the form of fried breadcrumbs.
Finally, in Granada and Almería in the Southeast of Spain, it's traditional to prepare migas when it rains!
12. Fresh Fruit
Seems like an obvious choice as Spain is famous as a fruit-producing nation. Fresh locally-produced fruit is a delectable, healthy breakfast option.
Juice made with oranges picked straight from the tree is unforgettable and bears no resemblance to the aged, artificially-colored and flavored supermarket offerings we've grown used to.
But it's not only oranges that can be enjoyed at breakfast. Every street market in Spain overflows with locally-grown produce which changes according to the season. Try some of the less well-known fruits – perhaps a cherimoya (custard apple), best enjoyed in the fall, to give you an interesting start to the day!
So, if you're ready to start on a journey of exploration of the myriad choices you have when it comes to traditional Spanish breakfasts, we hope this list of distinctive dishes will inspire you! Enjoy!
---
Related: Most Popular Spanish Foods
Related: Most Popular Spanish Cheeses
Related: Most Popular Spanish Cookies