A Guide to Ukrainian Easter Food & Basket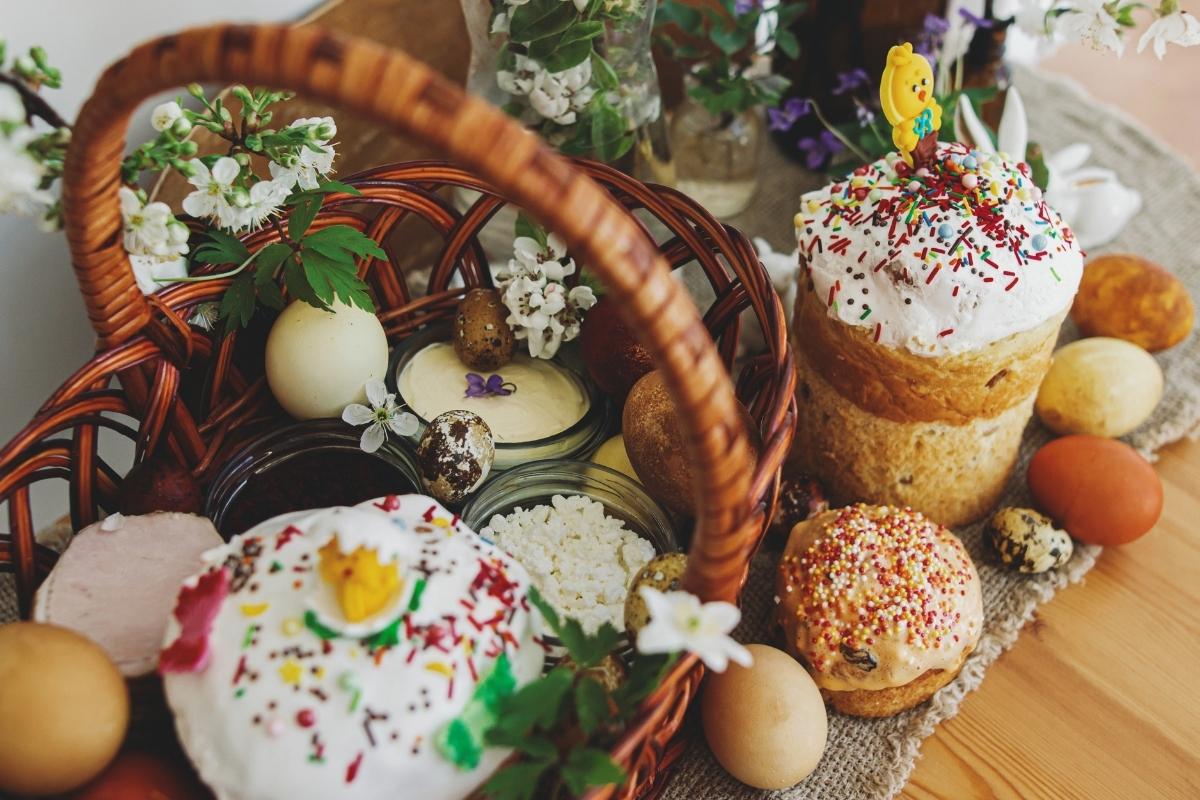 Time to celebrate the Ukrainian Easter. It is one of the most important Christian holidays, when, in normal times, people treasure its sacred meaning, enjoy the opportunity to get together, and savor an abundant table of mouthwatering dishes. Most Ukrainians follow the 40-day-long Great Lent that comes before Easter (Velykden, or Great Day).
The traditional Easter basket would be full of foods that are blessed with holy water on Easter morning or a day before Easter, and are the first to be consumed by the family. The basket itself is an important part of the holiday. It is beautifully decorated with fresh or artificial flowers, ribbons, Easter symbols, and embroidered napkins.
The embroidery is of two kinds. The first is highly traditional, with Christian symbols of a cross, a dove, and the inscription Christ Resurrected (Khrystos Voskres). The second, appealing to children, is a cute array of yellow chickens, flowers, and blue bunnies. Every basket includes a candle which is lit in church and a few coins or banknotes symbolizing the family's health and wealth.
Below is a list of the most traditional Ukrainian Easter foods. Easter holidays cover three days – Sunday through Tuesday – so Ukrainians spend quite a lot of time doing magic in the kitchen and impressing their guests.
Easter Basket Foods
1. Paska
A traditional, slightly sweet Easter yeast bread, paska is the centerpiece of the Easter basket. It is often baked with dried fruit and nuts and topped with white sugar frosting. Traditionally, paska is baked at home and exchanged with friends and relatives. This ritual of paska giving is considered to harbor good health and wealth.
Paska is eaten on Easter morning, generously spread with Easter butter and cottage cheese.
2. Easter Eggs
Decorated Easter eggs are the most beloved part of this holiday. They symbolize Jesus's tomb and, thus, His rising from the dead. Some people use special Easter egg stickers, making decoration pretty straightforward and quick. But the tradition of making pysanky and krashanky is still very popular.
Krashanky are dyed eggs; you can either use a food dye or opt for a natural one. I remember my granny using onion skins for beige and brown eggs, greens for green eggs, and a manganese solution for purple eggs.
Pysanky are eggs decorated using a special pencil and beeswax. Many people attend workshops where they prepare their eggs and enjoy the meditative and rewarding activity. Eggs would be the first from the basket eaten on the Easter morning.
3. Ham and Sausage
The meat heroes of the basket, shynka (ham) and kovbasa (pork sausage), was traditionally smoked in the open. My grandpa would arrange a huge wooden barrel in his garden and smoke all the Easter meat a few days before the holiday.
I still remember the odor from childhood. Yummy… After the ham and sausage have been sprinkled with holy water and brought home, they are sliced, arranged on a plate, and topped with freshly grated horseradish for tanginess. Today, many people bake shynka and kovbasa in the oven. But it doesn't compare with that old wooden barrel.
4. Cottage Cheese and Butter
Not dishes per se, homemade cottage cheese and butter have an honorable place in the Easter basket.
They are placed in small cups and decorated with the periwinkle plant, a symbol of the bridge between death and life in Ukrainian folklore. Cheese and butter are spread on paska at the Easter table.
5. Horseradish
Ukrainian horseradish is popular in two forms. First, it is a fresh plant that is grated and sprinkled over slices of meat and boiled eggs to add a special taste. Second, it is a main ingredient in the horseradish and beetroot salad, which is regarded as a sauce and consumed with all kinds of dishes: meat, kholodets, bread, etc.
Check this Tsvikli recipe.
Easter Table Dishes
Cold Dishes
6. Deviled Eggs
There's no way you'll finish all the basket eggs at breakfast. They are therefore brought out again for a festive lunch.
The recipe is straightforward: halve the boiled eggs, spoon out the yolk, mash it with mayonnaise (preferrably homemade), and stuff the hard egg whites with the mixture. Top the eggs with finely chopped chives, and, voila, a perfect little starter.
7. Kholodets
"If you don't offer your guests kholodets, shame on you", my granny used to say. Indeed, this jellied meat dish is the center piece of every festive table. It is made with cooled-down broth and pieces of pulled meat and boiled carrots. Kholodets is cold and accompanied with horseradish and beetroot salad.
8. Kanapky
Kanapky, or open sandwiches, are another must eat during the Ukrainian holiday. The main idea is that you have a variety of ingredients on top of a slice of baguette, but they come in all shapes and types.
The most traditional kanapka (known as a village kanapka) is spread with cottage cheese, butter, and garlic. On top comes a slice of sausage, a slice of pickle, and a slice of tomato. The whole thing is sprinkled with grated egg yolk and chopped chives. Scrumptious.
9. Olivier Salad
Ukrainians do eat other salads. It is Olivier salad for every holiday, Christmas included. Most people won't even include it on their menu of dishes – it's automatically there.
And it is simple. The salad consists of boiled and chopped potatoes, carrots, sausage, eggs, pickles, and onions, all generously dressed with mayo. Why is it that great? It's the only salad that tastes great the next day. And we all crave yummy leftovers, right?
Hot Dishes
10. Holubtsi
There's no Ukrainian holiday without holubtsi, literally. These cabbage rolls are stuffed with boiled rice and minced meat and typically accompanied by sour cream and mushroom sauce. They are both a great comfort food and an exquisite dish.
11. Nalysnyky
Ukrainians love nalysnyky (crepes), either sweet or savory. For a holiday table, you're expected to see meat-based crepes, folded into triangles, soaked in a whipped egg mixture, and pan-fried. They're so popular they compete with holubtsi.
You won't go wrong if you have both on a special occasion though. That's a lot of meat, I know.
12. Mushroom Cream Soup
You can expect to be served a soup at every festive table in Ukraine. Although borshch is hugely popular, it is not the first choice for holidays (except Christmas Eve).
Mushroom soup, or hrybna yushka, is very popular. It is made with sour cream and served in a cup so it is drunk rather than eaten. You have it served with either meat-stuffed nalysnyky or some sour pastry.
Dessert
13. Pliatsok
As well as sweet paska, every household will have a few pliatsky cakes at Easter. Originating in the western part of the country, they come in various kinds.
What distinguishes them from cakes as such is three things. First, the focus is on the contents and include many ingredients. Second, they are mostly sponge and don't have much cream and aren't too sweet. Third, pliatsky aren't fancily decorated as they are immediately cut into square pieces and served.
Are you surprised some other popular dishes are not on the list? It's uncertain why some foods are typical for one occasion and absolutely inappropriate for another. You'd never be offered varenyky or deruny at Easter, although they are eaten on a weekly basis in every family. Probably, they're just seen as too mundane for this Great Day.
In any case, the dishes I've listed here are only the backbone of the traditional Velykden table. Many families today include international cuisine, with trendy salads in place of Olivier, olives and prosciutto in place of horseradish and smoked ham, and cheesecake replacing paska and pliatsky. What remains a must is the good old basket and what goes into it. My granny would literally stop talking to me should I put prosciutto or olives in mine.
---
Related: 20 Popular Ukrainian Desserts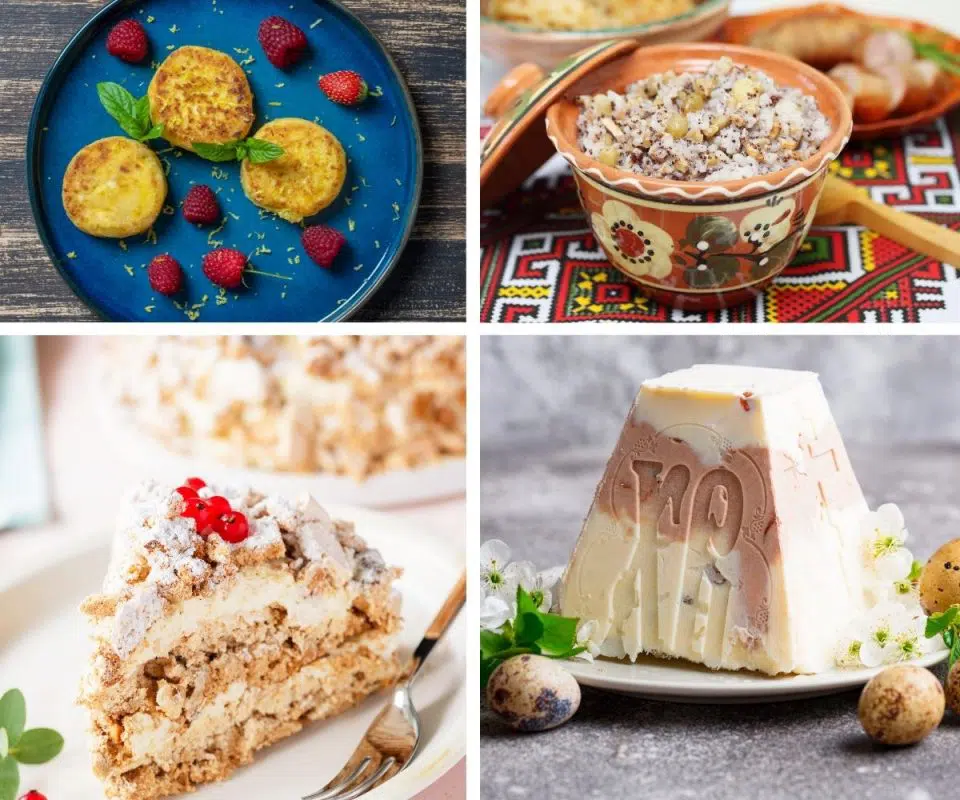 Related: Most Popular Ukrainian Cookies
Related: Most Popular Ukrainian Foods