5 Traditional Desserts from Luxembourg
Nestled between Germany, Belgium, and France, the small country of Luxembourg is filled with history and is a melting pot of cultures and traditions.
And Luxemburgish food is no different, being influenced by the great cuisines of its neighbors, which is reflected in their traditional desserts as well.
1. Quetschentaart (Plum Tart)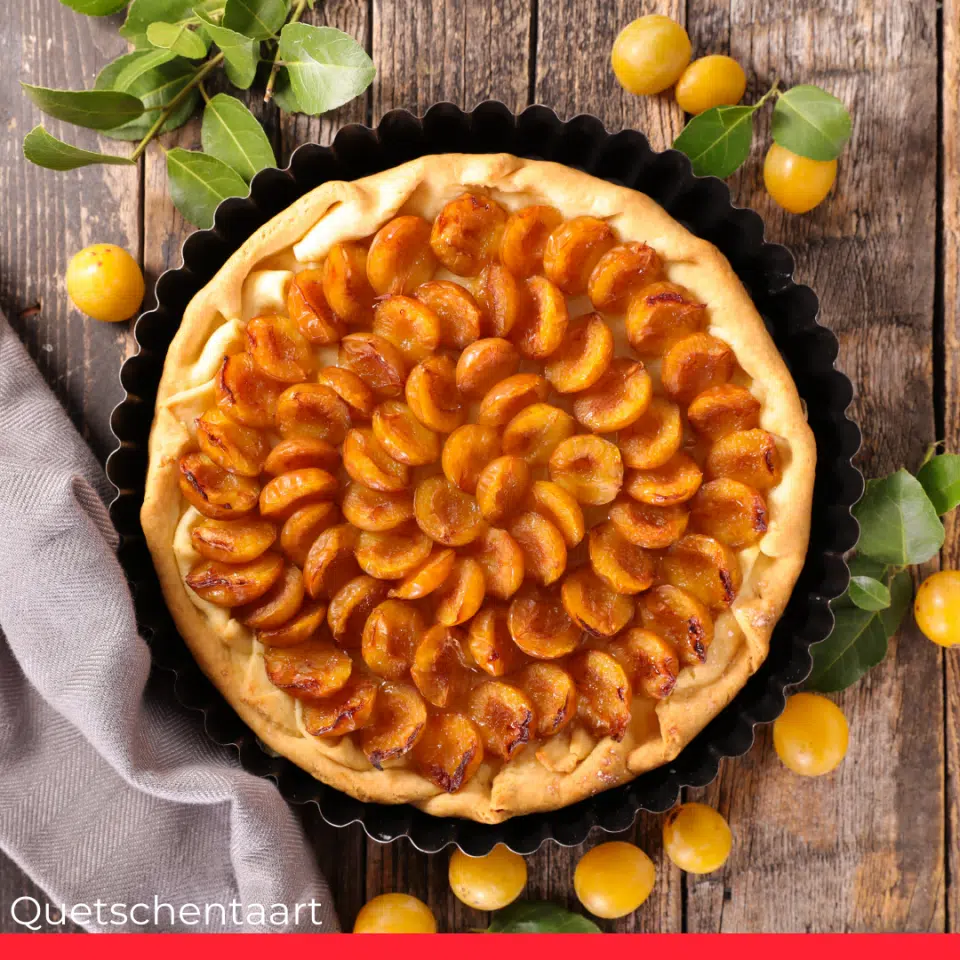 Quetschentaart is a delicious plum tart that is made all over the country. You can find quetschentaart in bakeries in the autumn once the fruit has ripened and been harvested. The quetsch is celebrated in late summer in honor of the damson season.
Questsh (plums or damsons) are stoned, halved, and then put into a sweet pastry dough and baked. Then the tart is covered with halved quetsch, arranged in circles, and served with sugar sprinkled on top. There are many varieties, such as quetschentaart and quetschentaart crumble. Quetschentaart crumble is spread with quetschekraut (plum/damson jam), to make it moist, and a topping of cinnamon crumble.
There are damsons aplenty in Luxembourg, and a good thing too as we also make a very special damson schnapps (plum liquor).
2. Äppelklatzen and Äppelkuch (Apple Tart and Dainty Apple Cake)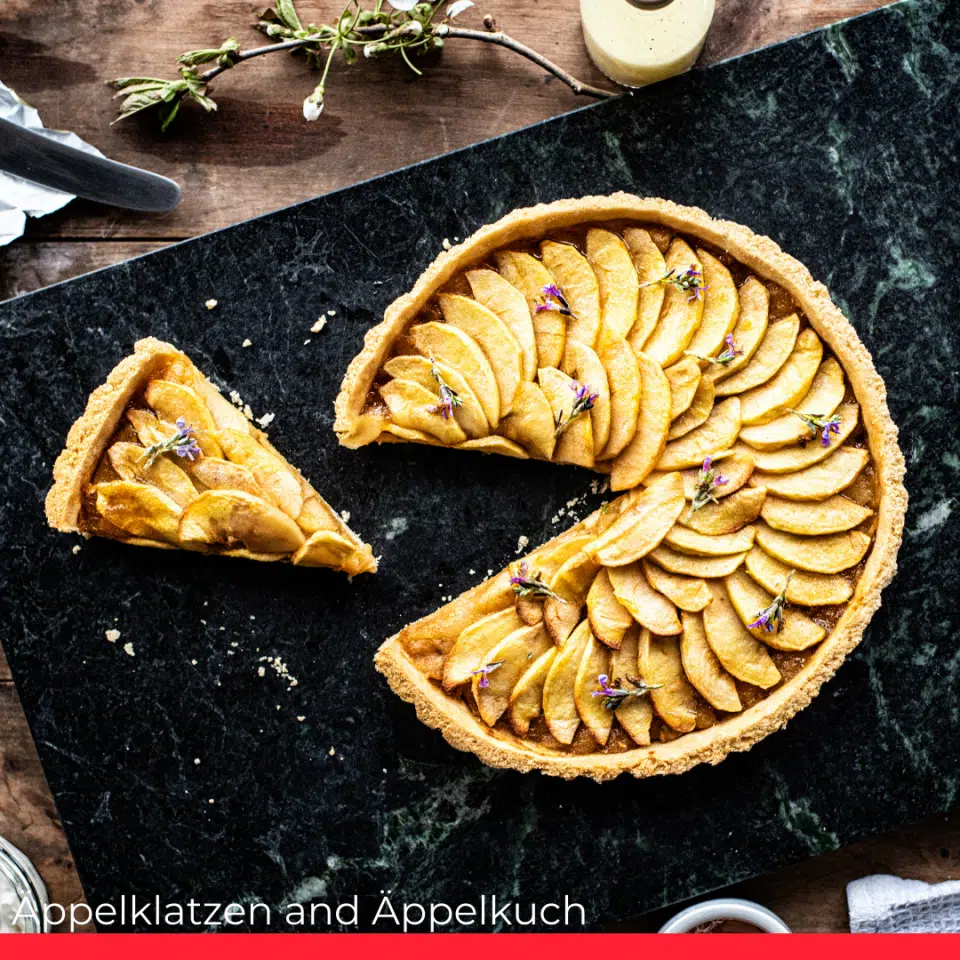 Äppelklatzen (apple tart) is a lovely, comforting Luxembourgish dessert. It consists of apples lightly cooked with cinnamon, nutmeg, and sugar. Once done, the apples are wrapped in pastry, then baked until golden-brown. They can also be topped with a tasty syrup and served with a side of ice cream.
This delicious dessert is very popular during the festive Christmas season. Äppelkuch (dainty apple cake) is made with a buttery dough and custard; the two layers literally combine in the oven, creating a moist, incredibly delicious cake which is then topped with a dusting of cinnamon and confectioner's sugar.
Much of the fruit comes from orchards in the south of Luxembourg.
3. Verwurelter (Donuts)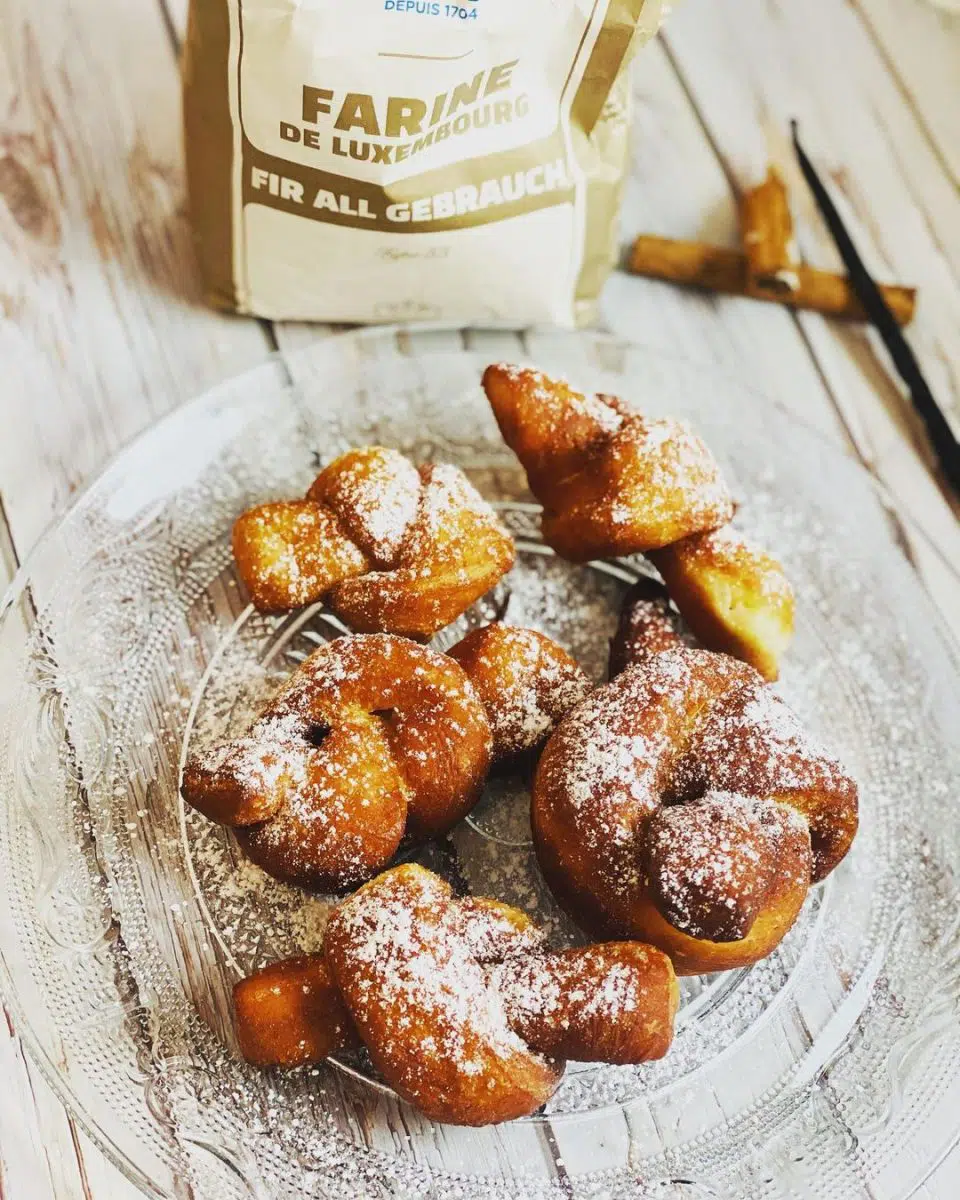 Translated as "twisted" or "swirled", verwurelter are traditional Luxembourgish donuts which are prepared during the Luxembourg carnival season, known as Fuesent. During the festival, they can be easily found in stores and bakeries.
They are made with a combination of flour, butter, yeast, warm milk, sugar, eggs, and salt. The dough mixture is shaped into knots and then deep-fried until golden brown. They taste best when served warm and topped with powdered sugar.
4. Wäffelcher (Waffle Cones)
Here in Luxembourg, everyone knows this pastry and remembers their grandma serving this delicacy on Sundays. Luxembourgish Wäffelcher are quite different from the traditional German or Belgian waffles. They are wafer-thin, rolled up and crispy, and are made with a different waffle iron to German waffles.
They are baked individually in a round waffle maker and wrapped around the handle of a wooden spoon while still hot to give them the cone shape.
5. Mummentaart
Mummentaart is a traditional covered apple pie, consisting of a crumbly short crust pastry made with egg and a filling of tart apples and raisins. As an alternative to completely covering the pie, sometimes narrow strips of dough are placed in a lattice shape over the apple filling.
Mummentaart is a traditional dessert in Luxembourg which people associate with their childhood, but it is one that has become a rare find in the country's bakeries.
---
Related: Most Popular Traditional Foods in Luxembourg
Related: Luxembourg has the 2nd highest density of Michelin restaurants in the world