Top Paying Countries for Chefs and Head Cooks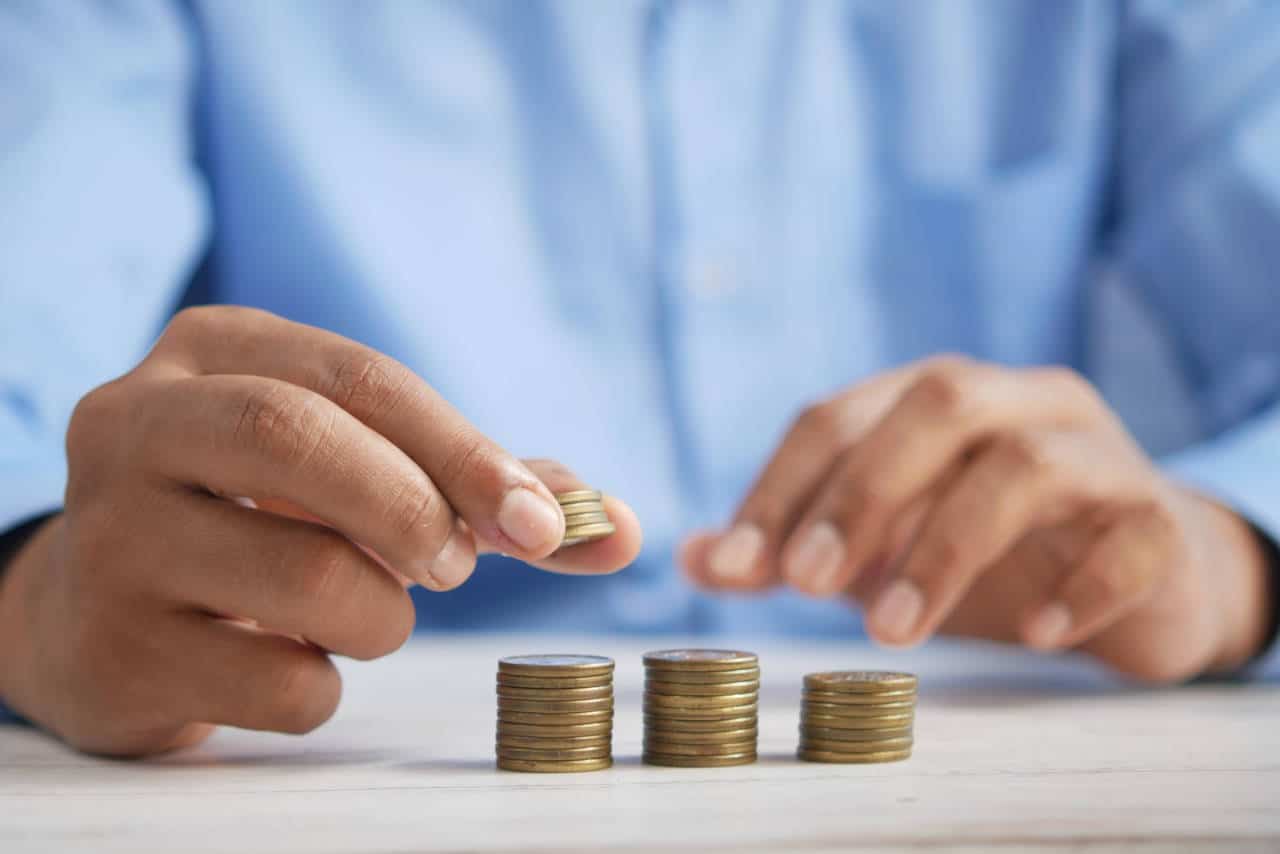 Three years into the pandemic, the restaurant industry is still navigating some of the biggest challenges it has ever faced. After lockdowns, disruptions to supply chains, more temporary restaurant closures followed by many permanent closures, the industry is now facing a major hiring crunch. Not an easy time to be a chef or a restauranteur.
But the current situation also presents a unique opportunity for many chefs to find better employment, and getting a higher salary is a big part of that. Some chefs will look for employment opportunities abroad, so we did the research to find some of the best paying countries for chefs.
This was not a straightforward task, as official statistics on chef's employment and salaries are not easily available. Even countries that do publish wage statistics might not report on the same metric (median vs average) or might use slightly different ways to categorize chefs and cooks.
To be clear, our research focuses on chef salaries, not (line) cooks. Chefs earn substantially more than cooks, as much as double in countries like the United States (see chart below).
Within the same country, salaries can also vary quite substantially. Take the US for example, where the national average is $59,000 (gross), while a San Francisco-based chef earns on average $90,000/yr and a chef in Memphis, TN will earn half of that. You can find large differences in other countries as well, but, with a few exceptions, the national average still provides a great benchmark for local wages.
We also decided to report net incomes, which comes with a few challenges of its own. Taxation may differ based on location and personal situation. We used online salary calculators to determine the net amount and used the average local tax in each country with variable local taxes. Healthcare coverage also differs from country to country, and in some places, chefs have to pay for it (partly or fully) out of their own pockets.
With all these caveats, we'd like to stress that these numbers are estimates only and should be viewed as such. If you are a chef and you'd like to work abroad, make sure to do your due diligence and learn about local regulations and taxes.
The local cost of living will obviously play a huge role in assessing the real dollar value of your paycheck. $4,000 per month will only get you so far in cities like Zurich and San Francisco, but it would provide you a very comfortable living in Sao Paolo or Bangkok. To assess the local cost of living, we recommend Numbeo, which is a great tool for assessing local prices.
Highest Paying Countries for Chefs
Switzerland tops the charts, offering the highest net incomes for chefs. Not that surprising given the Swiss top the world salary charts and taxation is low compared to their Western European peers. A report by OECD found that the Swiss enjoy the highest disposable income of OECD countries, though some argue that compulsory contributions to health insurance or occupational benefits may not have been taken into account.
Chefs looking to find work opportunities in Switzerland will find a highly developed hospitality industry. With 119 Michelin-starred restaurants, Switzerland has the 3rd highest number per capita in the world.
There is quite a big labor shortage in the hospitality sector at the moment [in Switzerland], says Martin Wyler, Business Development Manager with B.H.M.S., one of Switzerland's top Business & Hotel Management schools. While this sounds tempting, getting a job in Switzerland may not be that easy, especially if you come from outside the EU or EFTA.
The United States comes in second with a net income of $46,000 per year ($59,000 gross) or roughly $3,800 per month.
As stated before, wages and taxation can differ substantially based on your location. A chef in Hawaii earns on average $78,000/yr (gross), while in Idaho chefs earn a bit over $40,000/yr. Chefs in Texas and Illinois earn roughly the same amount, but Texas doesn't have a personal income tax, while Illinois has a flat income tax of 4.95%.
Despite regional differences, in most states the average salaries for chefs range somewhere between $50-$60,000 per year (gross amount).
Although the US is facing some steep staff shortages, obtaining a visa to work in the United States as a restaurant worker is especially difficult. According to Eater, 10% of the restaurant workforce is made up of immigrants, but this includes undocumented immigrants, and the percentage is likely lower for chefs.
Eater reports that it took almost two years for a Neapolitan pizza restaurant in downtown Berkeley to get a visa to properly hire a real-deal Neapolitan pizza chef. So, if you're aiming for the US, you need to be armed with a lot of patience.
The wealthy Nordic nations of Denmark and Norway rank 3rd and 4th, while neighboring Sweden ranks 7th. In Denmark, chefs earn on average $3,600 per month (23,750 DKK), in Norway their average net income is roughly $3,300 (29,000 NOK), while Swedish chefs expect to earn on average $2,897 (26,500 SEK).
Nordic nations have recently transformed themselves into culinary powerhouses and skilled chefs can find a plethora of fabulous restaurants to work in. NOMA, Maaemo, and Geranium have gone down as some of the most successful restaurants in Europe. And, of course, the restaurant industry is not all about fine dining.
The only downside besides the not-so-great weather, unless you're a winter sports buff, is the notoriously high cost of living. But that's a common reality in most high-paying cities and countries, be it Norway, Denmark, Switzerland or many parts of the US.
If you're looking for something sunnier, head to Australia, home to great beaches, a fantastic restaurant scene, and some of the best paying chef jobs in the world. Australia ranks 5th worldwide with a net monthly salary of $3,087 USD ($4,341 AUD).
Australia offers the best salaries with ruminative rates, accommodation provided, and amenities paid for with most roles, says Michelle Gamble, Chief Operating Officer of Frontline Recruitment, a specialist recruiter operating across Australia and New Zealand. Chefs from anywhere in the UK due to their training are highly sought after, along with Filipino and Nepalese chefs due to their calming and hard-working style in the kitchen, according to Michelle.
Many chefs are also looking to find work in neighboring New Zealand due to similar salaries and a high standard of living and work conditions. New Zealand ranks 11th in our rankings with an average net income of roughly $2,600 USD.
Home to the highest concentration of Michelin-starred restaurants, Japan ranks 6th. For a country long closed to immigrants, Japan is largely seen as a closed society where outsiders can struggle to fit in and find employment.
However, this was not the experience of Andy Cheng, a chef raised in Britain and one of Chef's Pencil regular contributors. Born to Japanese and Hong Kong native parents, Andy was raised in Britain and later moved to Japan where he worked in numerous restaurants, including top establishments run by Michelin-starred chefs.
In terms of getting a job [in Japan], I think it was relatively easy. It seemed like restaurants like to hire people from abroad because of their different styles, techniques, and knowledge. Everyone was welcoming and willing to train me, even from the small restaurants to the Michelin-starred places, said Andy.
For English-speaking chefs, Ireland is a great destination in Europe. Chefs expect to earn on average $2,872 (2,500 euros), according to a survey by Dublin-based recruiter Excel.
Ireland is one of the many countries badly impacted by staff shortages. According to the Restaurant Association of Ireland, 70,000 people have left the restaurant industry since the pandemic hit and there's a shortage of 7,000 chefs.
Dubai and the UAE have been a top destination for chefs from all over the world. The cosmopolitan nature and wealth of the emirates and its thriving restaurant scene have been a magnet for chefs, especially from Asian countries. In our rankings, UAE ranks 9th worldwide and second in Asia, with an average net pay of $2,841.
Germany closes the top 10 with an average net income of $2,667 (2,391 euros), followed closely by France ($2,645/mo net income or 2,314 euros). Europe's economic powerhouses offer plenty of great employment opportunities for chefs and a very high standard of living.
At the lower end of the rankings, Brazil, Egypt, India and Pakistan offer more modest wages, though salary ranges also tend to be quite wide here. Chefs working in luxury resorts or top-rated restaurants will earn substantially more than their peers. While this is true in all countries, the difference can be particularly stark in middle-income countries.
In addition, chef salaries reported for this group of countries are based on job boards and HR consulting groups, which tend to skew towards higher-paying hotel and resort jobs.
Chef salaries in Brazil are just $367/mo, according to local salary boards, but Brazil is one of the most unequal countries in the world and the most unequal in Latin America. Thus, a top chef in Rio or Sao Paolo can easily earn over $1,200 per month.
Visuals (Net Incomes in USD and Euros)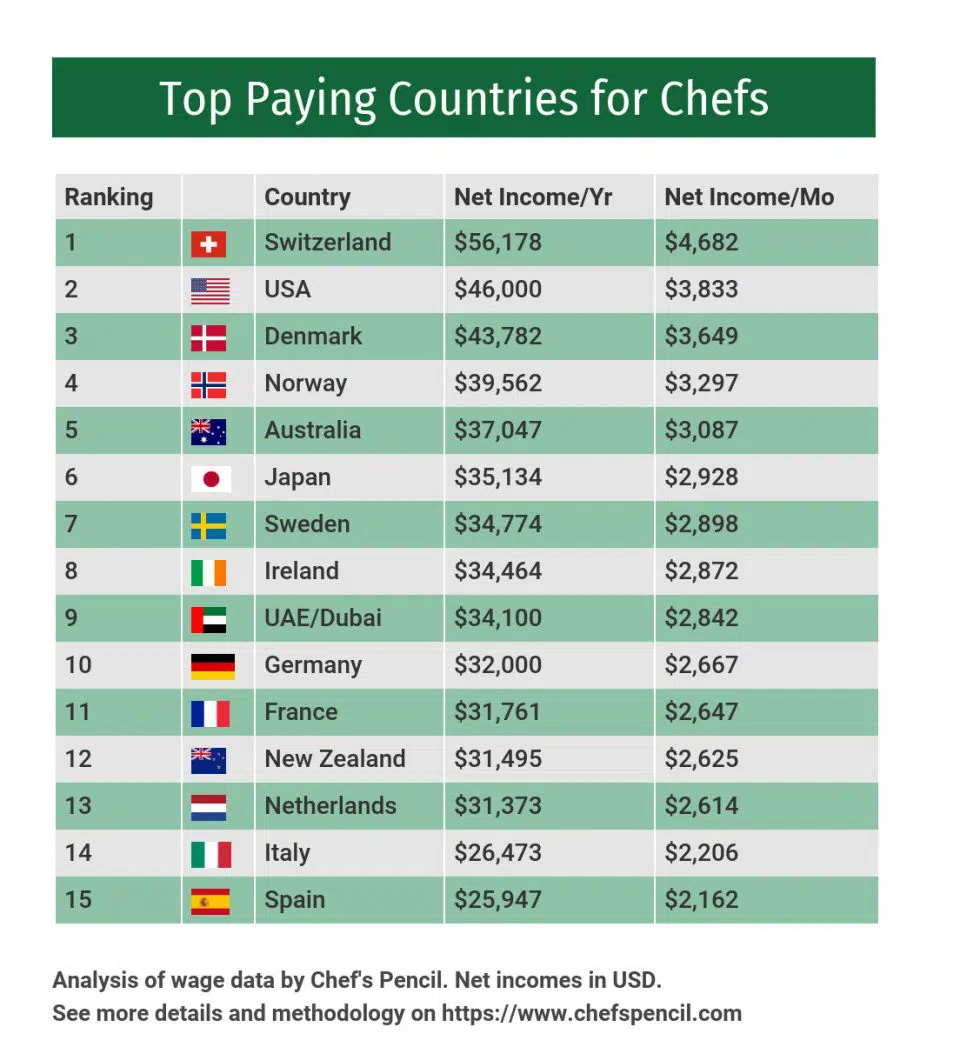 ---
Methodology
Chef's Pencil has researched salaries for chefs in 30 countries. Where available, we have relied on official government reports, which were generally available for the years of 2019 or 2020. Where official data was not available, we have relied on third-party reports from industry groups, media reports, job boards or HR consulting companies (full list of sources is provided below).
All reported salaries are in net amounts. We used online salary calculators to determine the net amount and used the average local tax in the countries with variable local taxes. Net amounts are estimates and actual amounts will differ based on local tax rates and personal circumstances (.e.g. marital status, children, etc.).
Values in $USD and euros are calculated at exchange rates from March 2022.
Sources: Bureau of Labor Statistics, Statistics Denmark, Statistics Norway, Economic Research Institute, Australian Government Job Outlook, Office for National Statistic UK, Statistics Sweden, Ministry of Manpower Singapore, LohnCheck.ch, Excel Ireland, Talent.com, Restaurant Association New Zealand, Nationaleberoepengids.nl, Money.pl, Salaryexpert.com, Kariyer.net, and Salario.com.br.