8 Most Popular Georgian Drinks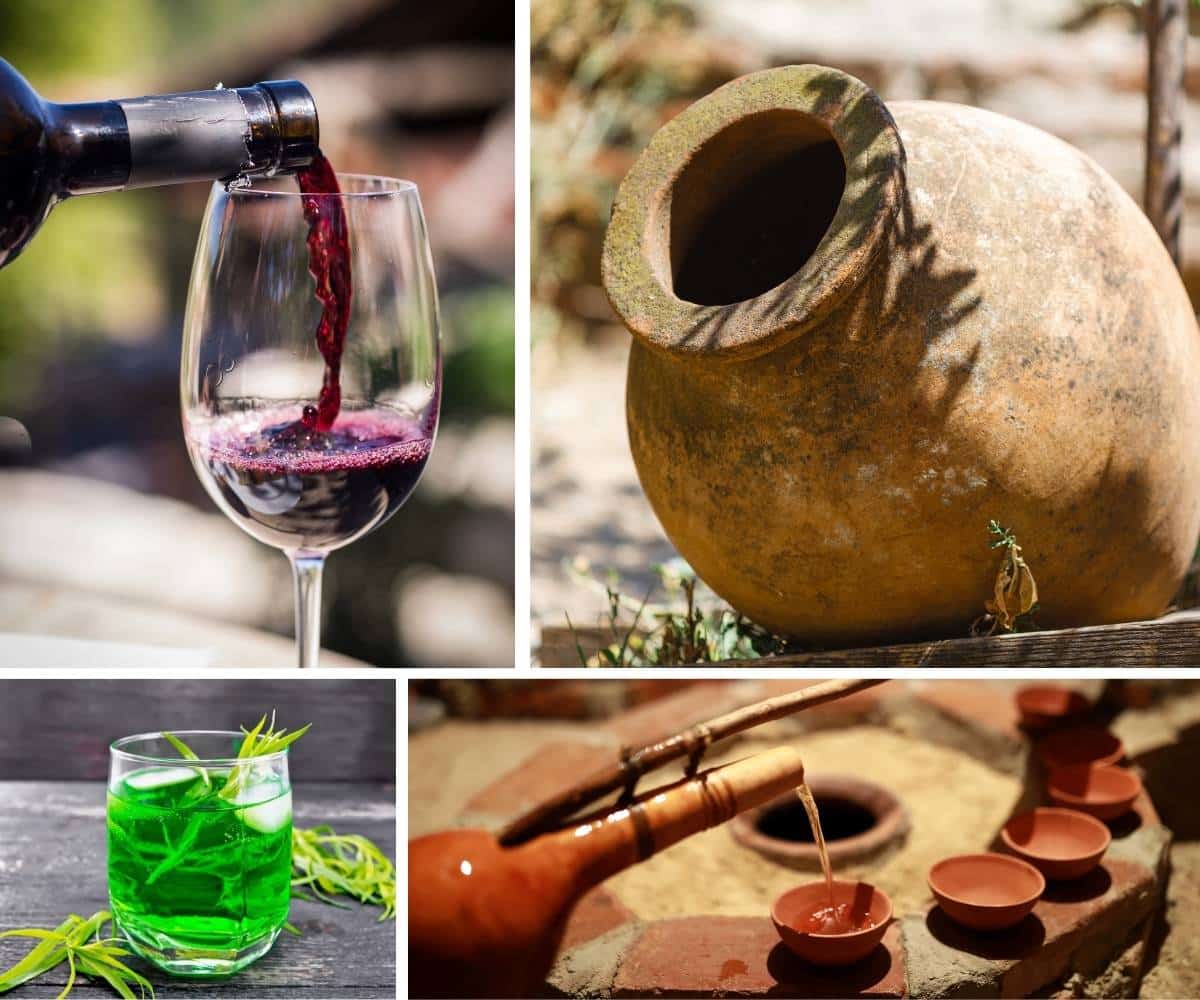 Georgia is the motherland of wine, and that's a well-known fact. However, when it comes to drinks there is a lot more than delicious wine to discover in Georgia. Here are the 8 most popular Georgian drinks you need to try!
1. Georgian Wine
When it comes to Georgian drinks, its wine graces the top of the list. Georgia is a wine homeland, for which there are a few reasons.
The country has a long and rich history of viticulture and winemaking, dating back over 8,000 years. Besides, Georgia is located in the Caucasus region, between the Black and Caspian Seas, which has a uniquely diverse climate that is perfect for growing a wide variety of grapes.
These natural conditions let Georgia welcome over 500 indigenous grape varieties, more than anywhere else in the world.
Georgia is thought to be where wine was first produced, and the ancient Georgian wine-making tradition is still alive and well today. Georgian wine is known for its full body, intense flavor, and unique aroma.
A few must-tries are: Kindzmarauli, Saperavi, Mtsvane, Kisi, and Khikhvi. Tip: try some unique Georgian cheese together with a glass of Georgian wine.
2. Qvevri Wine
Qvevri wine deserves a separate place on our list due to its unique nature and processing technique. It is a unique and delicious beverage that hails from Georgia, made using a unique clay vessel called a qvevri, which is buried underground.
The qvevri wine-making process is centuries old and results in a flavor and aroma that is truly unique. Georgian qvevri wine is red or white and is typically made from a native Georgian grape variety, Saperavi.
The qvevri fermenting process imparts a distinct flavor to the wine, often described as "earthy" or "funky." This is not a wine for everyone, but those who enjoy it find it a delicious and fascinating beverage.
If you're looking to try something new and different, Georgian qvevri wine is worth seeking out.
3. Chacha
For spirit lovers, chacha might be the most exciting drink on the list! Georgian chacha is a traditional pomace brandy that is very similar to vodka but has a stronger and richer aroma. The alcohol content of chacha varies by region, but is typically between 40 and 60% ABV.
Chacha is made from the residue of grapes (or other fruits) after pressing and is similar to Italian grappa. Chacha is typically clear but can also be yellow or pink. The flavor of chacha is typically very fruity, with strong notes of grape and other stone fruits. It is typically served neat but can also be used in cocktails.
Georgian chacha has a long history and has been made in Georgia for hundreds of years. There are many different brands of and the quality can vary greatly. It is usually quite cheap, so make sure you buy from a reputable store.
4. Burakhi (Kvasi)
Burakhi is one of the most well-liked drinks in Georgia and is considered nutritious. Although Burakhi has been brewed in Georgia since ancient times, it is primarily linked with traditional Slavic drinks, particularly Russian Kvass.
Burakhi is a fermented beverage made from fermented malt and flour or rye bread. The type of grit and colorings employed determine the color of the burakhi. When spring arrives, berries, fruits, and raisins are often collected and used to flavor the beverage.
Despite having a similar production technique to beer, burakhi is considered a non-alcoholic beverage since it contains only 1.44% alcohol. 
Burakhi is a good source of B and E vitamins, which help with metabolism. It has a characteristic sour yet sweet flavor, making it the perfect refreshing drink in a hot summer.
5. Lagidze Water
Lagidze water is a type of lightly sparkling mineral water found naturally in Georgia. The water gets its sparkling quality from the high concentration of minerals it contains, including magnesium, calcium, and potassium.
Lagidze water was first discovered in the 19th century by Giorgi Lagidze. Lagidze was a pharmacist searching for a water that could be used to treat various medical conditions. He eventually found Lagidze water, which he believed had healing properties. Lagidze water is still popular in Georgia and is often consumed for its supposed health benefits.
The most popular Lagidze water flavor is the original lemon. It is tart and sweet and has a refreshingly light taste. The company also offers a lime flavor, which is slightly sweeter than the lemon and has a more intense flavor.
The third flavor offered by Lagidze is cream. This is the sweetest of the three flavors and has a rich, creamy taste. Lagidze also offers a grapefruit flavor, which is tart and tangy.
6. Badagi (Georgian Grape Juice)
Badagi is a Georgian version of grape juice, and while it is a crucial ingredient in making churchkhela, pelamushi, tklapi, etc., it's also a fantastic sweet-flavored juice in itself.
Badagi is made from pressed and condensed grapes, and is simply the early stage of wine. Pressed grapes are placed in large, closed vessels during wine-making to maintain a vacuum. Before the wine starts fermenting and getting sour flavors, a small portion of the juice is taken out of the vessel.
This is what Georgians call badagi, a sweet and calorie-rich juice especially loved by kids. 
7. Tarragon Lemonade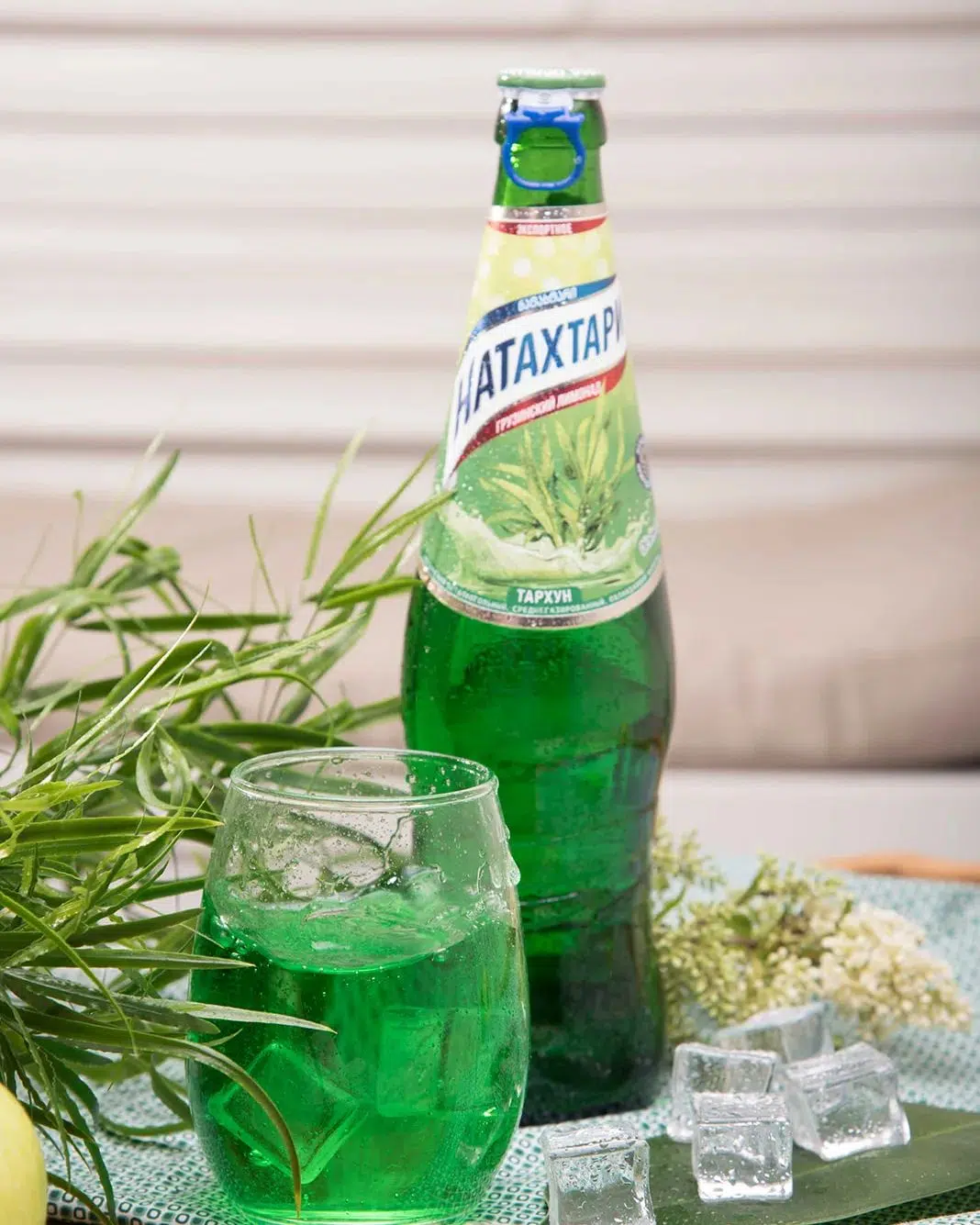 If you notice some weird-looking green lemonade in stores and wonder why people love this colored drink so much, try Georgian tarragon lemonade yourself.
Georgian tarragon (Artemisia dracunculus) is a perennial herb that grows in the Caucasus region of Eastern Europe. The leaves have a sweet, anise-like flavor and are used to add flavor to salads, soups, and sauces or to make lemonade.
Tarragon lemonade is a popular drink in Georgia, traditionally made with tarragon leaves, lemon, and honey, and is known for its calming and soothing properties. The strong green color comes from the ingredients and does not contain any artificial coloring. Try it if you get the chance.
8. Borjomi Mineral Water
The last on the list is Borjomi mineral water. Georgia is home to various natural mineral waters, and the most famous region for it is Borjomi. Borjomi mineral drinks are widely popular worldwide and are loved for their richness in minerals and various health benefits.
Bottom Line
Overall, Georgia is a unique place for discovering new flavors in terms of food, desserts, and drinks. Recognized worldwide, Georgian wine has countless years of history, making the country the proud motherland of grape-based beverages.
---
Related: Most Popular Georgian Foods
Related: Most Popular Georgian Desserts