Top 12 Most Popular Turkish Foods (With Photos!)
Any Turk will tell you, Turkish cuisine is the best in the world. And they have a point as it embraces influences from the Mediterranean to the Middle East and from Central Asia to Eastern Europe – the best cuisines in the world.
Famously known for its kebabs and köfte, it is so much more. But those are the most famous dishes as Turkish cuisine really is meat based, the southeast being teased for eating kebap for breakfast.
Despite that, and although the vegetarian and vegan trends are not big in Turkey, there's plenty of plant-based foods on the Turkish menu, and vegans simply need to avoid the copious amounts of yoghurt.
Here we can only attempt a summary of the most delicious, most popular Turkish foods.
1. Kebap (yes, with a "p")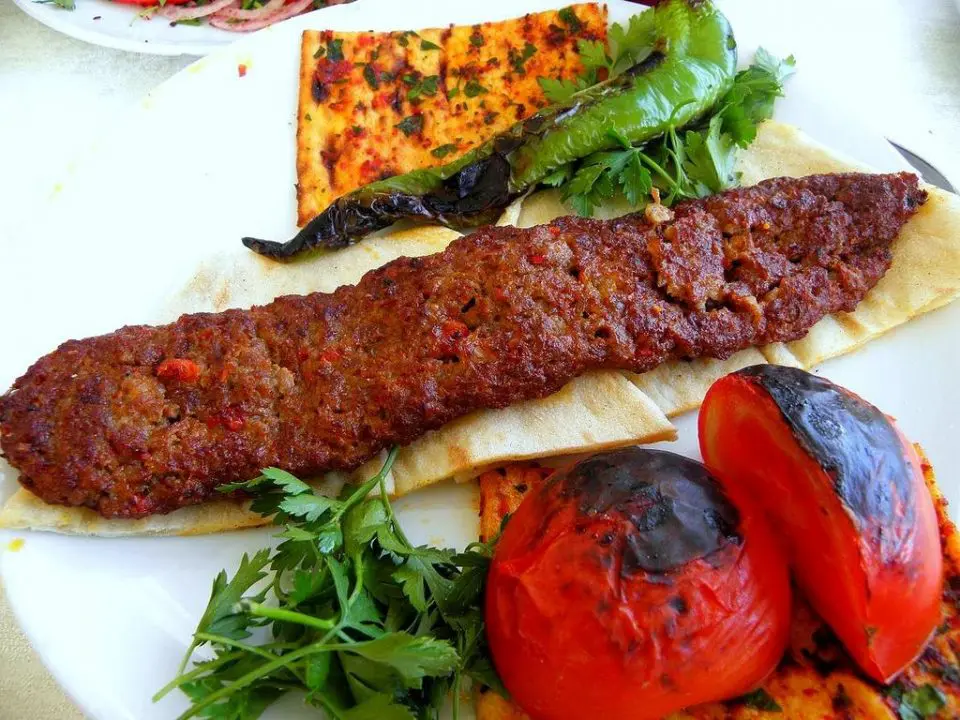 Even its most famous dish is incredibly diverse. Wikipedia lists 37 varieties, using beef, lamb, or chicken either minced, cubed or thinly sliced, either plated or wrapped, and served with salads, sauces and turşu – pickled vegetables such as peppers, cabbage, carrot, and small cucumbers..
The most popular minced meat kebabs are Adana kebabı, spiced minced beef squished onto skewers and cooked over a fire, and Urfa kebabı, a less spicy version.
Şiş, or shish, kebab is succulent, perfectly square cuts of lamb or chicken grilled on skewers. Or have it wrapped in bread and served in a plastic sleeve to catch the dripping fat. The left over bits, the çöp or rubbish, from making those square lamb chunks are mashed together with garlic and tomato, laced onto skewers, and grilled to make the juicy and so so delicious çöp şiş kebabı. Mouth watering.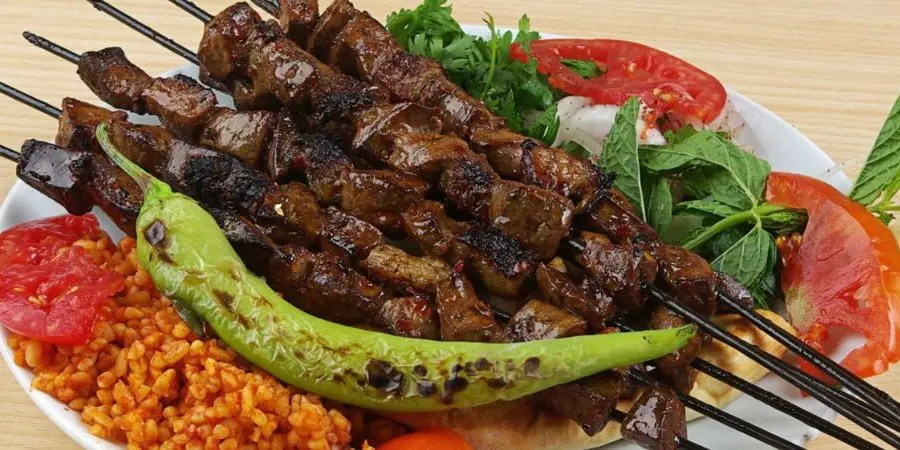 Probably the most well-known kebab, as it's a favorite in the West after a beer, is the doner (turning), thin slices of lamb or chicken cut from a rotating stack of meat and served in a wrap or bread with salad and topped with sauce: tomato, mayonnaise, or/and yoghurt.
For a more appetising plate of doner meat, sit down to an İskender kebab. Thin layers of lamb doner rest on a bed of pide bread and are coated with tomato sauce and yoghurt. Once served, your waiter will return with a longhandled pot of melted butter to pour over your meal, completing this, very calorific, luscious feast.
2. Köfte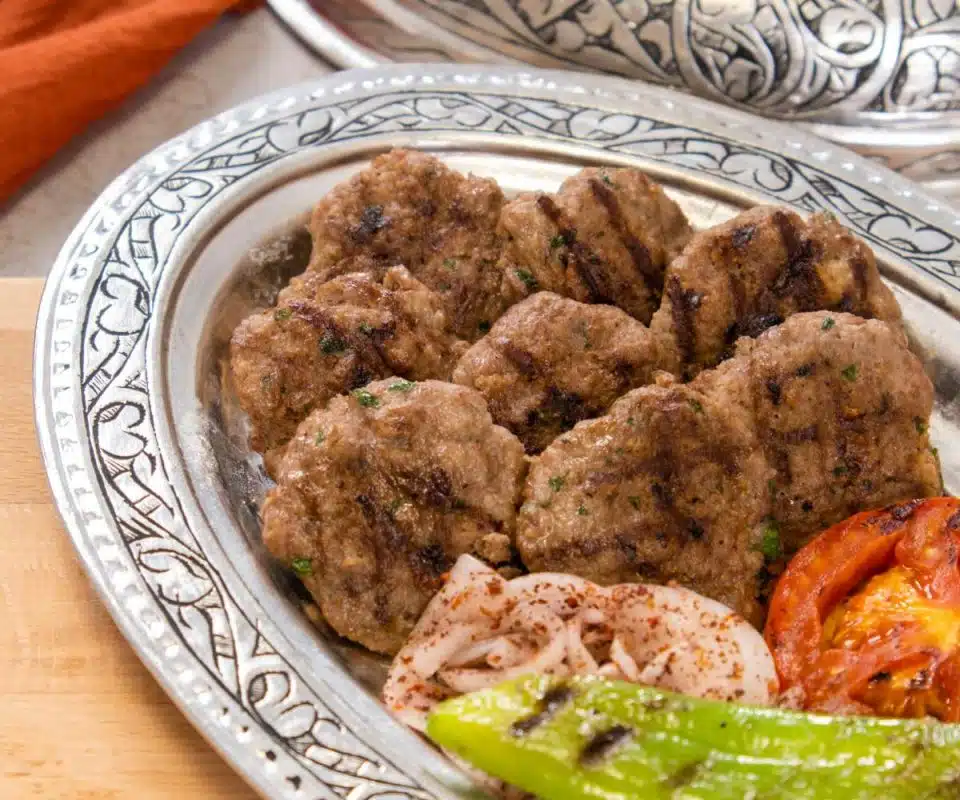 Meat balls. Don't go into a köfte restaurant expecting anything other than köfte. These restaurants are heaven for the indecisive. The only choices here are whether you have a full or half portion and whether you fancy green salad or piyaz – beans and onions in oil. And don't expect balls, either.
Köfte is spiced minced beef formed into rolls and fried. To complete the experience, make sure there's a pot of hot red pepper sauce on the table; it perfectly tangs up the succulent meat.
3. Hamsi (anchovy)
With around 5,000 miles of coastline, fishing is big industry. But the number one favorite fish is hamsi, fresh from the Black Sea. While it can be baked or poached, it's simply best when it is fried.
This intense flavored little fish is cooked whole, coated in a little flour, and placed in a wheel formation around the frying pan. Once the first side is cooked, place a plate over the top, flip the pan, and slide the wheel of fish back in to cook on the other side. Delicious served with a green salad.  
4. Zeytinyağlılar ("those with olive oil")
Time to feed the vegans. Any restaurant displaying a variety of dishes in the window will also have zeytinyağlılar – vegetable dishes cooked in olive oil and served cold.
The most popular dishes are leek, runner bean, and artichoke, but you can also find eggplant, celeriac, and red and green peppers. Onions and carrots are sautéd in olive oil to form a base to which a single vegetable, not a mix of vegetables, and water is added together with a little rice and lemon juice.
Light and refreshing, they make a great starter or a meal when put them together with bulgur rice. You'll find them also on the meze menu, but more about mezes later.
5. İmam bayıldı (or "the Imam fainted" when he found out the cost of all the olive oil)
This is an eggplant dish. Eggplant features a lot in the Turkish kitchen and this is a very popular version. The eggplant is cut in half lengthwise, slits are cut into the flesh, and it is then fried in olive oil – and, yes, it soaks it up.
The slits are then filled with a tomato and onion sauce with garlic and herbs and the whole thing is baked. Served with good crusty bread and yoghurt, it's a satisfying tangy, earthy dish.
6. Karnıyarık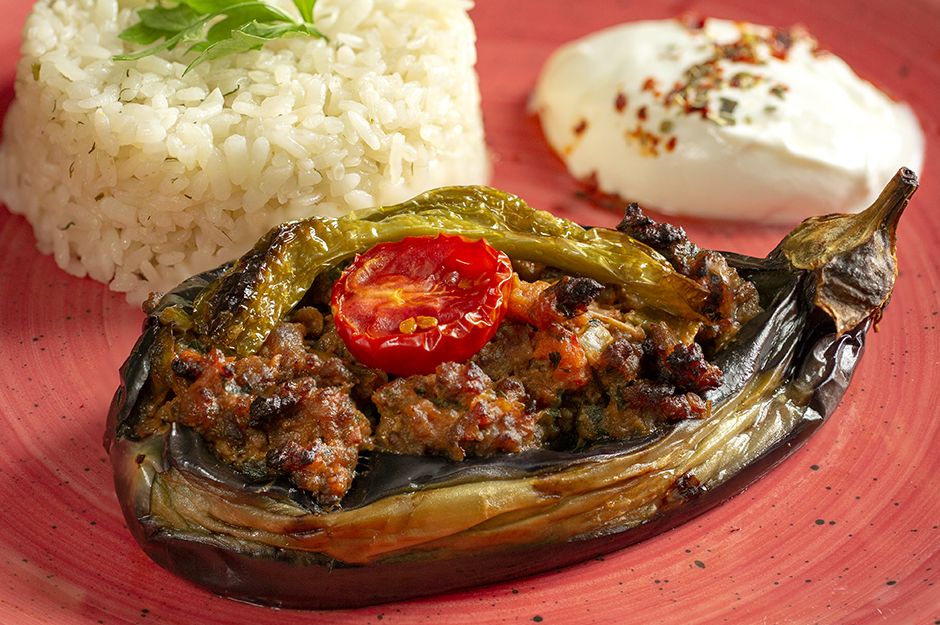 As with so much of Turkish cuisine there is a meat version and a veggie version. Karnıyarık is the meat version of İmam bayıldı, cooked exactly the same but with ground beef or lamb in the stuffing. It's never going to look elegant on the plate but it is a delicious dish, and best served with rice and plain yoghurt.
7. Dolma (stuffed)
The vegetable that is, not the diner – although change the suffix and with "doldım" and you can say "I'm stuffed". Peppers (biber dolması), zucchini (kabak dolması), vine leaves (yaprak dolması), cabbage leaves (lahana dolması), or chard leaves (pazı dolması) are stuffed – the leaves are rolled up, of course – with a mixture of ground beef, spices, and a little rice, then cooked in diluted tomato paste.
The vegetarian stuffing is a base of sautéd onions and tomates with rice, spices, pine nuts, and currants, making it sweet and spicy and delicious. Both dolma versions are often served with yoghurt.
8. Çiğ Köfte (chee kerfte – raw meatballs)
This one began as a serious meat dish but ended up vegan! A speciality dish of raw mince and spices, it was prepared for special occasions – and still is a some parts of the country. The mince is rubbed with the heel of the hand over bumps on the base of a special round dish as spices and bulgur rice are added.
Today, however, if you buy from any çiğ köfte shop or restaurant, you'll be getting a purely vegan version using bulgur rice as raw meatballs are now banned in shops and restaurants. But if you travel outside the big centers, be sure to ask first!
Fine bulgur is mixed with onions, tomato and red pepper puree, tomatoes and cumin to make a thick paste that is shaped into rolls and served wrapped in lettuce leaves topped with chilli sauce and a squeeze of lemon. A delicious appetizer.
9. Mantı
Imagine Italian ravioli made of dough rather than pasta, a third of the size, and topped with tomato sauce, garlic yoghurt, and chili pepper infused melted butter. It is heaven. The Manti can be shop-bought, dried in vacuum packs, but the very best is hand made… and homemade, as restaurants can be a bit shy with the garlic.
Lots of small restaurants now have women dressed in village clothing, sitting in the window making mantı the traditional way – rolling out the dough, cutting into squares, pulling off small bits of meat mixture to place on each square, then forming the squares into small, evenly shaped parcels. These women are skilled, their fingers work fast, and it is impressive to watch – if a little voyeuristic.
10. Kahvaltı (breakfast)
The full Turkish breakfast is a sumptuous feast of dishes, the promise of which will get the most resistant early riser out of bed. In an array of small dishes you'll find salad veg, olives, cheeses, pastes and conserves, kaymak (a thick cream similar to clotted cream) with honey.
Then there are the eggs – boiled, fried on their own or with sucuk (or sujuk – a spicy cured beef sausage), or the delicious menemen very similar to the currently fashionable Arabic shakshuka. And not forgetting the deep-fried section with sigara boreği (cigar-shaped rolls of puff pastry stuffed with cheese and parsley) or the delectable, juicy, best-eaten-as-soon-as-they arrive, pişi – deep fried balls of bread dough.
It's a fabulous mix and match breakfast served with bread or simit and plenty of tea. Every cafe and restaurant serves its own version and the quality does vary, so be selective. But if you are lucky enough to be in Van in the east of the country (probably not these days), or find a restaurant serving a Van breakfast, do not miss out!
11. Meze
Another meal of small dishes but at the other end of the day, the meze is famously for drinking rakı with, though beer, wine, or water are equally acceptable.
Much like the Spanish tapas and pretty much the same as the Greek meze, the Turkish meze is a selection of salad, fish, and vegetable dishes, all of which can be easily made at home. On long summer evenings sitting out with good friends, the meze is often followed by a full kebap of juicy lamb or beef or yaprak ciğer – very thin slices of liver fried in butter. 
12. Sugar & Turkish Desserts
The Turks know what to do with sugar. A nation with a sweet tooth, they have devised wonderful ways of consuming the stuff. Everyone knows baklava and Turkish delight (lokum), but Turkish ice-cream (dondurma) is up there with the best of them. Salep, from the root of an orchid, and mastic, a plant resin, gives this ice-cream a chewy texture.  
Turkish sweet are to die for. Künefe, layers of shredded dough filled with cheese or nuts or cream, depending on where you are, soaked in syrup and baked. Its a mouth-watering masterpiece.
Ekmek kadayıfı, a special bread soaked with syrup and topped with crushed nuts and kaymak. Şekerpare, small almond-flavored cookies soaked in syrup so they're moist and melt in the mouth. Ayva tatlısı, quince boiled in syrup, cloves and spices and topped with kaymak. You'll have noticed the syrup theme.
And if that isn't enough calories for you, perhaps go syrup and deep fried. Lokma, small balls of deep fried leaved dough covered in syrup, or tulumba, a thinner dough syringed into hot fat and soaked in syrup – a very popular street food in Turkey. 
---
Caroline Williams is a British writer who lived in Istanbul for 15 years.