14 Swedish Cookies You Need to Try
The heyday of Swedish coffee parties was in the first part of the 20th century and, in contrast to classic European café conversations, it was mainly for women to socialize. The only man lucky enough to get invited was the priest. The women would meet to drink coffee and chat while eating seven different kinds of cookie.
Those who were not invited saw these gatherings as simply an opportunity to gossip. But the event served another purpose. It was where women shared advice and opinions about household management, bringing up children, and life in general. At these meetings women could express themselves freely; perhaps something they couldn't do at home.
There were very strict rules of attendance. You couldn't just drink as much coffee as you wanted; there were cookies to eat, and they had to be eaten in strict order. You couldn't start with your favorite… No, no, no!!
Compared to other social occasions, these coffee gatherings were more easygoing, though, with no strict rules of etiquette. But the rules of the cookie were strictly observed! There had to be seven types. If the hostess served more than seven types, she was seen as haughty and if she offered fewer, she was seen as stingy.
Without further ado, let's round-up some of the most popular Swedish cookies.
1. Mandelmusslan
Mandelmusslan, with its fancy almond shell, brightens up any coffee time. The cake's nutty flavor together with tart berries and whipped cream make your taste buds dance with happiness. These are definitely a must for Christmas in Sweden.
2. Schackrutor
Schackrutor, or checkers, are a classic cookie for the cake plate! The recipe requires some work but is easier to make than you might think.
The cake is made from a basic dough of shortcrust pastry. With various additional ingredients, you can use the dough for different kinds of cookies. Baking crumbly shortcrust cookies is traditional at Christmas and here are some suggestions.
3. Finska Pinnar
Finska Pinnar, or Finnish sticks, are not really Finnish. These delicious cookies are very popular in Sweden and are crunchy and nutty and come with a pearly sugar topping.
4. Nöttoppar
Nöttoppar, or hazelnut tops, are a gluten-free favorite. They are very easy to bake. All you need is chopped hazelnuts, butter, eggs, and sugar. Voilà – chewy cookies at their best!
5. Strassburgare
Strassburgare is an extra crispy and airy classic Swedish cookie that is dipped in chocolate. It melts in your mouth and you are probably going to eat more than one!
6. Jitterbuggare
Jitterbuggare, or the Jitterbug, is named after the popular dance of the 1940s. The cake is baked with both shortcrust pastry and meringue, which gives it a swingy appearance. Let's swing…!!
7. Jordgubbssnittar
Jordgubbssnittar, or strawberry slices, are popular with most people. Fill the shortcrust pastry with summery strawberry jam and cut into diagonal slices, and top them with powdered sugar glaze in a nice pattern. Next time try raspberry, blackcurrant or blueberry jam.
8. Bondkakor
Bondkakan, or farmer's cake, is a good cookie full of almonds, syrup, and tradition. These are tasty, crunchy cookies that are easy to bake. The dough can be frozen if you want freshly baked cookies quickly without having to mix and knead. Just take it out, cut it up, and bake!
9. Kolakakor
Kolakakan, or caramel cookies, are slightly chewy, caramel cookies loved by young and old. This simple recipe includes syrup, brown sugar, and vanilla and is very quick to bake.
10. Droomar
Droomar, or dreams, are brittle cookies for all occasions. Deer antler salt and rapeseed oil give the dreams their dreamlike crispy character. These are easy-to-bake cookies, and they are sooo delicious!!
11. Hallongrottor
These hallongrottor, or raspberry caves, are easy to make and very delicious to eat. They consist of shortcrust pastry that melts in your mouth and sweet raspberry jam. A classic cookie that is still as popular as it always has been!
12. Havreflarn
Havreflarn, or oat flakes, must still be counted as the fastest and easiest cookie to bake. In less than half an hour you can serve perfect and crispy oat flakes.
13. Chokladbiskvier
Chokladbiskvier,, or chocolate bisque, is a really beloved classic that consists of a chewy almond base, fluffy chocolate buttercream, and a dreamy cover of chocolate.
If you have never tried them, then it's about time you did! They are a bit hard to bake, but if you think about what one of them would cost in a café, then it is really worth the effort!
14. Chokladbullar
Chokladbullar, also coconutball or oatball, is an unbaked pastry consisting of shortening, oatmeal, sugar, and cocoa and often garnished with coconut flakes, pearl sugar, or sprinkles. Chocolate balls are common as homemade treats and are part of the standard selection in Swedish cafés. All children love to bake them, and it is probably also one of the first cookies they ever bake!
There are loads of Swedish cookies and cakes to write about. But let us instead end up with why it is still so popular to call a coffebreak "fika", many years after the invention of the swedish "kafferep".
The Story of Fika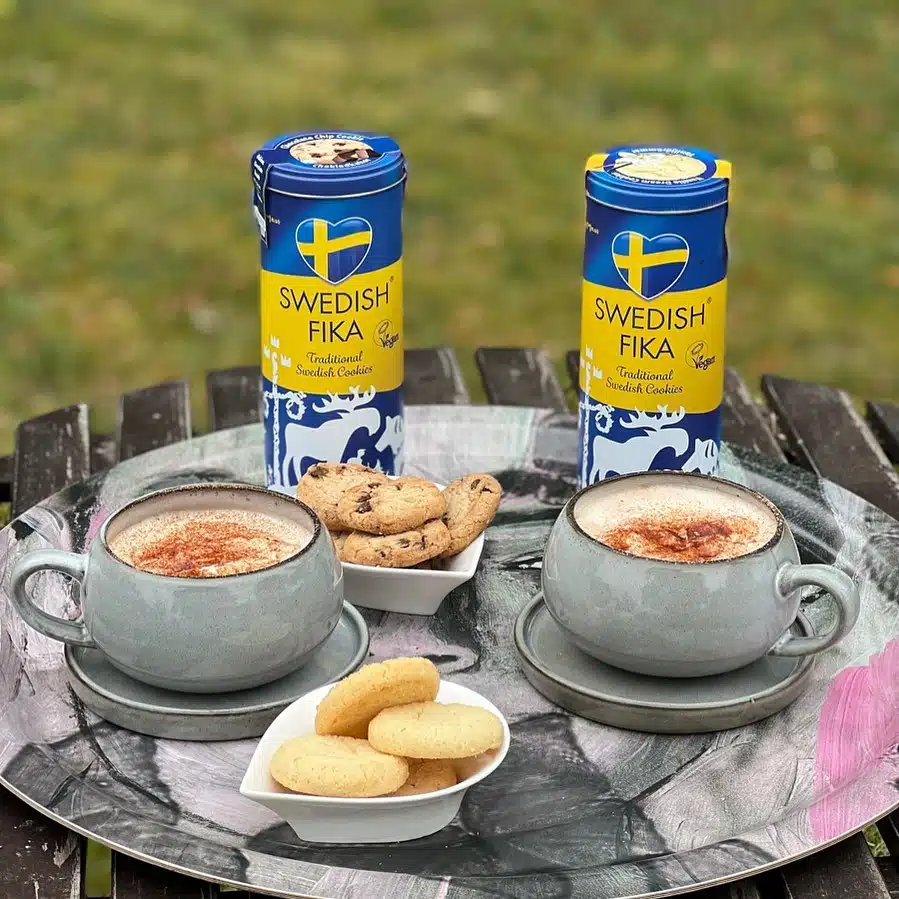 Fika was invented as a time to discuss the highs and the lows of life over a cup of coffee in a cozy café. Fika is to drink a cup of coffee to boost energy during a hard day at work. Fika is also to invite the family home for cinnamon buns and a glass of juice in the garden.
Fika is to sit on a bench in the sun drinking a take away latte… everything related to drinking coffee or tea with a sandwich or some cookies is the Swedish fika!!
If you get the chance, ask a Swede what fika means to them and you will get as many answers as there are Swedes. Just as people had coffee parties or so called kafferep at the beginning of the 20th century, it became over time the most common form of invitation, just like coffee is for us today.
That's why we say fika. The word became popular around 1910. The syllables in the word kaffi (dialect for coffee) were mixed around and thus, fika. At first, the word was used as slang for a coffee break, but over time it came to be so much more than just a cup of coffee. Today, the snack that goes with the coffee is just as important – because who wants coffee without a cinnamon bun or a delicious chokladbiskvi?
Fika is perhaps one of the most Swedish things we have – the Swedish fika is definitely here to stay!!
Try it, you´ll like it!
---
Related: 20 Favorite Swedish Foods
Related: 15 Tasty Swedish Desserts and Cakes
Related: 15 Popular Swedish Christmas Dishes