Sea Bass Cannoli with Melon and Celery Salad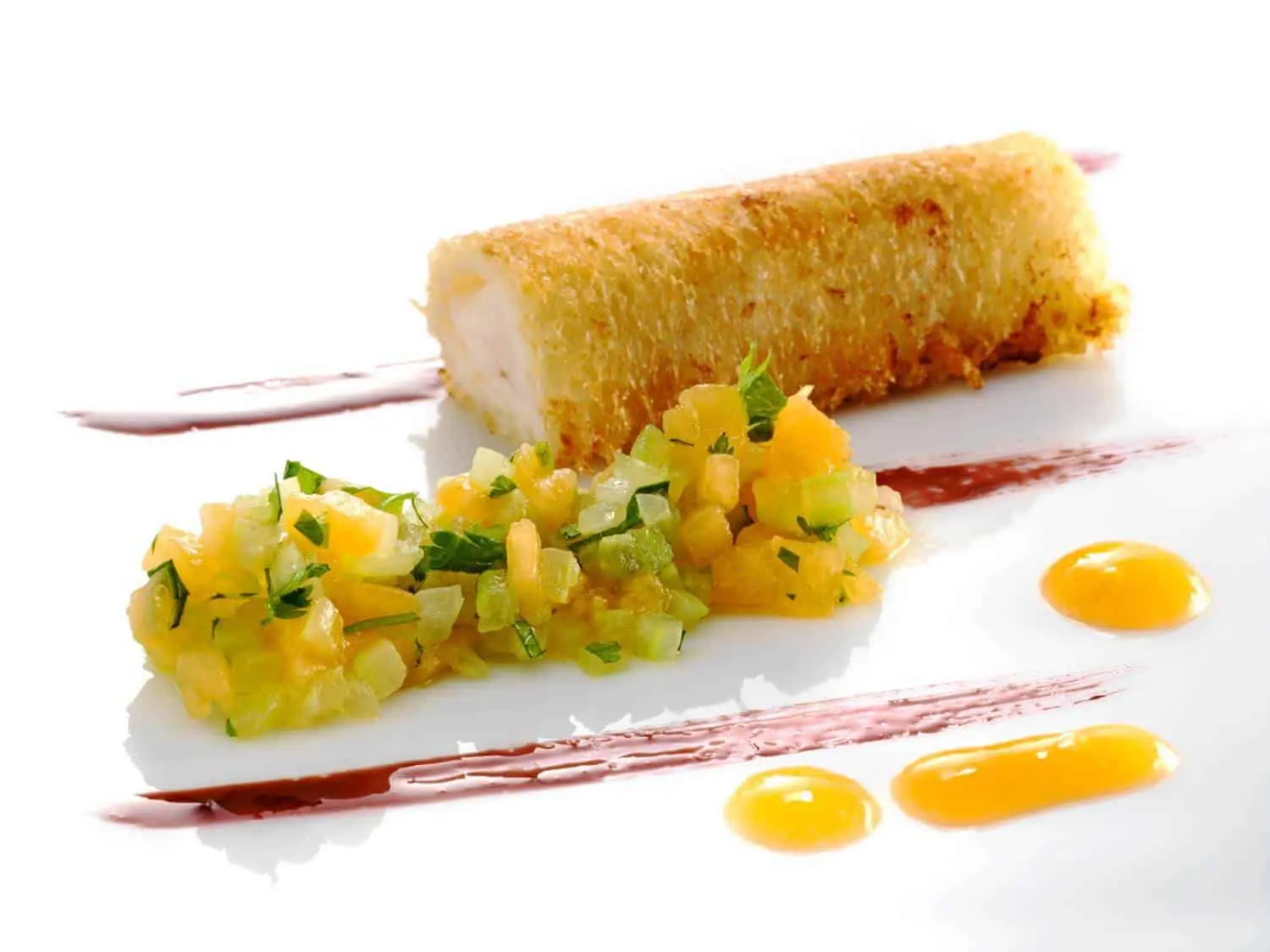 Cannolo Siciliano or cannoli (i.e. plural for cannolo) is probably Sicily's most famous delicacy. These tube-shaped shells of fried dough are usually filled with ricotta cheese and garnished with pistachio or slices of bitter orange.
This Michelin-starred dish is a reinterpretation of the famous Sicilian dish. Chef Heinz Beck is using sea bass as the filling and complements it with a superb melon and celery salad.
Enjoy this amazing sea bass cannoli recipe!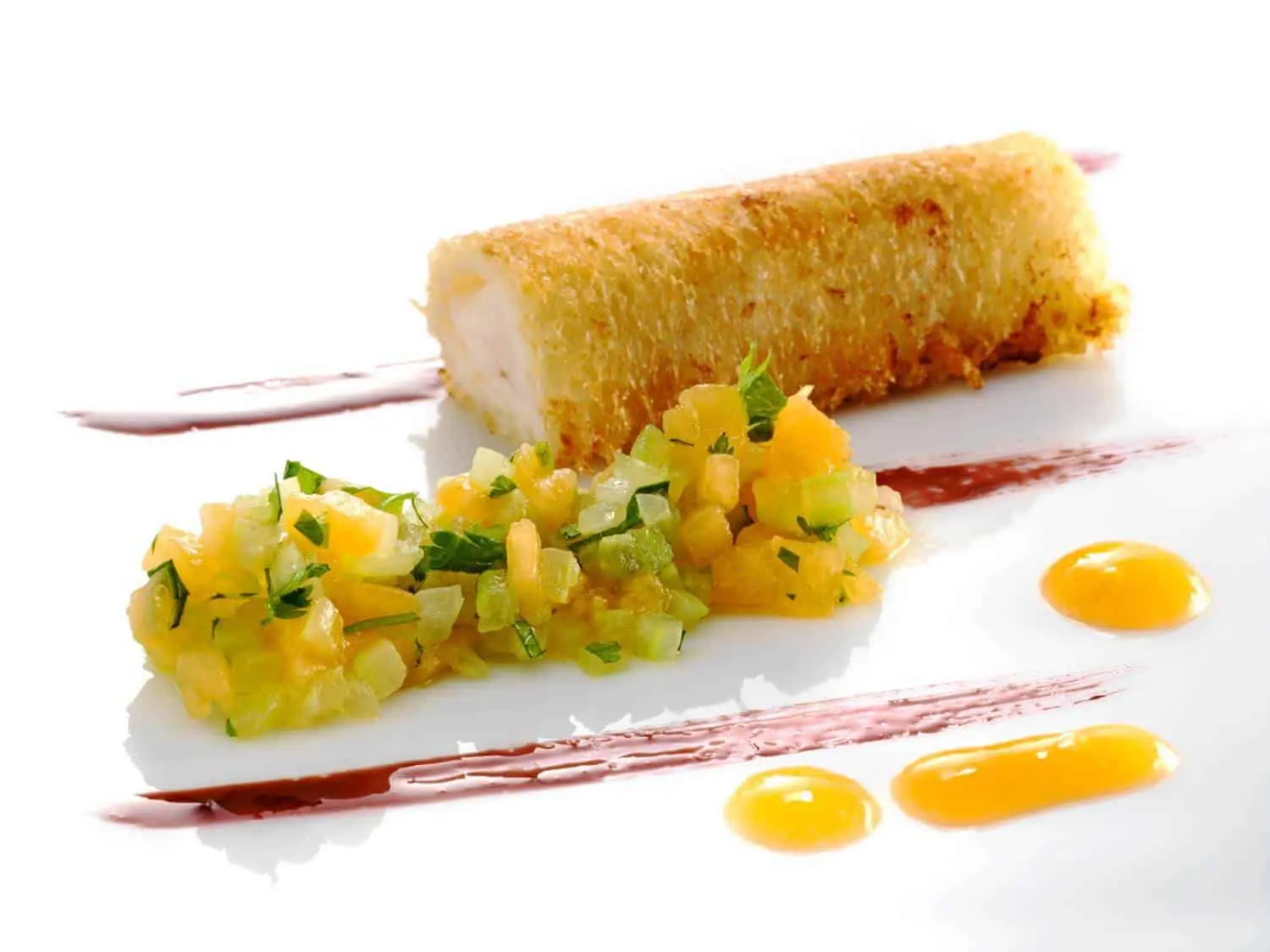 Crispy Sea Bass Cannoli with Melon and Celery Salad
Ingredients
SEA BASS
600

grams

sea bass

1

lemon

1

bunch

chives

100

milliliters

cream

olive oil

extra virgin
LEMON JELLY
100

milliliters

water

1

lemon

5

grams

sugar

1

sheet

gelatine
FISH STOCK
1/2

kilogram

fishbones

best sole or turbot

100

grams

celery

100

grams

carrot

100

grams

onion

1

sprig

parsley leaves

2

cloves

garlic

100

milliliters

white wine

1.5

liter

water

olive oil

extra virgin
MELON AND CELERY SALAD
2

stalks

green celery

1/2

melon

best cantalupo

1

bunch

chervil

1

bunch

tarragon

50

milliliters

fish stock
PORTO WINE REDUCTION
100

milliliters

Porto wine
Instructions
Sea Bass:
Gut the sea bass and thread.

Reduce into tartare 3/4 season it with lemon juice, chives and salt.

Cut the rest into small pieces. Add the cold cream and blend. Season with salt and lemon peel grated.
Lemon Jelly:
Wash the lemon and remove the peel. Put it in boiling water and repeat the operation twice, changing water each time.

Boil water together with the sugar and add lemon peel, leaving it in infusion for 1 hour.

Filter the lemon syrup, add the gelatine previously soaked in cold water and season with salt and lemon juice. Once cooled, cut into stripes.
Crusty Cannolo:
Slice the toast bread and spread over the slices the sea bass filling.

Place the sea bass tartare and the lemon jelly stripes in the center of each slice of bread.

Roll each slice to form a cannolo. Fry it in a very hot pan with extra virgin olive oil until it is crispy.
Fish Stock:
Wash the vegetables, cut them into small pieces and brown them in a pan with extra virgin olive oil and the garlic.

Add the fishbones and sprinkle with white wine and boil until it is completely evaporated.

Add the water then resume cooking.

Simmer for half an hour and filter.
Melon and Celery Salad:
Wash the green celery, peel, dice and brown it in a pan with a little of extra virgin olive oil.

Sprinkle with the fish stock and keep on cooking until the celery is tender.

Peel the melon, cut in 2 parts and remove seeds. Dice half of the melon and cut the other half part in pieces.

Blend the pieces and dress with lemon juice, salt and pass through a fine strainer.

Add the celery, the melon, chopped herbs, a little melon sauce and, if necessary, season with salt.
Porto Wine Reduction:
Boil the wine until it is reduced at 3/4. Cool it.
Presentation:
Draw two lines of reduction of Porto on the plate with the help of a brush.

Plate the salad of melon and celery in the middle; add the cannolo and garnish with the melon sauce.
Notes