Prosciutto Wrapped Salmon with Wilted Spinach & Lemon Beurre Blanc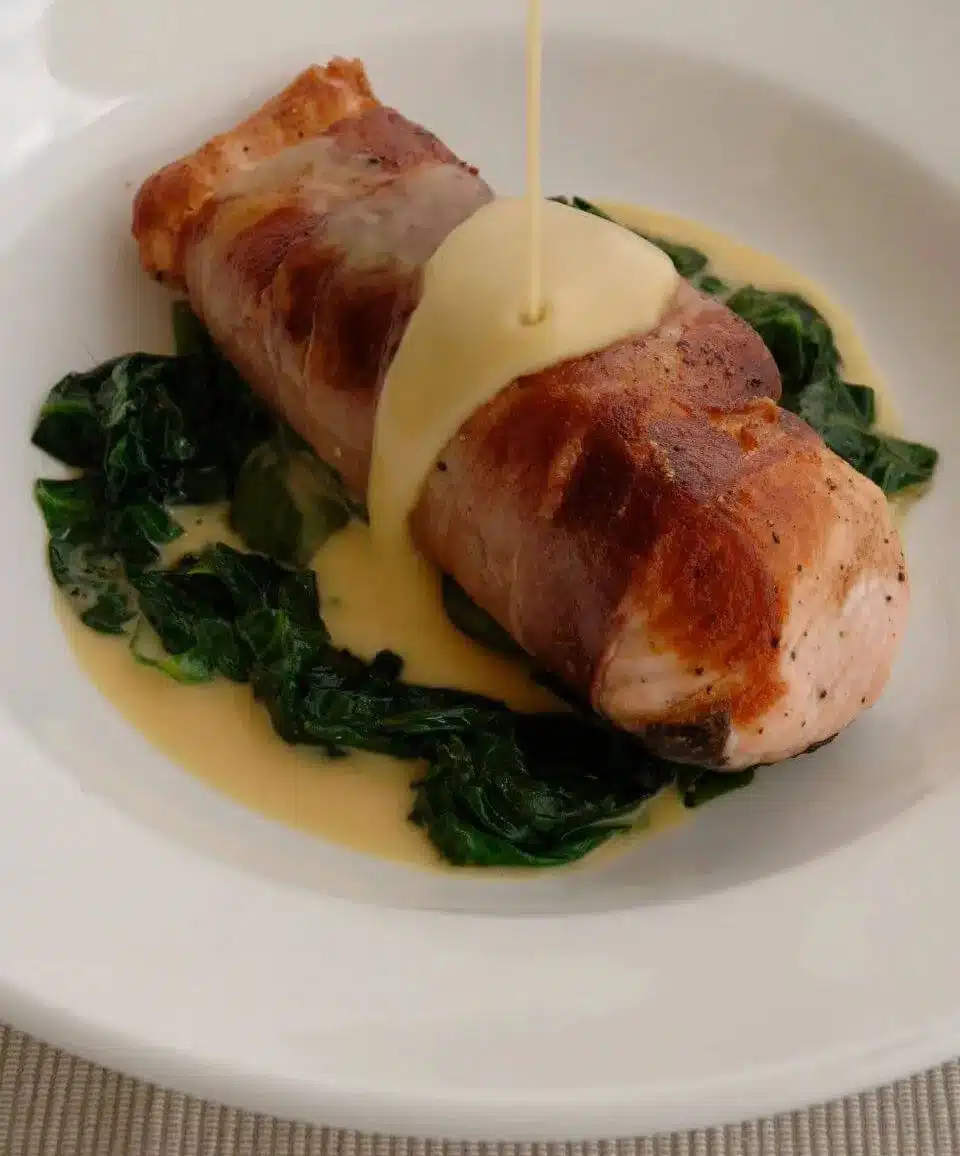 The contrasts of crispy prosciutto and tender salmon come together beautifully under the Beurre Blanc.
This is a dish that I first discovered when working in a traditional Italian restaurant many years ago. The very un-Italian head Chef was writing the specials menu one Friday afternoon outside the back of the kitchen.
In my youthful cockiness I thought that meant it was break time and I went out as well (the orders seemed to be finished). I got out back and saw a few of the specials he had been writing down, I pointed to the prosciutto wrapped salmon filet and I asked him, "Trent, is that really an Italian dish?"
He answered somewhat agitated, "Who gives a *#!* if it is or it isn't, it has Italian ingredients in it and you'll see how well it sells tonight! What are you doing out of the kitchen anyhow? Just because lunch is slowing down does not mean it's over yet. Get back in there, find me a few dozen slices of nice prosciutto and then grab half of the salmon fillets we got in this morning. I'll be in in a few minutes to show you how to prepare this dish for tonight."
Although he was a surly bastard to work under he taught me (during my brief stint there) that if done correctly tradition could be invented right under your own nose. As long as it is done right and the end result is as good as it can be, the amount of time a dish has been in existence is irrelevant.
Enjoy this delicious prosciutto wrapped salmon recipe with wilted spinach and lemon beurre blanc.
Prosciutto Wrapped Salmon with Wilted Spinach & Lemon Beurre Blanc
Ingredients
200

grams

salmon fillets

x 4

8

slices

thin prosciutto

300

grams

baby spinach

butter

extra virgin olive oil

sea salt flakes

freshly ground black pepper
Instructions
If serving with the Beurre Blanc consult Beurre Blanc recipe first.

Pre-heat oven to 180 ℃ (350 ℉).

In a pot of salted boiling water plunge the spinach leaves in and once all immersed immediately remove and rinse with cold water.

Allow to drain.

Lightly crack some pepper onto the salmon fillets.

Depending on the length of the prosciutto you may need to cut them in half, try to have 8 pieces no longer than 15 cms (approx 6 inches).

Wrap the prosciutto around the narrow length of the salmon on a slight angle so one slice reaches almost end to end as it wraps around.

Now re-wrap each piece with the second slice starting at the end you finished at.

Ensure you are at the adding butter stage of the beurre blanc recipe before proceeding with the salmon.

Sear the salmon in a little olive oil and butter until the prosciutto is crispy, transfer the filets to a lightly oiled oven proof dish and place in oven for approx 7 minutes.

Meanwhile wipe the pan clean and return to med-high heat.

Add a little extra virgin olive oil to the pan and add the drained spinach leaves when hot.

Toss with a little salt and pepper.

Arrange the wilted spinach on 4 plates.

Place the salmon filets on top of the spinach.

If using the Beurre Blanc pour it over both the salmon and spinach.

Another nice way to serve them is with creamy polenta, a few shaves of parmesan and a simple lemon wedge.

Enjoy either way with a nice Semillon or Sauvignon Blanc.
Notes
Related: Prosciutto Wrapped Asparagus with Reduced Balsamic
Related: Spinach & Butternut Squash Salad w/ Crispy Prosciutto
Related: Grilled Brussel Sprout Salad w/ Walnuts, Prosciutto & Parmesan
Related: Herb Marinated Chicken Breast with Prosciutto & White Bean Salad
Related: Oven-baked Salmon with Potato Salad, Poached Egg & Quick Pickles