15 Popular Catalan Foods You Need to Try Out
Catalonia is located in northeastern Spain, a geographically strategic spot in the Mediterranean that has influenced its history and, undoubtedly, its cuisine.
The region is flanked by the Pyrenees Mountains in the North and its coast along the Mediterranean Sea. Catalonia enjoys a temperate climate and incomparable natural wealth.
Which is why the gastronomy of Catalonia includes a wide variety of sea produce and a range of crops from the mountains, as well as numerous vegetables looked after with dedication by local farmers.
Catalonia is a region with over a thousand years of history, when it developed its own culture and language rooted in customs, traditions and festivities with food at their center. If there is something Catalans love doing most, it is enjoying traditional dishes in the company of friends and family!
Without further ado, let's explore the most popular Catalan foods you need to try on your next trip to Barcelona.
1. Pa amb Tomàquet (Bread with Tomato)
Let's start with what is possibly one of the most simple but most traditional (and famous!) Catalan foods: pa amb tomàquet, which, believe it or not, is simply bread rubbed with tomato.
For this simple yet delicious dish, slices of bread (toasted or not) are rubbed with ripe tomato then drizzled with olive oil and sprinkled with a pinch of salt. And it's ready to enjoy.
While it can be eaten on its own, it is often served as a side dish to cold meats, cheese, fish or roasted vegetables, known as escalivada. Any bread can be used, but Catalans like to use their traditional pa de pagès, or farmer's bread.
2. Escalivada
Escalivada is one of the very few vegetarian dishes that can be found in Catalan cuisine. It is more of a side dish, or entrée, than a meal in itself. While it can be eaten alone, it's often served with toasted pa de pagès, sometimes topped with anchovies.
Considered one of the most emblematic side dishes in Catalonia, it consists of a mixture of eggplant, onions and red peppers, which are roasted or grilled whole. Once cooked they are left to cool and then peeled and de-seeded.
To serve, they are cut into long strips lengthwise and seasoned with olive oil and salt. The final touch is chopped garlic.
3. Cargols a la llauna (Canned Snails)
This snail dish is a culinary specialty of the Lleida region in the north of Catalonia. Its name, cargols a la llauna or canned snails, reflects how they are cooked. This dish can be eaten as a tapas, a starter or as a main dish.
The land snails are cooked in a large tin tray with a mixture of breadcrumbs, butter and parsley. Unlike snail dishes in other parts of Spain, the Catalan version does not feature a sauce!
4. Gambas de Palamós (Palamós Prawns)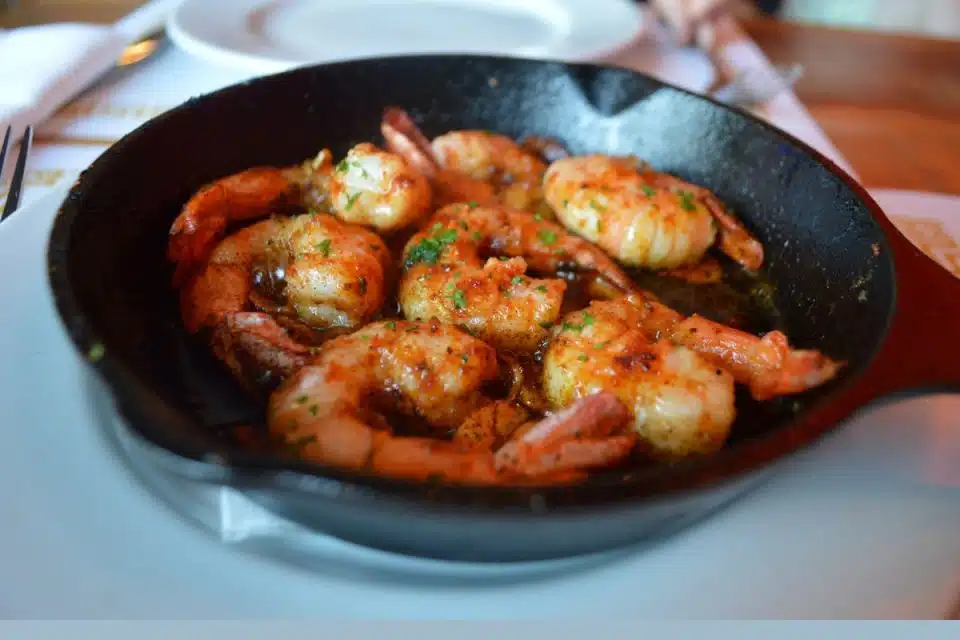 Palamós prawns are a specialty of the coast of Catalonia. They take their name from Palamós, a fishing town in the Costa Brava.
The prawn has a very intense red color, and tastes like no other – sweet with a unique aroma. It is appreciated for its fine, firm and tasty meat and is sought after by chefs all over the world.
Undoubtedly this is one of the best Catalan delicacies!
5. Calçots
Calçots is a type of onion that is harvested in winter. Getting together and eating calçots is a gastronomical social event known as calçotada. With its origin in the village of Valls, calçotades are enjoyed from the end of winter till mid spring.
Calçots are cooked directly over the flames, traditionally on double-sided wide grills so that all the calçots can be turned at the same time. The idea is to charr the outer layer, so the outside is burnt but the inside in cooked and tender. Once cooked, the whole batch is wrapped in newspapers to keep warm, while the rest are prepared.
They are brought to the table either in the newspaper packages or on a clay roofing tile (this last option is more common in restaurants!).
Eating calçots is a messy affair as they are eaten by hand: first the charred layer is removed, then the calçot is dipped in a special calçot sauce called salvitxada. Inevitably fingers are stained and blackened, but calçots are so delicious and calçotades are such fun it is totally worth it!
6. Fricandó
Fricandó is a stew made from veal or beef fillets cooked in a sauce of vegetables and various types of mushrooms. To add to its tastiness, this stew is finished off with a blended mixture of garlic, almonds, and parsley.
It is a typical autumn dish, probably due to the availability of fresh mushrooms during that season. Dried mushrooms can also be used, making it an option at any other time of year!
7. Botifarra amb Mongetes (Sausage with Beans)
This is a classic traditional Catalonian dish which is very simple but also very characteristic of Catalan cuisine; it can be even considered a symbol of Catalan gastronomy and culture!
The main ingredient is botifarra, which is a thick pork sausage, and it is served with a side dish of white beans known as mongetes or seques. The botifarra is best barbecued or grilled and the beans are simply cooked in olive oil. Alioli, a type of garlic mayonnaise, can be added, but this is really down to personal taste.
Usually eaten for lunch, botifarra amb mongetes can also be enjoyed for breakfast as part of another Catalan gastronomical tradition called esmorzar de forquilla, which translates as fork breakfast.
Botifarra is also a fantastic ingredient for a delicious local sandwich.
8. Trinxat
Mostly served during the cold months of autumn and winter, this delicious dish is typical of Catalan mountain cuisine and from the Cerdanya area.
Trinxat, which means mashed or chopped, is a simple dish made with boiled potatoes and cabbage. As its name indicates, these two ingredients are mashed and mixed together until it resembles a small omelet.
What gives Trinxat its caloric value, perfect for those winter months, is the bacon, which is fried and placed on top.
9. Crema Catalana
For those with a sweet tooth, this Catalan dessert will not disappoint! Also known as crema cremada (burnt cream) or crema de Sant Josep, this delicious dessert is Cataloia's version of the famous Crème Brûlée.
Made with a base of milk, eggs, and sugar, it is usually presented with a layer of burnt sugar on top.
It was a typical sweet enjoyed on Father's day, which in Catalonia is celebrated on March 19. But nowadays it is eaten all year round, and not only in Catalonia but in restaurants across the globe.
This iconic Catalan dessert is now enjoyed in the entire country and it's one of the most popular desserts in Spain.
10. Panellets
While Anglo-Saxons celebrate Halloween on October 31, Catalonia celebrates La Castanyada, or The Chestnut Festival. This is one of the most looked forward to autumn celebrations, enjoyed by young and old alike!
Panellets are a sweet typically eaten during La Castanyada. They are small round cakes made with sugar, ground raw almonds, egg and potato or sweet potato. They are traditionally covered with toasted pine nuts or almonds, but you can also find them in coffee, chocolate, coconut and other flavors.
Panellets can be bought in bakeries and patisseries, but it is also common to make them at home and they are often made as a school activity.
11. Bacallà a la Llauna
Some consider this a typical dish of the city of Barcelona, which is the capital of Catalonia.
A la llauna means in a can, which reflects the baking tray it is cooked in. In ancient times, these trays came with high sides, resembling a can.
The pieces of desalted cod are floured, fried in a frying pan, then baked in the oven for a few minutes. Chopped garlic, red pepper, tomato, bay leaf and white wine are slowly fried in the oil used to fry the cod and once done, it is poured over the cod and it's ready to be enjoyed!
12. Escudella i Carn d'Olla
This is a typical soup or hotpot made with vegetables, meat, and pasta. It is one of the stars of Christmas, but it can be enjoyed all year long, particularly in winter.
The centerpiece is a big ball of meat known as pilota. It is made with minced meat mixed with bacon, beaten egg, breadcrumbs, garlic and parsley. Once mixed up together, the whole thing is dredged in flour and browned a little before being cooked in water, which forms the broth. The meat is chopped up and shared between those sitting at the table.
It is usual to serve the meat with a type of pasta called galets, shaped like a snail's shell, which are cooked in the broth. White and black sausages can also be used.
13. Mel i Mató
An extremely basic yet delicious traditional Catalan dessert made with a simple combination of honey and a type of cheese called Mató. Mató, known also as brossat or brull, is a sweet, fresh, subtle cheese that is made from goat, sheep, or cow's milk.
The presentation is basic, just a piece of Mató generously drizzled with honey! While this is the most authentic version, other ingredientes such as nuts or dry fruit can be added.
14. All i Oli
Literally meaning garlic and oil, this traditional Catalan sauce is known internationally for the taste it brings to meats, fish, and vegetables.
Also known as aioli, this sauce was traditionally only an emulsion of garlic and oil, the two mashed together in a mortar and pestle. As time went by other ingredients, such as eggs, were added, resulting in an aioli that resembles garlic mayonnaise.
15. Canelons
Although the cannelloni originates in Italy, this type of pasta is enthusiastically consumed in Catalonia. Centuries of trade between these two countries resulted in a cultural and, especially, gastronomic exchange between the territories.
Catalan-style cannelloni has become a typical Catalan dish. It is made by covering rectangular sheets of pasta with meat, rolling them up, and covering them in béchamel sauce. While it is consumed all year long, Christmas and Sant Esteve are two days when this delicious dish can be found on many Catalan tables!
We hope that this tour of traditional Catalan food has encouraged not only your appetite but also your curiosity to explore more foods from this region. From meats, fish and sweets, Catalan cuisine has a lot to offer!
Happy eating!
---
Related: Most Popular Foods in the Basque Country
Related: Most Popular Spanish Foods
Related: Most Famous Foods in Valencia