25 Most Popular Indonesian Desserts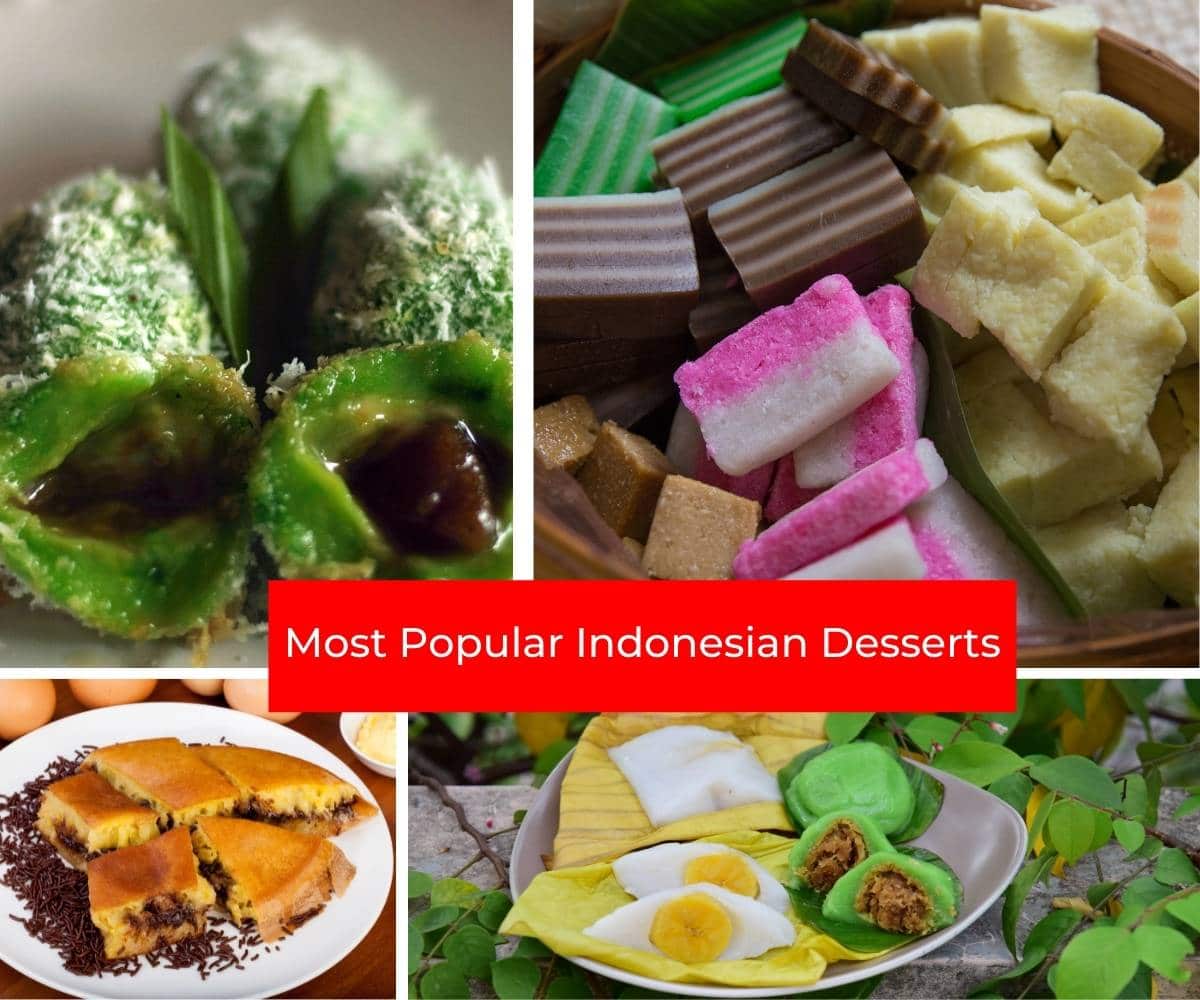 Indonesia is a maritime country made up of 16,056 islands that house hundreds of ethnicities with their own languages, cultures, and cuisines.
This makes Indonesian food truly special and incredibly diverse, and desserts make no exception. There are literally hundreds of Indonesian desserts. Some of them have made it overseas, but most of them are still exotic dishes that you can only find in the country.
In this article, you'll get to know 25 of the most popular Indonesian desserts that you might (or most probably might not) have encountered.
1. Terang Bulan
One of the most favorite sweet foods in Indonesia, martabak manis, more popularly known as terang bulan, is Indonesia's take on pancakes. You can find terang bulan throughout the country sold by street vendors, which usually open around 6 pm, or when the sun sets.
Terang bulan is essentially a mix between a pancake and a crepe. The batter is similar to pancakes, and the cooking process resembles that of a crepe. But instead of ice cream or maple syrup, you will find various fillings like chocolate, cheese, peanuts, pineapple, strawberry, and many more.
The round-shaped dough is folded into a half-circle, turning the topping into a filling. The outside layer is crusted and crispy, while the inner part is somewhat gummy (if you've eaten pancakes, you'll be familiar with the texture).
2. Klepon
Klepon is the Indonesian take on the Japanese mochi. These sweet green balls of joy are made from rolled-up sticky rice flour filled with Javanese brown sugar, which is then brought to a boil.
The Javanese brown sugar inside the balls melts during the boiling process, so beware of possible spurting out when you bite down.
The rice cake balls are then topped with coconut shreds to balance out the sweet taste of the Javanese brown sugar. Klepon is considered a jajanan pasar (market snack), a term used to classify snacks often found in Indonesia's traditional markets. But you can often find klepon sold by street vendors in the early morning (around 5 am-9 am).
3. Pisang Goreng
Fried banana is a ubiquitous snack for everyday consumption in every region of Indonesia. There are plenty of fried banana variations in Indonesia, from simple batter-coated deep-fried bananas sold by street vendors to banana nuggets which restaurants more commonly sell.
4. Onde-onde
Onde-onde is a traditional Indonesian snack made from fried sticky rice flour balls filled with bean paste and coated with sesame seeds. There are various size options when it comes to onde-onde. Some sellers make regular-sized ones, while some sell mini versions.
5. Kue Lumpur
Kue lumpur is another traditional Indonesian cake made with coconut milk and flour batter mixed with potatoes, eggs, vanilla and topped with raisins. The addition of potatoes into the batter makes kue lumpur much more fulfilling than other traditional snacks.
You can find this cake anywhere in Indonesia, but you will find many street vendors and restaurants selling kue lumpur in Java. This cake originated from Bandung, West Java, and is often available at various Javanese and Sundanese traditional ceremonies.
6. Kue Ape
Kue ape is one of Indonesia's traditional snacks and is significantly popular in the capital, Jakarta. This Indonesian pancake is usually made with flour, rice flour, and coconut milk with some other ingredients like sugar and baking powder.
You can identify this cake by the bright green color from the suji leaves and its saucer-like shape. The center part of kue ape is bright green and has a soft texture, while the outer part is brown and crispy.
7. Kue Lapis
Kue lapis, literally meaning layered cake, is a traditional Indonesian dessert made with rice flour, starch, coconut milk, sugar, salt, and food coloring.
The name originates from the layers. In its traditional form, these wiggly cakes are typically made by alternating dark green and light green layers. However, rainbow-colored variations appear in more modern iterations of the recipe.
8. Kue Cucur
Kue cucur is a deliciously sweet cake with a bright red color that you can often find in Indonesia's traditional markets. This snack is made by frying a mixture of flour and palm sugar, which creates the bright red color.
Indonesians often eat kue cucur as a companion to their afternoon tea with the loved ones—and so should you.
9. Nagasari
As an original Indonesian recipe, nagasari is, of course, made with rice flour and coconut milk batter. Slices of banana are also added as a filling.
The combination is then wrapped in a banana leaf and steamed to achieve the most delicious rice cake. This rice cake has a chewy texture that melts in your mouth, but when you bite through it, you will be greeted by the soft texture of the banana inside the cake.
10. Apem
While Apem is not inherently Indonesian (it is an Arabic dish), it is very popular with the people across the country, especially Javanese people. The texture is quite similar to that of serabi but it is much thicker.
Apem is made from rice flour, coconut milk, and pandan leaves, producing an inviting aroma. It is among the most popular dishes during Ramadan, but you can find it throughout the year in Indonesia.
Javanese people often eat apem during their traditional ceremonies called selametan.
11. Cenil
Cenil is a corn starch cake topped with grated coconut and palm sugar. This simple dish originated from Kebumen, West Java. It is often served on skewers (similar to satay), but instead of meat, you get chewy, colorful mini cakes.
The cake itself tastes rather bland since there is no seasoning or other ingredients involved in the process. However, the grated coconut and palm sugar topping are the perfect combos to make this traditional snack quite delightful.
12. Carabikang
Carabikang is a traditional Indonesian cake that can be identified from its bright colors and mount-like shape. This traditional cake is made from rice flour, coconut milk, sugar, and some food coloring to give it the signature bright look.
The cake batter is often cooked in a specially made pan to produce the signature mountain top shape of carabikang. Since this cake is roasted rather than baked, it is a little bit dry, so you should have a beverage at the ready when you decide to try this one.
13. Kolak
Kolak is Indonesia's traditional sweet soup that can contain various fruits and condiments. The most common ingredients of kolak are banana, cendol (rice flour jelly), jackfruit, cassava, pumpkin, and sweet potatoes.
The soup is made with coconut milk and sugar boiled together with pandan leaves, to add an aromatic scent and flavor. Kolak is one of Indonesia's staple dishes for breaking fast during Ramadan, but it is available throughout the year.
14. Wingko
Wingko is a traditional Indonesian coconut cake that originated from Lamongan, East Java. The core ingredients are, typically, rice flour, grated coconut, and coconut milk.
But there are other iterations of the dish that include more ingredients and flavors. You can find wingko for sale by street vendors and peddlers at public transport stations.
15. Serabi
Serabi, sometimes also called surabi, can be both a savory and sweet dish.
This variety of rice cake is made by roasting rice flour batter in a bowl-shaped wok on top of a charcoal flame. The outer bottom part of serabi is dry and crispy, while the inner part is bright and juicy.
Traditionally, serabi toppings are coconut shreds and sprinkles of sugar. However, as people experiment with their own iterations of the recipe, dozens of toppings can now be found throughout the country.
16. Kue Putu
Kue putu is a tube-shaped rice cake filled with Javanese brown sugar and topped with coconut shreds. The shape is a result of the cooking instruments, which are made of bamboo tubes.
You can easily spot street vendors selling this cake by the whistling sound made during the steaming process.
There are two popular variations of kue putu: green and white. The green putu usually have a more aromatic scent due to the pandan leaves involved in the process, but they are essentially the same in terms of taste.
17. Kue Pancong
Kue pancong is a Batavian dessert that you can find easily throughout Indonesia, but especially in Jakarta and its surrounding areas.
You can find this rice cake at street vendors throughout the day, but Indonesians consider kue pancong a breakfast dish. What's best, though, is that they are always made to order, so your breakfast is always fresh and warm.
Kue pancong is a savory rice cake served with sweet toppings such as icing sugar, chocolate, strawberry jam, and the like.
18. Dodol
Dodol is a sticky rice flour cake made by cooking the batter in coconut milk and sugar, a bit of salt, and palm sugar. A more modern iteration of dodol often involves various fruit flavoring, so you won't run out of options to try.
This cake has a chewy and sticky texture, which means you will get some stuck between your teeth. However, the taste is worth every sticky chew. It's also very filling, making it a perfect quick snack.
There are other names for dodol, depending on where you are in Indonesia. In East and Central Java, dodol is more popularly known as jenang. There is also a variant of dodol made using durian fruit called lempok.
19. Es Teler
Es teler is a refreshing Indonesian dessert that typically consists of jackfruit, avocado, coconut, and syrup dressed with shaved ice and condensed milk. Other variations include more ingredients, such as jelly, mango, rambutan, and other seasonal Indonesian fruits.
Indonesians classify this dish as a drink, even though it much thicker than your usual drink. Es teler is commonly served in a bowl with a spoon since the ingredients are usually sliced or diced.
20. Dadar Gulung
Dadar gulung is a traditional Indonesian dessert made with rice flour, grated coconut, and brown sugar. The batter is similar to that of a pancake, but it is typically infused with pandan leaves to add some flavor and the signature vibrant green of dadar gulung.
The dough is flattened and topped with grated coconut, cinnamon, and palm sugar. Everything is then packed together in tube-shaped rolls and then baked to perfection.
21. Pukis
Pukis is another traditional Indonesian cake, which originated from Kebumen, West Java. These half-circle cakes are made from coconut milk and flour batter. But what makes them unique is that they require special pans designed to cook them. The pan for making pukis has half-circle molds that make it easier to bake them in large volumes.
Traditionally, pukis are only topped with a sprinkling of sugar for sweetness. However, modern vendors offer various toppings such as chocolate, cheese, vanilla, milk, hazelnut, etc.
You can find street vendors selling pukis in the evening throughout Indonesia, but you can also find these bite-sized cakes in traditional markets.
22. Pie Susu Bali
While you can find milk pies everywhere globally, they are one of the most popular snacks for people visiting Bali and are even bought as souvenirs.
These Balinese milk pies are often sold in packages of 10. If you expect the pies to be regular-sized, you are in for a surprise. The souvenir-style milk pies are bite-sized, so you can eat 10 of them in a flash.
23. Es Doger
Es doger is a traditional Indonesian dessert consisting of fermented cassava, black sticky rice, avocado, coconut slices, and shaved ice. Some vendors also add slices of bread and sago jellies for their own iterations of the recipe.
This refreshing dessert originated from Cirebon, West Java. The name doger is short of dorongan gerobak, which means push cart—which is how the first vendors of this dessert sold it to people.
24. Es Pisang Ijo
Es pisang ijo, or iced green banana, is a cold sweet soup dessert that contains bananas covered in a green coating made from rice flour. This dish originated from Makassar, South Sulawesi and has spread throughout the country.
The soup itself is made from coconut milk and sweetened syrup. Besides the coated bananas, es pisang ijo is usually served with bubur sumsum, black sticky rice, and sago pearls.
25. Getuk
Getuk is a traditional Indonesian dish made from boiled and mashed cassava. The cassava base is sweetened with sugar and served with grated coconut to enrich the flavor and food colorings to create a colorful dish. This cassava dish is popular throughout Java, but you can find it all over the country.
Indonesia is undoubtedly rich in culinary culture, but these are only a sliver of the desserts you can find throughout the country.
You can certainly try to make some of these desserts yourself. But nothing beats the exotic and authentic experience that you'll get from enjoying these popular Indonesian desserts in their home country.
---
Check out our article on the most popular Indonesian foods (savory and sweet), as well as the most popular street foods in Indonesia.