Top 20 Most Popular Chinese Desserts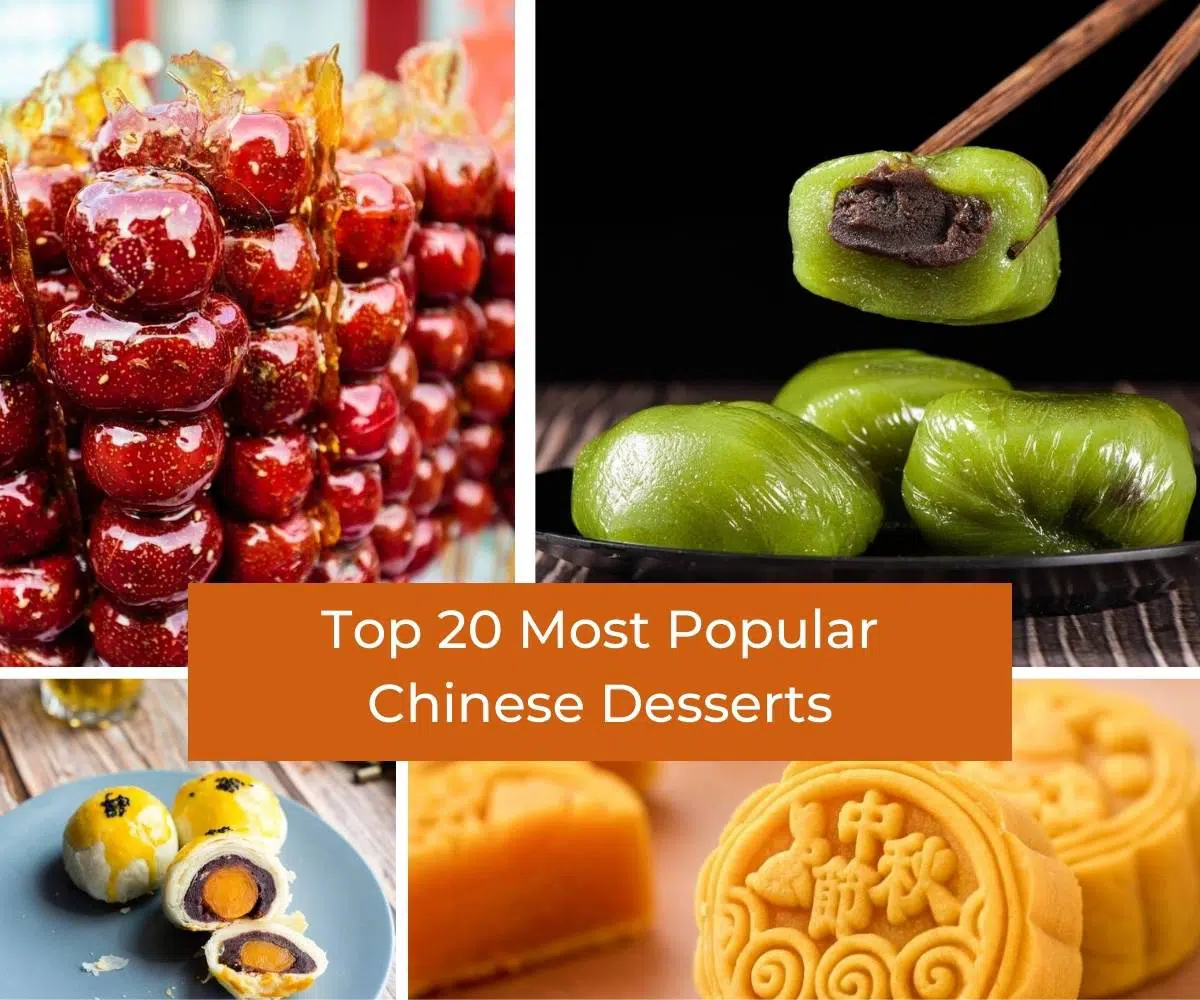 There is an old saying in China that emphasizes the significance of food in people's lives: "Food holds the utmost importance for the people." It is a constant thought that occupies our minds on a daily basis. For many people, the charm of traditional Chinese desserts, made in wooden molds, is not only about the food but also about hometown flavor and hometown culture.
These tastes are rooted in our memories and feelings and are never forgotten. Let's take a look at the top 20 most popular desserts in China. How many of them did you try as a child?
1. Mooncake
In China, the tradition of moon worship has a long history, with mooncakes originally being offered as a tribute to the Moon God. Nowadays, they are shared and enjoyed as part of the festive celebrations during the Mid-Autumn Festival. Eating mooncakes and watching the moon at the festival is a custom in both North and South China.
Mooncakes are a symbol of reunion. People divide them up into 6 or 8 pieces to share with others.
A thick crust surrounds a rich, thick filling usually made from lotus seed paste and sometimes containing yolks from salted duck eggs. The fillings vary from sweet or savory to sweet-savory and spicy. Mooncakes can also have fruit fillings or anything else you fancy.
2. Tangyuan: Glutinous Rice Ball
Tangyuan is a dessert of the Han which has a long history. Tangyuan originated in the Song Dynasty. Ingredients were black sesame, lard, and white granulated sugar.
First, the black sesame was ground into a powder and then lard and white granulated sugar were mixed in. The mixture was wrapped in a glutinous rice crust and rolled into a small ball. Once cooked, it tastes sweet and delicious.
Tangyuan is a symbol of family reunion. Eating tangyuan is said to bring family happiness and a prosperous new year. There are many kinds of tangyuan and preparation methods and ingredients differ across China. Many people in the south sit together on the morning of the Spring Festival to eat a bowl of sweet tangyuan.
3. Green Dumplings
Green dumplings are a traditional food from the Jiangnan area. The green color comes from wormwood juice, which is added to glutinous rice flour when making the dough. The fillings are bean paste or lotus seed paste and they have a light and long fragrance.
They are served up by the Jiangnan on Qingming Festival when every family steams their own pot of dumplings. According to research, green dumplings originated in the Tang Dynasty and have a history of more than 1,000 years. People made green dumplings mainly for worship. Throughout the centuries, the appearance and flavor of these dumplings have remained unchanged. Although they are no longer exclusively reserved for worship, they have evolved into a beloved seasonal delicacy enjoyed by many.
Some are made of wormwood juice and others are made with other green leaf vegetable juice mixed into glutinous rice flour. The rich fillings vary according to taste.
4. Steamed Pea Flour Cake
Steamed pea flour cake is a special snack popular in Shanxi, Henan, Hebei, Beijing, and other places. In 1957, it was rated one of the "top ten famous food" in Taiyuan City.
Made with pea powder and other ingredients, including sugar, persimmon, gardenia yellow, and persimmon cream, they are popular in the summer months.
Sweet and delicious, cool and fresh, soft and tasty, this dessert is known to be good for the spleen and stomach. Peas are rich in high-quality protein and carotene, which can improve the body's resistance to disease, enhance immune function, prevent the synthesis of carcinogens, and reduce the incidence of cancer.
5. Osmanthus Cake
Osmanthus cake has a history of more than 300 years. It is delicious and refreshing, simple to make, and comes in various versions, suiting everyone's taste. Before the 1980s, when osmanthus fragrans were in full bloom, posters on the streets of Nanjing city would announce "Buy your fresh osmanthus fragrans".
The cake was traditionally made without adding any spices. Cooked glutinous rice flour, fresh sweet-scented osmanthus, and rock sugar are the only ingredients. They are pressed into small rectangular molds and put into cartons for sale.
Osmanthus cakes can guard against depression, maintain a balance between the physical body and emotions, as well as ease mental stress. Long-term consumption of osmanthus tea is believed to cure dry skin, hoarseness, stomatitis, and periodontitis.
6. Jujube Cake
Jujube cake is a well-known traditional delicacy made with flour, jujube paste, brown sugar, and yeast. Its preparation is straightforward, making it easily accessible to everyone, and it is a popular dish enjoyed by families across generations.
Jujube cake is fragrant and sweet and contains vitamin C, proteins, calcium, iron, vitamins, and other nutrients. It is believed to not only nourish the spleen and stomach and replenish body fluid, but also to protect the liver, increase muscle strength, nourish the face, and prevent aging.
7. Mung Bean Cake
Mung bean cake is a traditional summertime dessert. It is said that Chinese ancestors would eat zongzi, realgar wine, mung bean cake, and salted duck eggs during the Dragon Boat Festival to promote safety and health.
The main ingredients are cooked mung bean flour, steamed potato flour (or wheat or pea flour), vegetable oil or sesame oil, lard, soft white sugar, sugar rose, black jujube, and sweet-scented osmanthus.
Mung bean cake is believed to have health benefits, especially for the eyes and reducing swelling, making it a favorable choice for children. However, its preparation is challenging and requires skilled craftsmanship, as reflected in the intricate patterns on the cake.
8. Steamed Sponge Cake
Steamed sponge cake is a popular cake found in both northern and southern areas of China. It is fragrant and nutritious and especially suitable for the elderly and children.
There are many varieties. Longyou steamed sponge cake is a cultural heritage food with unique production technology. The steamed sponge cake from Yueyang, Huizhou, and other places also have their own characteristics. But they are all generally fermented with the addition of glutinous rice wine.
These cakes are quite exquisite. The color is as white as jade and the small holes are as thin as needles.
9. Water Chestnut Cake
Water chestnut cake is popular in Guangzhou, Fujian, and Nanning of Guangxi Zhuang Autonomous Region. It is said that it originated in the Tang Dynasty.
It is made with chestnut powder and sugar or is steamed with sweet potato powder. Water chestnut cake tastes sweet and quickly melts in the mouth. It has an exquisite taste that is considered an outstanding part of Cantonese cuisine.
Water chestnuts have the highest phosphorus content of all rhizome vegetables, which can promote bodily growth and development and help maintain physiological functions.
The nutritional makeup of the cake has great benefits for teeth and bone development and it can promote the body's sugar, fat, and protein metabolism and regulate the balance of acid. Exceptionally good for children, therefore.
10. Cloud Cake
Cloud cake, also known as snow cake, is a traditional cake of the Jiangsu Province. Its name reflects its thinness and color. It is characterized by a fine and soft texture, just like curd, and can be stored for a long time.
High-quality ingredients like glutinous rice, sugar, lard, olive, sesame, and spices are key. For instance, the fried glutinous rice flour needs to be stored for about six months to soften, and the soft sugar must be of the highest quality. Serving is equally precise, with each 22 cm cake sliced into 140 pieces.
Cloud cake is a popular offering to the moon for the Chaozhou people during the Mid-Autumn Festival. A few days before the festival, every family buys a cloud cake, not only for themselves but also as a gift. Many of the Chinese from Chaozhou, scattered across the world, eat cloud cakes on the eve of the Mid-Autumn Festival to ease their homesickness.
11. Meat Floss Cake
Meat floss cake is a dessert made of meat floss, wheat flour, mung beans, egg, and sugar. It is crispy, fragrant, and instantly melts in your mouth.
Nowadays, meat floss cakes are enjoyed as snacks and there is a particular brand called Youchen, which has become popular on the internet in recent years, leading to a trend in the small snack industry.
Meat floss cake was originally a traditional food in Fujian and Taiwan. How did it turn into a popular food? The golden crisp cake, the soft ice-green mung beans, and the minced pork floss blend together on the tip of your tongue into a rich taste that lingers for a long time.
12. Pineapple Cake
It is said that pineapple cake originated in the period of the Three Kingdoms. The pronunciation of pineapple in the southern Fujian dialect symbolizes the prosperity of future generations.
Pineapple is also a popular food for worship in the Taiwan area of China, promoting prosperity; which is why it is also widely served at weddings in Taiwan. Pineapple cake filling is not simply pineapple, wax gourd is also added, according to taste.
Nowadays, pineapple cakes have different flavors, including cereals, pine nuts, egg yolk, and chestnuts, and are available in Taipei markets. Oats and other ingredients can be added to the outer part of the cakes for variety, and some people use other fruits for the filling, such as melon, honey plum, sour plum, and so on.
13. Egg-yolk Puff
Egg-yolk puff is a traditional Chinese dessert made of wheat, butter or lard, and egg yolk. In recent years, with the continuous improvement in the quality of ingredients, egg-yolk puff has gradually become very popular. It has a lot in common with the Suzhou-style mooncake.
Lard was traditionally used for egg-yolk puff, though today butter is widely used, avoiding the need to boil the lard and enhancing the taste of the cake, giving it a strong milky flavor.
14. Dragon's Beard Candy
Dragon's Beard candy is made from wheat flour, maltose, and other ingredients. It is a traditional Chinese snack, formerly known as silver candy, and is stuffed with sugar gum, peanut, sesame, and coconut.
The candy's beard is actually sugar glue, which is pulled out like noodles. It is said that there was an emperor in the Song Dynasty who found silver candy so delicious it became his favorite dessert.
Later, when common people learned the emperor also ate silver candy, it was renamed Dragon's Beard candy, the dragon representing the emperor and the beard being the pulled-out sugar thread.
15. Chinese Pumpkin Pie
Pumpkin pie is a typical folk snack that is crispy on the outside and tender inside. The main ingredients are pumpkin, glutinous rice flour, condensed milk, milk, bread bran, and sugar.
It's interesting to note that while many pumpkin enthusiasts enjoy pumpkin pie, not all pumpkin pie lovers necessarily enjoy pumpkin itself. Isn't that fascinating?
Pumpkin is a common daily dish. It is rich in nutrition, containing vitamins and pectin, which can protect the mucous membrane and aid digestion. It is good for the stomach and can combat carcinogens and promote growth and development, so it's perfect for children's breakfast.
16. Sweetheart Cake
Sweetheart Cake is famous in Chaozhou, Guangdong Province. It is made with sugar wax gourd, wheat flour, cake flour, malt sugar, and sesame. The outside is roasted to a golden color, and the extremely crispy inside layers are as thin as paper. As soon as you bite in, crumbs fall all over the floor.
According to legend, during the late Yuan and early Ming Dynasty, Zhu Yuanzhang (the first emperor of the Ming Dynasty) led an uprising against the Yuan Dynasty. Because there were many wars at that time and there was often not enough food, Zhu Yuanzhang's wife, Ma Shi, came up with the idea of using wheat, wax gourd, and other things ground into flour and made into cakes. She distributed them to the soldiers. It was not only convenient to carry but could be eaten at any time, anywhere, playing a great role in keeping up soldiers' spirits.
But the cake was not so delicious. Some clever people made some changes. Today, the Sweetheart Cake is made from a delightful combination of sugar wax gourd, wheat flour, cake powder, malt sugar, sesame, and other ingredients. The result is a delicious, sweet, and crispy cake that has captured the hearts of many.
17. Sugarcoated Haws on a Stick
Sugarcoated haws on a stick is a Chinese snack that originated in the Southern Song Dynasty. It is made of wild fruits strung together on bamboo sticks. The fruit is dipped in maltose, which quickly hardens, and it tastes both sweet and sour. It's a very common snack in Northern China in winter.
Many of my childhood memories include a string of sour-sweet sugarcoated haws on a stick. An uncle sold these sugarcoated haws, carrying them on his shoulders and shuffling through the streets or sometimes riding a bicycle.
When I was a child, this was only made of hawthorn, which I didn't particularly like. So I would lick off the outside sugar. Any child holding a string of sugarcoated haws in their hands was the happiest child in the world.
18. Steamed Creamy Custard Bun
Steamed creamy custard bun is popular in Guangdong, Hong Kong, and Macao. It was invented by Wang Tingzhi, with an original recipe including salted egg yolk. It has a thick and smooth milky flavor and is extremely delicious.
In the beginning, not every restaurant knew the recipe so they all developed their own. As a result, the custard bun filling is different wherever you go. In most restaurants, the filling is only made with butter, eggs, milk, sugar, flour, cornflour, and custard powder. In Taiwan, they also sell steamed creamy custard buns in steamers.
19. Double-layer Steamed Milk custard
Double-layer steamed milk custard is a Cantonese dessert that originated from Shunde, Guangdong province in the Qing Dynasty. Now it is found all over Guangdong, Macao, Hong Kong, and other places.
It is said that double-layer steamed milk custard was invented by a farmer in Shunde, who, when making breakfast early one morning, accidentally did something to the buffalo milk and, thus, unintentionally created the double-layer steamed milk custard.
The upper layer of the skin of the milk is sweet, while the lower layer is fragrant and smooth. It tastes so exquisite and leaves a delicious lingering taste.
20. Rice Dumplings
Rice dumplings are a festival food of the Han with a long history. They were originally offered to ancestors in worship. The custom of eating rice dumplings during the Dragon Boat Festival has been popular in China for thousands of years and spread to Korea, Japan, and Southeast Asian. Today, they have become popular all over the world.
The main ingredients are glutinous rice and stuffing wrapped in reed leaves in various shapes, including angular and quadrangular.
There are two main varieties: savory and sweet. There are many types of filling. For example, Beijing rice dumplings include jujube; in the south, there are mung bean, pork, bean paste, ham, mushroom, egg yolk, and other fillings; and Guangdong rice dumplings have a bacon filling.
---
Check out next our story on the most popular savory Chinese foods.