Oven-baked Pork Ribs with Green Salsa & Vegetables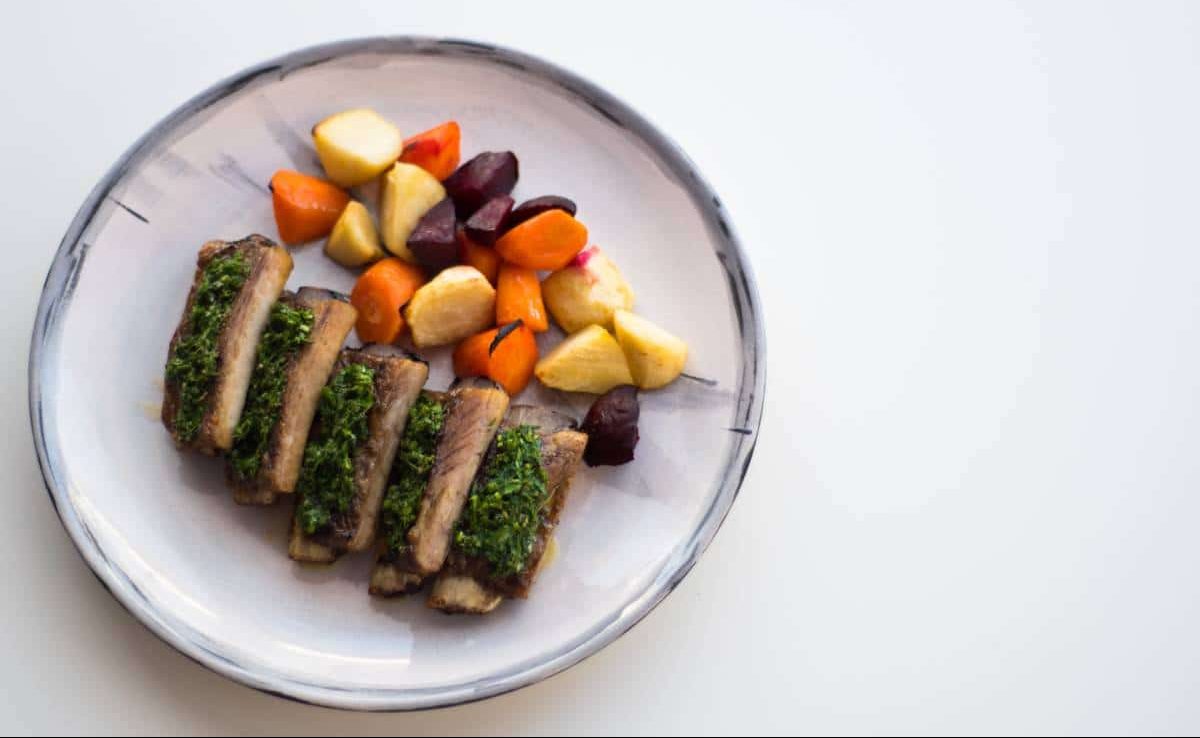 These oven-baked pork ribs with green salsa and baked vegetables recipe is mouthwatering and stars the juicy pork ribs cooked to perfection and smothered with a tangy green salsa sauce.
The sauce uses a blend of aromatic herbs such as parsley, thyme, rosemary, and basil, along with a hint of lemon for a refreshing zing.
The result is a fragrant and flavorful sauce that perfectly complements the tender and succulent pork ribs.
The dish is completed with baked vegetables, including red beet, carrots, and parsnips, perfectly roasted with a dollop of butter for added richness. The vegetables add a touch of sweetness and earthiness to the dish and provide a delightful contrast to the savory flavors of the pork ribs.
Green Salsa Pork Ribs with Baked Vegetables
I love the combination of pork ribs and a fresh component such as green salsa.
Ingredients
600

g

pork ribs

salt

pepper

1

bunch of

green parsley

3

sprigs of

thyme

1

sprig of

rosemary

10

basil leaves

1

lemon

30

ml

olive oil

1

red beet

2

carrots

2

parsnips

50

g

butter
Instructions
Remove the back silver skin from the ribs and season with salt and pepper. Wrap in baking paper and cover with aluminum foil.

Put the ribs in a tray with a little water and bake in a pre-heated oven for 2 hours at 180°C (355 °F).

Peel the vegetables and cut into large pieces. Place in a heat-resistant pan with butter, salt, and pepper. Bake in the oven for about 45 minutes.

For the salsa, wash the greens and chop finely. Add lemon zest and lemon juice, olive oil, salt, and pepper.

Before serving, remove the ribs from the foil and let them brown in the oven for another 5-10 minutes. After taking them out, cover with the green salsa sauce.
Notes
Related: Fall-off-the-Bone Pork Spare Ribs with Juicy Corn and Cilantro
Related: Oven Baked Cajun Pork Ribs w/ Potatoes & Garlic Sauce
Related: Glazed Pork Ribs with Scallions & Togarashi
Related: Honey Glazed Pork Ribs with Potato Salad & Celery
Related: Braised Beef Short Ribs in Spiced Orange Tamarind Sauce