Looking for Nutritional Yeast Substitutes? Try These 8 Nooch Alternatives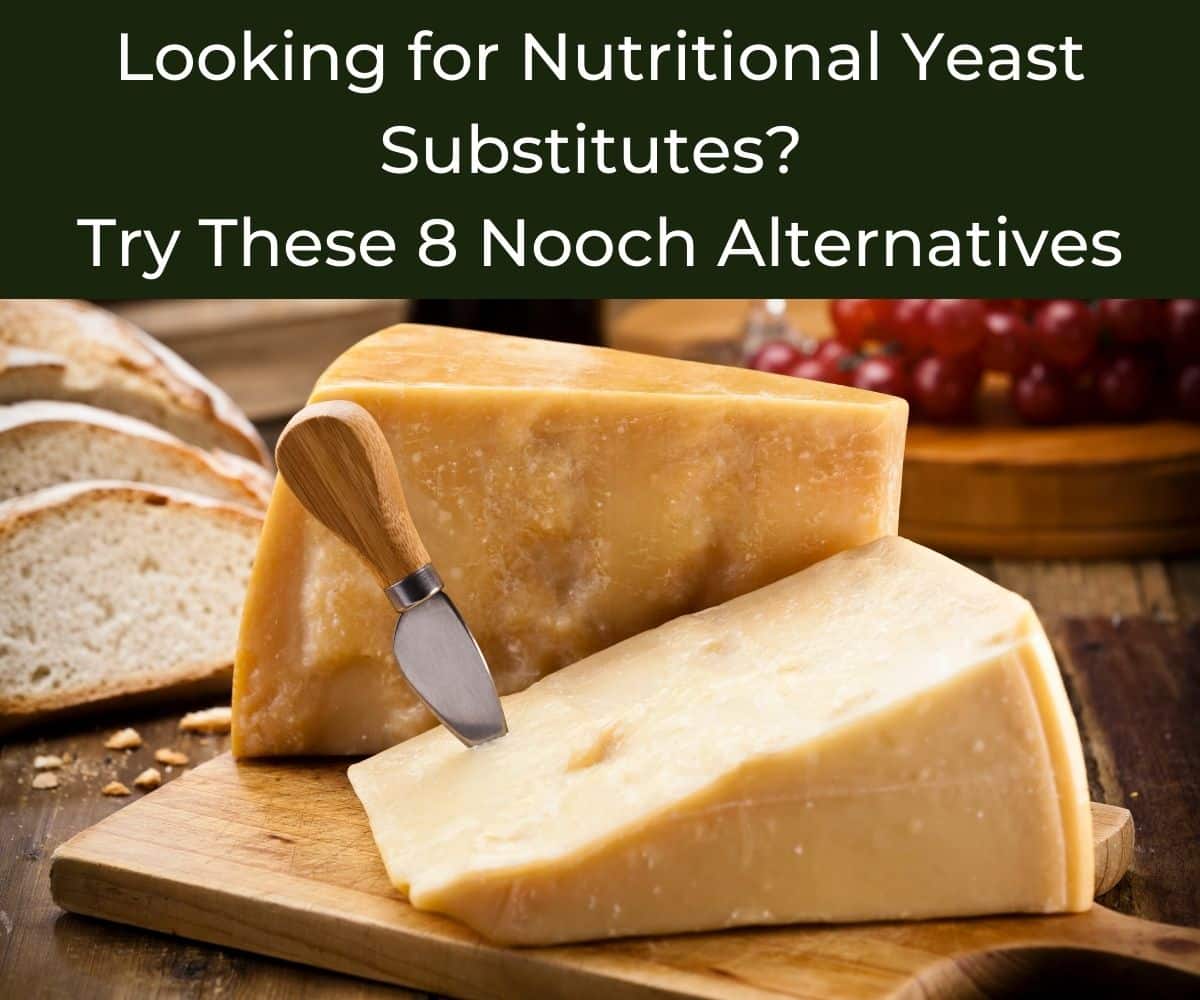 Nutritional yeast is a powdered yeast of the Saccharomyces cerevisiae variety. This type of yeast is also what makes brewer's yeast and baker's yeast, although the three are very different.
Nutritional yeast is grown on a sugar-rich medium for several days, harvested, deactivated, and then washed and dried, before it is flaked and eventually packaged.
Nutritional yeast (or "nooch" as it is often nicknamed) is sold worldwide and is very popular in the vegan realm of cooking for two reasons. The first is that, because of the way nooch is processed, it imparts a certain umami or even cheese-like flavor to the flakes. For those who do not consume animal products, cheese is dearly missed! Vegans have learned and adopted many recipes that include nooch to make things taste cheesy, including vegan versions of parmesan, Mac and Cheese, and even fondue!
The second reason is that nooch is incredibly nutrient-dense! One of the biggest concerns around adopting a vegan diet is the question of how one gets the vitamins and minerals you normally get from meat, eggs, or dairy.
Nooch is very high in vitamin B12 (1 tbsp contains 33% of the daily recommended dose!) and several other minerals. It is important to note that there are two types of nutritional yeast on the market: fortified and unfortified. Most brands are fortified with loads of vitamins, but some brands are of the unfortified variety. Along with being high in nutrients, nooch is also fat-free, low-sodium, and free from gluten and sugar.
Nutritional yeast is most commonly packaged as thin, yellow flakes, or sometimes in powdered form. It can be found in the spice section of any bulk store or health food store. (Note that in some countries, it is called Brufax.) It is becoming increasingly popular and easier to find. However, if you cannot track it down, here are some great substitutes for nutritional yeast.
1. Parmesan Cheese (Vegan or Non-Vegan)
One of the most popular uses of nutritional yeast is a vegan version of parmesan cheese. The reason?
Because both parmesan and nooch have a cheesy, umami, and slightly nutty flavor. By blending equal parts nutritional yeast with toasted walnuts, and adding a generous portion of salt, you can achieve the same texture as finely grated Parmesan, as well as the nutty, salty flavor.
But if you don't have nooch, then why not try using real parmesan? This will be especially delicious on top of Italian dishes such as pasta or risotto!
2. Brewer's Yeast
Brewer's yeast and nooch are quite similar in the sense that they are actually the same kind of yeast, just processed differently.
Nooch is deactivated and therefore does not act like yeast, the way brewer's yeast does, but they do have similar flavor profiles so brewer's yeast is a good substitute if used in small amounts. Use caution, thoug, because brewer's yeast does have a signature beer-like flavor profile and is described as having a bitter aftertaste. It should be used in a 3:2 ratio, nooch to brewer's yeast.
3. Miso Paste
Miso and nutritional yeast are quite different, but they have one thing in common… big umami flavor!
Miso paste is a Japanese product made from fermented beans or legumes, using koji. It is deeply flavored, rich, salty, and very savory. If you need nutritional yeast for a sauce, miso paste would make a great alternative (or used in combination with each other!).
Miso paste comes in white or yellow, so the color should not be a factor when swapping the two. Miso paste can be quite salty though, so make sure to keep this in mind if making this substitution – your final recipe may require less salt.
4. Ground Nuts or Seeds
Nutritional yeast is often used to sprinkle on top of dishes, offering a little extra flavor and nutritional value. But do you know what else is flavorful and nutritious? Nuts and seeds!
Especially cashews, pepita, or sunflower seeds. To make these into a nooch-like topping, simply grind nuts or seeds in a food processor until they are coarsely ground and store in an airtight jar. These can be used in combination with nooch or as a direct replacement for topping salads, soups, pasta, stews, and more.
5. Dried Mushrooms
Dehydrated mushrooms are one of the most underrated ingredients in the vegan pantry because they are super savory, like nooch!
Dehydrated mushrooms come in all varieties – shitakes, porcini, and more – and are sold either whole or in powder form.
Either of these is a great addition to any recipe where you require nutritional yeast because they will make your recipe richer, more intense, and more savory. It is important to note that mushrooms are often brown and become even darker when dried, so this may not be the best option for all recipes.
6. Soy Sauce (Or Coconut Aminos)
Soy sauce is best known for being a condiment for sushi or other Asian food, but in vegan kitchens, soy sauce is used in everything! Okay, not in everything, but like nooch, it is very popular for adding a salty and savory flavor to plant-based dishes.
If you're missing nooch, you can add a splash of soy sauce (or coconut aminos) to add that umami component. Like dried mushrooms, it is important to note that soy sauce is dark brown and might discolor certain recipes, so if this is important, please choose a different alternative from this list.
7. Marmite (or Vegemite)
Marmite (and its Australian counterpart, Vegemite) is famous for its super savory flavor. It is made of the same yeast that nooch is made from but comes in a rich, brown paste.
People all over England either love Marmite and swear by it, making it a part of their regular breakfast, or they tolerate it for its health properties. You can certainly use a spoon of Marmite or Vegemite to replace a spoon full of nooch and get that same, delicious, umami flavor! Give it a try!
8. Bouillon Paste or Powder
When making soups and sauces, nooch is often added to give a little extra flavor and some savory notes. But, if you don't have nooch, you can also add any of the ingredients on this comprehensive list… or a bouillon cube!
Along with being salty and herbaceous, bouillon is also full of umami and adds a richness that makes it so much better than cooking with water! For this reason, it is a good alternative if you find yourself without nooch, especially for those slow-cooked soups and stews.
---
Nutritional yeast is a wonderful ingredient and once you discover it, it will be hard to look back. It is beloved by vegans and carnivores alike, and a staple for cheese lovers!
Try adding nooch to your next recipe… go ahead, try it! It goes great in mashed potatoes, casseroles, eggs, tofu scramble, on popcorn, pasta, salad, in soups, smoothies, or even on your pet's food! Nutritional yeast is a favorite for the whole family and an effective (and delicious!) way to add nutrients, minerals, vitamins, and flavor to your diet!