Mozzarella & Poached Egg Salad with Blackberry Vinaigrette
This is a protein-packed salad with a perfectly poached egg, pomegranate seeds and a delicious blackberry vinaigrette. It's easy to make and a family favorite.
Directions:
To poach the egg, begin by bringing a pot of water to a boil, adding a touch of vinegar. Once the water reaches a rolling boil, reduce the heat to low and give it a gentle whisk to create a whirlpool effect. Carefully slide the egg into the swirling water and cook until it reaches your preferred level of doneness.
Alternatively, you can opt for the following poaching method: crack the egg into a plastic bag, add a bit of vegetable oil, and securely tie the bag with a knot. Submerge this bag into boiling water for a few minutes. Once the egg is perfectly poached, simply snip the bag open, and voilà – you've got yourself a poached egg without the fuss.
For the vinaigrette, prepare by blending the blueberries, then incorporate the olive oil and balsamic vinegar, seasoning the mixture with a pinch of salt and a dash of pepper.
Now, assemble your salad. Start with a bed of fresh lettuce mix on your plate. Tear apart the mozzarella ball into rustic pieces, or if you prefer, neatly slice it and place it atop the greens. Sprinkle in the juicy, jewel-like pomegranate arils for a burst of color and flavor.
Finally, crown your creation with the beautifully poached egg and drizzle generously with the luscious blackberry vinaigrette.
Enjoy!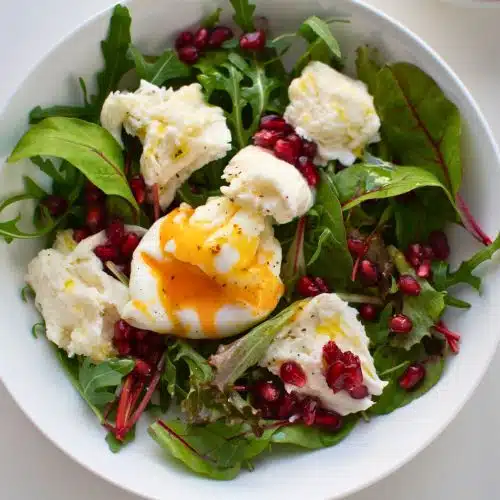 Mozzarella & Poached Egg Salad with Blackberry Vinaigrette
Because salads can be yummy too.
Ingredients
1

handful of

spring mix

(baby lettuce, spinach, etc.)

1

egg

1

mozzarella ball

¼

pomegranate
Instructions
To poach the egg, bring a pot of water and vinegar to the boil. As soon as the water is boiling, turn the heat to low, stir with a whisk, and carefully add the egg to the whirl of water. Cook until it is the desired consistency.

Another way to poach an egg is to break it into a plastic bag, add some neutral oil, and tie the bag with a knot. Boil in water for a few minutes. When the egg is ready, cut the bag, and voila – you have a poached egg without much hassle.
For the Blueberry Vinaigrette:
Blend the berries and add the olive oil, and balsamic vinegar. Season with salt and pepper.

Place the lettuce mix on a plate, tear the mozzarella ball, or cut it into pieces and place it on top, then add the pomegranate, poached egg, and blueberry vinaigrette.
Notes
Related: Apple Gorgonzola Salad with Blackberry Vinaigrette
Related: Our Best 31 Spring Salads
Related: Spinach, Feta and Chorizo Salad
Related: Radicchio Salad with Blue Cheese, Honeyed Walnuts and Cabernet
Related: Caprese Salad
Related: Most Popular Italian Cheeses