Best 12 Balsamic Vinegars
Balsamic vinegar needs no presentation. If you've recently eaten a salad in a restaurant, you were most probably given the option to add it as a dressing.
This bold ingredient has a peculiar taste you can't mistake for anything else. It can be used in a wide variety of foods and it is nowadays easy to find in any supermarket.
If you like balsamic vinegar and you've decided it's time to have some in your own kitchen, here are some of the best balsamic vinegar brands to look for.
A Few Quick Facts about Balsamic Vinegars
Vinegar is a sour liquid that contains acetic acid and is produced by fermentation. Balsamic vinegar originates in Italy and the most authentic and qualitative varieties are those that come from Modena and Reggio Emilia. Different ingredients can be used to make vinegar and among them, we can include apple, grapes, oats, rice, or even beer.
Aside from its much-appreciated taste, balsamic vinegar is also praised for a series of health benefits it entails. One of the acclaimed positive effects of balsamic vinegar is its effect upon the skin.
Due to its antioxidants and antimicrobial action, this type of vinegar can help treat acne. Consumed regularly, it can improve the general aspect of the skin.
Another benefit is the fact that it supports digestion thanks to the acetic acid it contains that is packed with probiotics. The same components are also able to improve the overall immune system and promote weight loss.
If you have problems with acid reflux, balsamic vinegar can contribute to reducing heartburn. Other health benefits you might be able to enjoy if you start adding balsamic vinegar to your diet include better blood circulation, reduced hypertension, and a lower level of bad cholesterol.
All in all, there are multiple potential benefits you can derive from consuming this type of vinegar regularly.
Balsamic Vinegars Brands:
Oliviers & Co Premium Balsamic Vinegar
This premier balsamic vinegar is carefully made in order to comply with all the requirements of the traditional recipe. It is 100% natural and the aspect that distinguishes it is its intense dark color and honey-like texture. This vinegar is obtained from carefully selected grapes, after a long period of aging in rare wooden barrels.
OMG! Classic Barrel-Aged Balsamic Vinegar
This type of balsamic vinegar is considered one of the best choices when it comes to dipping as it is less acid than most other varieties and it has a thick consistency.
The OMG classic vinegar follows the traditional Modena recipe and it is made from grapes grown directly in this area and kept in oak barrels for up to 18 years.
Newman's Own Organic Balsamic Vinegar of Modena
This organic balsamic vinegar produced by Newman's Own is a good option for everyday use. This affordable product is easy to find, it boasts a great consistency and a lovely flavor. It is organically produced from quality grapes and pairs well with many common dishes.
MiaBella Balsamic Vinegar
This highly praised balsamic vinegar is made exclusively from Trebbiano grapes after a long process of aging that lasts for 18 years and involves oak and juniper barrels that enhance the product's flavor.
If you seek quality above all, MiaBella won't disappoint you. Their product has no additives or sweeteners and provides the traditional taste of this precious liquid.
Olio Santo Balsamic Vinegar
Not all balsamic vinegar is the same and this delicious variety proves it. This outstanding vinegar is made from grape juice, more precisely white Trebbiano juice.
After the juice is obtained, it ages for five years in wood barrels to ensure those unique notes. A fruity and yummy balsamic vinegar, this product can help you prepare the perfect vinaigrette.
Fig Balsamic Vinegar by The Girl & The Fig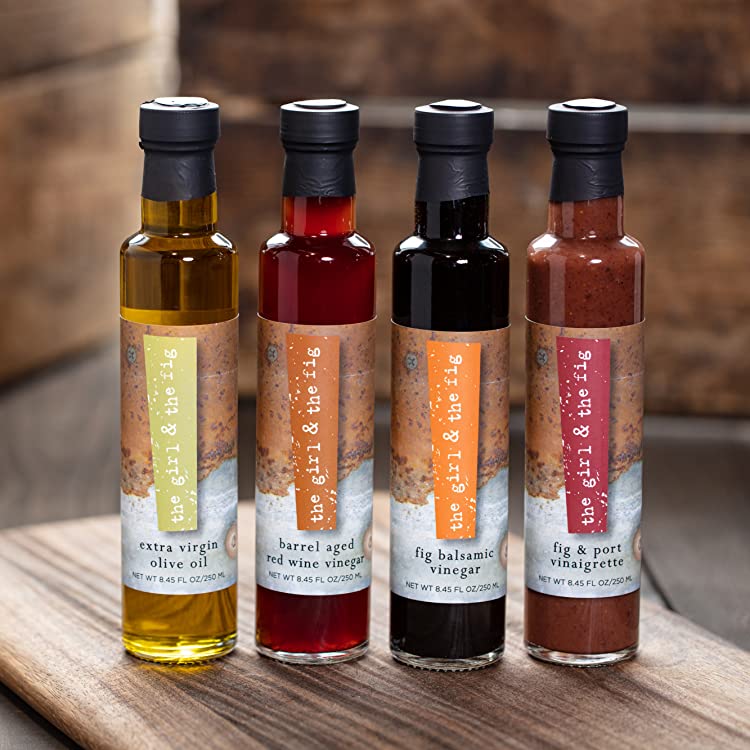 This exquisite vinegar is produced by the team of Sonoma, The Girl & The Fig Restaurant in California.
Made from delicious figs, this balsamic vinegar has a wonderful fruity flavor that's enhanced by the rest of the ingredients. If you're looking for a taste that stands out, you should try this option.
Ellora Farms Pure Balsamic Vinegar
This pure vinegar is 100% natural. It is made of Greek red grapes that need to age for half a year beforehand. Due to this aging process, the result is a pleasant wood scent.
There are no additives or colorings in this strong-flavored and versatile balsamic vinegar. If you like a balsamic vinegar that's both sweet and sour with no predilection, Ellora Farms is a great choice.
Williams-Sonoma 25-Year Barrel-Aged Balsamic Vinegar
This prime-quality vinegar is produced from grapes that are aged for as much as 25 years in oak barrels. If you're looking for a remarkable taste that will enhance your dish, this is it. Used as a topping for salads or desserts, this vinegar is the cherry on top of the cake.
Due Vittorie Oro Gold Balsamic
With this product, you gain a double advantage. On the one hand, Due Vittorie Oro Gold Balsamic is a top-quality vinegar. On the other, it doesn't cost much at all given its exquisite taste.
This IGP certified product is made according to the original Modenese recipe, making no compromises in terms of authenticity. This Italian product provides an array of strong flavors which makes it a good choice for a variety of different dishes.
Colavita Balsamic Glaze
As you might assume from its title, this balsamic vinegar adds a whole new meaning to the word viscosity, and it is precisely it thickness that makes it so great. In terms of taste, the producer has found the right blend of sweet and tart.
There are numerous meat dishes that would love to have this balsamic glaze on top. Also, it makes a great pair with salads and desserts.
Emilia Aged American Balsamic
There are many distinguishable traits in this balsamic vinegar that is aged in America. First of all, it grabs attention thanks to its extra dark hue. As soon as you taste it, you'll notice the fruity notes that make it remarkable and easy to pair with all sorts of vegetable dishes and desserts.
Blazing Bella White Balsamic Vinegar
This fig vinegar is one of the most popular of its kind. It has a great sweet taste and a thick consistency that makes it the perfect topping for salads. Moreover, it also pairs quite well with desserts that contain fruit.
This fine product has a long tradition that takes it back to 1889. It has been produced by the same family ever since. It is aged in oak, juniper, or chestnut barrels and there are no added preservatives in its composition.
Balsamic vinegar is almost a must-have nowadays, especially if you are among those who fancy a healthy diet that involves plenty of fresh salads. Remember the recommendations above next time you go shopping for tasty ingredients. 
Note: if you're out of balsamic vinegar, check out these great substitutes.